8 Bridal Shower Games Guests Actually Want to Play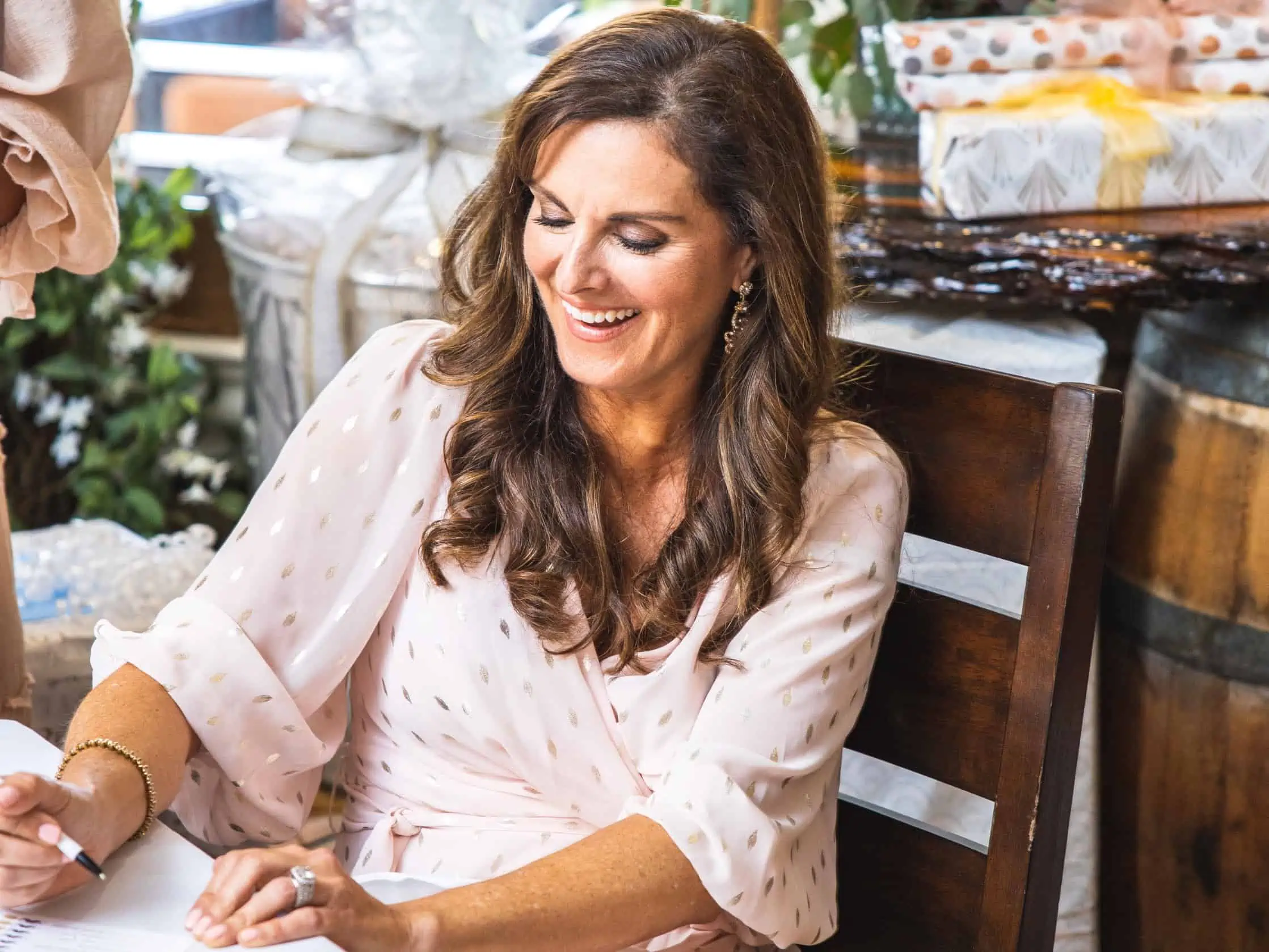 Disclosure: This post contains affiliate links, meaning we earn commissions if you shop through the links below. Please read my disclaimer for more info.
As the maid of honor, one of the trickiest parts of hosting a bridal shower is getting the guests to introduce themselves to and interact with one another. Often you have two sets of families who have never met, mixed in with friends of the bride and groom who may not know anyone outside of their own group.
This is where the bridal shower games come to the rescue, which is why it's so important to choose a select few that will both break the ice and have guests bonding in no time.
Below is a list of our 8 favorite bridal shower game ideas guaranteed to give your bride-to-be and her guests a great time. As an added bonus, we've also answered the most frequently asked questions when it comes to playing wedding shower games.
Our Best-Selling Bridal Shower Games
This is one of the most classic bridal shower games to play because it encourages conversations among all guests while also getting their competitive streak going.
The rules are simple- If you get caught saying the word "wedding" or "bride", your ring will be taken from you. Vice versa, if you catch another guest saying "wedding" or "bride", you get to steal their ring.
To set up, display one of our 'Made by Modern MOH' signs and a pile of plastic rings on a table by the front entrance so that each guest can grab one on their way into the party. Whichever guest has the most bling at the end of the shower wins a prize!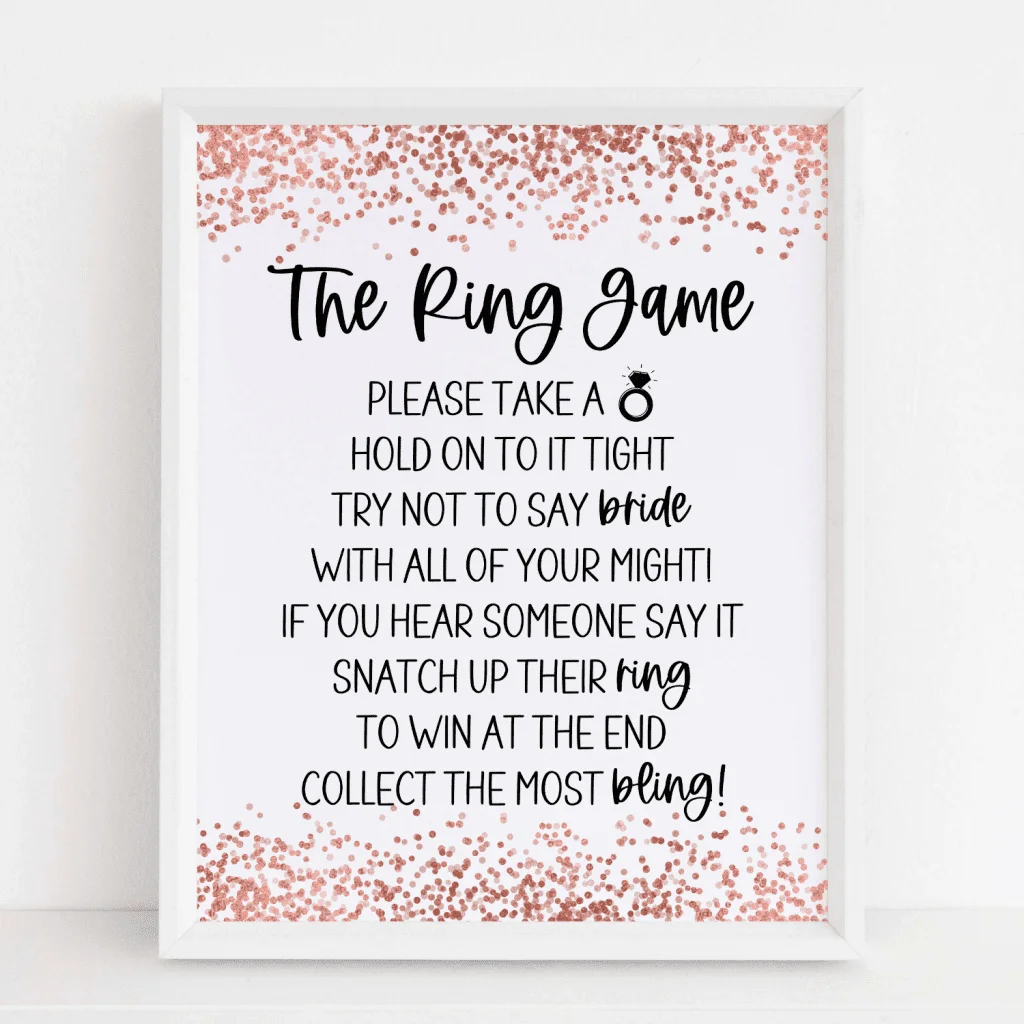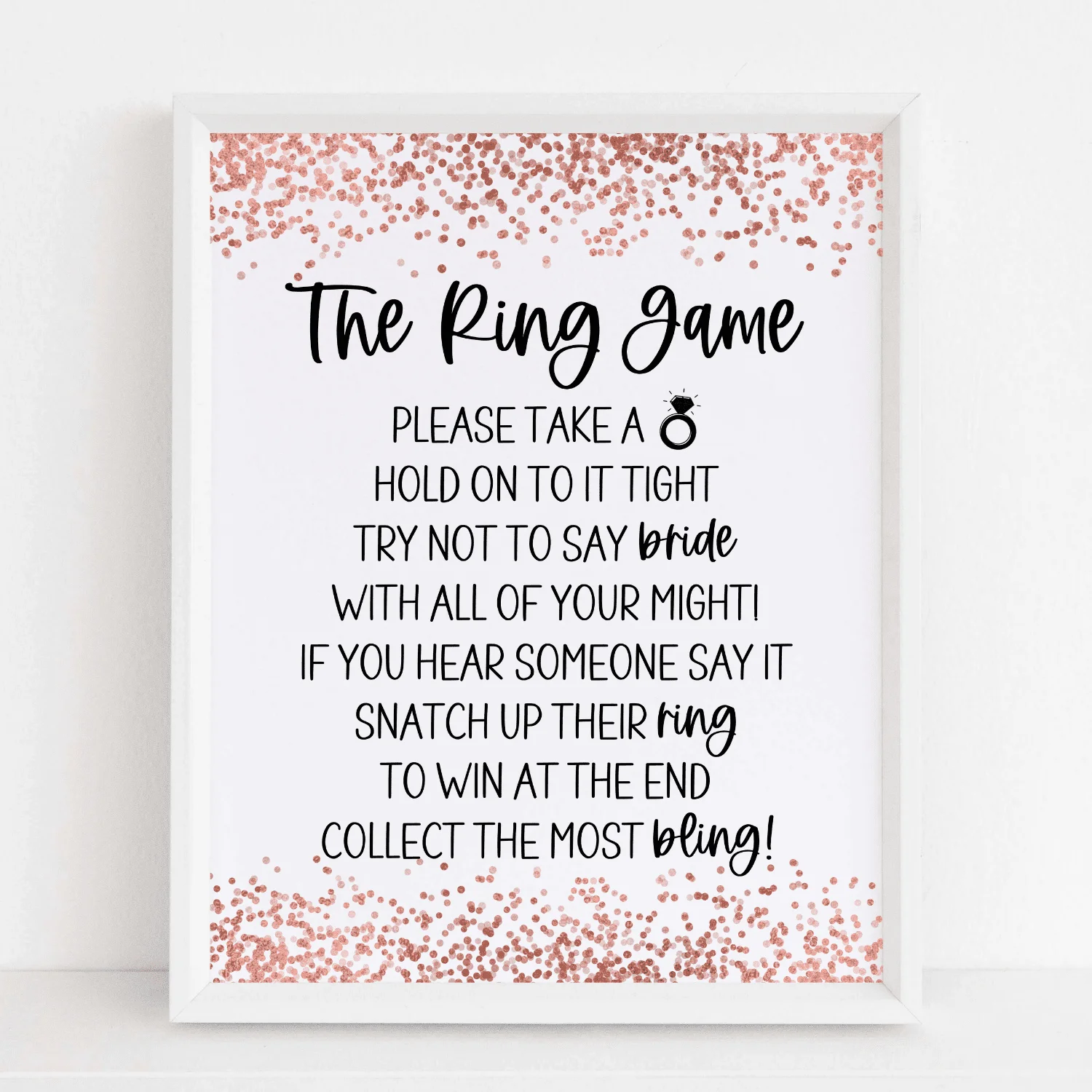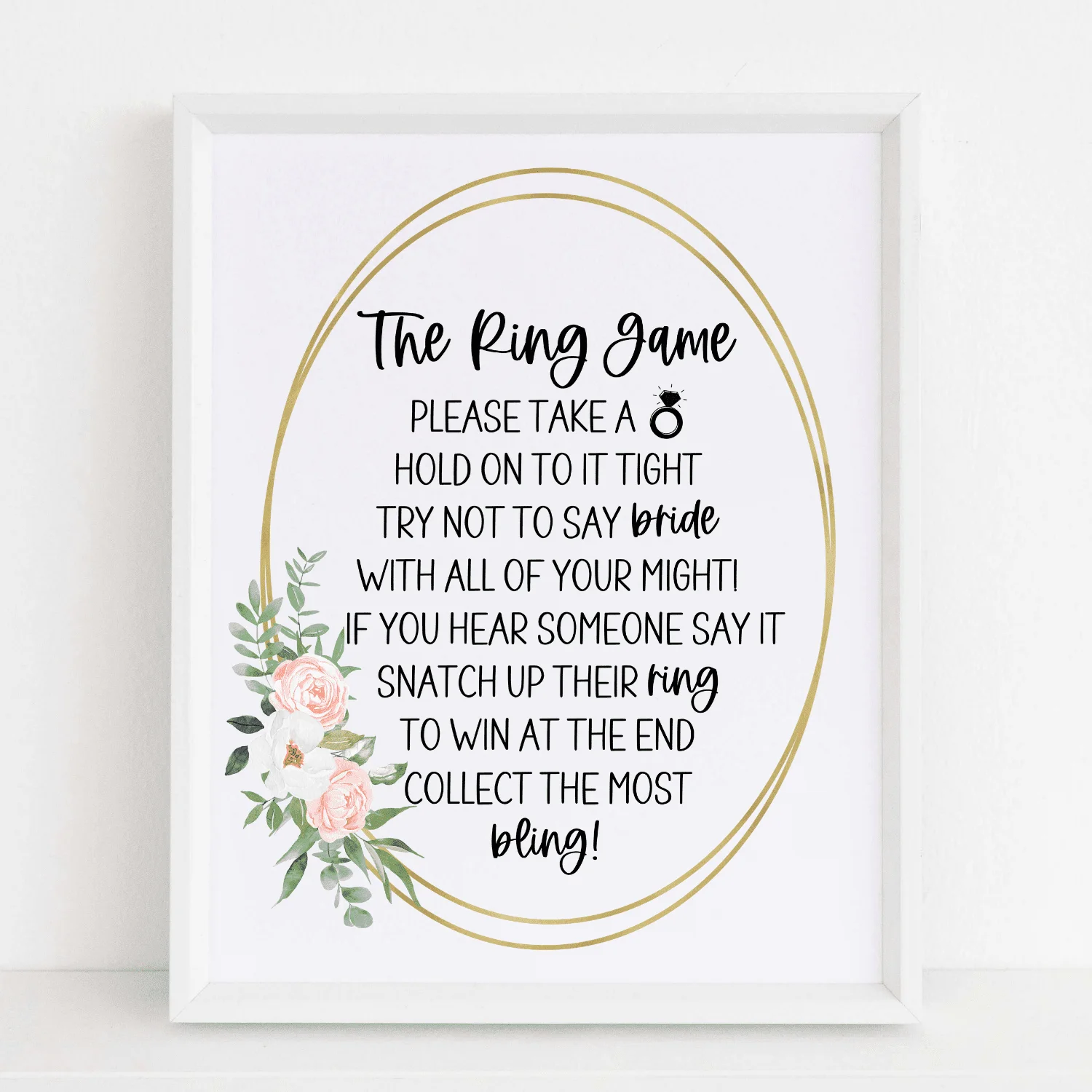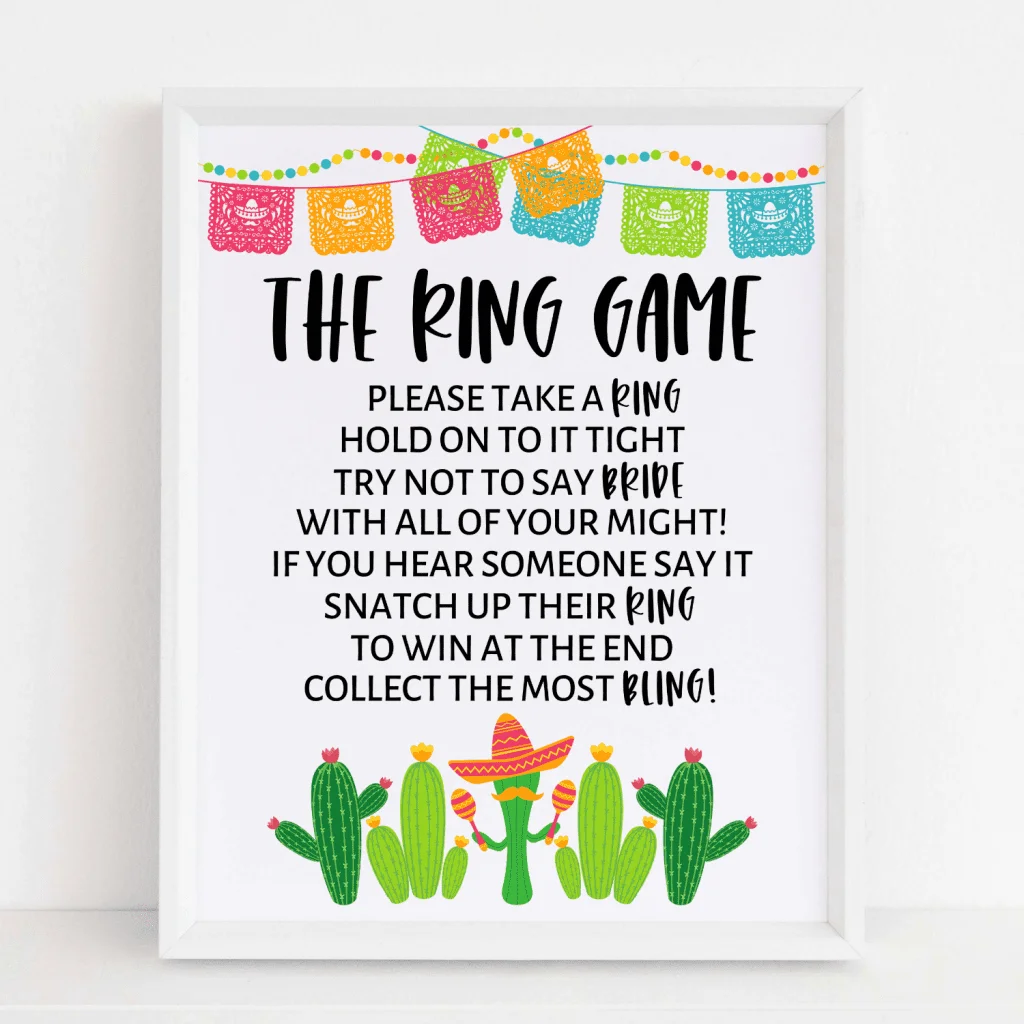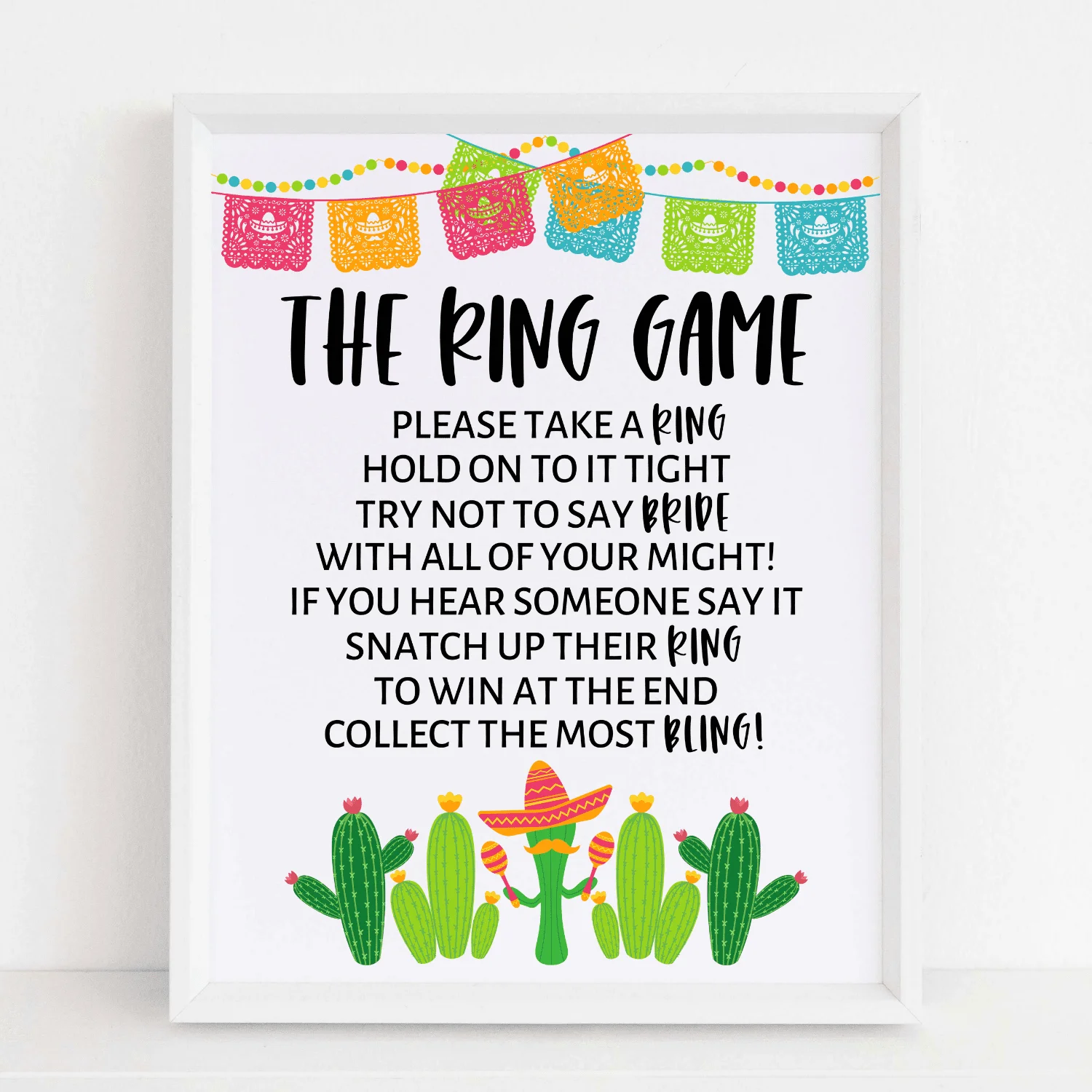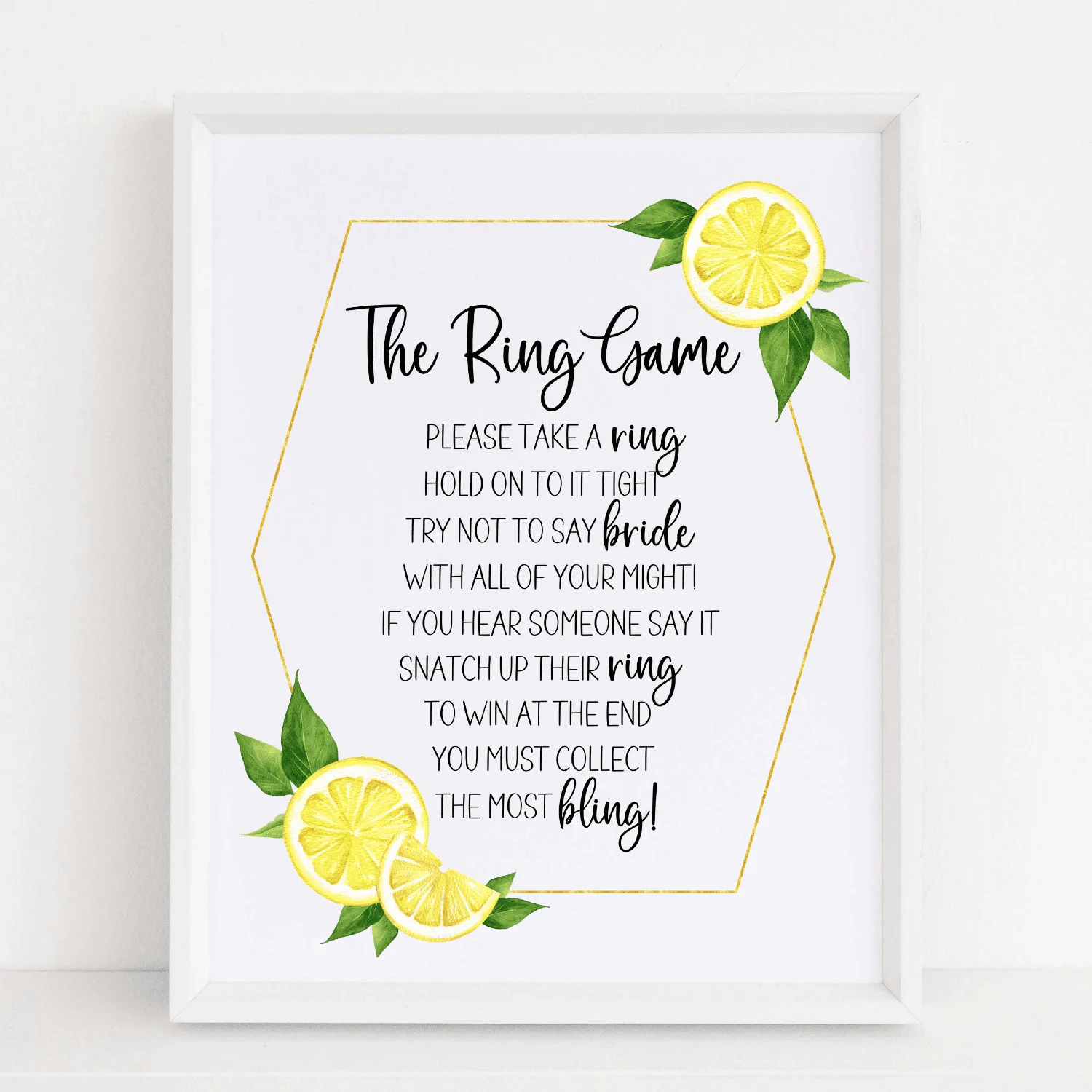 This is one of our favorite bridal shower game ideas because it allows the guests to recreate personal memories they have with the bride, who in turn gets to take a fun trip down memory lane.
For this game, all you need are our 'Made by Modern MOH' game cards, a box of pens, and some kind of memory box (or even an empty kleenex box!) Once everyone has gotten settled in with food and drinks, pass out a game card and pen to each guest and ask them to record a specific memory they have with the bride.
While the bride is opening her wedding gifts, read each memory aloud one by one and have her guess who it belongs to (3 guesses max!) If the bride can't guess the correct guest, that guest wins!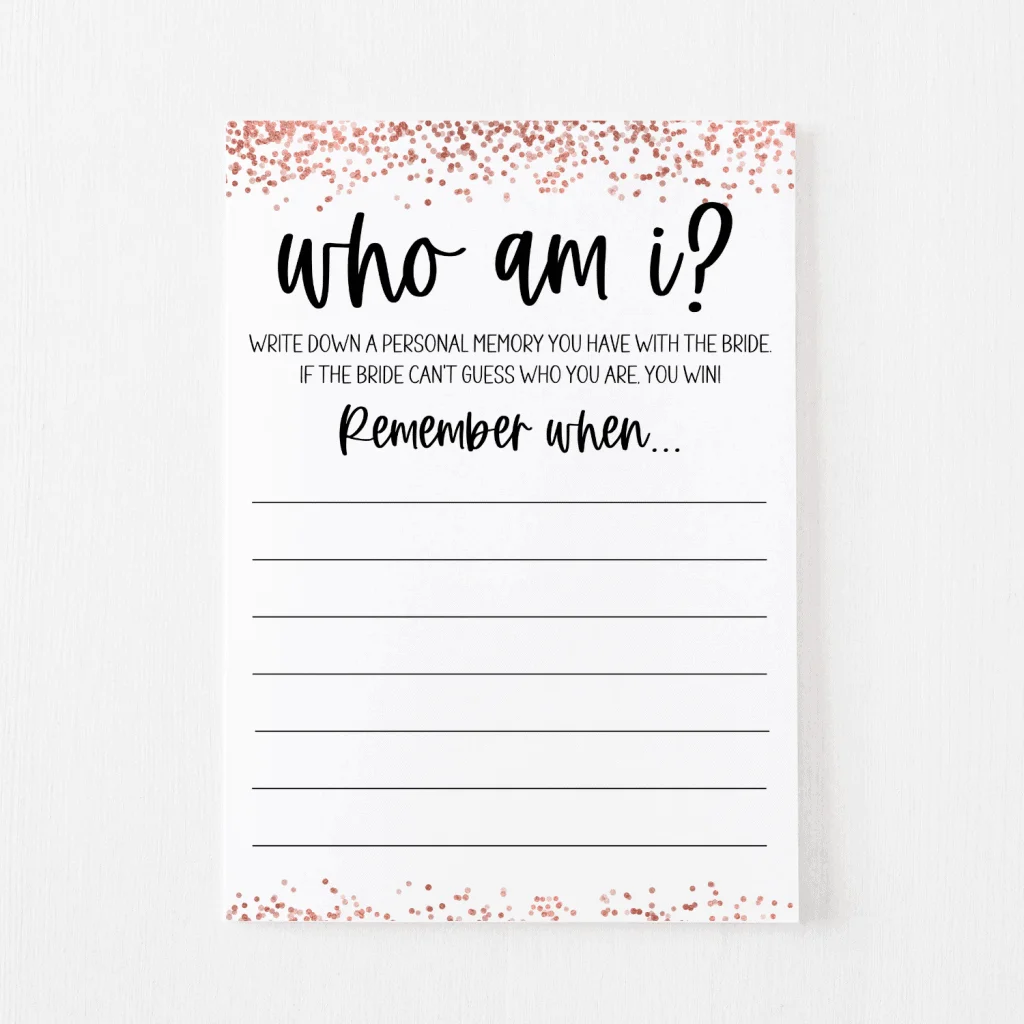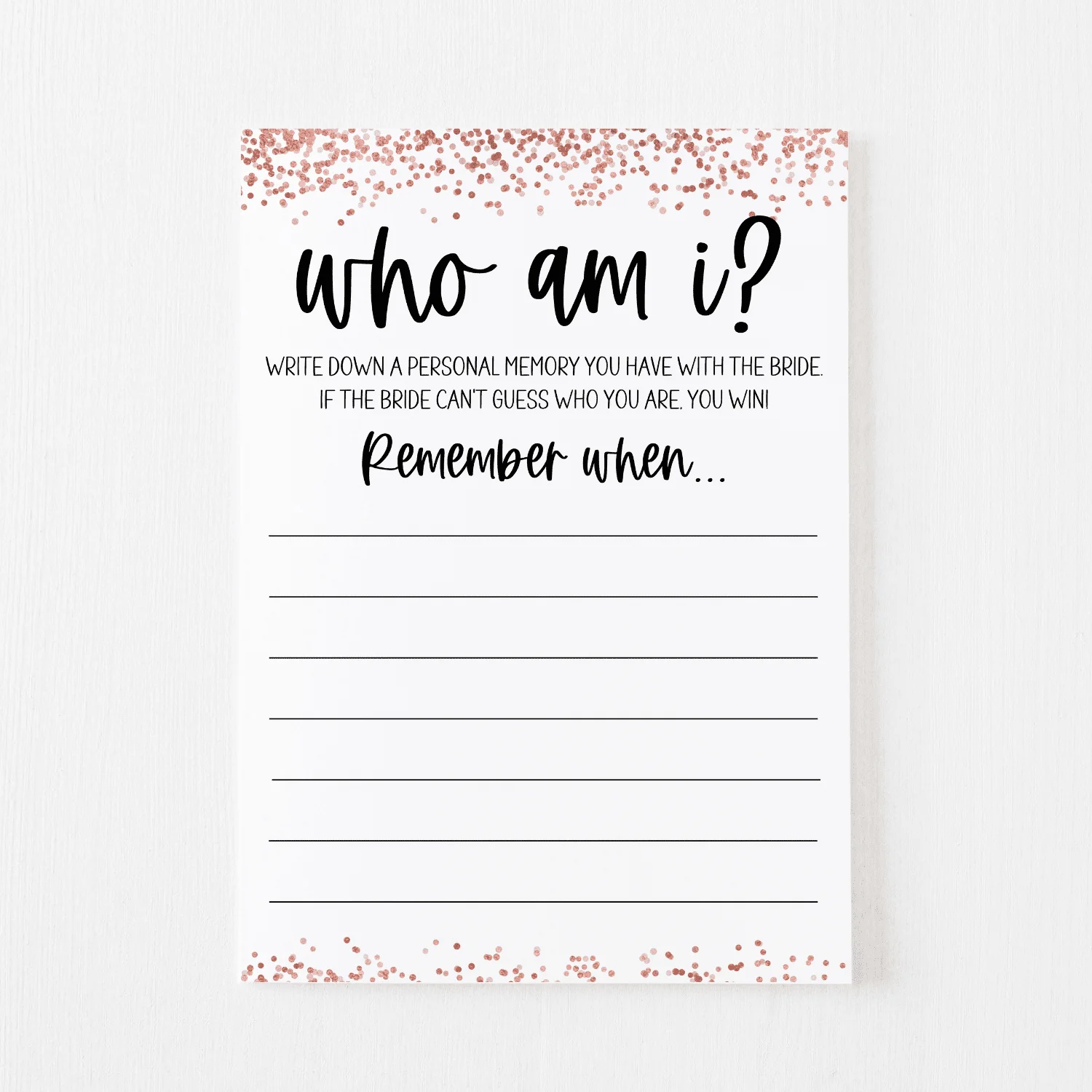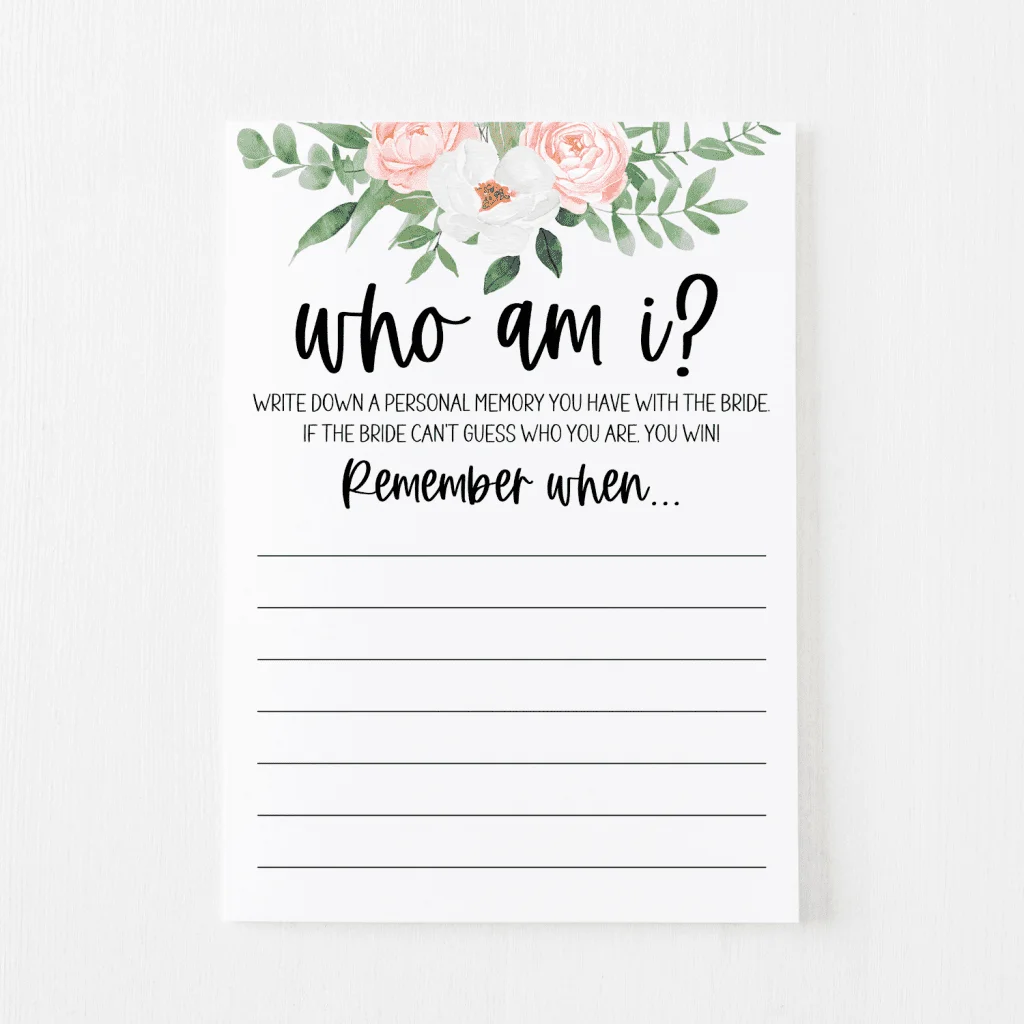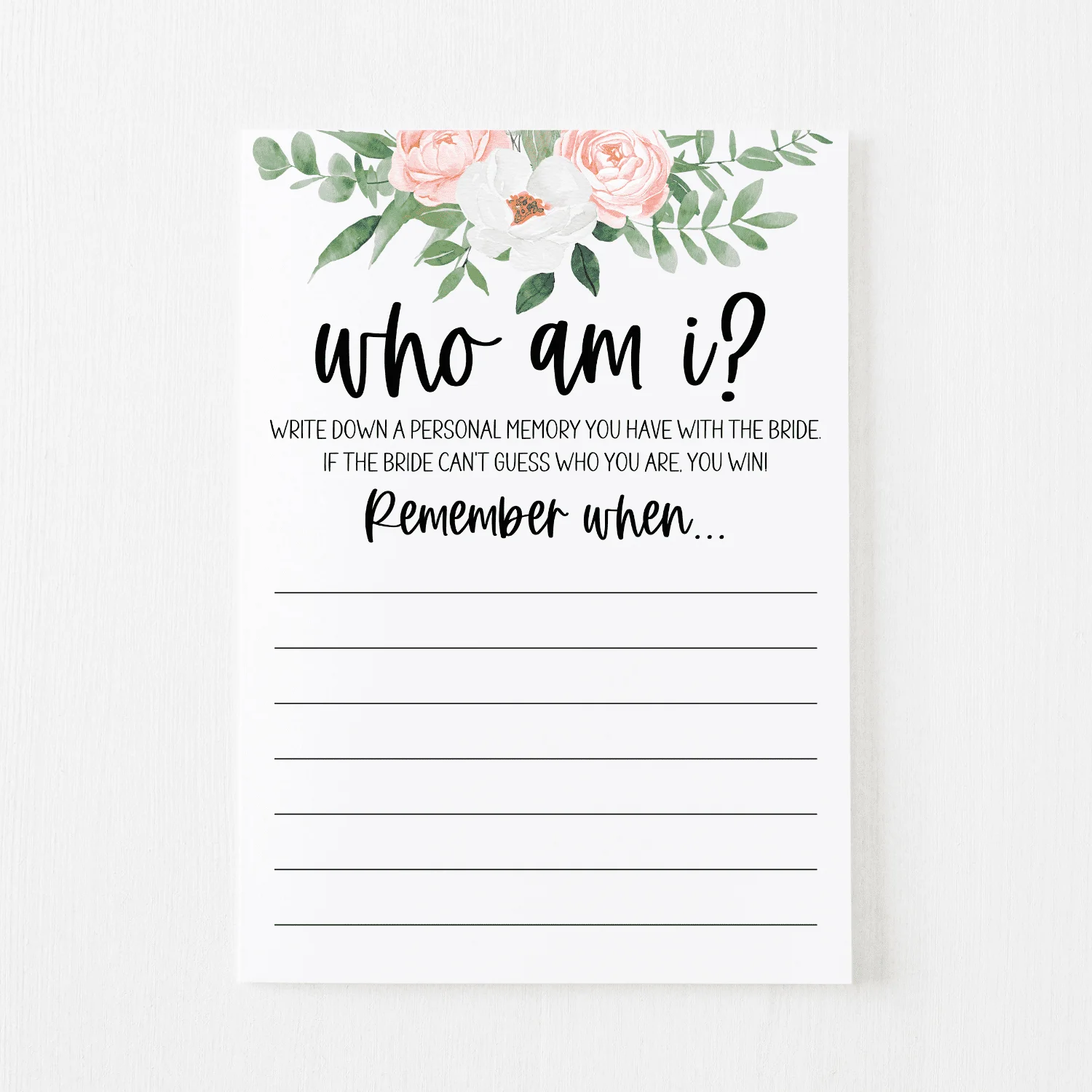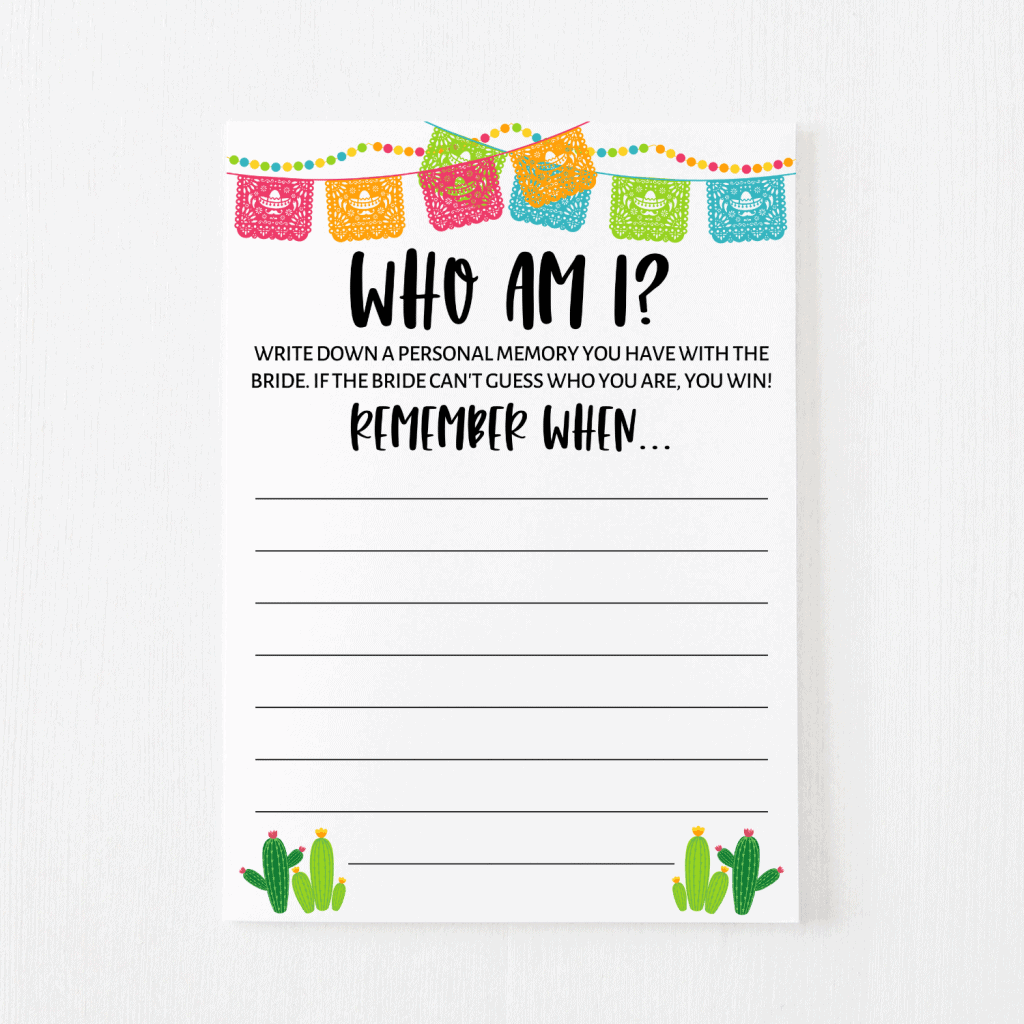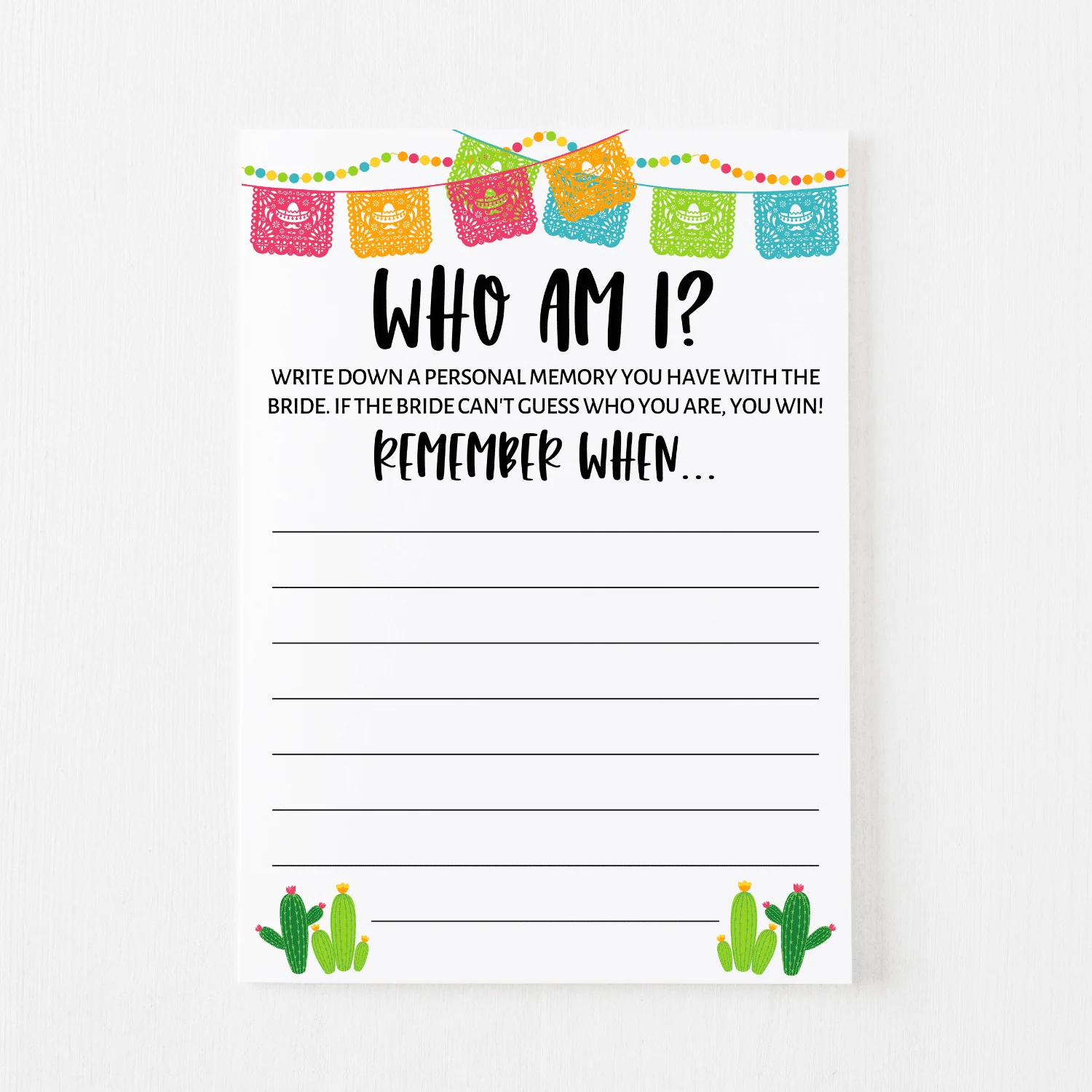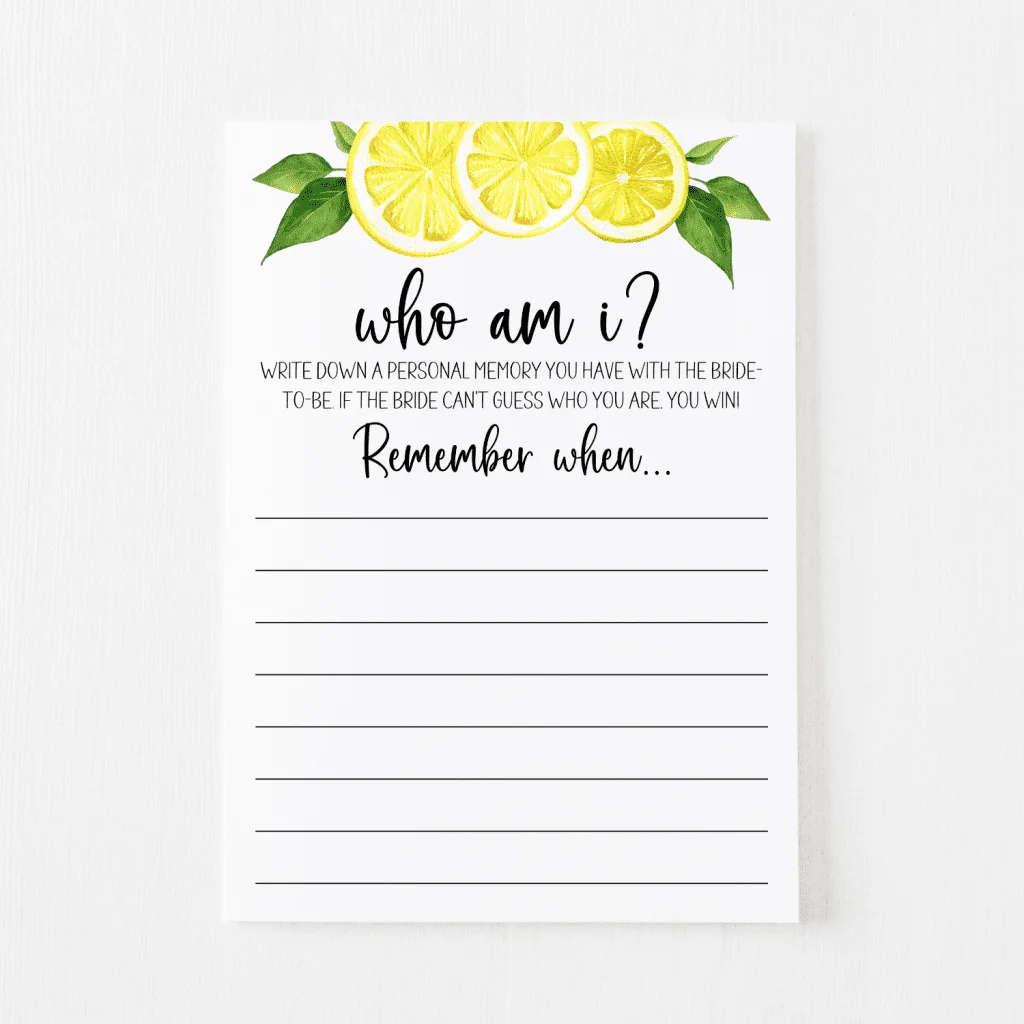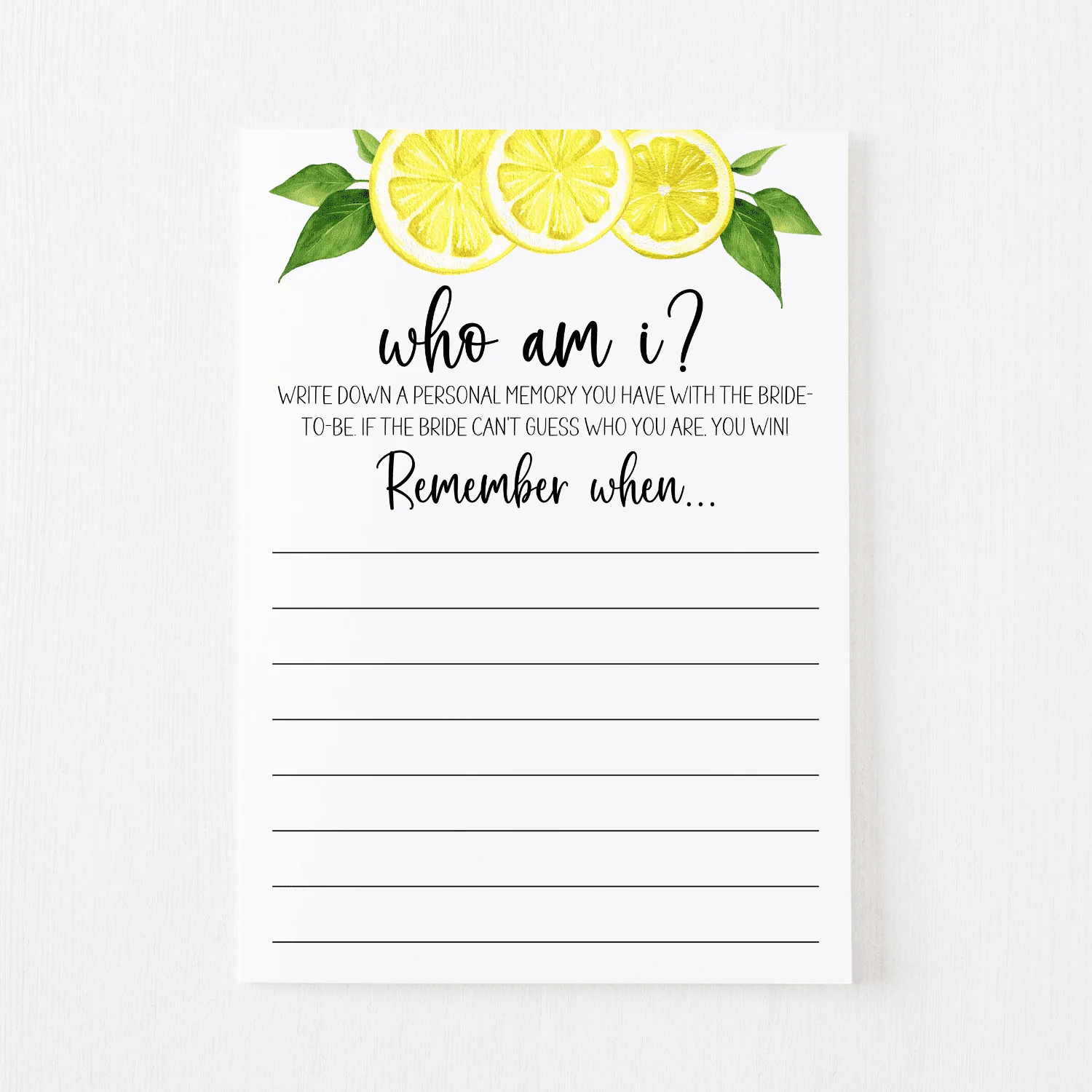 To pull off this particular wedding shower game, you'll need to enlist the help of both the mother of the bride and the mother of the groom.
First, ask each to provide you with pictures of their respective child from infancy through teenage years (anywhere from 8-10 photos is ideal), making sure they include the age that the bride or groom was when the photo was taken.
Once you've collected all of the pictures, secure them onto some sort of poster board, in random order, with a corresponding number (i.e. 1-10) placed next to each (don't forget to make an answer key for yourself).
At the bridal shower, display your picture poster board for everyone to see then pass out our 'Made by Modern MOH' game cards. The guest who guesses the most correct ages wins!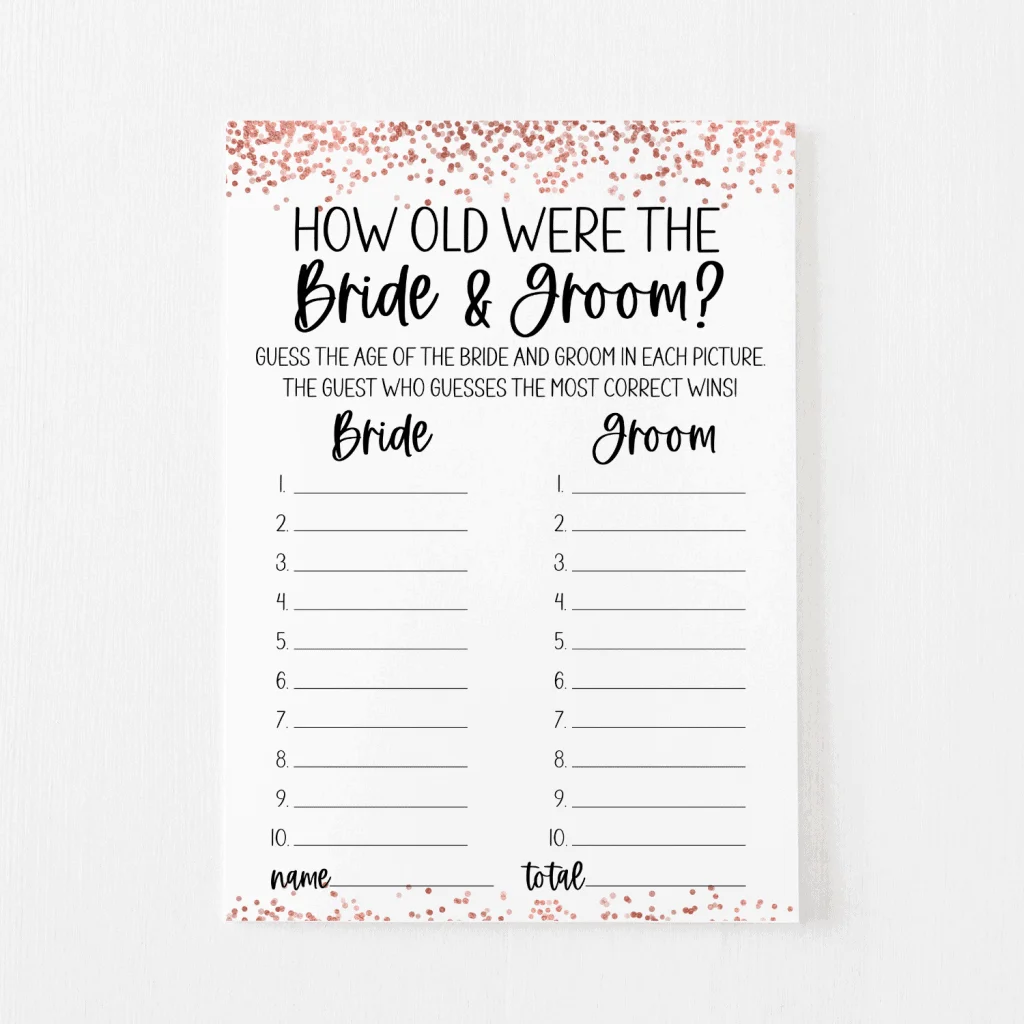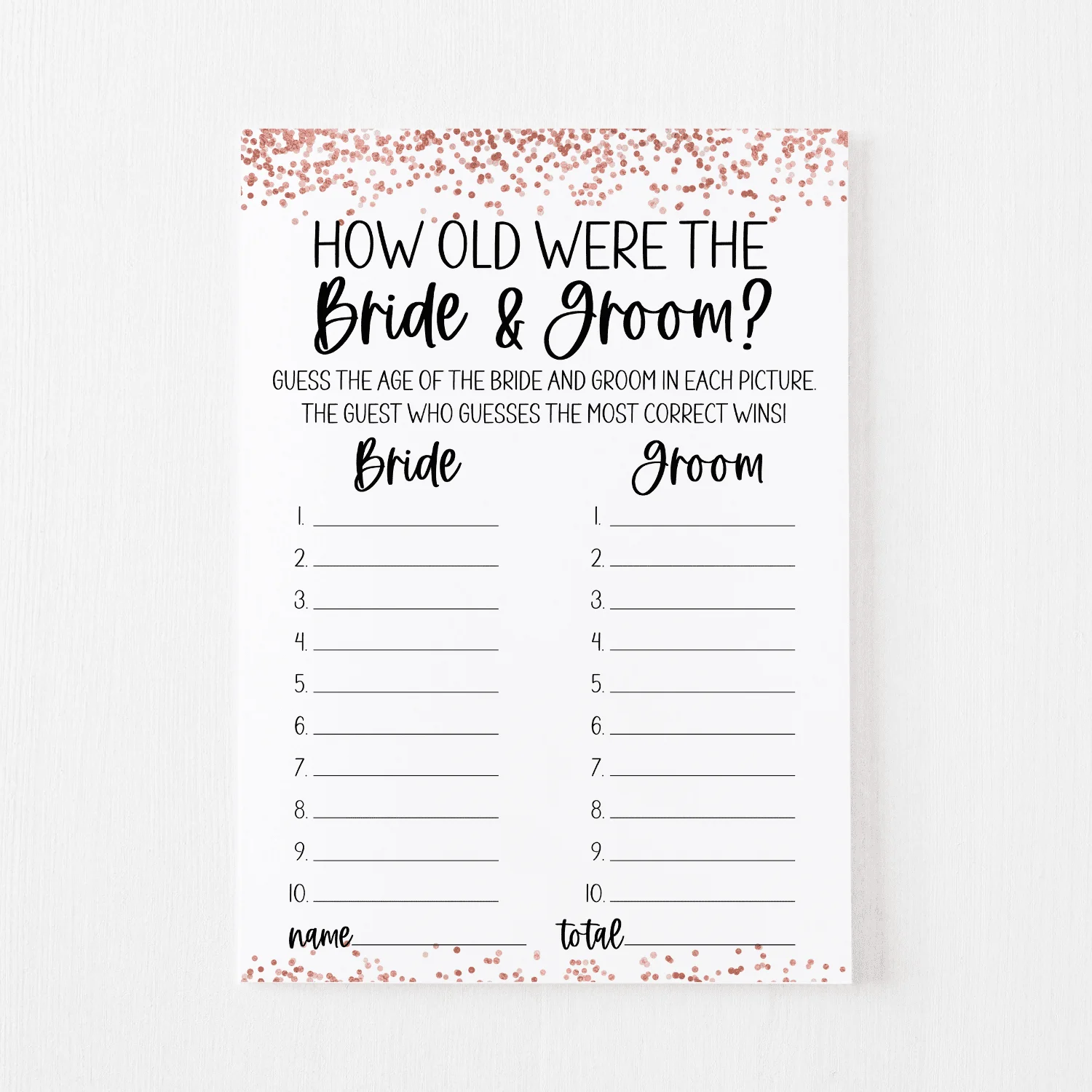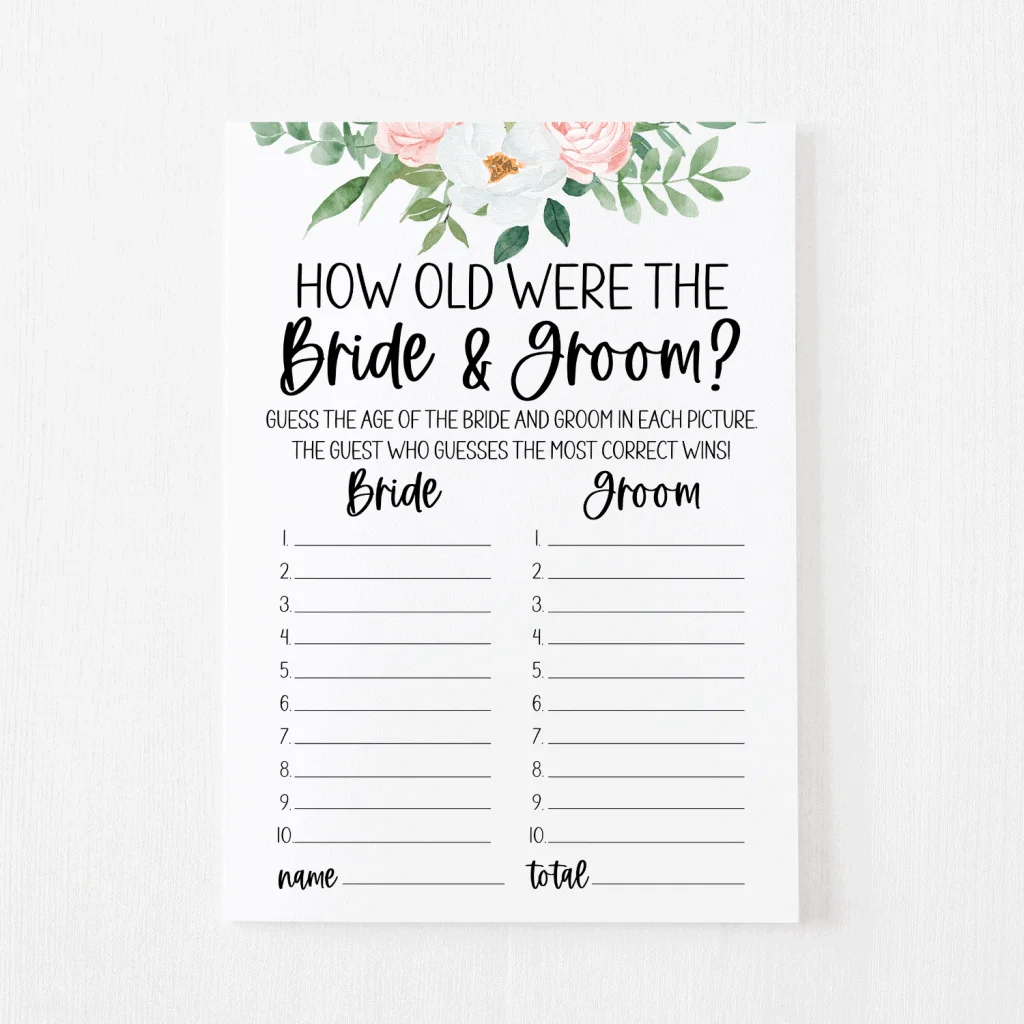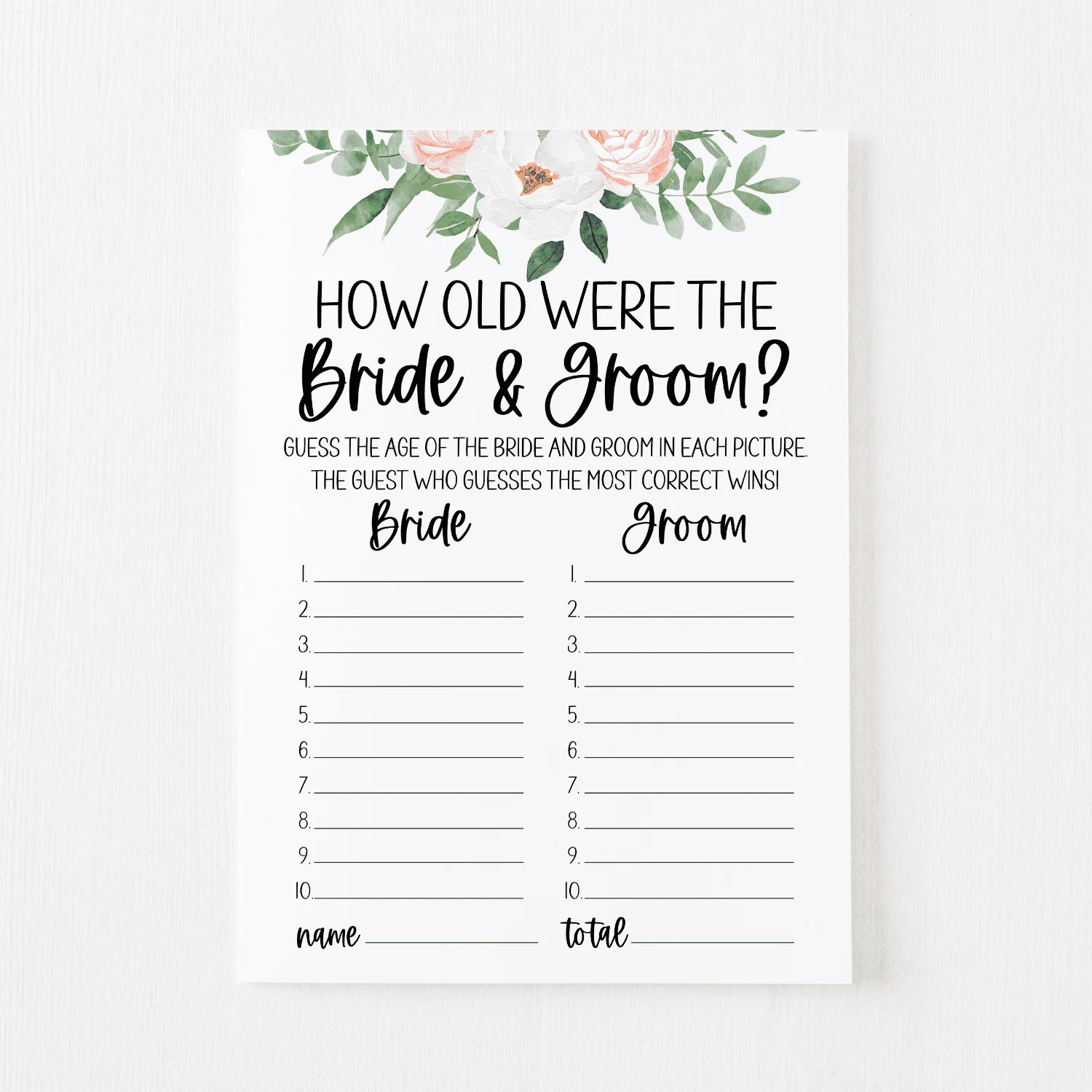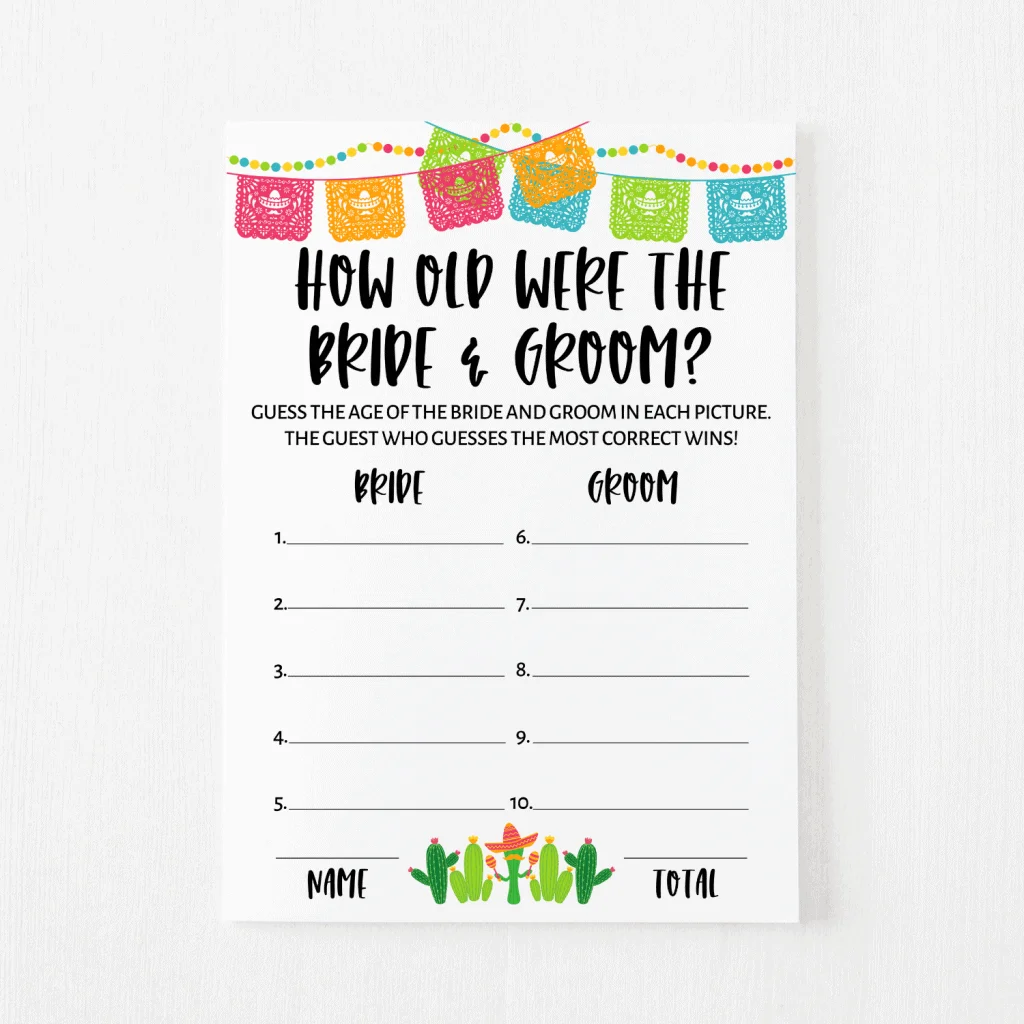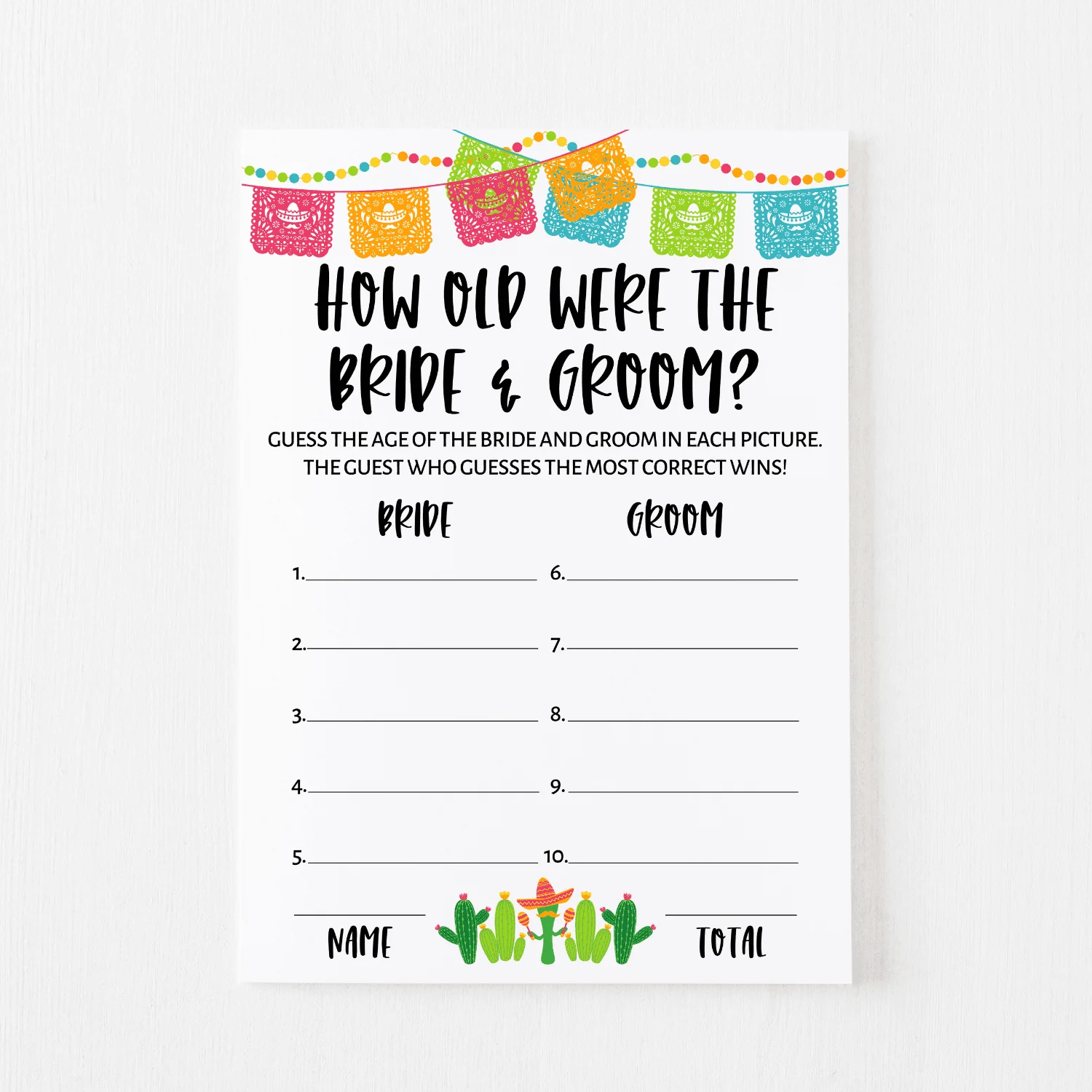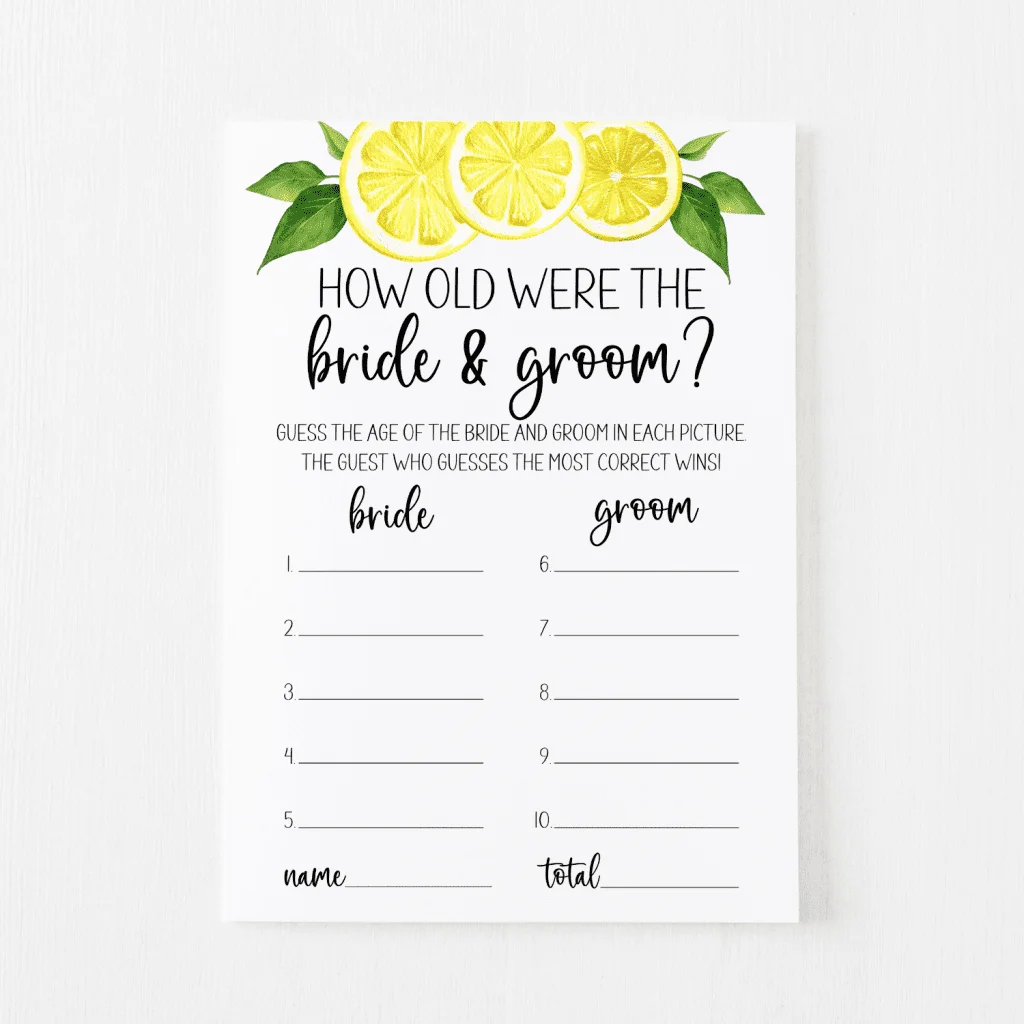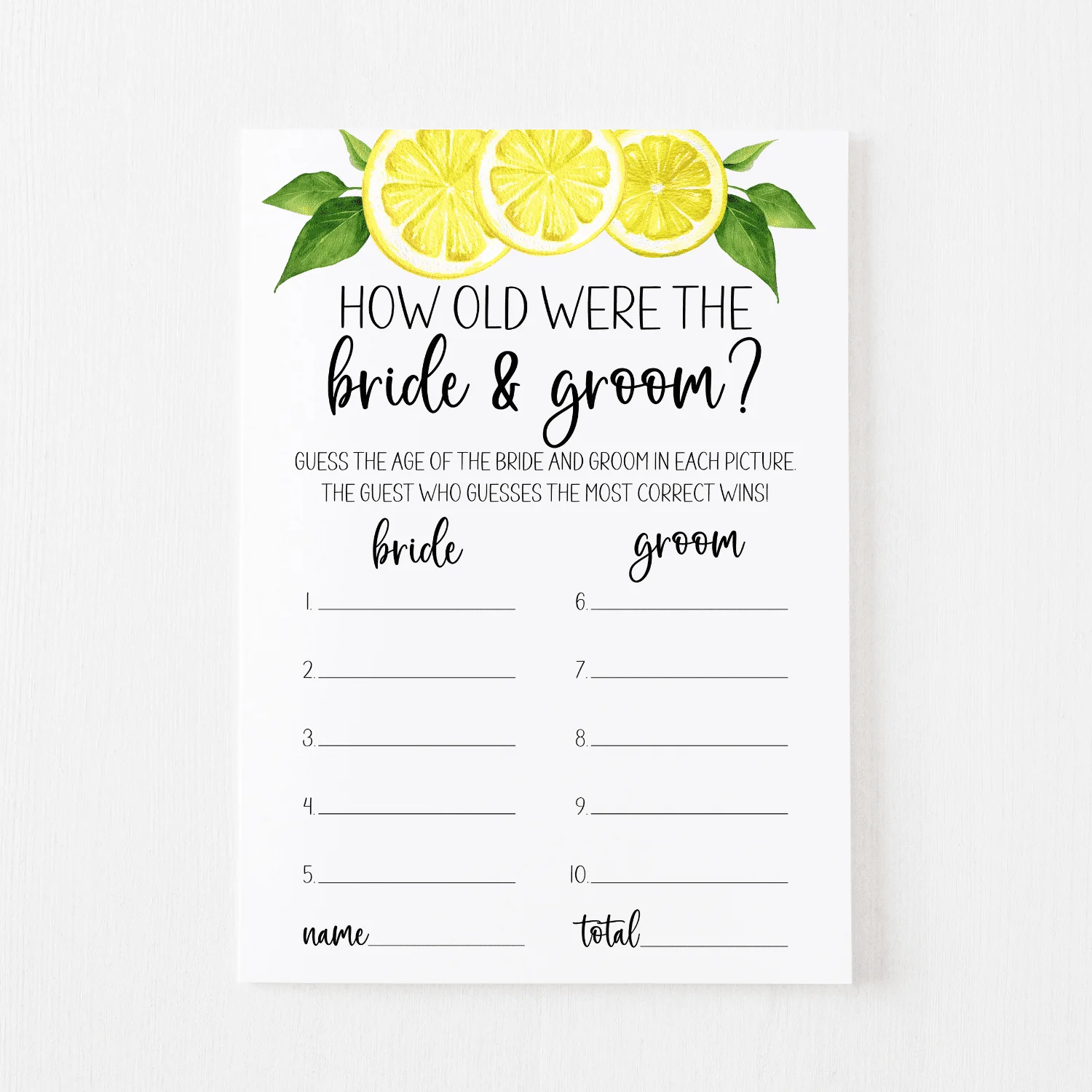 If the couple you're celebrating are big travelers, we highly suggest this as one of the bridal shower games you play. Similar to "How Old Were the Bride and Groom?", except instead of individual childhood pictures of the bride and groom, you'll need to gather 8-10 photos of the couple throughout their relationship.
The goal of this game is to have guests guess where the couple was when each of the photos was taken, so make sure these pictures aren't selfies from their couch. While pictures taken during traveling vacations are ideal, feel free to feature everyday pictures like the couple at their favorite bar, restaurant, brewery, etc.
To play, pass out our 'Made by Modern MOH' game cards and a pen to each guest. As I'm sure you've figured out by now, the guest with the most correct answers wins a prize.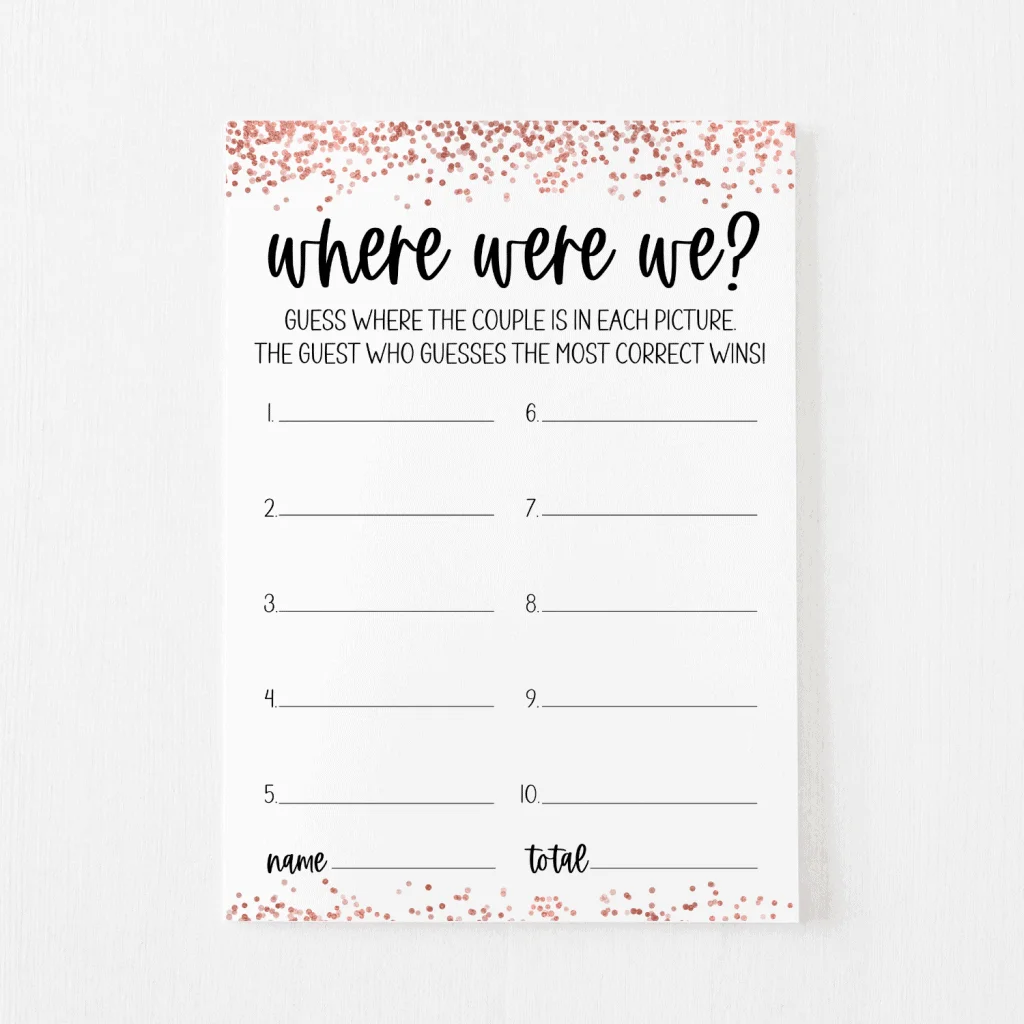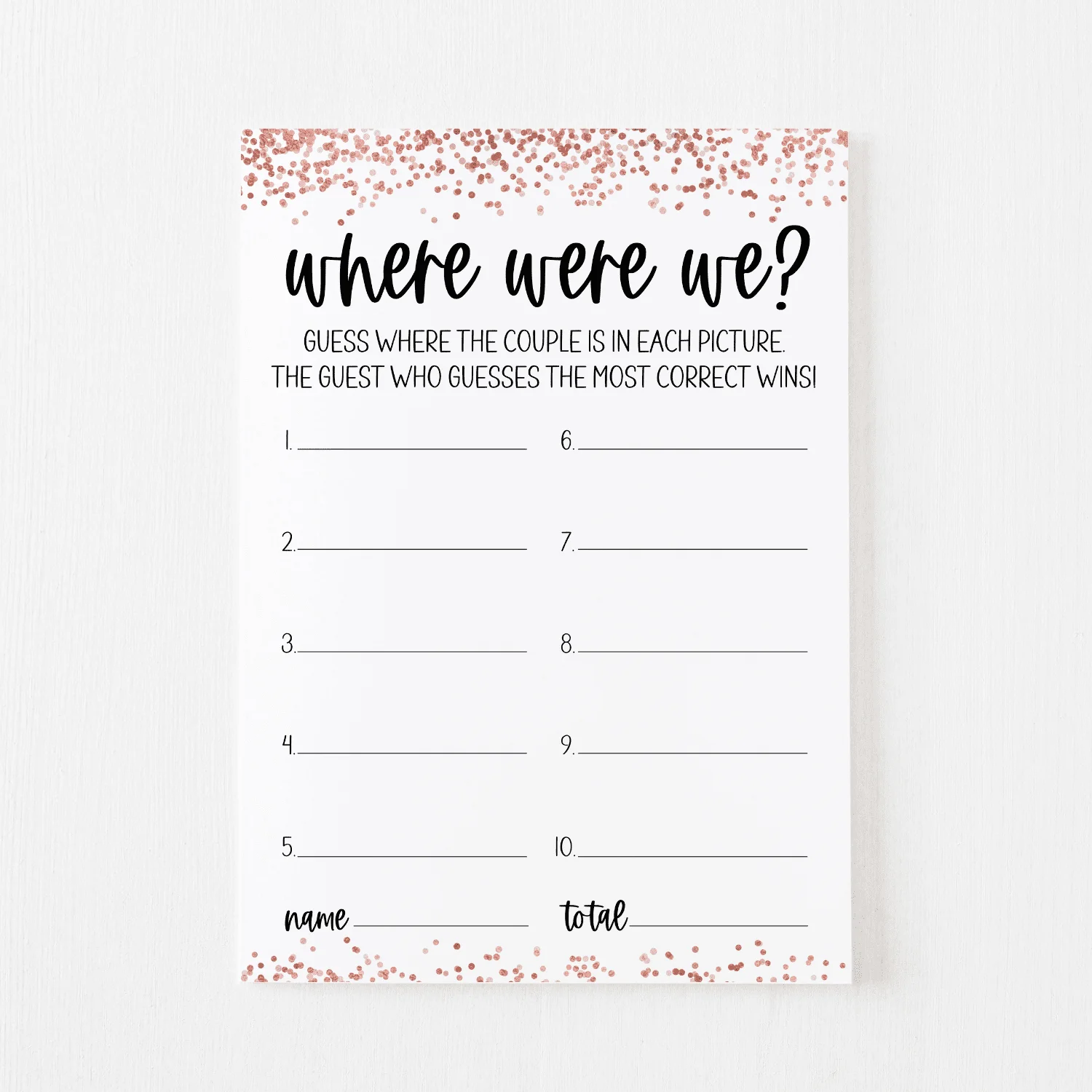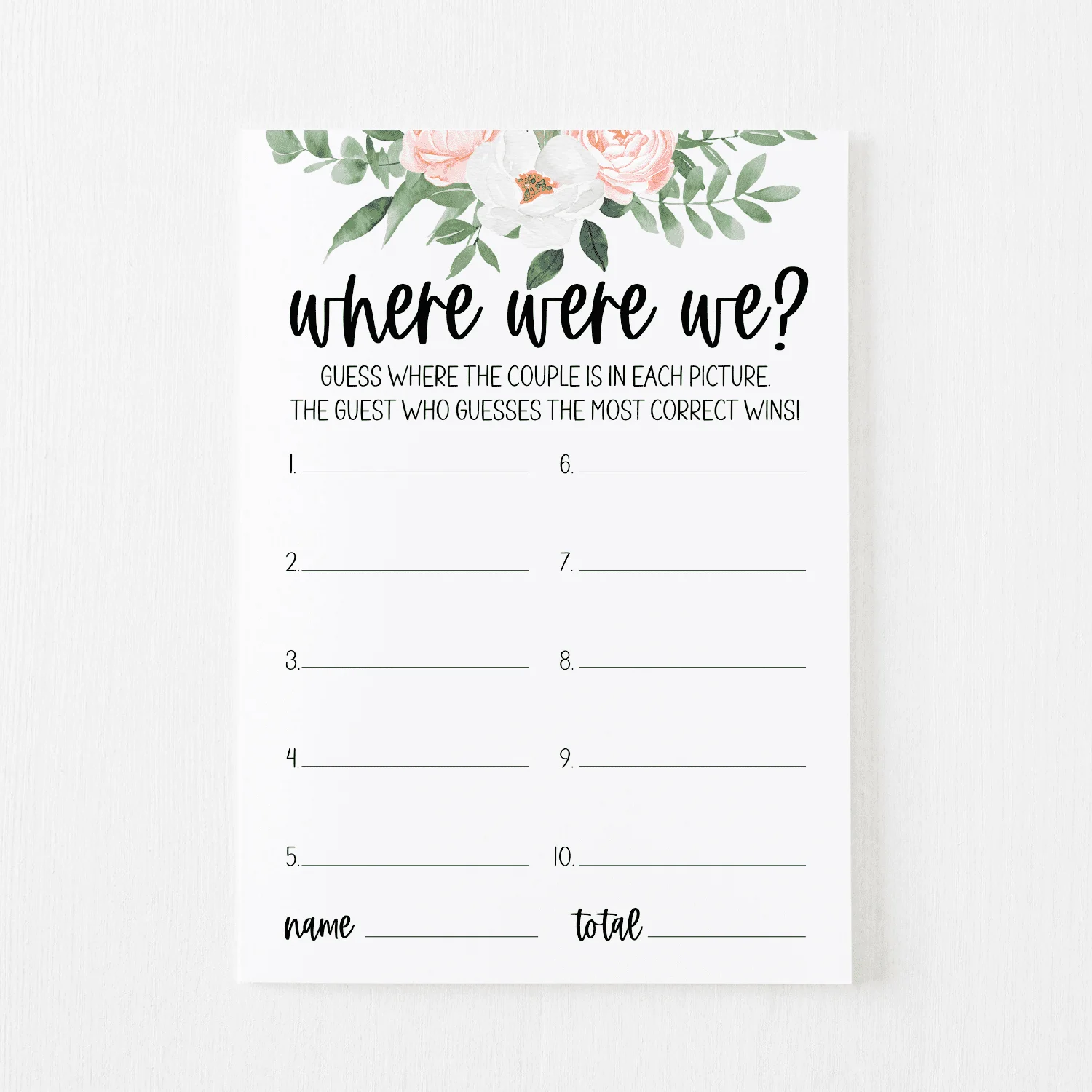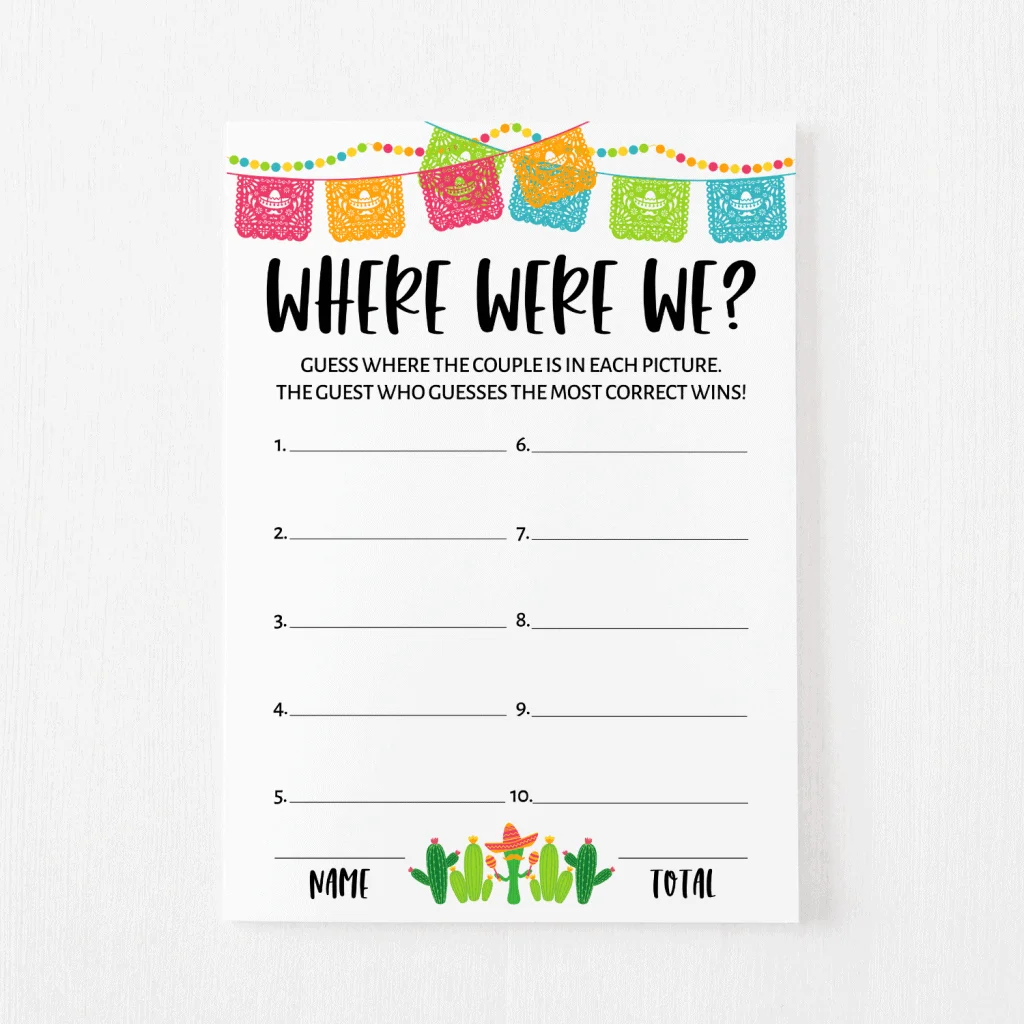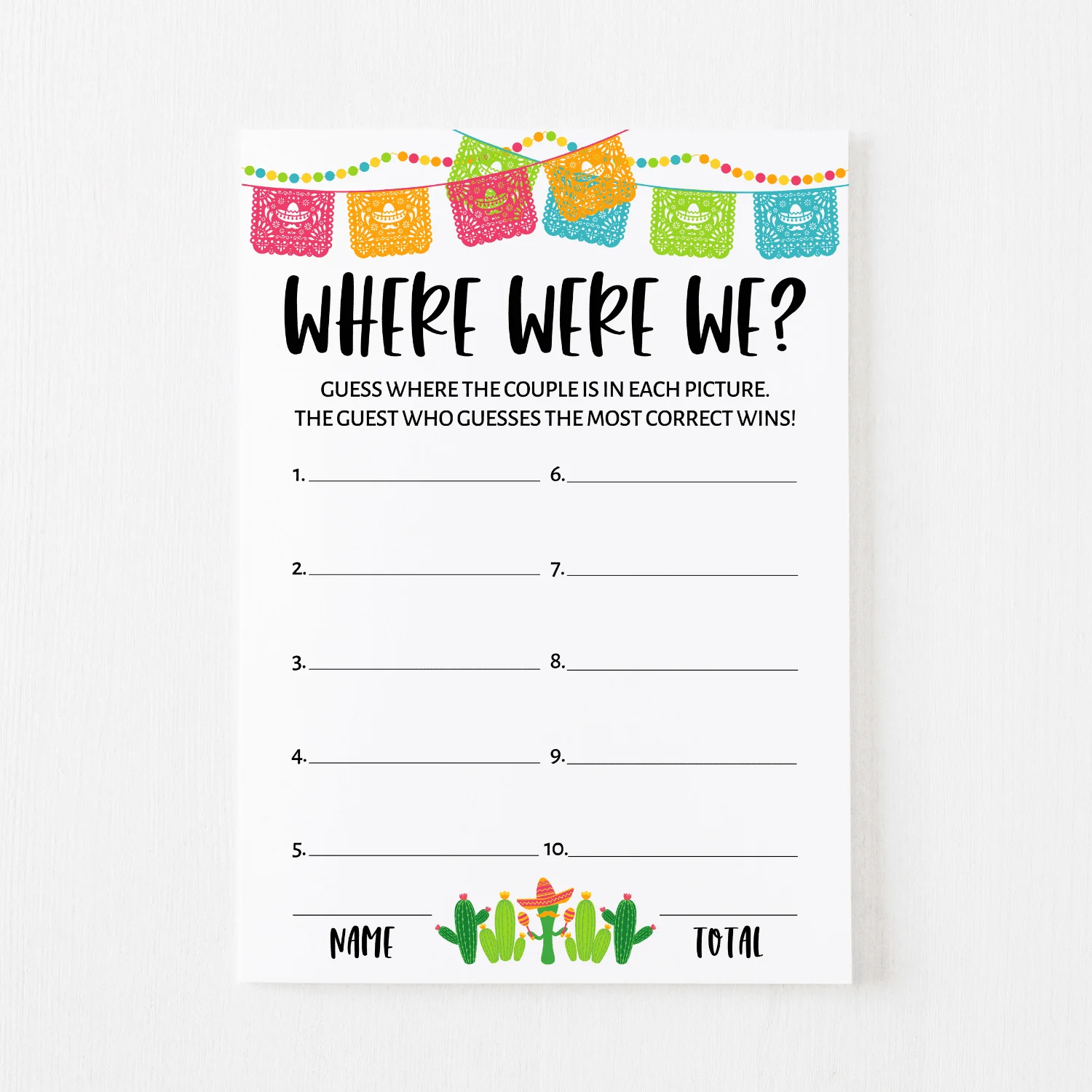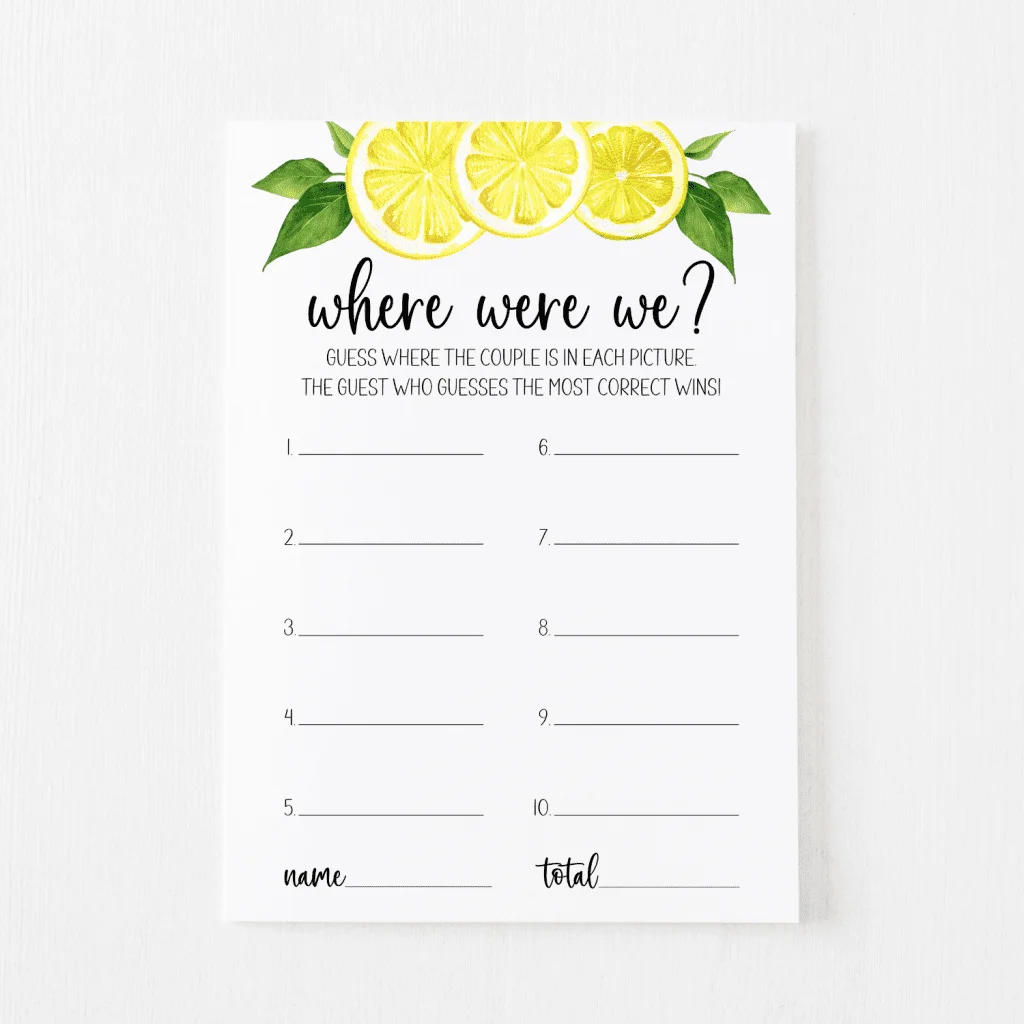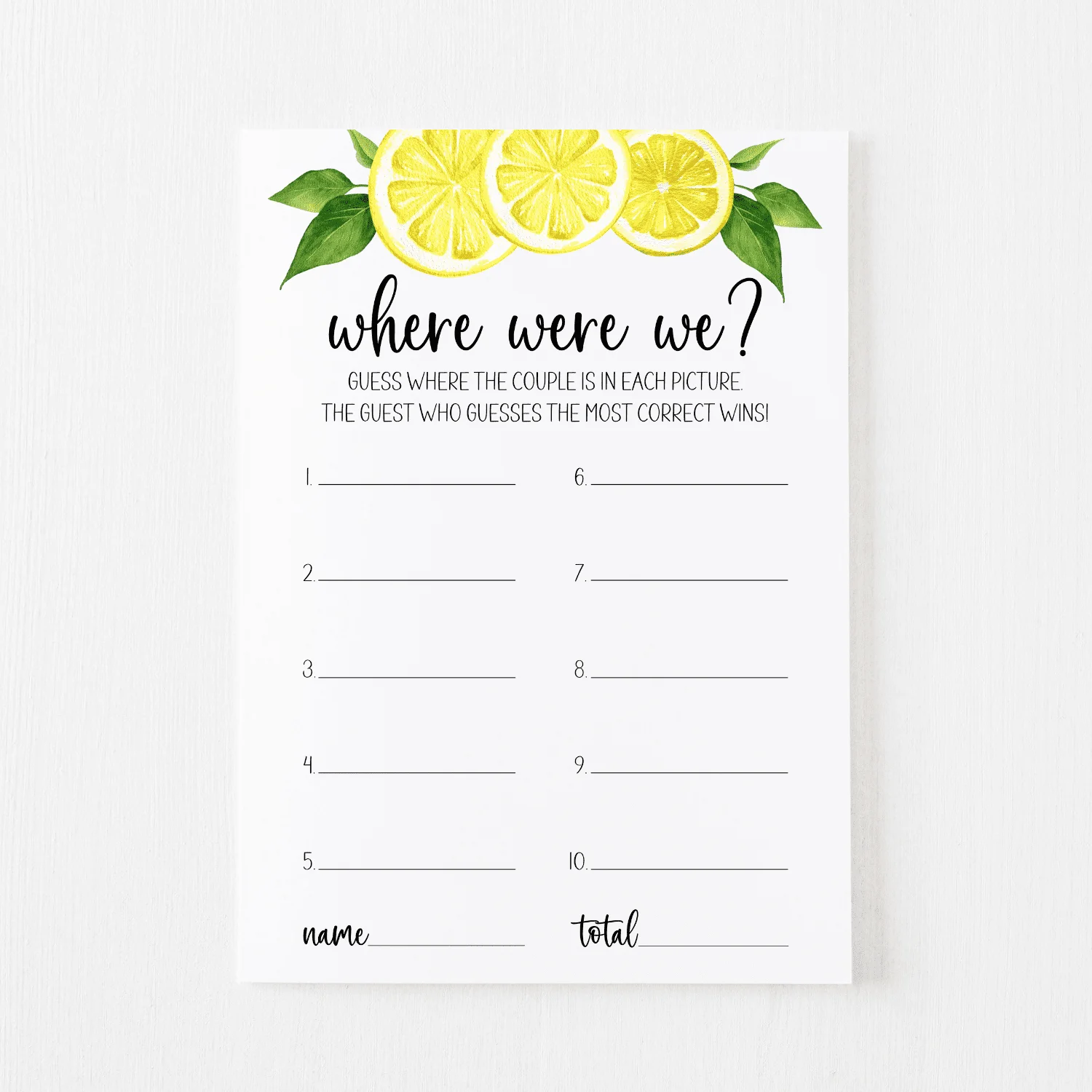 Mix & Match Bundle Sale
Buy any 5 of our printable bridal shower games for just $15!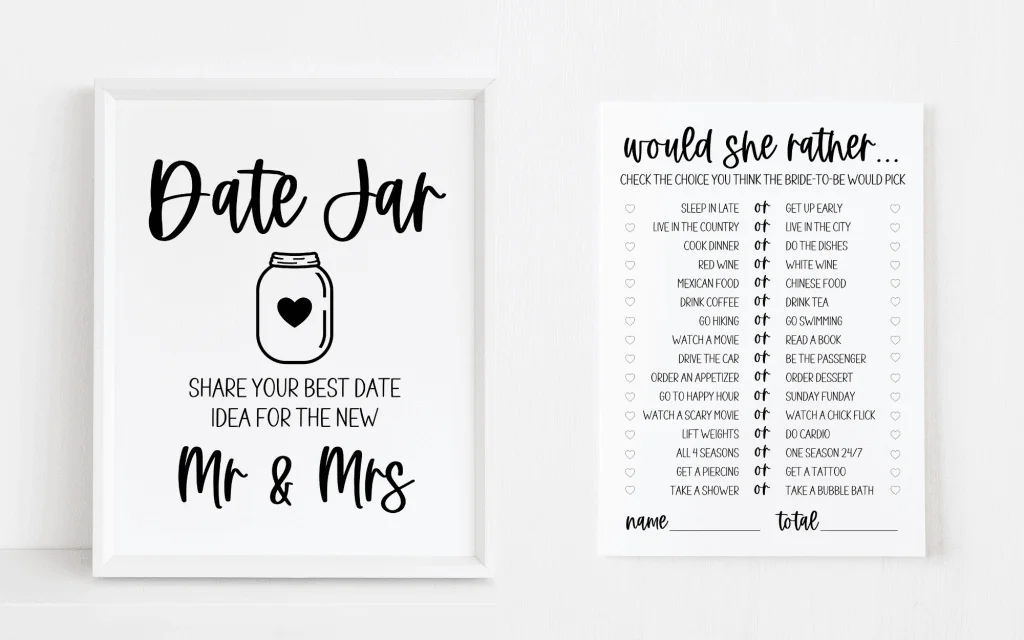 Our Favorite DIY Wedding Shower Games
5. Save the Date
To set up this bridal shower game, you must get together with your bride and have her provide you with some dates that are important to both her and the groom (i.e. their anniversary, first kiss, the date he proposed, future wedding date).
Next, create your own game cards by listing the name of the occasion by number in the left column and the date of the occasion (only month and day, no year) by letter in the right column (think of those matching tests you had to do in school where you draw a line to connect the two that correspond).
Make sure to have enough copies for all guests to participate and see who can guess the most correctly!
6. Musical Bouquet
Similar to musical chairs, but with a fun wedding twist! This is the only one of our bridal shower game ideas guaranteed to get guests up off their chairs and is especially funny after a few trips to the mimosa bar.
To play, fashion a bouquet out of real flowers or use the ribbons and bows from the gifts, then have the guests create a large circle. Once everyone is in place, turn your back to the circle and start the party music.
Guests will quickly pass the bouquet around the circle until the music stops, and whoever is left holding it will be eliminated. Continue on until there is one woman left standing and she will be crowned the winner.
7. Couples Jeopardy
Of all the bridal shower game ideas on our list, this is the most creative and crafty (aka DIY). Although it takes some effort on your part to put together, it's a great way to show your bride that you care enough to go the extra step.
In order to make the game board, you will need a large poster board, colored markers, and post-it notes. The category choices are up to you, but the most common include the bride, the groom, the couple, and fun facts. Feel free to add in wedding-related categories like movies, traditions, or celebrity couples.
For each category, come up with 5 questions that range from easiest to hardest and score them from 100 to 500. To play the game, split the guests into two teams however you see fit and get ready to do your best Alex Trebek impersonation. The team with the most points at the end wins a prize!
8. Love Songs
While this is one of those bridal shower games that require a bit of planning on your part, it's super easy and fun to play once put together.
Start by making a playlist featuring both classic and current love songs (remember that you'll have guests of all ages attending, so it must be fair to everyone). We recommend choosing anywhere from 10-20 songs as to not make it too hard or too tedious of a game.
At the wedding shower, pass out a pen and a piece of paper to each guest, then one by one play a snippet of each song. It's up to you to decide if guests should guess the name of the song or the artist who sings it (or allow them to guess both for double points). Whichever you choose, the guest with the most correct answers wins.
Frequently Asked Questions About Bridal Shower Games
Chances are you probably have a few questions when it comes to deciding on which, if any, wedding shower games you'll be playing (we know we did!) The fact of the matter is that no two bridal showers are the same, and the rules that apply to one may not necessarily apply to the other.
That being said, there are definitely some best practices in place and to help you make sense of it all, we've answered the four most frequently asked questions about bridal shower games.
What kind of games do you play at a bridal shower?
Typically there are two kinds of games played at a bridal shower- interactive and noninteractive. In other words, multiplayer and single-player.
Interactive games, also commonly referred to as icebreakers, require guests to mingle with each other in order to play. Examples of classic 'multiplayer' games include:
Find the Guest
The Ring Game
Bridal Mad Libs
Noninteractive games, which are typically found in printable form, tend to require more actual thought than socializing. Examples of classic "single-player" games include:
We suggest featuring an even mix of both styles of game: interactive to get guests socializing and single-player to make things competitive.
How many games should be played at a bridal shower?
There is no right or wrong answer to this particular question as it all depends on two factors: the length of the bridal shower and the bride-to-be's preference.
Our basic rule of thumb is one game played for every hour spent. As most showers tend to be three hours long, the average number of games played at a bridal shower is three.
If you're truly worried that you'll make the wrong choice, discuss it with the bride-to-be and make your decision based on that. It's her wedding shower after all, so what she says goes!
Do you have to play bridal shower games?
In our honest opinion, the answer to this question is no, you do not have to play bridal shower games. There is no hidden handbook that says they are a must. In fact, it's not even taboo if you don't. We've attended many modern bridal showers that have skipped the game-playing portion and were still super fun.
The real question is should you play them? And for that, we don't have a definitive answer. Again, it's all about your bride-to-be's preference. If she's looking for a traditional wedding shower- play some games! If she's a nontraditional bride- screw traditions! It's really that simple.
What do you do at a bridal shower without games?
The truth is that a bridal shower without games is still just a bridal shower. In other words, guests are still required to socialize with one another while the bride-to-be takes turns visiting with everyone.
If you are comfortable knowing that playing games is not a necessary step to achieving this goal, then you need not plan anything to take their place. If you are unsure, or even the slightest bit worried, we recommend supplementing bridal shower games with some alternative activities.
Pin for Later!