Disclosure: This post contains affiliate links, meaning we earn commissions if you shop through the links below. Please read my disclaimer for more info.
Modern MOH + Lulus bridesmaid dresses= a match made in heaven(ly hues).
And because we see Lulus as the future of budget-friendly bridesmaid dresses, we decided to break down their bridal collection into our favorite finds for every style and budget.
Aside from the crazy cheap price tags, we love that Lulus bridesmaid dresses are stylish enough to wear again and again ('cause let's be real- no one wants to drop hundreds of dollars on clothing that can only be worn once).
We also love their gorgeous color selection (insert heart eyes emoji) So much so that we had a tough time picking out favorite shades for each style…
So if you see a style you love but aren't a fan of the color we picked, click through to see what other options are available!
---
Best Lulus Bridesmaid Dresses by Neckline
Oftentimes the neckline makes all the difference when selecting the perfect bridesmaid dresses for a specific size and shape. Lucky for you, Lulus features a ton of flattering styles for you to choose from!
Off The Shoulder
When it comes to off-the-shoulder bridesmaid dresses, we just love a fitted look and Lulus did not disappoint! Their Aveline Maxi Dress hugs all the right places and even features a sexy side slit for some extra flair.
Aveline Maxi Dress in Forest Green
*Also available in White, Burgundy, Mauve Pink, Black, and Navy
One-Shoulder
Of all the styles featured in Lulus bridesmaid dress collection, the one-shoulder neckline had the least variety of options. That being said, they nailed the look with their Lovely Endings Maxi Dress made of gorgeously woven chiffon fabric with a high, fitted waist and pleated bodice.
Lovely Endings Pleated Maxi Dress in Rose
*Also available in Dusty Blue
Halter Top
While it may not be the traditional halter top style you're used to, we adore the modified halter neckline on Lulus Air of Romance Maxi Dress. From the banded waistline to the sweeping skirt, we can't get enough of this elegant look.
Air of Romance Maxi Dress in Taupe
*Also available in Burgundy, Navy Blue, Dusty Purple, and Black
V-Neck
If you couldn't tell from the intro of this post, Lulus Heavenly Hues Maxi Dress is a personal favorite of ours. We could go on and on with accolades for this style, but we'll just let their description do the talking- "You'll be goddess-like for the entire evening"
Heavenly Hues Maxi Dress in Light Grey
*Also available in Blush, Royal Blue, Navy Blue, Black, Light Blue, Magenta, Denim Blue, Dusty Purple, White, Forest Green, Burgundy, Red, Taupe, and Cream
High-Neck
The combination of high-neck and apron neckline on Lulus Mythical Kind of Love Maxi Dress makes for an irresistible pick. Add to that the crisscross spaghetti straps atop an open back and you've got the perfect bridesmaid dress!
Mythical Kind of Love Maxi Dress in Wine Red
*Also available in Black, Light Blue, Dark Green, and Rusty Rose
---
Best Lulus Bridesmaid Dresses by Sleeve Length
Determining which sleeve length works best for your desired look depends on a few factors: time of year, casual vs formal and overall comfort for your bridal party. From strapless to long-sleeved, Lulus bridesmaid dresses come in all sleeve lengths!
Strapless
When it comes to strapless bridesmaid dresses, we always adore a classic sweetheart neckline. We adore it even more when it features a pleated, overlapping bodice like Lulus With All My Heart Maxi Dress.
With All My Heart Pleated Maxi Dress in Blush
*Also available in Gardenia and Slate Blue
Spaghetti Strap
Nothing beats a classic spaghetti strap top, especially when those straps are adjustable to accommodate all bust sizes. That paired with a surplice bodice and cascading skirt is why the All About Love Maxi Dress is one of our favorite Lulus bridesmaid dresses!
All About Love Maxi Dress in Lavender
*Also available in Blush Pink, Dusty Purple, Light Grey, Rusty Rose, Slate Blue, Coral Red, Royal Blue, Black, and Taupe
Short Sleeve
When done right, short sleeve bridesmaid dresses make for an absolutely elegant wedding party look. Lulus Lost in the Moment Maxi Dress hits the nail on the head with its lightweight, sheer fabric and flowing, front slit skirt.
Lost in the Moment Maxi Dress in Slate Blue
*Also available in Blush, Sage, and Burgundy
Long Sleeve
Long sleeve + lace= yas yas yassss!! We love everything about Lulus Awaken My Love Maxi Dress from the gorgeous lace bodice and sheer sleeves to the fitted waist and surprise open back.
Awaken My Love Lace Maxi Dress in Navy Blue
*Also available in Burgundy, White, and Black
---
Best Lulus Bridesmaid Dresses by Feature
If you're searching for a specific feature to complete your bridal party look, look no further! Lulus has a variety of styles including wrap, convertible, and backless bridesmaid dresses.
Wrap Dress
Wrap dresses are all the rage nowadays and for good reason! Not only do they look great on all shapes and sizes, but they have the potential to be worn again and again. Lulus Easy Listening Maxi Dress takes wrap to the next level by featuring tank straps, cold-shoulder cutouts, and ruffled off-the-shoulder sleeves.
Easy Listening Cold-Shoulder Maxi Dress in Sage Green
*Also available in Blush and Slate Blue
Backless
What's not to love about Lulus Dance the Night Away Maxi Dress? From the wide straps with adorable tying detail to the backless silhouette, it's a total show-stopper!
Dance the Night Away Maxi Dress in Dusty Purple
*Also available in Blush Pink, Rusty Rose, and Slate Blue
Convertible
Perfect for a mismatched bridal party look, convertible dresses are the key to guaranteeing all bridesmaids feel comfortable and look their best on the big day! Lulus Tricks of the Trade Maxi Dress can be wrapped into over 12 different styles including one-shoulder, strapless, and halter.
Tricks of the Trade Maxi Dress in Rusty Rose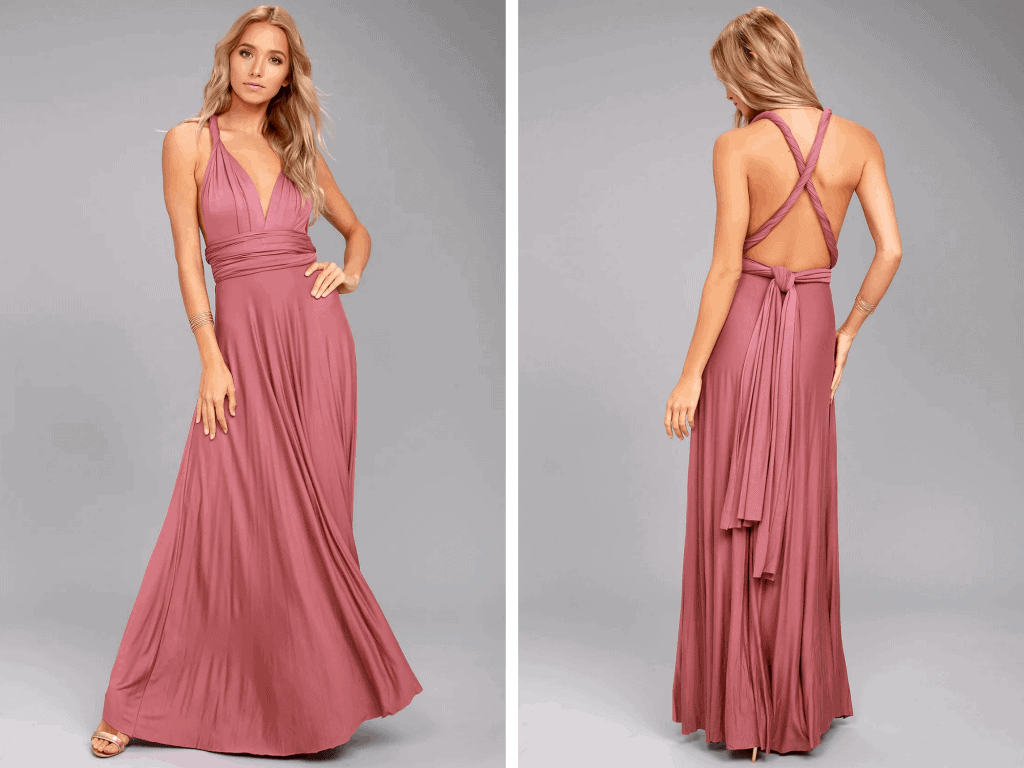 *Also available in Black, Taupe, Navy Blue, Burgundy, Forest Green, and Blush Pink