Where Were We Bridal Shower Game: How to Play + Printable Cards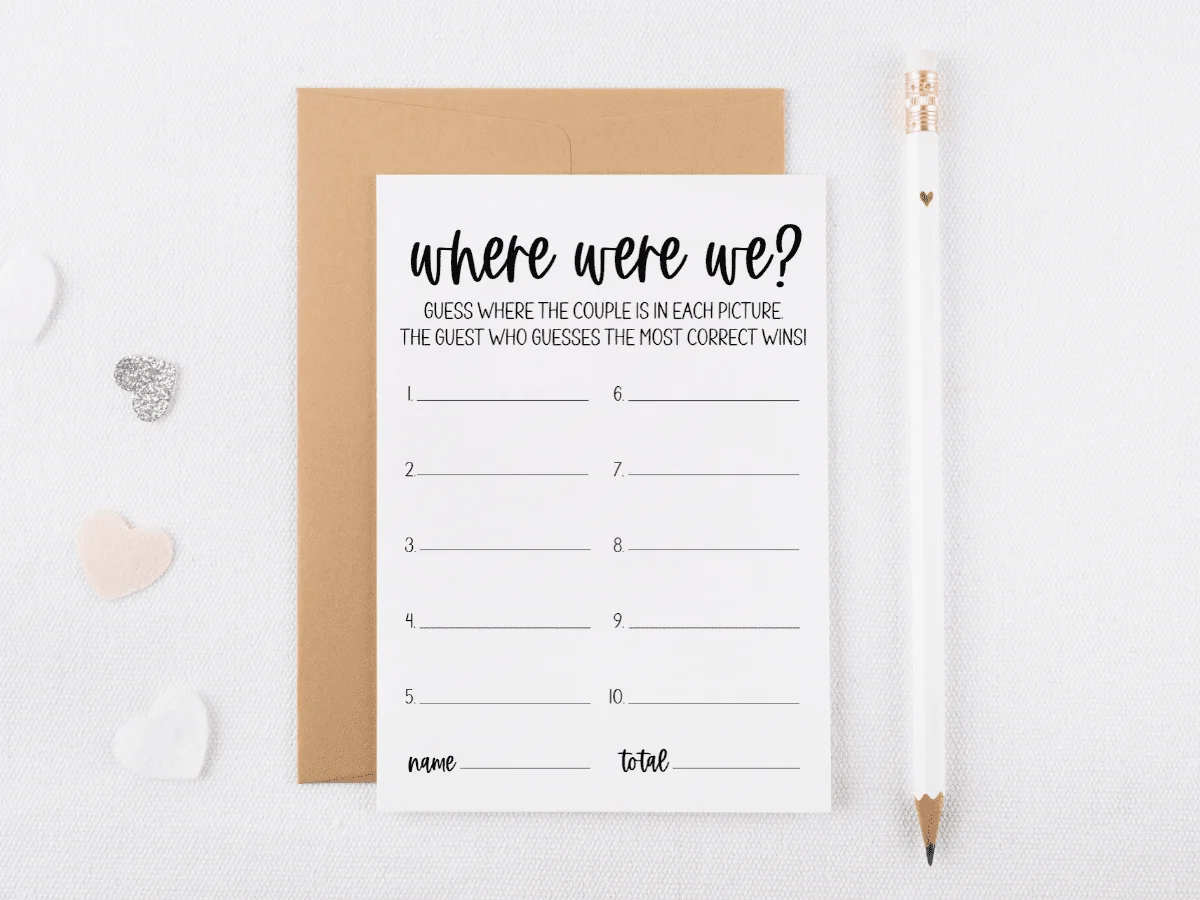 Disclosure: This post contains affiliate links, meaning we earn commissions if you shop through the links below. As an Amazon Associate, I earn from qualifying purchases. Please read my disclaimer for more info.
Our favorite part about playing wedding shower games is that they can be a great way to learn more about the couple before their big day. The Where Were We bridal shower game does exactly that by having guests guess where the couple was in a variety of different photos- from vacations to date nights and everything in between.
Also referred to as Where Were They, this game is perfect for those couples who love to travel and have lots of memories from many different places. It's also an ideal game option for those hosting a honeymoon or travel-themed bridal shower.
What's even better is that you'll be featuring photos of the happy couple anyway, so why not make a fun game out of it!?
What do you need to play the Where Were We bridal shower game?
How do you display these photos?
Depending on the overall aesthetic of the bridal shower, there are a variety of ways to go about displaying these photos. If you want the Where Were We game to blend in with the decorations, simply frame the photos and display them throughout the shower, making sure to label the frames 1-10.
If you're looking for the game to be its own section of the shower, here are two ways to go about setting it up:
Prior to the bridal shower, glue/tape the photos onto a tri-fold display board, using a permanent marker to label them 1-10. This board can then be displayed on a table next to the game cards and pens.
Once you arrive at the bridal shower venue, tape a piece of twine or ribbon to the wall, then secure the photos using mini clothespins. Feel free to number the photos by creating your own labels, or simply announce to guests that they're hung in numerical order.
How do you play?
Extra tips for playing the Where Were They bridal shower game
Our Best-Selling Where Were We Game Designs!