How to Plan the Best Bachelorette Party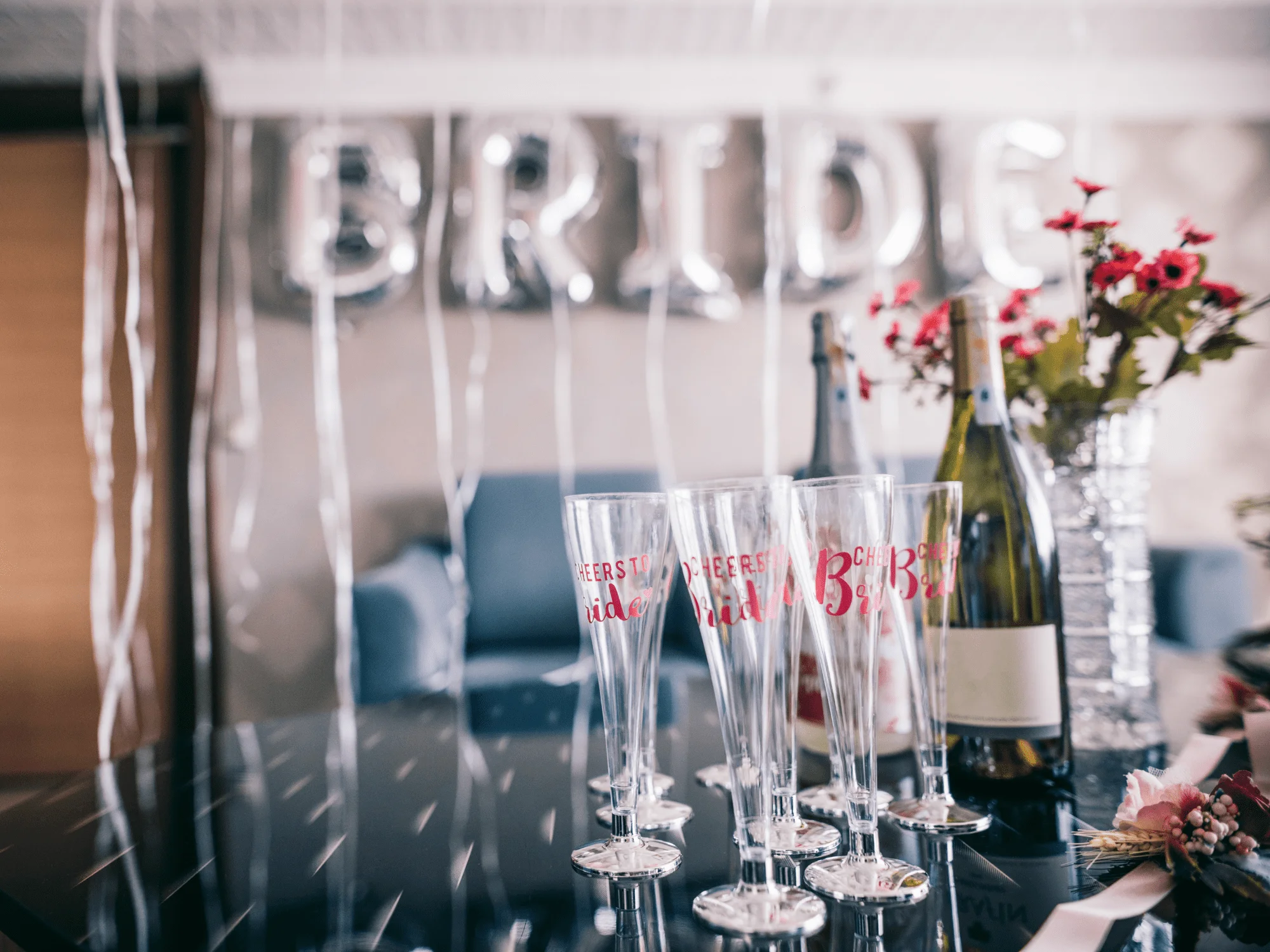 Let us start off by asking you a question- What's the first thing that came to mind when your bestie asked you to be her maid of honor? If you answered the bachelorette party, you're correct. If you answered any differently, you're lying.
We know for a fact that planning and attending your BFF's bachelorette party will be the highlight of your time as a maid of honor, so no need to deny it.
Yes, we know that hosting the bridal shower is an important duty and that giving a toast to the bride and groom is a great honor, but you're kidding yourself if a girls-only getaway doesn't get you giddier than ever! So now that we have that covered, it's time to break down just how to plan a bachelorette party.
Our detailed outline covers everything you need to know about planning a bachelorette bash, from choosing a date and destination to coordinating attire and goodies. We've even included a free planning checklist (at the bottom of this post) for you to keep on hand! Keep in mind, if you are planning a last-minute party, you may have to simplify things and condense a number of these steps!
Pre-Bachelorette Party Prep (6+ Months Out)
Decide Local vs Destination
Before you begin planning the bachelorette party, you must consult with the bride to determine whether she wants a local or destination celebration. While destination bachelorette parties are becoming more common nowadays, they are not always a given for every bride. As maid of honor, it's up to you to help your bride decide what best fits her style.
Depending on her personal preference, cost of travel and lodging, guest list, or any number of factors, your BFF may choose to spend her bachelorette in her hometown or close to, such as a family or friend's vacation home (beach/lake/mountain/etc).
MODERN MOH TIP: Talk with the rest of the bridal party before you begin planning to set a spending budget that everyone is comfortable with. This is also the time to discuss what the bride will and will not be paying for (i.e. travel/lodging costs, food/drink bills, etc.)
Pick a Location
If your bride chooses to have a destination bachelorette, your next step is to determine just where you'll go. Oftentimes, the bride will already have a location in mind, which makes your job simple. However, if your bestie is up in the air about where it's your duty to help her narrow down the options.
When doing so, take into account the time of year you'll be traveling, the overall budget, and most importantly, the personality of your bride. If the two of you are able to cut it down to a few choices, but can't make the final call, enlist the opinions of your fellow bridesmaids to help you do so.
Remember- the cost of traveling is more expensive than staying local, so it's important that everyone attending is agreeable to the destination and is comfortable with the amount they're required to spend.
Select a Date
Once you've answered the question of where, the next step to planning a bachelorette party is to determine the when. In most cases, your girls' getaway will run for a long weekend, generally Thursday-Sunday or Friday-Monday.
Similar to the bridal shower, you want to plan your trip no earlier than two months from the wedding and no later than two weeks before. This time frame guarantees that your BFF has free time leading up to her big day, but also ensures that the fun does not come and go too soon.
As with the destination decision, it's important to consult with both your bride and other bridesmaids to confirm that everyone's schedule is clear of any previous plans. Keep in mind that not every member of the bridal party has to arrive or depart at the same time, or even the same day. As long as you have at least one full day and night to spend together, your bride will be more than pleased!
Book Lodging and/or Travel
Now that you've decided on the when and where, it's time to decide how you'll travel there and where you'll be staying. Most destination bachelorette parties require a round-trip flight, so we suggest you begin your search early on.
While it's up to each bridesmaid to book her own transportation, it's helpful if you as maid of honor keep everyone on the same page regarding flight times and prices. This will guarantee that everyone has the opportunity to travel together and that no one member of the bridal party must pay more than another.
As we mentioned previously, it's not always possible for everyone to make it at the same time, especially if they are not from the same area, but your bride will surely appreciate your effort to make it happen. While you are looking into travel plans, you should also be scooping out the lodging options available in the area.
Depending on the size of your group and the overall budget, we suggest looking into renting a home on Airbnb or VRBO since they are typically cheaper to split and allow for everyone to remain together. Before booking, be sure to read the reviews and double-check that you're getting the most bang for your buck.
Choose a Theme
While this is not a necessary part of planning a bachelorette party, there are many brides who prefer to have a theme associated with their girls' weekend. Typically, this theme needs to be decided prior to planning the specifics (ie. invitations, decorations, favors, shirts, etc).
MODERN MOH TIP: Consult with the bride about her vision before any major decisions regarding the bachelorette theme are made. Chances are she already has an idea of what she does and does not want, so unless she wants to be surprised- ask first.
Big Picture Basics (4-6 Weeks Before)
Research the Area
In the weeks leading up to the trip, you'll want to do a bit of research into all your destination has to offer- activities, attractions, restaurants, bars, etc. As maid of honor, your bride will be looking to you to have a basic itinerary of fun bachelorette party ideas to make it a weekend no one could possibly forget.
By no means do you need to have every hour of every day mapped out, simply having a loose idea of plans will save time when it comes to deciding where to eat, drink and play. We suggest putting together a list of top-rated restaurants, including one formal option for a sit-down dinner and another for a bottomless bubbly, and bloody brunch. Add to that list a few fast-casual options for when you're on the go.
As for nightlife, look into bars that fall within walking distance of where you're staying to avoid Uber costs and clubs with free entry to prevent paying a cover charge. When it comes to exploring other activities and attractions, don't hesitate to reach out to your host (Airbnb or VRBO) or the hotel concierge for their advice.
Plan Some Games
While the majority of your weekend will probably be spent out and about, it's always a good idea to have some girls night games planned for those down times spent at home. These games especially come in handy when getting ready for a night out or when you're looking to break the ice between those who may not know each other.
MODERN MOH TIP: Pick out a game that can double as a gift for the bride to take home with her to play at all future girls' nights!
Order Decorations
The key to turning any plain rental home into a picture-perfect party pad is all about the decor. While the decorations used may be similar to those displayed at the bridal shower, the great part about decorating for the bachelorette is that you can go as R-rated as you like. And by R rated we mean using as many penis-shaped objects as possible.
MODERN MOH TIP: Contact your host to see if they would be willing to decorate before you girls arrive by offering to send the decorations to them directly. If that doesn't work out, have your bride wait in the bathroom while you get everything set up and ready to party!
Decide on Matching Attire
One modern must-have of any bachelorette party is coordinated clothing. It's up to you as maid of honor to talk with your bride and decide which outfits you'll want to plan in advance so the rest of the bridal party knows what to pack.
A common example would be for the bride to wear all white while her bridesmaids wear all black. This outfit is usually worn out on the first night for a fancy dinner and a night of dancing. Another popular trend nowadays is for the bride and her girls to wear a certain article of clothing that features matching print, typically worn out during the day for brunch and day drinking.
Organize Gift Bags
After you've coordinated the outfits, the next step to planning a bachelorette party is to assemble a goodie bag full of fun favors and hangover helpers for the bride and her maids, yourself included. Commonly referred to as the "Oh Shit Kit", this cute care package can include anything from Advil and Pedialyte powder to hair ties and temporary tattoos.
Mix & Match Bundle Sale
Buy any 5 of our printable bachelorette party games and signs for just $15!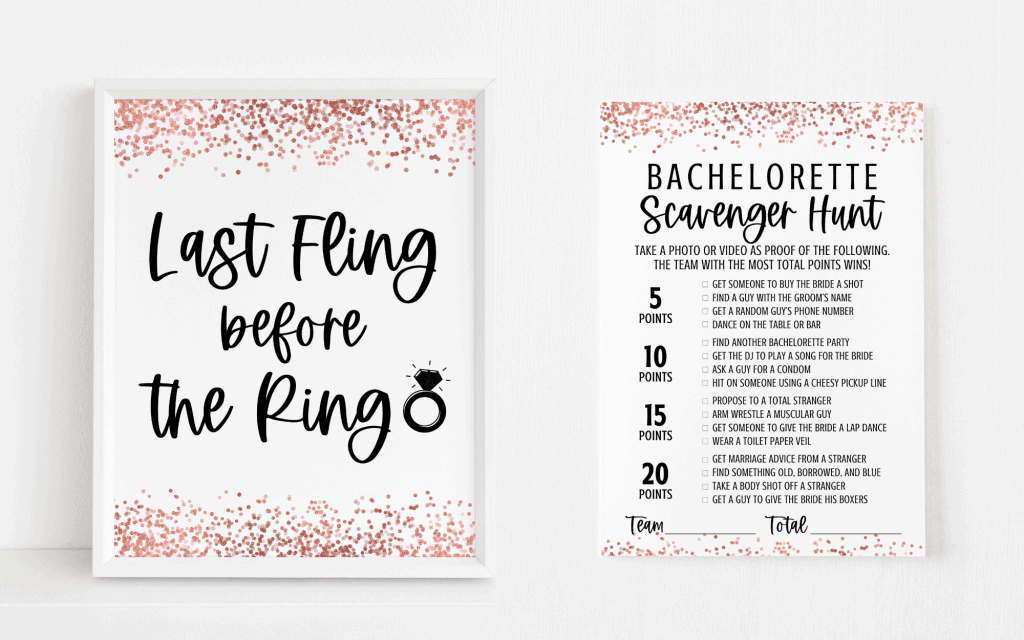 Final Few To-Dos (Week of and Day Before)
Start a Shared Photo Folder
In the world of modern technology and social media, it's no exaggeration to say that hundreds of photos will be snapped throughout the bachelorette weekend. To save yourself and the other girls the trouble of having to send every single photo to each individual phone, start a shared iCloud photo album where all pics can be uploaded to.
Not only does this save you the hassle of a blown-up group text, but it also makes it super easy to find all the photos in one place. Trust us when we say you'll be reminiscing over these pics for years to come, so knowing exactly where to locate them will come in handy!
Pack the Necessities
Before you even pull your suitcase out of the closet, we suggest you create a bachelorette party packing list to make sure you leave nothing behind. Keep in mind that you're only going away for the weekend, so less is definitely more.
MODERN MOH TIP: If you are traveling by plane and have a bunch of decorations/goodies to bring, consider splitting these items up with other members of the bridal party so your bag is not overstuffed/overweight.
Finalize EVERYTHING
We mean everything: travel plans, lodging arrangements, transportation from the airport, a packing list, decorations, and goodie bags. Once you've double and triple-checked that you have everything ready to roll, get in touch with each of the bridesmaids to guarantee they are on the same page.
If there is something specific that anyone is to bring, confirm that they have packed it with them. Finally, do one more talk-through with your bride to make sure there are no last-minute changes or concerns on her end.
Day of Duties
PARTY PARTY PARTY
We are so serious girl- go get your groove on!! You have worked so hard to put together one ballin' bachelorette so go enjoy yourself! We're sure there will be a few hiccups and some bridesmaid drama along the way, just know you've done the very best you can to make this weekend one to remember for your BFF.
Most importantly, don't forget to drink plenty of water, eat lots of food and take tons of pics!
Pin for Later!