35 Maid of Honor Speech Quotes to Enhance Your Toast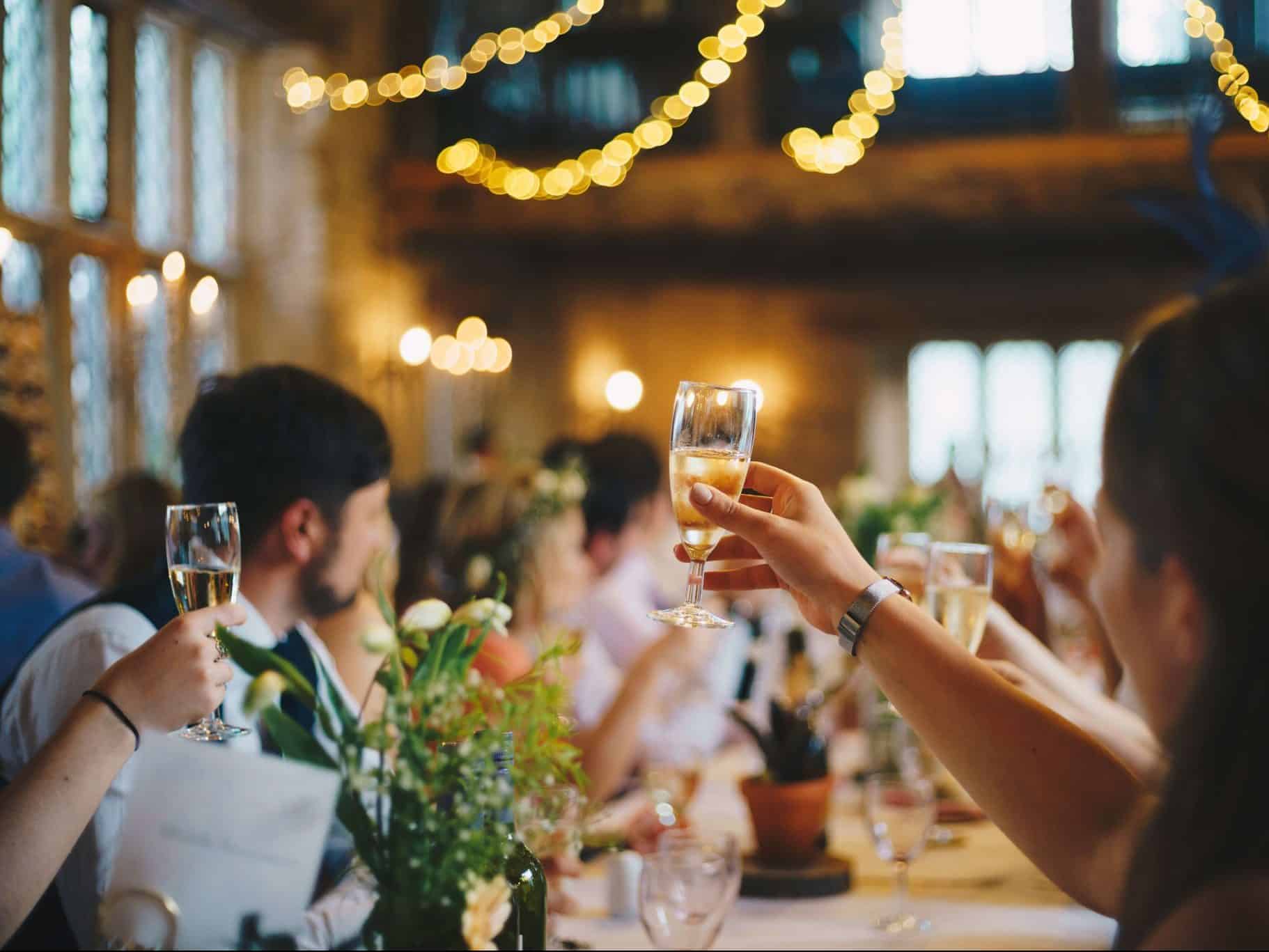 Disclosure: This post contains affiliate links, meaning we earn commissions if you shop through the links below. Please read my disclaimer for more info.
If you think writing a maid of honor speech is tough, you're totally right. For starters, you have to come up with a captivating opener to get the audience hooked from the jump.
Then you must keep them hanging onto your every word for the next 3-4 minutes. And just when you think the hardest part is over, here comes the ending (dun, dun, dunnnnn)!
To help you with the beginning, middle and end of your epic toast, check out our top 35 maid of honor speech quotes broken down into five categories.
Funny Maid of Honor Speech Quotes
Looking for a few laughs? Any of these should do the trick!
"May all your ups and downs come only in the bedroom."
"Good evening, family and friends. I'm very happy to preside over the only five minutes of the day [BRIDE] didn't plan."
"Loyal, caring, sincere, honest… but that's enough about me, I'm here to give a speech about [BRIDE]!"
"[BRIDE] knows that I'm a bit nervous about this speech, and she gave me some great advice. She said 'Don't try to be too charming, witty or intellectual… just be yourself!'"
"If you don't understand how a woman could both love her sister dearly and want to wring her neck at the same time, then you were probably an only child."
"[BRIDE] please put your left hand flat on the table. [GROOM] please place your hand on top of hers. Enjoy this moment [GROOM], because it's the first and last time in your marriage that you'll have the upper hand."
"[BRIDE] and [GROOM], before I finish, I'd like you to turn to face each other. You're now looking into the eyes of the person who is statistically most likely to murder you. To the bride and groom!"
Maid of Honor Speech Quotes for Sister
Celebrating your sister and new brother-in-law? Throw in any of these quotes for an added touch!
"There is no better friend than a sister, and there is no better sister than you."
"A sister is a little bit of childhood that can never be lost."
"Because there's one thing stronger than magic: sisterhood."
"The best thing about having a sister was that I always had a friend."
"A sister can be seen as someone who is both ourselves and very much not ourselves — a special kind of double."
"That's the best thing about little sisters: They spend so much time wishing they were elder sisters that in the end, they're far wiser than the elder ones could ever be."
"Sister to sister we will always be, a couple of nuts off the family tree."
Speech Quotes For Best Friend
Tell your bestie what her friendship means to you with any of these sweet quotes!
"Good friends are hard to find and impossible to forget."
"There are big ships and small ships. But the best ship of all is friendship."
"Friends are the family you choose."
"We have been friends together in sunshine and in shade."
"There are friends, there is family, and then there are friends that become family."
"The most beautiful discovery true friends make is that they can grow separately without growing apart."
"They say nothing lasts forever; dreams change, trends come and go, but friendships never go out of style."
Sentimental Maid of Honor Speech Quotes
Want to really move the audience with your speech? Try one of these heartfelt quotes.
"The greatest thing you'll ever learn is to love and be loved in return."
"A successful marriage requires falling in love many times, always with the same person."
"May you have love, health & wealth; but most importantly, may you have the time to enjoy them all."
"The best thing to hold onto in life is each other."
"Love is a symbol of eternity. It wipes out all sense of time, destroying all memory of a beginning and all fear of an end."
"When you realize you want to spend the rest of your life with somebody, you want the rest of your life to start as soon as possible."
"Love recognizes no barriers. It jumps hurdles, leaps fences, penetrates walls to arrive at its destination full of hope."
Closing Toasts
Need the perfect closing for your maid of honor speech? Try out one of these short and sweet toasts to the bride and groom!
"May your love be modern enough to survive the times and old-fashioned enough to last forever."
"Here's to the new husband and here's to the new wife. May they remain lovers for all of life."
"May 'for better or worse' be far better than worse."
"Love is a friendship that has caught fire, so may your love burn bright for years to come. Here's to my best friend and her new best friend."
"A toast to love, laughter, and happily ever after."
"May your troubles be less, your blessings be more and nothing but happiness come through your door."
"Let's drink to love, which is nothing—unless it's divided by two."
Pin for Later!