Disclosure: This post contains affiliate links. Please read my disclaimer for more info.
Rule number one when it comes to buying bridal shower favors is to keep them as cheap as possible. This is not because you don't care about the bride-to-be and her guests, or because you figure they'll just be left behind anyways (though unfortunately this does happen). It's due to the simple fact that these bulk buys are strictly meant to serve as fun little mementos, not full blown gifts for guests.
When it all comes down to it, bridal shower favors are simply your way of saying "thank you" for joining us in celebrating the future Mrs. So in order to save you both money and time, we've put together a list of our favorite finds including some pretty packaging as an added bonus. We've also broken down the top three sites to purchase cheap bridal shower favors in bulk, including the pros and cons of each.
Sweet Treats
Giving out edible bridal shower favors is the simplest way to guarantee your gift won't go to waste. They also happen to be super cheap for you to purchase in large quantities. Here are a few of our favorites:
Seal your sweet treats up in these cute personalized mason jars or display them next to our Made by Modern MOH love is sweet sign and you've got bridal shower favors that look as good as they taste.
Barware
Gifting guests with something they can continue to use once the shower is over is a great way to get the most bang for your buck. While these bridal shower favors may be a little more per item, their practical nature makes the added expense worth it. Below are a few great examples:
Although these favors don't require any fancy packaging, feel free to tie on a cute custom tag for an added touch.
Beauty Products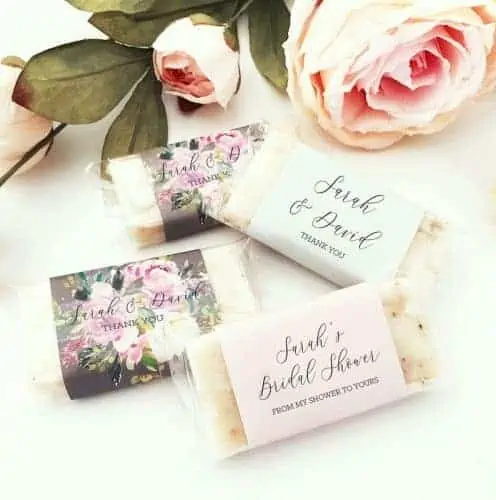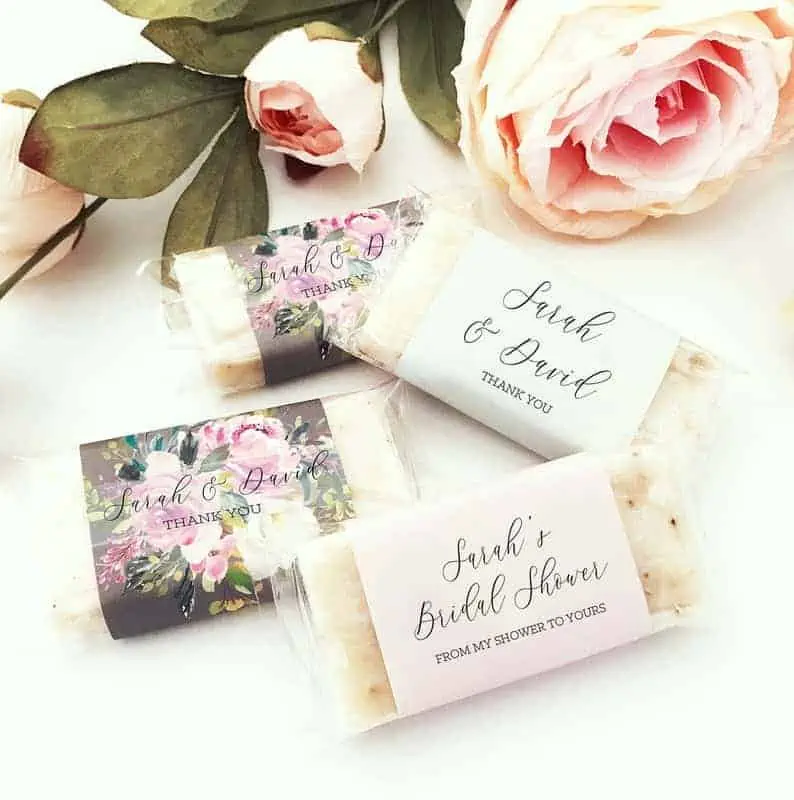 Seeing as how all the recipients of these bridal shower favors are women, we'd say a cosmetic souvenir will go over quite nicely. Plus, what better gift to give at a wedding shower than one guests can use in their own shower? Check out our top picks:
As all of these bridal shower favors are personalized with custom tags, you can simply hand them out as is or stash them in these bridal goodie bags for a more gift-like feel.
---
Where to Buy Cheap Bridal Shower Favors in Bulk
Pros: The number one reason we recommend purchasing through Amazon is because it's Amazon. Nowadays everyone has a Prime account, or knows someone who does, which makes it insanely easy to purchase products from their site. Secondly, Amazon is about as cheap as you will find when it comes to buying in bulk. Finally, their delivery time is the quickest of all, so if you've waited until the last minute to purchase your bridal shower favors, this is definitely the best bet for you.
Cons: Our number one complaint about buying bridal shower favors through Amazon is that they are unable to be customized to include personal information. While their business model allows for cheap purchases and quick delivery, it unfortunately means that what you see is what you get. The other downside of shopping for bridal shower favors on Amazon is their limited selection, especially in comparison to the next two sites.
---
Pros: Similar to Amazon, Etsy is an authority site that nearly all consumers are comfortable purchasing from, especially when it comes to anything relating to weddings. Unlike Amazon, they have endless options of bridal shower favors, with the majority being handcrafted from individually operated shops. Because most of these favors are handmade, they can be personalized to include details such as the bride's name and date of the bridal shower.
Cons: We can sum up the cons of purchasing bridal shower favors through Etsy by saying they're basically the opposite of Amazon's. Of all three sites, Etsy is the most expensive when it comes to price per favor. Like Amazon, this is due to the way their business model operates. Another consequence of their individually-operated, hand-crafted model is that delivery times tend to take double or triple the time of the other two sites. Meaning you're probably out of luck if you're reading this a week before the bridal shower.
---

Pros: We listed Beau-Coup as our top site to buy bridal shower favors in bulk because it combines the pros of both Etsy and Amazon. For starters, Beau-Coup is crazy cheap when it comes to price per favor- we're talking less than a dollar a piece for some. Similar to Etsy, Beau-Coup has a ton of different options to choose from, all of which are able to be customized to feature personal information. Lastly, like Amazon, Beau-Coup is a large corporation who specializes in bulk orders, meaning quick turn around and delivery times (hello procrastinators!)
Cons: In our opinion, the only con associated with Beau-Coup is it's lack of authority compared to Etsy and Amazon. In other words, the chances of you having purchased from their site is much lower than the chances that you've purchased from the other two. While this is not a knock on their company or quality of product, it is something that factors in when making a bulk purchase.
WHAT'S NEXT: Bridal Shower Game Prizes Guests Will Actually Want