24 Bridal Shower Favors for Every Budget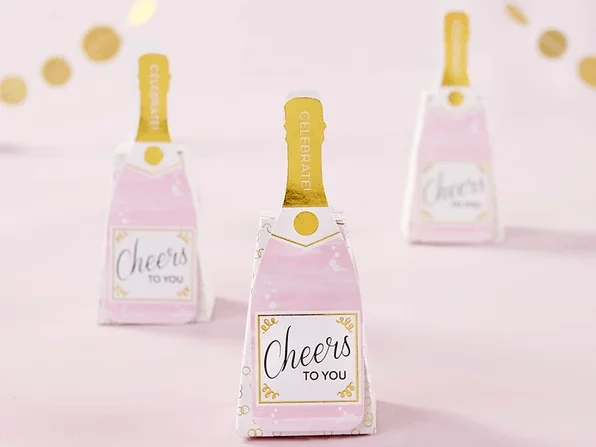 Disclosure: This post contains affiliate links, meaning we earn commissions if you shop through the links below. Please read my disclaimer for more info.
Rule number one when it comes to buying bridal shower favors is to keep them as cheap as possible. This is not because you don't care about the bride-to-be and her guests, or because you figure they'll just be left behind anyway (though unfortunately this does happen).
It's due to the simple fact that these bulk buys are strictly meant to serve as fun little mementos, not full-blown gifts for bridal shower guests.
When it all comes down to it, giving out bridal shower party favors is simply your way of saying 'thank you' for joining us in celebrating the future Mrs.
So in order to save you both money and time, we've put together a list of our 24 favorite finds. We've even labeled them based on price per favor. It goes as follows:
$=$1.00-$2.99
$$=$3.00-$4.99
$$$=$5.00-$10.00
Labels & Tags for Bridal Shower Favors
While some bridal shower favors already come complete with a custom tag or label, there are plenty that do not. For those looking to add some flair or those who are DIYing their favors, here are our top choices:
How to Display Favors at a Bridal Shower
The easiest way to display favors at a bridal shower is by delegating a specific table (or portion of a large table) for them to be laid out on. Typically this table will be next to or near the table holding the bridal shower gifts.
If you want to add some decoration to your favors table, consider using a table cloth that matches your overall color scheme. We also recommend featuring a bridal shower favors sign to top it off!
Here are our top sellers from our printables shop:
Frequently Asked Questions about Bridal Shower Favors
Chances are you probably have a few questions when it comes to deciding on which, if any, wedding shower favors you want to give out (we know we did!)
To help make your decision a bit easier, we've answered the five most frequently asked questions about bridal shower favors for guests.
Do you have to give favors at a bridal shower?
The simple answer to this question is no, you do not have to give favors at a bridal shower. They are not a mandatory requirement, simply an extra sweet touch.
The question you'll want to ask yourself instead is should you give out favors? And the only way to answer that question is to ask yourself another very important one first: Do they fit into the overall budget of the shower?
If yes, then go for it. If no, then skip 'em.
MODERN MOH TIP: Don't hesitate to talk with the bride-to-be about this decision. While she should be left out of the overall planning process, it's totally ok to pick her brain about her general expectations.
Who pays for bridal shower favors?
If you do in fact decide to give out bridal shower favors, then you'll need to figure out how they will be paid for.
Like all other bridal shower expenses (decorations/food/drinks), you should be splitting this cost with the rest of the bridal party.
MODERN MOH TIP: Do not purchase the favors until you've received everyone's portion. Under no circumstances should you as maid of honor be left footing the entire bill.
How much should you spend on bridal shower favors?
This is by far the trickiest question to answer regarding bridal shower favors because it's the most discretionary. In other words, it totally depends on your budget, style, and number of guests attending.
Like we mentioned from the get-go, we always recommend keeping it as cheap as possible. To us, that means anywhere from $1 to $5 per favor.
However, if you want these favors to serve as gifts for bridal shower guests or are hosting a small shower, spending up to $10 per favor is not out of the question.
MODERN MOH TIP: Consider turning the bridal shower favors into a fun DIY project that you can complete with your fellow bridesmaids. This route may save you a ton of money but also be a fun bridal party bonding experience!
What do you write on bridal shower favors?
If you are hand-writing or creating your own bridal shower favor tags, you'll want to be sure to include a fun saying as well as the date of the bridal shower or wedding.
The most popular saying for these tags include "Thank you for showering [Bride] with love" and "From [Bride's] shower to yours"
Our other favorite bridal shower favor tag sayings include:
What date goes on bridal shower favors?
The date you write on the bridal shower favors typically depends on the wording you choose.
For instance, if your saying references the bridal shower itself (i.e. "From [Bride's] shower to yours"), then you would use the bridal shower date.
On the other hand, if you go with wording that references the bride and groom (i.e. their first names or their initials), you'll want to use the wedding date.
Pin for Later!