Miss to Mrs Box: The Ultimate Bridal Subscription Service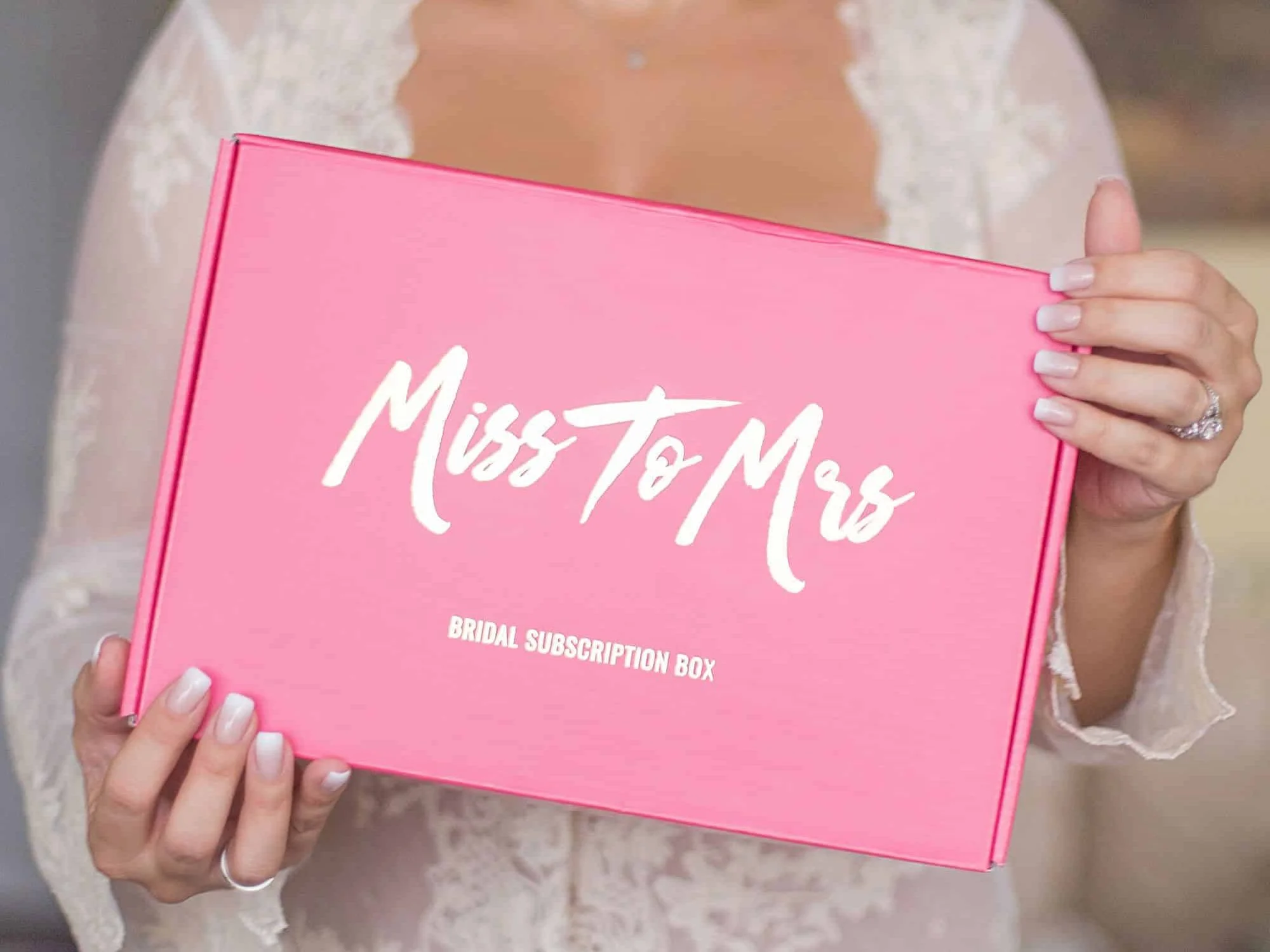 Disclosure: This post contains affiliate links, meaning we earn commissions if you shop through the links below. Please read my disclaimer for more info.
We here at Modern MOH are thrilled to announce our partnership with Miss to Mrs Box, the ultimate bridal subscription service. Besides their attention to detail and high-quality products, we love this company's ability to customize its service to meet the needs of every uniquely individual bride-to-be.
Whether you're newly engaged or just a few short months from the big day, Miss to Mrs Box will tailor your subscription plan according to your wedding date. From their "Let's Plan This" beginners box all the way to their final "It's Official" box, MTM covers all stages of the wedding planning process.
What are the Miss to Mrs Box Themes?
Miss to Mrs Bridal Box has curated ten unique themes to cover all stages of the wedding planning process. Here they are in sequential order with their exact descriptions:
"Lets Plan This"
Celebrate your new status and get goodies that are useful at every stage of your planning journey.
"Ultimate Bridal Swag"
Get ready for the CUTEST bridal merch. It's totally okay to be a little extra! #noshame
"Bride Vibes"
Take some time to reconnect with yourself and maintain a healthy and balanced routine.
"It's Party Time"
This box was designed to make all your #partygoals come true. Celebrate in style!
"Keep Calm & Plan On"
This box is designed to help you fit an at-home pampering into your wedding planning schedule.
"Blushing Bride"
From rehearsal dinners to photoshoots, this box will help you look your best.
"Maximum Romance"
This box will elevate the romance of any date night.
"Wedding Day Essentials"
Don't stress! This box has key "must-haves" for the big day. One step closer to being #weddingdayready!
"Honeymooners"
This box will have you ready for any adventure, whether a romantic destination or a tropical beach.
"It's Official"
This box is designed to get you settled into your new #wifelife.
New Product Offering: The Ultimate Bride Box
You asked and Miss to Mrs Box listened! For those looking for a tangible engagement or bridal shower gift, they are now offering an all-in-one mega box deemed "The Ultimate Bride Box".
For a one-time cost of $99 (+free shipping!), your bride will receive 15 full-sized items including the "I Said Yes!" Tumbler, "I Do" Ring Dish, "Wife of the Party" T-shirt, "Just Married" Knee-High Socks, and much more!
The best part? These iconic items are delivered in a massive, premium keepsake box that can be used again and again!
New Miss to Mrs Membership Perk: The Planning Bundle
Miss to Mrs Box is now offering subscribers a new membership perk called The Planning Bundle. Included in The Miss to Mrs Planning Bundle are five unique benefits, valued at over $200, to help your bride-to-be plan the wedding of her dreams!
1. The Boss Method Wedding Planning System by Flutter Social (MSRP $27)
The organization system & planning tools used by pro planners and weekly *LIVE* Q&A and private Facebook group.
2. Miss to Mrs Wedding Planning Guide (MSRP $30)
A planning guide in each box packed with advice, checklists, worksheets & detailed to-do lists to help you stay on track.
3. Wedding Club Card (MSRP $30)
All subscribers will receive access to a vendor directory full of exclusive discounts at top bridal brands on everything from bridesmaid dresses to wedding stationery.
4. Miss to Mrs Shop (Exclusive promotions)
Subscriber-only discount code for additional 20% OFF in Miss To Mrs Shop, early access to exclusive products & sales.
5. Name Change Service (MSRP $50)
Print At Home Kit with step-by-step instructions and forms to save you time for changing your name after marriage.
How Do I Start My Subscription?
Starting your Miss to Mrs Bridal Box subscription couldn't be any easier! Here's how in three super simple steps:
Step One
Go to their Homepage and click 'Subscribe Now' if you are a bride-to-be or 'Send as Gift' if you are a maid of honor or bridesmaid who is sending this to your BFF.
Step Two
When you get to the subscribe page, put in the wedding date (year/month/day) or click "we haven't decided yet". Hit continue to move to the choose a plan page.
Step Three
Decide which subscription plan works best for you based on the frequency of delivery. Depending on how far out the wedding is, there may be multiple options (bi-weekly, monthly, bi-monthly).
Can you Cancel Miss to Mrs Box?
Yes, you are able to cancel your subscription at any time without being charged a cancellation fee as long as you let them know at least 48 hours before your next scheduled payment.
They also offer an option to pause your subscription for up to 3 months or move the payment date to another date without needing to cancel.
To cancel or postpone your subscription, contact support@misstomrsbox. For more on Miss to Mrs Box's cancellation policy, please visit the FAQ section of their site.
Take advantage of this limited-time offer 🔥 $35 per box 🔥