Disclosure: This post contains affiliate links, meaning we earn commissions if you shop through the links below. Please read my disclaimer for more info.
With so many bridal shower decoration ideas out there, how do you even begin to narrow it down? You don't. You stop what you're doing to read this article because we've already done it for you. Being maid of honor is tough enough, let us guide you through the decorating process as seamlessly as possible. Below we've listed eight of our essential bridal shower decorations to revitalize any venue and turn your BFF's bridal shower into a fête fit for a queen.
---
1. Welcome/Countdown Sign
We hope that everyone who steps through the door knows why they're there, but if not this serves as a great reminder. All jokes aside, displaying a welcome sign by the entrance makes a great first impression for the bride and her guests. It also doubles as a sweet keepsake she can later display in her home or office. Depending on how creative you are (or are not), you can choose to turn this welcome sign into a DIY project or simply purchase an editable template to print and frame. If you want a ready to go, shipped to your door option, check out this super cute wooden welcome sign. Pro tip: Get everyone excited by having a welcome sign that includes a wedding day countdown or DIY a separate countdown to use during pictures.
---
2. Banner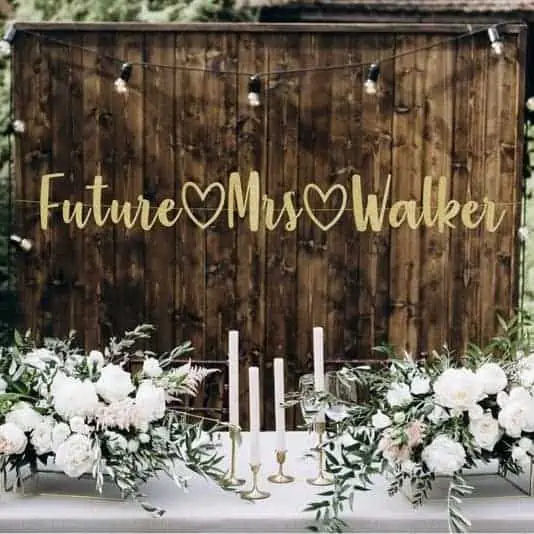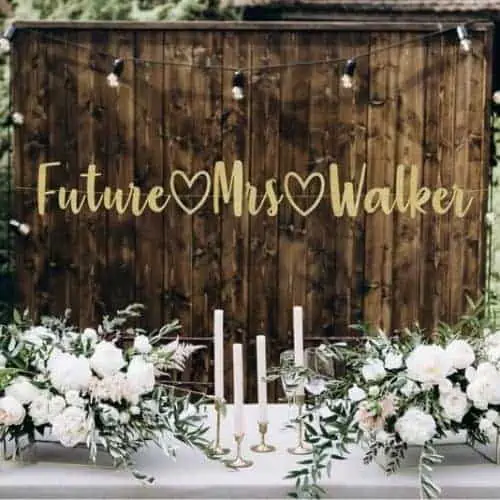 Let's be real here, all brides need a glamorous banner to pose for pictures under. Go above and beyond as maid of honor by purchasing a customized option for your bestie's bridal shower day. The hardest part is choosing which style- will it be a future Mrs., soon to be Mrs., or the bride and groom's wedding hashtag? Either way, your bride will be touched by the extra step you've taken to make her day special.
---
3. Backdrop
Now that you've gotten the custom banner, it's time to step it up a notch by adding a bridal shower backdrop. Keep it simple by incorporating a color-coordinated tinsel curtain or tissue tassel garland, great for hanging behind the chair your bride will be using as she opens her gifts. Continue on the customization with this blush roses backdrop which makes for another picture-perfect posing place.
RELATED: How to Host a Bridal Shower Brunch in 8 Simple Steps
---
4. Balloons
The final of the B's we deem essential when it comes to modern-day bridal shower decorations. And no, we aren't talking the basic balloons you find at a kid's birthday party. We're talking the super cute, totally fun balloons you see boomeranged on every future bride and bridesmaids Instagram account. Like these absolutely adorable gold heart balloons or this love balloon banner. Want to keep on track with the personal touch? Grab two of these single letter balloons, one for the first initial of each the bride and groom (or simply the first letter of the last name your bestie will be taking). Pro tip: Make a backdrop out of balloons with this DIY garland kit.
---
5. Pictures
You've checked off the must-haves for picture taking purposes, now it's time to talk about using photos as bridal shower decorations. While you don't need to display every single photo the couple has taken over their time together, it's important to feature a select few that show off the special experiences they've shared. We love the idea of using this cute clothespin frame to document the journey from past to present through old and new pictures. We love this times two because it is another great keepsake for the bride and groom to display in their home. Pro tip: Tie your photo display into your balloon decorations, and totally wow your bride, with this DIY balloon chandelier.
---
6. Table Decorations
Just as your BFF was in charge of picking out her reception table decor, it's up to you to do the same at the bridal shower. Start by getting your hands on enough tablecloths to cover the display tables (gifts, games, pictures, etc.) as well as all tables where guests will be sitting down to eat. Not only do these tablecloths come in handy during the clean-up process, they are a great way to tie into the color scheme or theme of the shower. Spice the guests' tables up by adding simple touches such as ring-shaped confetti or mini floral centerpieces and take your display tables to the next-level by adding a few of our handcrafted Made by Modern MOH signs!
RELATED: 8 Bridal Shower Games Guests Actually Want to Play
---
7. Tableware
If you've ever been to a bridal shower, or seen photos online, you know that bridal-themed tableware is all the rage. Let us first mention that you do not have to get custom everything, or anything for that matter, but a few fun touches are a great way to go above and beyond. We suggest picking one or two things to buy custom and purchasing bulk for the rest. For example, pair cheap color-coordinated plates with these personalized napkins. Or serve drinks in colorful solo cups while guests sip from these engagement ring straws. Take it up a notch by purchasing items that can double as guest favors, such as these custom bridal shower cups or these personalized glass coasters.
---
8. Dessert Toppers
When it comes to bridal shower decorations, there is no such thing as too much. Remember, being a modern maid of honor is all about taking it to the next level and that means never overlooking the small stuff. Like adorning your cupcakes with these adorable diamond ring or sparkly heart toppers. Or maybe you're serving a single cake, in which case this bride to be or elegant love topper make for the perfect final touch. We know minor details like this may seem excessive, but trust us when we say it's these little accessories that will really wow your BFF.
WHAT'S NEXT: Bridal Shower Favors That Are Cute and Cost Effective