21 Bachelorette Party Favors for Your Girls Weekend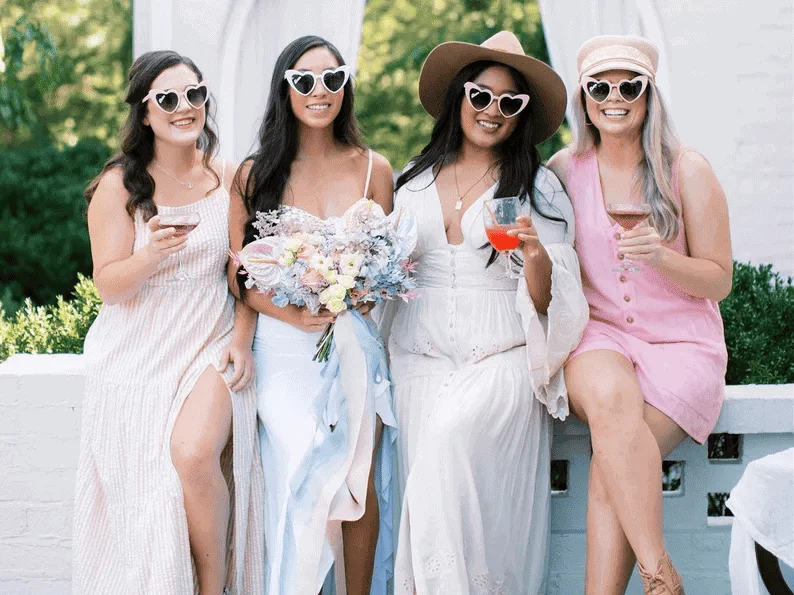 There is only one rule when it comes to bachelorette party favors: go big or go home. Whether you consider yourself a bride squad, I do crew, or just a gaggle of girls, you are equally obligated to strut your stuff in style.
To help you decide which bachelorette party favors work best for your group, we've hand-selected twenty fun options that can fly solo or be mixed and matched. As an added bonus, we've featured some gift bag options and also answered the most frequently asked questions about buying bachelorette favors!
Cheap Bachelorette Favors
Let's be real, no one wants to spend an arm and a leg for bachelorette party favors that'll only be used for one weekend. So save yourself some money by giving out any of these cheap options:
Personalized Bachelorette Party Favors
Take your bachelorette party favors game to the next level by purchasing options that are personalized with your girls' names. Here are our five favorite finds:
Unique Bachelorette Favors
When it comes to bachelorette favors, we say the more unique the better! Check out our top picks for one-of-a-kind goodies:
Beach Bachelorette Party Favors
If you're heading to sandy shores for your last fling before the ring, make sure you bring along some of these beach bachelorette party favors:
Bachelorette Party Favor Bags
Now that you've decided on which favors you'll be giving out, it's time to pick your packaging. While there are a ton of options out there, from large tote bags to small gift bags, it's up to you to decide which works best based on the number and size of the products as well as your overall theme.
To give you some inspiration, here are a few of our favorite favor bags:
Frequently Asked Questions
Do you have to give party favors at a bachelorette party?
No, you do not have to give out bachelorette party favors. The question is, should you? Because these fun goodies often double as accessories for your girls' weekend, they are usually worth the added expense.
On the other hand, if you are looking to keep costs down, eliminating these favors would be one easy way to do so. When making your decision, weigh the pros and cons with your group and decide what works best for you!
Who is responsible for bachelorette party favors?
Typically, the bachelorette favors are selected, purchased, and split evenly amongst the bridal party. While the bride-to-be should never pay for these favors, it is ok if she's involved in the picking-out process.
How much should you spend on bachelorette party favors?
There is no right or wrong amount to spend on favors for the bachelorette party, as it depends exclusively on the overall budget you and your group are comfortable with. When searching for budget-friendly options, start by looking for shops that offer discounts on bulk orders.