11 Bridesmaid Pajama Sets They'll Want to Wear Again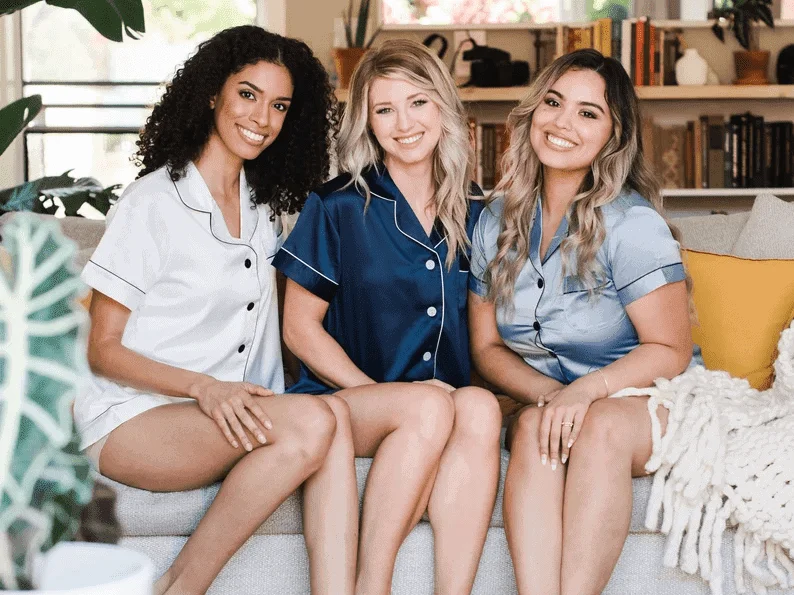 Disclosure: This post contains affiliate links, meaning we earn commissions if you shop through the links below. Please read my disclaimer for more info.
Close your eyes and picture yourself on wedding morning- you're getting glammed up with your girls, sipping on some bubbly, and listening to your favorite jams. Now, what's missing from this scene?
Your getting ready outfits of course! Before you slip into that gorgeous gown, you'll need a picture-perfect pajama set to match with your bridal party. And don't forget to add the slippers too, for a cute and cozy finish.
To help you decide on which bridesmaid pajama sets work best for your group, check out our 11 favorite styles for all shapes, sizes, and seasons!
Bridesmaid Sleep Shirts
Turn your wedding morning into a no-pants party with these adorable bridesmaid sleep shirts! A fun spin on traditional bridal party robes, these shirts are available in four colors and come customized with a monogrammed initial.
Frequently Asked Questions
Does the bride buy the bridesmaid pajamas?
Yes, the bride usually buys the bridesmaid pajamas as a thank you gift to her girls. If the bride does not offer to pay for the PJs, then they should not be a mandatory part of the getting-ready process.
How much should you spend on bridesmaid pajama sets?
Many bridesmaid pajama sets can be purchased for under $35 a piece, with the exception of those looking for personalization. If you're looking to cut down on cost, consider purchasing the PJ sets in bulk as that usually drives the price down.
Do bridal party pajamas have to match wedding colors?
No, the bridal party pajamas do not have to match the wedding colors, though many brides do opt for a similar color scheme. Depending on the type of pajamas, the bride will often wear white or some other different color than the rest of the group.
Pin for Later!