Wedding Day Emergency Kit: Because It's Better to Be Safe Than Sorry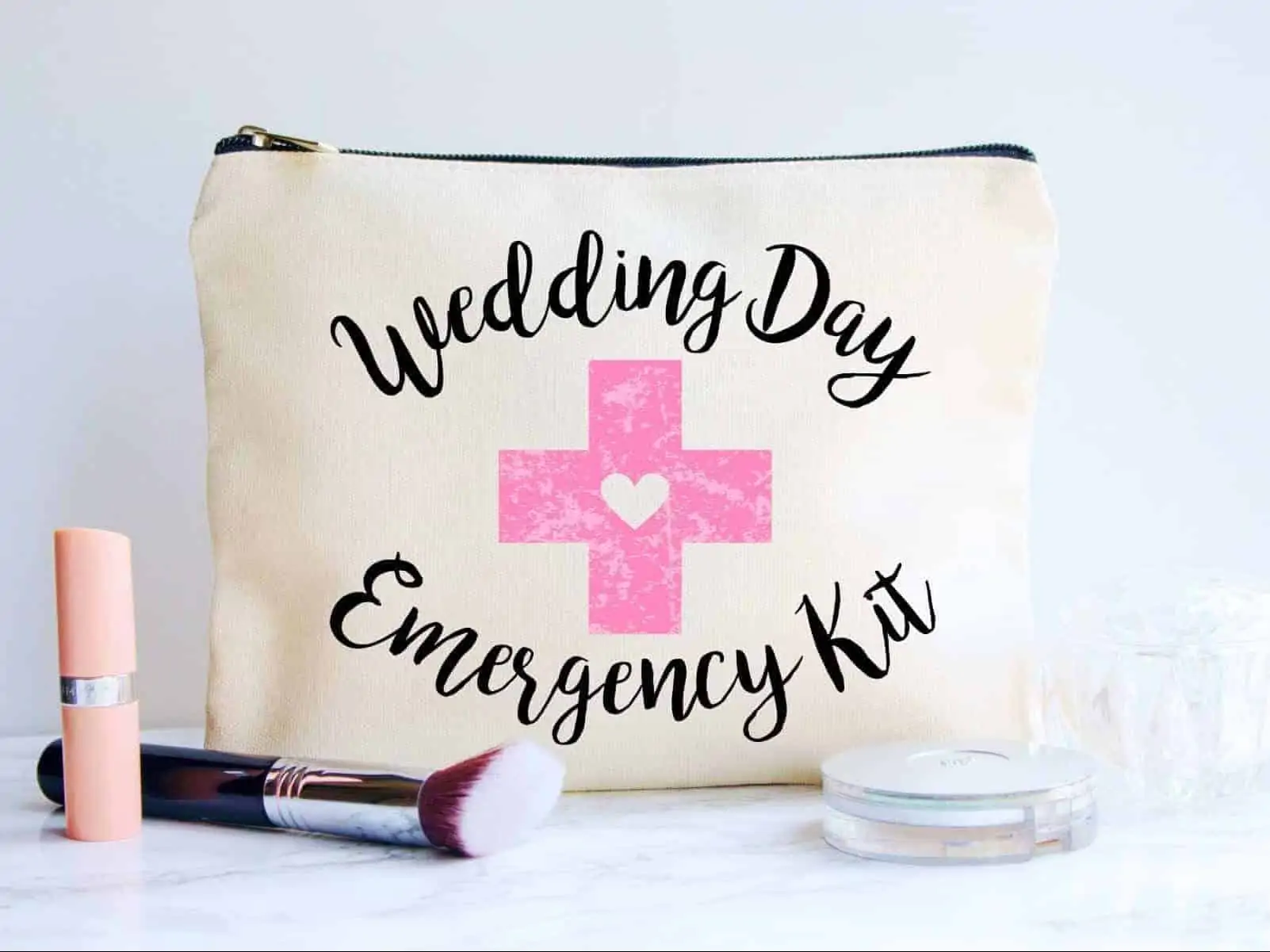 Disclosure: This post contains affiliate links, meaning we earn commissions if you shop through the links below. As an Amazon Associate, I earn from qualifying purchases. Please read my disclaimer for more info.
When it comes to your bestie's wedding day, there is no such thing as being an over-prepared maid of honor. The truth is, no matter how well you plan for it, you can never anticipate what mishaps may happen along the way.
Stay one step ahead of any day of disasters by packing a wedding day emergency kit full of style and safety supplies for both the bride, yourself, and your fellow bridesmaids. Below we've put together a list of everything you never knew you'd need, broken down into four functional categories.
For Hair and Makeup Touch-Ups:
Hairspray

Brush/Comb

Bobby Pins

Concealer/Cover Up

Eye Makeup

Lipstick/Lip Gloss

Chapstick/Lip Balm

Tweezers/Razor

Makeup Remover

Blotting Papers

Nail Clippers/Nail File

Earring Backs

Compact Mirror
For Minor Medical Injuries:
Ibuprofen/Advil/Aspirin

Allergy Tablets

Pepto-Bismol

Antacid

Cough Drops

Band-Aids

Blister Stick

Sun Screen

Bug Spray
To Stay Fresh and Clean:
Toothbrush

Toothpaste

Mouthwash/Mints

Floss

Tampons/Pads

Cotton Balls/Q-tips

Tissues

Deodorant

Perfume

Lotion

Hand Sanitizer

Baby Wipes/Baby Powder

Feminine Wipes
To Fix Wardrobe Malfunctions:
Sewing Kit (scissors, thread, needle)

Fashion Tape

Super Glue

Lint Roller

Static Guard

Stain Remover

Safety Pins

White Chalk

Clear Nail Polish
Obviously, this is a crazy amount of items, so we don't expect you to pack each and every one! What we do recommend is choosing a few from each category that you think will come in handy on wedding day, then purchasing each in its travel size at a local drugstore.
Depending on the number of supplies you select, we love these makeup bags or a more personalized version as packaging options:
If a DIY wedding day emergency kit is not your style, here are our top pre-packaged options:
Pin for Later!