How Old Was the Bride Game: How to Play + Printable Cards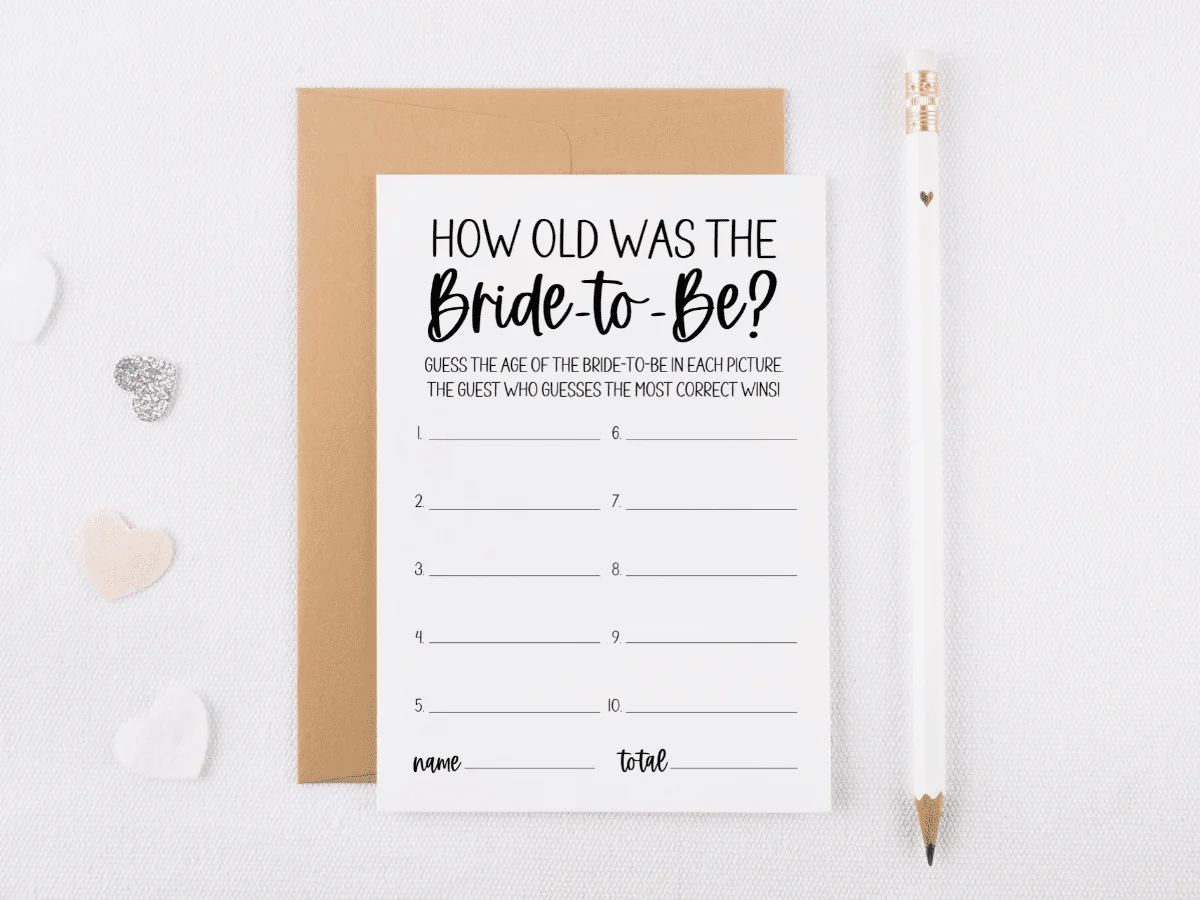 Disclosure: This post contains affiliate links, meaning we earn commissions if you shop through the links below. As an Amazon Associate, I earn from qualifying purchases. Please read my disclaimer for more info.
Our rule of thumb when it comes to picking the best bridal shower games is to keep them simple yet entertaining, while also focusing on the bride-to-be. The How Old Was the Bride game checks all these boxes, which is why it's at the top of our list for go-to games!
We also love that the setup of this game includes the mother (and/or any other close family members) of the bride, as she is the one who will be providing all the childhood photos of her daughter.
Most importantly, this game creates a glimpse into the bride's past that is bound to encourage conversation and story-telling among guests (even those who may have never met!)
MODERN MOH TIP: Looking for something that focuses on the bride and groom? No problem! Simply change the game to How Old Were the Bride and Groom and you're all set.
What do you need to play?
How do you set up the How Old Was the Bride Game?
There are many ways to go about setting up this game, but we prefer one of the two following methods:
Purchase a tri-fold display board and glue/tape. Prior to the bridal shower, glue/tape the photos onto the board in random order, using a permanent marker to label them 1-10. This board can then be displayed on a table next to the game cards and pens.
Purchase a roll of twine and a pack of mini clothespins. Once you arrive at the bridal shower venue, tape twine to any wall or table, then secure the photos (again in random order) to the twine using the mini clothespins. Feel free to number the photos by creating your own labels, or simply announce to guests that they're hung in numerical order.
How do you play?
Extra tips for playing the How Old Was the Bride Game
Our Best-Selling How Old Was the Bride Game Designs!