40 Bridal Shower Invitations to Match Any Theme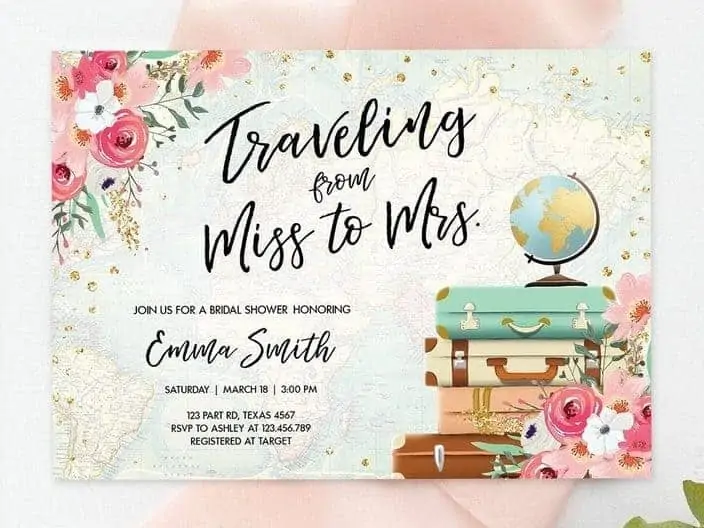 Disclosure: This post contains affiliate links, meaning we earn commissions if you shop through the links below. As an Amazon Associate, I earn from qualifying purchases. Please read my disclaimer for more info.
While your BFF is busy fussing over the wedding-related stationery, it's up to you and your fellow bridesmaids to pick out which bridal shower invitations fit her personality best. Before deciding, be sure to determine if there will be a specific color scheme or theme to the bridal shower.
You may also want to consider consulting with the bride-to-be on her preferred method of delivery (i.e. printed vs digital invites). Once you have these details determined, you'll be able to narrow down your options from thousands to hundreds (we're only half kidding…)
Lucky for you, we've done our own searching and have managed to finalize our favorite 40 designs, all of which are fully customizable. We've even broken them down into ten popular categories, including at least one printed and one digital (paperless) option in each!
Rustic Bridal Shower Invitations
We love all things rustic, bridal shower invitations included. And while it was tough to narrow down the choices, we think we hit the nail on the head with these four designs:
Floral Bridal Shower Invitations
No matter what the theme or overall vibe of the shower is, you can never go wrong with a classic floral design. Check out our favorite flowery finds:
Minimalist Bridal Shower Invitations
Is your bride-to-be into all things clean-cut and chic? Then these minimalist bridal shower invitations are definitely the perfect pick:
Bridal Shower Brunch Invitations
We here at Modern MOH are known to be a tad bit obsessed with bridal brunches, so this category was extra hard to narrow down. After much searching, we decided on these four fizztastic finds:
Fall Bridal Shower Invitations
When it comes to fall bridal showers, aesthetic is everything. That's why it's extra important that your invitations set the tone for the overall look. Here are our top seasonal selections:
Couples Shower Invitations
If you're going to be hosting a couples shower, then it's important that the invitations indicate so. And whether you want clean-cut or ornate, we've got an option for you:
Virtual Bridal Shower Invitations
While we may wish that virtual gatherings were a thing of the past, they are still very much a reality. Let your guests know the digital details with any of these four designs:
Wine-Themed Bridal Shower Invitations
Is your bride-to-be a wine lover? Or perhaps you're hosting the shower at a winery? Whatever the case, these wine-themed bridal shower invitations are the way to go:
Travel-Themed Bridal Shower Invitations
Have the future Mr. and Mrs. decided on a destination wedding? Or perhaps you're hosting a honeymoon-themed bridal shower? Either way, any of these travel-themed invites are too perfect to pass up:
Traveling from Miss to Mrs (Digital Download)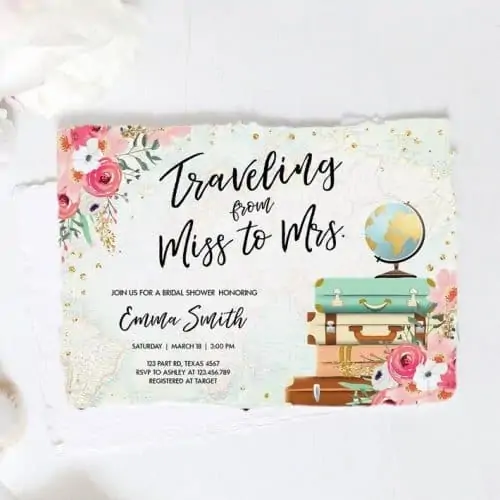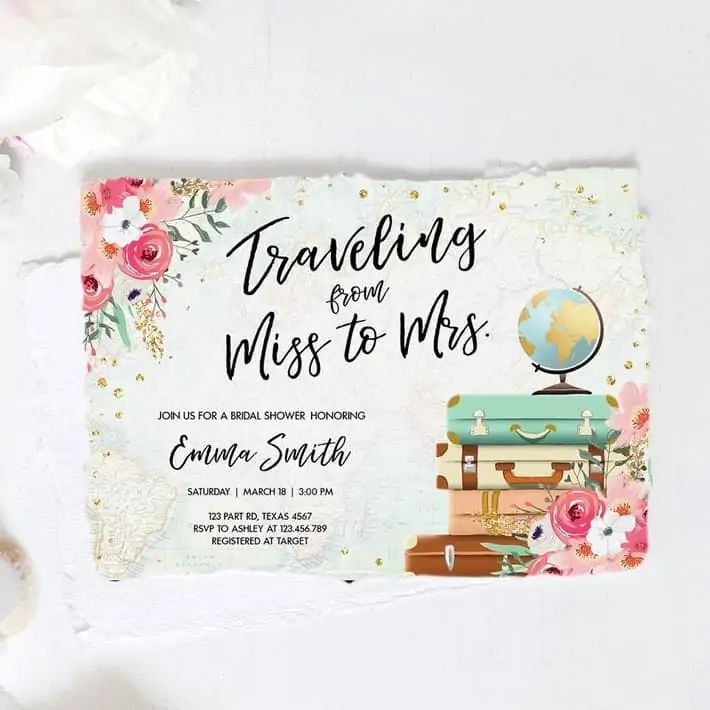 Adventure Awaits (Digital Download)
Vintage Bridal Shower Invitations
If your bestie is old-school cool and into all things classic, then these vintage bridal shower invitations are a total must-have:
Pin for Later!