Our Exclusive Maid of Honor Planner: Stay Organized & On Budget!
Congrats, you're the maid of honor to your bestie! Now that you've celebrated your new role, it's time to get down to business. From assisting the bride with planning the wedding of her dreams to planning and executing her pre-wedding festivities, the duties of a maid of honor are extensive (and can be down-right exhausting)

But before you go worrying over what's expected of you, and how in the world you're going to pull it all off, take a deep breath because we've got you covered…. With our 76-page all-inclusive maid of honor planner!
Whether you're a first-timer or a seasoned veteran, our exclusive MOH planner is an absolute must-have to stay organized, on schedule, and most importantly, within budget. Packed full of detailed checklists, worksheets, and budget trackers, this printable planner covers everything you need to know (and more) as a maid of honor!
Who is this Maid of Honor Planner for?
Our maid of honor planner is for anyone who wants to…
Maid of Honor Planner Features
Here's a breakdown of what you'll receive when you purchase our exclusive planner:
Maid of Honor Planner Sections
Our 76-page planner is broken down into the following ten sections for optimum organization:
Contact Info
Make sure that you can easily get in touch with your fellow bridesmaids, groomsmen, and all wedding vendors by recording and storing their contact info all in one place with our fillable worksheets.
Checklists
You won't miss a single detail with our comprehensive checklists that cover your maid of honor duties, the bride's wedding planning process, bridal shower and bachelorette party planning, and wedding day survival kit necessities.
Meetings
Stay organized when meeting with the bride and your fellow bridesmaids about the bridal shower and bachelorette party by recording your best ideas, must-haves, and must-nots.
Budget
Keep track of everything money-related with our itemized budget trackers for the bridal shower, bachelorette party, wedding attire, and any miscellaneous spending.
Bridal Shower
To help you plan the most epic bridal shower, we've broken this section down into eight subsections including a general overview, shower details, to-do list, floorplan/setup, inspiration/design, guestlists/addresses, shopping list, and timeline/itinerary.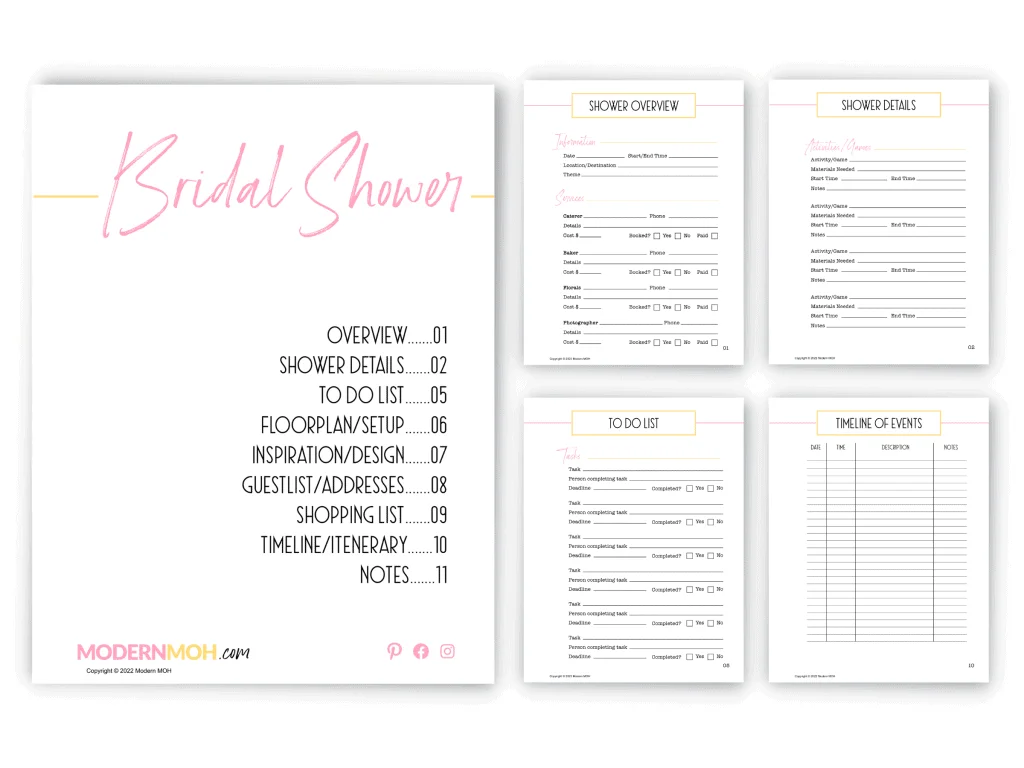 Bachelorette Party
And to help you plan the most memorable bachelorette party, we've broken this section into six subsections including an overview, inspiration/design, to-do list, guestlist/addresses, shopping list, and timeline of events.
MOH Toast
Write and deliver a killer maid of honor toast by answering our brainstorming questions, filling out a basic speech outline, and following our top dos, don'ts, and expert tips!
Wedding Attire
Plan ahead when it comes to bridesmaids' attire and looks by filling out our worksheets for possible vendors, style preferences, and measurements, as well as hair, makeup, and nail appointment times.
Calendars
This section includes our hand-designed monthly, weekly, and daily fillable calendars. Print off as many copies of each as you need, and keep all your maid of honor activities and appointments scheduled all in one place!
Wedding Day
Our final section includes a copy of our wedding day survival kit checklist, a fillable hourly wedding day schedule, and a checklist of our most important wedding day reminders.
How to Download, Print and Assemble Your MOH Planner
After purchasing your planner, you will automatically be directed to a page containing the link to download the PDF file. You will also receive a confirmation email that includes this link as well.
You can print this product at home or have it printed at any local print shop (Target, Walgreens, Walmart, Staples®. Office Max®, Office Depot®, etc).
Depending on the printer's default scale, you may need to select "Fit to Printable Area" or narrow margins to ensure nothing gets cut off.
We suggest using heavy card stock (100+ lbs) for the highest quality feel, but regular printer paper works just fine.
As far as assembling your planner, it couldn't be easier! Here's what you'll need:
Tech savvy? Download to your iPad notes or laptop and edit digitally!
FOR A LIMITED TIME ONLY…
Our maid of honor planner is on sale for just $15! So what are you waiting for? Grab your planner NOW and start organizing!