Maid of Honor vs Matron of Honor: Who Does What?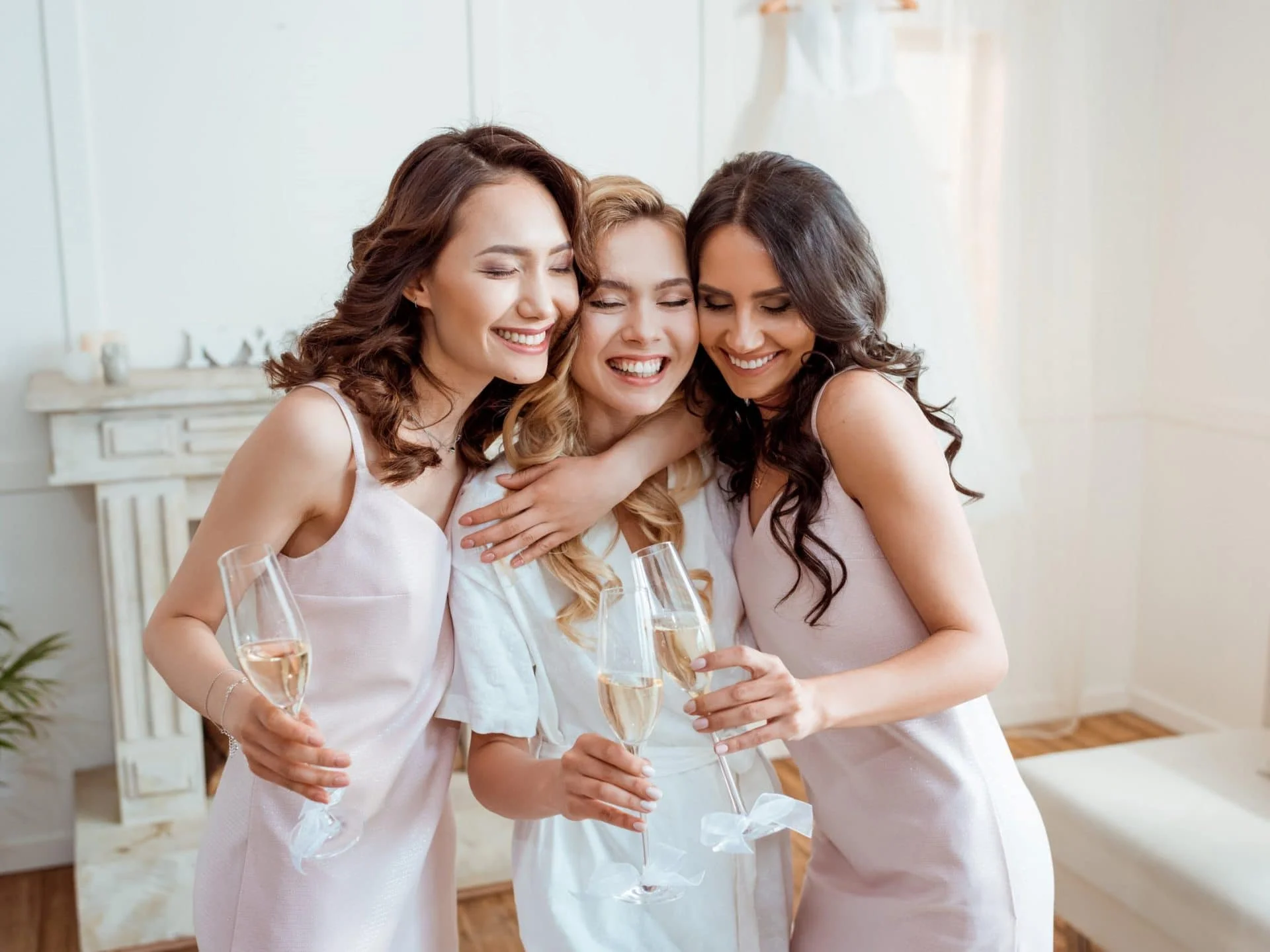 When it comes to the subject of maid of honor vs matron of honor, you may find yourself with more questions than answers…
…so before you pull an Alice and go falling down the rabbit hole, let us break down the maid of honor vs matron of honor dynamic as it's viewed today.
Packed full of detailed checklists, worksheets, and budget trackers, our exclusive maid of honor planner covers everything you need to know (and more) as a maid of honor!
What's the difference between a maid of honor and a matron of honor?
Aside from the obvious discrepancy in title, the only difference between a maid and matron of honor is their marital status.
A maid of honor refers to a bridesmaid who is still single, while a matron of honor is a bridesmaid that is already married. That's all folks!
Can there be both a maid and matron of honor?
Yes, the bride can definitely choose to have both a maid and matron of honor in the same bridal party.
In fact, it's becoming more and more popular for modern-day brides to have one of each, or a man of honor, or no maid of honor at all! However, with the ever-growing emphasis put on pre-wedding festivities, having two HBICs (head bridesmaids in charge) equals double the planning power.
Does one have more responsibility than the other?
No, just because there is both a maid of honor and matron of honor does not mean there are extra duties that need to be accomplished.
Ok great, two people sharing responsibilities is better than one person having to do them all, right? Yeah sure, if they can agree on who does what.
Ok, so who is responsible for what?
Now that's where things get a bit tricky. Depending on the relationship between maid and matron of honor, things could fall anywhere on the spectrum of piece of cake to battle of the bridesmaids. Seriously, we've seen it happen before.
Lucky for you, we've been one half of a maid of honor and matron of honor duo (twice) before and have some insider tips on how to handle the split:
Always, always, always consult with the bride.
After all, everything you do is in anticipation of her big day, so it's imperative that things are done with her consent. Start by seeing if there is any specific role she wants you each to take on (i.e. one plans the bridal shower and the other the bachelorette party) before you move forward.
Determine your individual strengths and interests then divvy up responsibilities accordingly.
For example, if you're super organized and like to host large gatherings, you can be in charge of coordinating the pre-wedding party details. If your co-MOH is creative and crafty, have them help with some DIY projects for the bridal shower and bachelorette party (invitations, games, favors, gifts, etc.)
Elect a point person to handle communication with the rest of the bridal party.
Nowadays it's easy for large bridal parties to get confused with everything that goes into being a bridesmaid, so it's important that the maid or matron of honor is keeping them in line and up-to-date. Decide which of you is a better communicator (aka texter) and have that person be the go-to for any questions or concerns.
Decide on a budget and share ALL costs EVENLY

.
This is a major sticking point between bridesmaids in general, but especially when it comes to maids and matrons of honor. The rule is simple: No MOH should be responsible for spending more than the other. While discussing finances may be a bit awkward, it's absolutely necessary to decide on a budget that both of you (and the rest of the bridal party or any men of honor) are comfortable with.
Discuss your roles on wedding day beforehand to make sure you're both comfortable and not feeling left out.
This is a big point of contention when it comes to the maid of honor vs matron of honor dynamic. The two biggest questions to answer are:
Who will stand next to the bride during the ceremony?
Who will be giving the maid of honor speech?
The answers may be as simple as the bride deciding who does what or as difficult as her leaving it to you two to choose. If it's the latter, we suggest going back to our second piece of advice- determine your strengths and interests.
Also keep in mind that it's perfectly acceptable for you both to give a short speech, or even a joint speech. And while you both cannot stand next to the bride during the ceremony, you can always walk down the aisle together instead of walking with the best man.
Final thoughts…
Let us wrap it up by saying this: being a maid or matron of honor is exactly what the title implies, an honor. Your number one responsibility is to make this the best possible experience for the bride and groom and to have fun while doing it.
So, whether you're part of a maid and matron of honor tag team, or one of two maids or matrons, be you and allow the other person to do the same!
Pin for Later!