13 Bridesmaid Gifts That Double As Wedding Day Accessories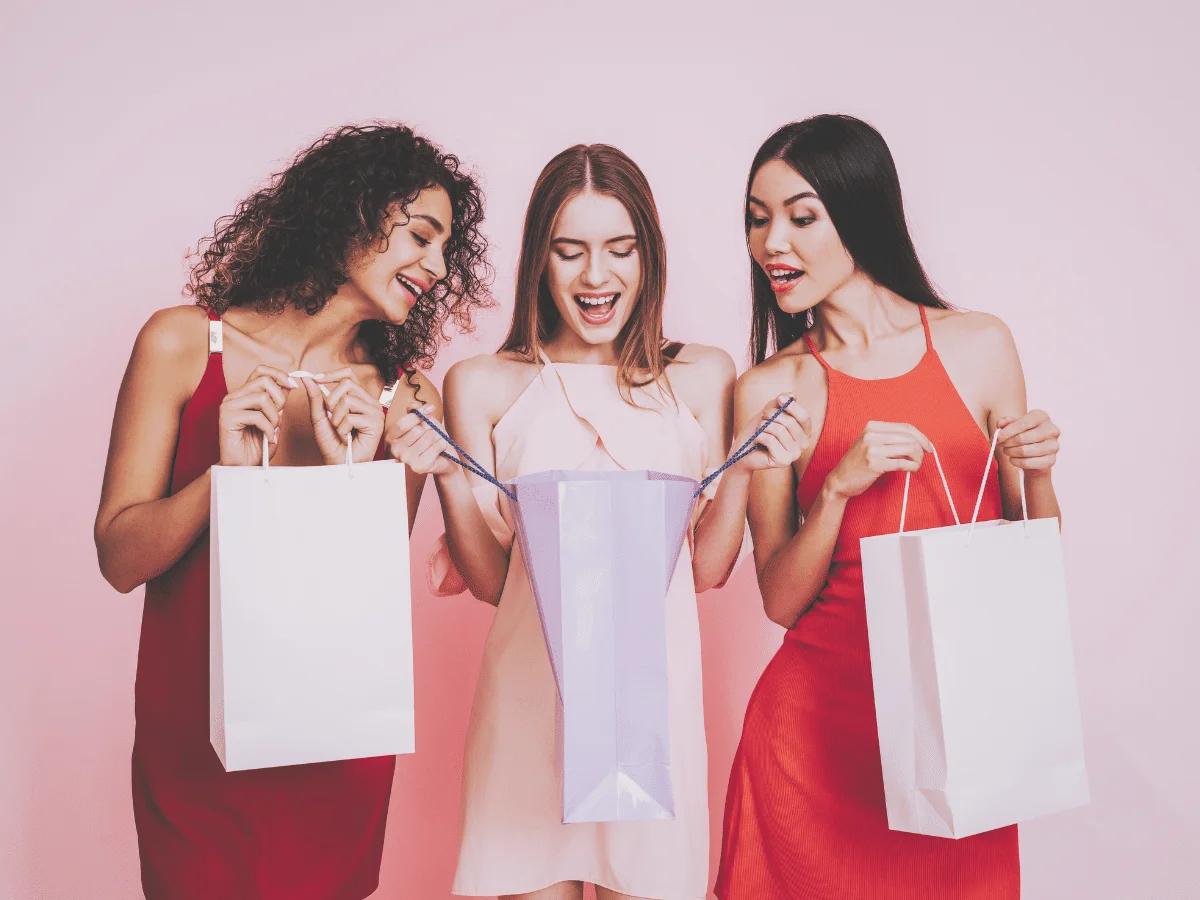 Disclosure: This post contains affiliate links, meaning we earn commissions if you shop through the links below. As an Amazon Associate, I earn from qualifying purchases. Please read my disclaimer for more info.
When it comes to choosing the best bridesmaid gifts for your group of girls, you should select something that has just the right combination of thoughtfulness and practicality.
A touch of thoughtfulness to show your gratitude and appreciation for all they've done to make your big day so special, with a pinch of practicality to ensure these gifts serve a purpose long after you've exchanged vows.
To help you find the perfect pick, we're rounding up our top choices broken down into five categories. From wearable to portable, we've got thirteen great and unique bridesmaid gift ideas that we guarantee your girls will love!
Getting Ready Outfits
Chances are you'll want to get glammed up with your girls while wearing matching outfits, so why not have them double as bridesmaid gifts? Even better, these fashionable finds make for great getting-ready photos on the morning of the wedding!
Robes
Who doesn't love the look of wedding morning robes? We certainly do, and we promise your bridesmaids will too! From floral patterns to lacy trims, the only issue you'll have is deciding on just one style.
Check out our bridesmaid robes post for more great ideas!
Our top picks:
Pajamas
If you're looking for a cozier vibe on wedding morning, opt for giving your besties a stylish set of bridesmaid pajamas. From silky satin to fuzzy flannel pjs, there is certainly no shortage of cute and comfy pajama set choices to prep with your crew.
Check out our full bridesmaid pajamas post for more great ideas!
Our top picks:
Bridesmaid Jewelry
Jewelry is a popular pick for gifts for bridesmaids and bridesmaid proposals and for a good reason. Not only can it be worn as an accessory on the wedding day, but it's also a timeless trinket that your squad can continue to wear for years to come. So once the bridesmaid dresses are ordered, get looking for the perfect pieces to match!
Necklaces
Add just the right amount of bling to your bridesmaids' ensemble by giving your girls matching necklaces. From the metals and gemstones to personalized touches, you'll get to customize your choice down to the last detail.
Want more great bridesmaid gift ideas? Check out our full bridesmaid necklaces post!
Our top picks:
Earrings
A special set of earrings makes for a cute bridesmaid gift that will be cherished long after your special day is over. From studs and hoops to dangles and drops, there's a pair for every bridal party member.
Check out our post on bridesmaid earrings for more great ideas!
Our top picks:
Bracelets
Why not give you girls a piece of jewelry that literally symbolizes friendship? From pearls and charms to chains and cuffs, the options for bridesmaid bracelets are as endless as the classic love knot!
Check out our full bridesmaid bracelets post for more great ideas!
Our top picks:
Adjustable cuff-style knot bracelet is available in gold, rose gold, or silver and comes in an eco-friendly gift box.
Wedding Morning Footwear
When it comes to wedding morning outfits, you can't forget the footwear! These fun finds are as cute as they are cheap, making them the perfect pick for bridesmaid gifts.
Slippers
Not only do slippers keep your feet comfy and cozy while getting glammed up, but they also look adorable in your getting-ready photos! From personalized pairs to fuzzy finds, there is an unlimited assortment of styles to choose from.
Check out our full post on bridesmaid slippers for more great ideas!
Our top picks:
Socks
Skip the slippers and go with a classic pair of bridesmaid socks! From grippy bottoms to fuzzy fabrics, you'll have complete control over choosing the color, length, and personalized packaging for your gifts.
Check out our full bridesmaid socks post for more great ideas!
Our top picks:
Flip Flops
Whether you're getting married on the beach or in the warm months of summer, flip flops make for a practical gift that can be worn while getting ready and again while dancing the night away. All you have to do is pick your favorite pair!
For more great ideas, check out our full bridesmaid flip flops post.
Our top picks:
Bridesmaid Bags
Your bridal party will have lots of personal belongings to carry around on the big day, so help them out by giving personalized bags as bridesmaid gifts. Planning to give out multiple gifts? These bags make for the perfect packaging to hold all their goodies!
Makeup Bags
There will be plenty of touching up during a long wedding day and night, so do your girls a favor by giving them makeup bags to hold all the essentials. From cotton and canvas to velvet and leather, you'll have your choice of fabric and customization.
Check out our full bridesmaid makeup bags post for more great ideas!
Our top picks:
Tote Bags
If a small bag just won't cut it, consider giving out bridesmaid tote bags instead. Perfect for holding larger items like shoes or a change of clothes, we guarantee these bags will not go unused after your big day is over.
MODERN MOH TIP: If you're heading on a beachy bachelorette weekend, give larger ones that can also be used as beach bags and can fit beach towels too!
For all of our ideas, check out our full bridesmaid tote bags post!
Our top picks:
Clutches
Functional, practical, and (most importantly) affordable, bridesmaid clutches make for the perfect bridal party gift, accessory for the big day, bouquet alternative, or a combination of all! From acrylic to velvet, there are so many unique styles to choose from.
Check out our full post on bridesmaid clutches for more great ideas!
Our top picks:
Personalized Drinkware
From sipping cocktails at the bachelorette party to staying hydrated while getting ready on wedding morning, your girls will get a ton of use out of these bridesmaid gifts before, during, and long after your big day.
Tumblers
Whether they're drinking water, coffee, or a boozy beverage, your girls will never go thirsty with the gift of personalized tumblers. From acrylic to stainless steel, there are infinite combinations of color, size, and style. Ditch the mugs, and go for something more stylish, modern, and practical for bridesmaid gifts instead!
For more great ideas, check out our post on bridesmaid tumblers !
Our top picks:
Wine Glasses
There will be plenty of celebratory drinks to be had, so wine-ot give your girls a custom cup to cheers with? From pretty and personalized to stylish and stemless, you have your pick of bridesmaid wine glasses and wine tumblers. Just make sure to have some champagne on hand for the celebrations!
For a full list of ideas, check out our bridesmaid wine glasses post.
Our top picks:
Frequently Asked Questions
How much do you spend on bridesmaid gifts?
The answer to this question is completely dependent on your overall budget. While some brides may spend over $100 per bridesmaid, others may opt to spend half that (or less) on gifts for bridesmaids.
Just remember that your wedding party did not say yes to standing by your side only to receive a gift, so don't feel pressured to spend more than you are comfortable with.
What accessories does a bridesmaid need?
Typically bridesmaids will accessorize with a single piece or set of jewelry – like earrings and a bracelet, or a necklace and earrings.
You can also use bridesmaid gifts like robes and slippers as accessories during your getting-ready photos.
Do you have to give the same bridesmaid gifts?
No, you don't have to give your bridesmaids the same gift, but it makes it easier for you if you do.
The only exception would be to give your maid of honor a little something extra special as she deserves to be recognized for the additional work she is putting in throughout the wedding planning to make your big day so special.
Wrapping Up
Finding the ultimate bridesmaid gifts is like crafting the perfect cocktail – a mix of gratitude, style, and a splash of practicality! From glamming up in matching robes to sipping bubbly from personalized tumblers, these bridesmaid gifts aren't just accessories, they're tokens of your friendship, so be sure it's as lovely and unique as your bridesmaids. Cheers to thoughtful gestures and fabulous friendships!
Pin for Later!