16 Bridesmaid Tumblers They'll Use Again and Again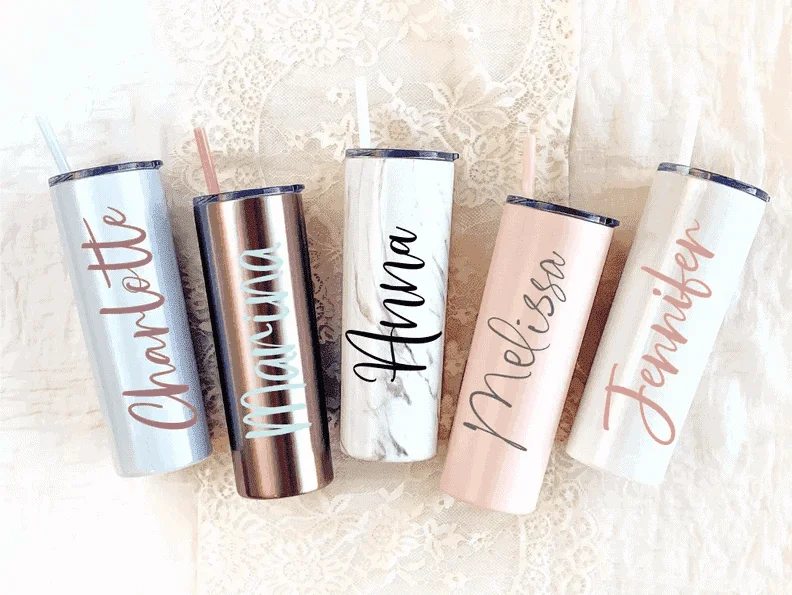 From sipping cocktails at the bachelorette party to staying hydrated while getting ready on wedding morning, your girls will get a ton of use out of their bridesmaid tumblers before, during, and long after your big day.
Not only are these personalized tumblers a great way to say thank you to your bridal party for all they've done to make your wedding journey so special, but they're also affordable enough to be part of a larger gift set or proposal box!
To help you decide which bridesmaid tumblers are best for your group of girls, we've hand-picked sixteen awesome options broken down into four easy categories. As an added bonus, we're answering some frequently asked questions about these accessories.
Acrylic Bridesmaid Tumblers
Lightweight yet durable, these acrylic bridesmaid tumblers are as cute as they are cost-effective.
Stainless Steel Bridesmaid Tumblers
High quality and super stylish, these stainless steel bridesmaid tumblers are guaranteed to be used again and again.
Bridesmaid Wine Tumblers
Perfect for sipping wedding morning mimosas, these bridesmaid wine tumblers are the gift that keeps on giving.
Bridesmaid Coffee Tumblers
Skip the traditional tumblers and give your girls one of these one-of-a-kind coffee tumblers instead.
Frequently Asked Questions
Who buys the bridesmaid tumblers?
The bridesmaid tumblers are typically bought by the bride as a thank you gift to her girls. The only time these tumblers should be purchased by the bridesmaids is if everyone agrees to split the cost as part of the bachelorette party accessories.
What other gifts can you pair with bridesmaid tumblers?
If you want your bridesmaid tumblers to be part of a larger gift, consider pairing them with a cute makeup or tote bag, a jewelry box or dish, or cozy socks or slippers. You could also fill them with smaller items like lip balm, hair ties, or sunglasses.
What can you give instead of bridesmaid tumblers?
Instead of bridesmaid tumblers, you can give your girls other types of drinkware like wine glasses, shot glasses, or coffee mugs. Other bridesmaid gift ideas include jewelry, bags, and getting ready outfits/accessories.