Countdown to Her Big Day: When Should Bridesmaids Get Their Dresses?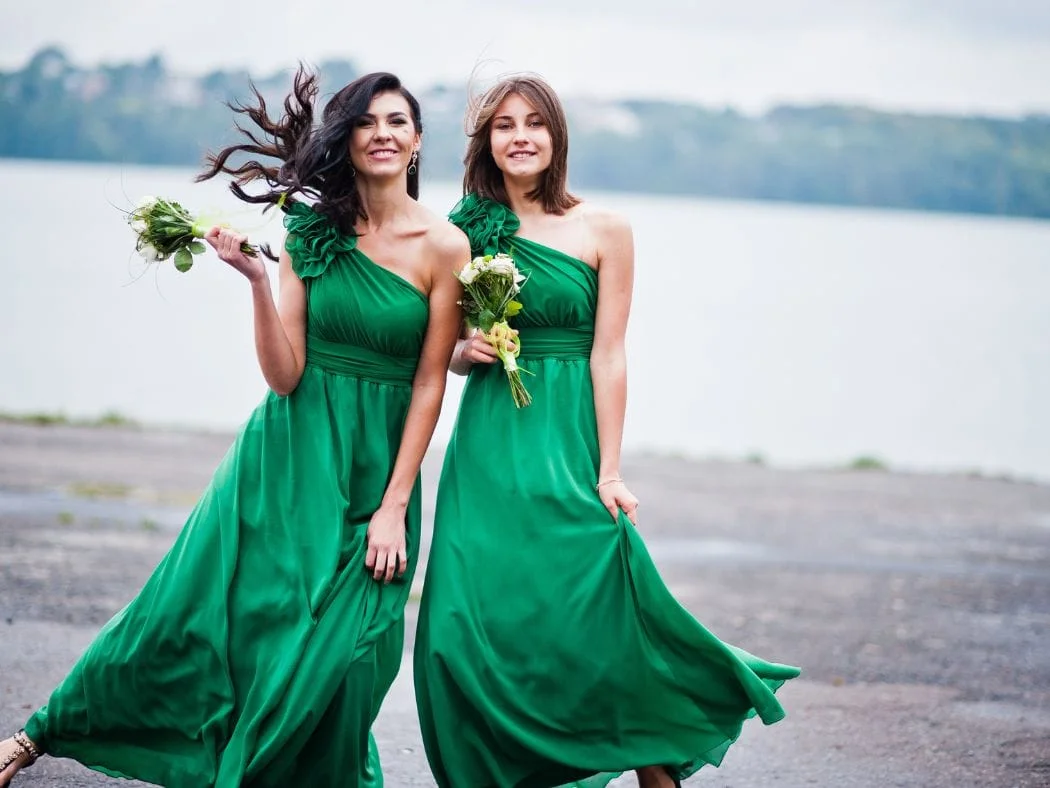 So, she asked, and you said yes! You now have the honor of being a bridesmaid at an upcoming wedding. Whether the wedding is for a family member, friend, or otherwise, this is a big honor. And a big responsibility. Plus, you'll need a new dress!
Although not all weddings today have an extended bridal party, a wedding can have anywhere from one to twelve attendants, with three to five bridesmaids on average. That's a lot of bridesmaids' dresses!
But don't assume you can wait until the week before the wedding to find the perfect bridesmaid dress. There's a lot more to it than finding just the dress. So, with the eye on the bride, just when should bridesmaids get their dresses?
When Should Bridesmaids Get Their Dresses? A Helpful Guide
When it comes to wedding planning, there are often more things to do than people realize. That's why planning most weddings takes about one year (if not longer!). That means the countdown is on when the bride or groom says yes to the proposal.
This article intends to help bridesmaids be as supportive as possible of the bride and groom, providing a bridesmaid dress timeline, and ensuring their dresses are ready for the big day.
9+ Months Before the Big Day
At this early point in the process, most significant decisions must be made. This is when the date for the big day is typically set, when the wedding party is determined, what the budget and style will be, and more. And in most cases, the bride will need to start shopping for her dress around this time, as wedding gowns typically take an average of six to eight months to order.
Megan Nova, wedding planner and author with AwesomeBridal, addresses common questions that the wedding party often has about when to buy bridesmaid dresses. "Once the wedding details (style, theme, color palette, venue, formality, etc.) have been determined, bridesmaids can go dress hunting."
Dress styles can vary dramatically based on the season in which the wedding will occur. Winter weddings may mean darker colors such as emerald, burgundy, or deep purple, with sleeved dresses versus non-sleeved ones. On the other hand, summer weddings could mean shades of pink and dusty blue with plunging necklines and open backs.
6+ Months Out and Counting
Bridesmaids often wonder when bridesmaids should order their dresses. Nova says, "Ideally, bridesmaid's dresses are best picked six months before the big day so you have time to make special orders if you purchase something online or to make all alterations needed for your custom-made bridesmaid's dress."
Becca, a bridal consultant with The Wedding Shoppe, an iconic bridal shop located in St. Paul, MN, agrees, saying, "Bridesmaid dresses should be ordered typically four to six months before the wedding. Ship dates take around three months and then you want to ensure you leave time for alterations. Dresses for bridesmaids typically need to be altered and that can take anywhere from two weeks to two months. It's better to be prepared and early than run late!"
MODERN MOH TIP: Start shopping for bridesmaid dresses about six months before the big day.
But before heading out to purchase bridesmaids' dresses, there are a few things to remember. Nova says, "The first thing you should do is consult with the bride. She will give you a sense of what the style and the theme of the wedding is going to be so you can choose your bridesmaid's dress accordingly.
Formality and setting is also a significant factor. Whether it's a black-tie event or a casual beach wedding, your goal is to create a look that will complement the overall atmosphere. Once you know all the details regarding the wedding, consider your body type and skin tone to choose what looks good on you. Pick a shade for your dress that will match the wedding theme and suit your skin tone."
"A major trend we are seeing is bridesmaid mood boards. Super trendy or design-savvy brides are creating mood boards with all different patterns and styles for their bridesmaids to choose from. This allows each bridesmaid to pick something they love, and while the bridesmaids may not "match" each other, their outfits often compliment each other or the overall vibe of the wedding," says Codey Erin, founder and creative director of Codey Erin Event Company in Toronto.
MODERN MOH TIP: Ask the bride for a mood board to help bridesmaids find the perfect dress for the bride's big day.
Finally, the budget comes into play here, too. Many bridesmaids seek affordable bridesmaids dresses online because the cost of bridesmaid dresses can easily rise, once you include the cost of alterations.
As we shared in an article about who pays for the bridesmaids' dresses, Heather Baldridge, seamstress and wedding dress specialist at Custom Sewing by Heather in the Twin Cities, says, "On average, alterations for a bridesmaid dress can cost up to $150 or more."
4+ Months Until the Happy Couple Says 'I Do'
Many of the final details are being determined, especially as we close in on the three-month-out mark. The bride, her maid-of-honor, and bridesmaids are busy addressing invitations, making hotel reservations, confirming transportation services, and conducting additional wedding venue tours.
And when it comes to the bridesmaids' dresses, it's at this point that those final decisions must be made. So, if you still need to order your dress or have yet to begin shopping, now is the time. Bridesmaids' dresses take about two to three months to arrive, and the fittings must begin, especially if the dress doesn't quite fit upon arrival.
The Countdown is On: 4 Months or Less To Go
With 90 days or less to go, it's all about final fittings and those last-minute things that couldn't be taken care of before. If you haven't picked out those accessories yet, now is definitely the time to do so.
Nova suggests, "The moment you know what your bridesmaid's dress will look like, you can look for accessories and shoes to upgrade your style. Around three months before the wedding would be the perfect time to find your finishing details and a proper replacement if you have any second thoughts."
And if you are wearing heels for the ceremony or any parts of the reception, be sure to break them in. While there are several tips and tricks to break in new heels, the best approach is to wear them around the house for an hour or so a day, starting as soon as possible.
Once you have everything you need for the big day, store them somewhere safe. Hang the dress in a dark, dry spot and, if possible, in a breathable cloth bag provided to you with the dress. Use the hanger straps to prevent stretching. Keep your shoes, jewelry, and everything else you'll need close by and organized to get everything when packing up for the event.
MODERN MOH TIP: Start breaking in shoes at least one month before the wedding.int so you can reconnect later in the day.
It's Go Time: The Week of the Wedding
In the last few days before the wedding, be sure to get out your dress and accessories and do a final check to be sure nothing is missing. Organize and pack all the accessories so they're set to go when you head out to get ready with the bride.
Frequently Asked Questions
Congratulations on being chosen as a bridesmaid! As you eagerly prepare to support your friend or family member on her special day, one question often arises: when should bridesmaids get their dresses? To help alleviate any concerns or uncertainties, we've compiled this FAQ section to provide you with the essential information and guidelines for ensuring you're ready and fabulous when the wedding day arrives.
Should we buy bridesmaid dresses in-store or online?
Shopping in-store at a boutique is recommended if you prefer personalized service and assistance with timing and alterations. However, if your bridesmaids are scattered across different cities, ordering dresses online would be more convenient for your wedding party. However, as far as when to order bridesmaid dresses, whether in-store or online, the answer is about six months out.
How do we manage fittings for out-of-town bridesmaids?
For out-of-town bridesmaids, it's best to have them professionally measured by a seamstress or tailor. Their expertise ensures accurate measurements, even if it may seem unnecessary. Ask your bridesmaids to seek professional help in measuring the right spots to ensure the perfect fit for their dresses.
Do bridesmaids pick out their own dresses?
While bridesmaids don't need matching outfits, many couples aim for a cohesive look. Traditionally, bridesmaids wore the same dress, aiding the bride's prominence, photo cohesiveness, and guest recognition. However, couples increasingly allow bridesmaids to choose their own dresses, with some basic rules like matching colors or lengths, striking a balance between individual style and overall harmony.
Erin says that "We are seeing brides move away from asking their bridesmaids to wear a specific color and style of dress. Bridesmaids are now usually just given the general color scheme and it is up to them to decide the shade of that color and the style of the dress. These are usually approved by the bride but this gives the bridesmaids more say when it comes to their dresses."
The Bottom Line
When it comes to bridesmaid dresses, it's important to plan ahead. So if you are wondering when should bridesmaids get their dresses, aim to purchase and order dresses at least six months before the wedding day to allow ample time for fittings, alterations, and any unexpected delays.
Pin for Later!