12 Bridesmaid Slippers That Are Cute and Cozy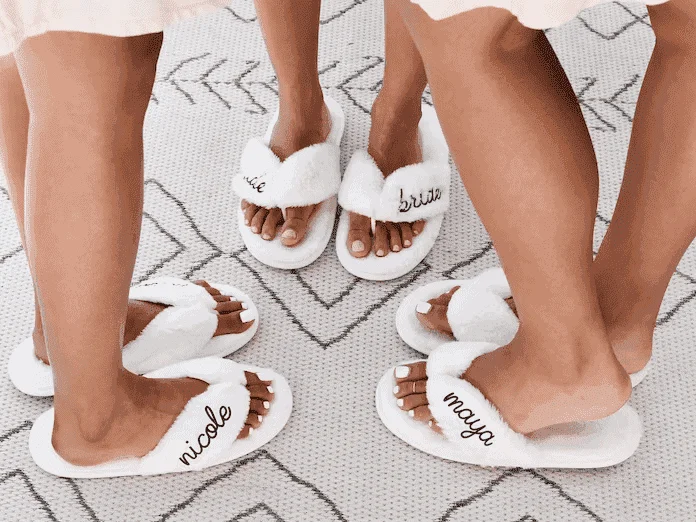 Disclosure: This post contains affiliate links, meaning we earn commissions if you shop through the links below. Please read my disclaimer for more info.
When it comes to your wedding morning wardrobe, bridesmaid slippers are not an accessory you want to pass up. Not only do they keep your feet comfy and cozy while getting glammed up, but they also look adorable in your getting-ready photos!
Even better, these fashionable footwear sets double as a 'thank you' gift to your bridal party for playing such a special part in your big day.
From personalized pairs to fuzzy finds, we've got a great assortment of bridesmaid slippers your girls will love wearing on wedding morning (and many mornings after!)
Personalized Bridesmaid Slippers
Go the extra mile by adding a personalized touch to your bridal party slippers. Here are our three favorite choices:
Title + First Name Slippers
What better way to personalize your bridesmaid slippers than with each girl's first name and official title? Available in four color and size options, these plush open-toe slippers are as cozy and custom as can be!
Pearl Letter Slippers
Add a little sparkle to your slippers with this personalized pearl letter pair! Available in four colors and three sizes, these slip-ons can be customized with each bridesmaid's initials or can be matched to the bride's pair with a cute saying like " I Do Crew".
First Name Flip Flop Slippers
Whether you want a more breathable option, or simply prefer a flip-flop style slipper, this personalized pair is for you! Made of soft faux fur, each pair is printed with your bridesmaid's name in pretty vinyl lettering.
Fuzzy Bridesmaid Slippers
You can never go wrong with extra fuzzy slippers! We guarantee your girls will be rewearing any of these three picks:
Crossed-Fur Open Toe Slippers
If you're looking for a non-personalized pair of slippers, these crossed-fur open toe slide-ons are a great pick. Available in four colors and three sizes, we guarantee your girls will be wearing these long after the big day is over.
Fuzzy Memory Foam Slide Slippers
Dazzle your girls with the details and comfort of these fuzzy memory foam slide sandals. From the quilted cushioned footbed to the sparkling glitter trim, this fashionable find is available in nine colors and four sizes.
Faux Fur Closed Toe Slip-Ons
Make sure your bridesmaids are ready to rock their heels throughout the night by giving them these plush faux fur slippers to wear during the day. Featuring a pillow-soft memory foam insole, these snug slip-ons come in a variety of colors and sizes.
Unique Bridal Party Slippers
Looking to make a statement with your bridesmaid slippers? Check out these three one-of-a-kind options:
Bridesmaid Ballet Slippers
Bridesmaid slippers that can be worn before and after the wedding? Yes, please! Not only are these ballet flats great for getting ready, but they are also the perfect option to change into for a night of dancing. Available in six colors and sizes.
Bow Knot Slippers
Bridesmaid slippers, but make them classy! These fleece-lined slippers feature a silk bow knot detail that takes your look to the next level without being too over the top. Available in four colors and three sizes.
Feather Top Slippers
We love, love, love these one-of-a-kind feather topped slip-ons! Available in a variety of colors and sizes, this pick is the perfect combination of comfort and style.
Bridesmaid Slides
If traditional bridal party slippers aren't your thing, opt for some stylish bridesmaid slides instead. Here are our three favorite finds:
Personalized Spa Slides
These spa slides are perfect for those looking for an affordable, one-time-use option. Available in five colors with over 25 print color choices, these slides can be personalized with each girl's wedding role and first name.
Indoor/Outdoor Slides
If you want to give your girls personalized slides that can be worn again, then this pair is for you. Made of high-quality durable rubber, these indoor/outdoor bridesmaid slides feature a cushioned insole for maximum comfort.
Faux Fur Slides
These fuzzy faux fur slides are the perfect mix of style and comfort. Featuring a soft fur top and non-slip rubber soles, these slides can be worn both indoors, outdoors, and even on the dance floor!
Frequently Asked Questions
Who buys the bridesmaid slippers?
Traditionally, the bride will purchase the slippers as a gift to her bridesmaids. If the bride does not offer to pay, then she should not make them a requirement for wedding morning as this would just be an added expense that her bridesmaids may not have budgeted for.
Do bridesmaids have to wear the same slippers?
No, the bridesmaids don't have to wear the same slippers, but it makes more sense if they do. Not only can many of these options be purchased in bulk for an overall lower price, having matching slippers makes for much better getting ready photos.
What can bridesmaids wear instead of slippers?
If slippers aren't the look you're going for, then consider purchasing your bridesmaids matching socks instead. These are usually more affordable than slippers, but still make for great getting ready pictures!
Pin for Later!