14 Bridesmaid Tote Bags for All Styles and Budgets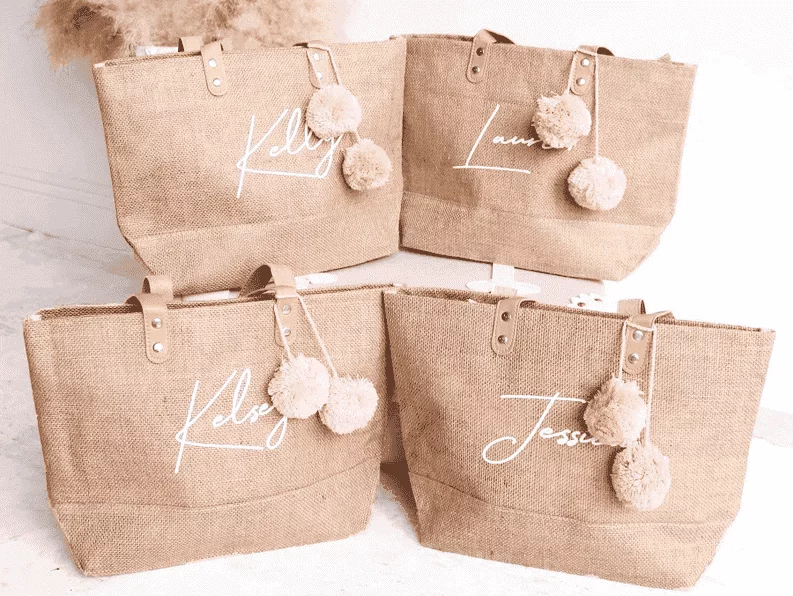 Disclosure: This post contains affiliate links, meaning we earn commissions if you shop through the links below. Please read my disclaimer for more info.
Whether you hand them out at the bridal shower, bachelorette party, or wait til the morning of your big day, giving your girls personalized bridesmaid tote bags is an extra special way to say thank you for all they've done to make this time in your life so special.
Not only do these tote bags serve as a bridal party gift for your girls, they double as a practical accessory to hold all of their wedding day essentials. Even better, these adorable bags are guaranteed to be used again and again long after you say "I do".
From fun fabrics like burlap and canvas to pretty personalization like foil script and embroidered monograms, we've got 14 bridesmaid tote bags that match every budget and style! As an added bonus, we're answering the three most frequently asked questions about these bridal party accessories.
Bridesmaid Tote Bags by Fabric
When it comes to picking the perfect tote bags for your bridesmaids, there is no shortage of fabrics to choose from. If you aren't quite sure what you're looking for, check out these seven selections to help you decide:
Cotton Tote Bag
Keep it clean and classic (and cheap!) with these cotton bridesmaid tote bags. Available in sizes small and large, these bags can be personalized with three different font choices, 24 text color options, and can even be upgraded to include custom text on the strap.
Burlap Tote Bag
If you're looking for a more rustic vibe, then these burlap bridesmaid totes are the perfect pick for you! Featuring an inner zipper pocket and clip closure, these bags can be customized with three font choices, two text colors, and either horizontal or vertical text positioning.
Polyester Canvas Tote Bag
Made of high-quality polyester canvas, these personalized bridesmaid tote bags are as stylish as they are sturdy. Choose between six font options and over 40 fabric, text, and ribbon color combinations for the ideal look!
Jute Tote Bag
For those having a beach bachelorette or destination wedding, these lightweight jute totes are the choice for you. Featuring sturdy leather straps and a zipper closure, these bridesmaid bags can be personalized up to 12 characters in a pretty white vinyl script.
Canvas Jute Blend Bag
Can't decide between the look of canvas and jute? We've got you covered! This multi-fabric bridesmaid tote bag features a large main compartment with a zipper closure and can be customized up to 12 characters in over 30 vinyl colors.
Nylon Tote Bag
Not only is nylon a unique fabric choice for your bridesmaid tote bags, it's an extremely durable one as well. Available in three shiny color combinations, this striped tote can be customized up to 12 characters in a stylish black vinyl script.
Vegan Leather Tote
If you're looking for a gift that's long-lasting and practical for your girls' everyday life, then this vegan leather tote bag is just the thing. Available in nine cute colors, this minimalistic tote can be custom imprinted with a monogram, initials, or a full name.
Bridesmaid Tote Bags by Personalization
While it's common for bridesmaid tote bags to be personalized with your girls' names or initials, there is no one way to go about adding this feature. To help you pick your preferred look, we've narrowed it down to these seven styles:
Matte or Foil Script Tote
The most common way to customize bridesmaid totes is with a classic script font. This cotton canvas option can be ordered in five different bag and text color combinations, with up to 12 characters included.
Initial + First Name Bag
Add an extra feature to your bridal party tote bags with this initial and first name option. This cotton tote can be printed in 24 different color choices in two sizes for an all-around custom look.
Name + Title Tote Bag
If you like the look of the script font but want to add even more personalization to your bags, then this is the pick for you! Available in 20 bag colors and 35 vinyl colors, these totes can feature your bestie's name and official title (plus a matching bow!)
Embroidered Monogram Tote
Instead of personalizing these totes with your bridesmaids' full names, you can opt for using their monogram instead. We love this canvas embroidered option that comes in five colors and two sizes, with 9 monogram styles and over 60 thread colors to choose from!
Floral Monogram Tote Bag
Custom and elegant without costing an arm and a leg? Yes, please! Available in four colors, this canvas floral monogram bag is perfect for those looking to add a unique twist to their bridesmaid totes.
Letter Patches Tote Bag
The old-school letter patches are making quite a comeback and bridesmaid tote bags are no exception! These burlap bags can be personalized with either ivory or pink patches and horizontal or diagonal patch placement.
Leather Label Tote
If you want your bridal party totes to be personalized, but don't want that to be the focal point of the gift, then this is the choice for you. Made of natural cotton canvas and available in six colors, these bags feature a small leather label that can fit full first names or just initials.
Frequently Asked Questions
Who buys the bridesmaid tote bags?
As we mentioned a few times throughout this article, the bridesmaid totes should be purchased by the bride as a, or part of a, bridal party gift. Because these bags are not a mandatory part of the wedding day, they should never be bought by the bridesmaids themselves.
What do you put in a bridesmaid tote bag?
Oftentimes, the bride will use these bags to put her other bridal party gifts into to create one larger gift. Other times, the bride will leave them empty so her bridesmaids can use them to carry their wedding day necessities- shoes, makeup, cosmetics, change of clothes, etc.
What can you get instead of tote bags for your bridesmaids?
If a tote bag is not big enough, you could go with a larger duffle or weekender-style bag. If you're looking for something on the smaller side, consider giving your girls a makeup or cosmetic bag instead.
Pin for Later!