18 Bridesmaid Earrings They'll Wear After the Big Day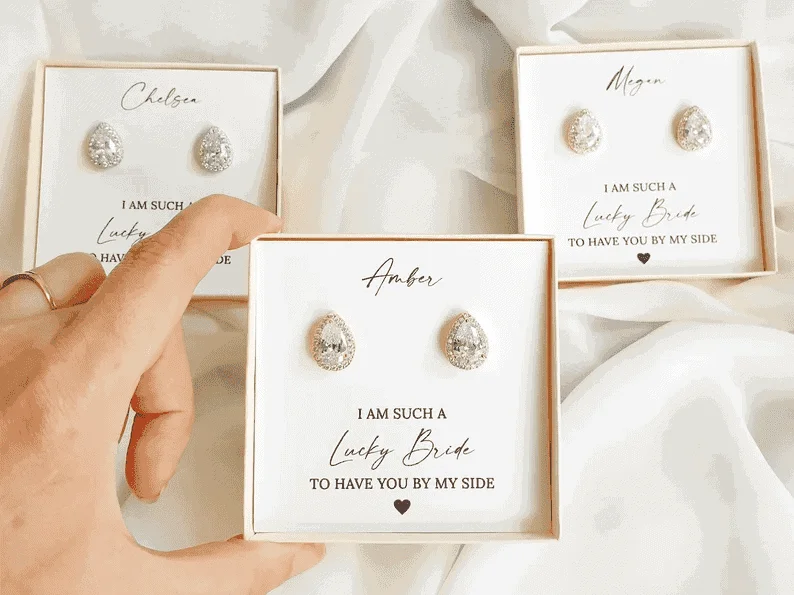 Whether you're looking for the perfect bridal party accessories or just a thoughtful gift to say "thank you" to your best girls for standing by your side, a special set of bridesmaid earrings makes for a timeless token that will be cherished long after your big day is over.
Not only are earrings a practical pick, as they're the one piece of jewelry that's most likely to be worn post-wedding, they're also a simple yet classy way to pull your entire wedding party look together. Speaking of looks, it's important to know exactly what you're going for before you start your search for the perfect pair.
That's why we're dishing out our top tips for choosing the best bridesmaid earrings for your group and answering some frequently asked questions about the subject. As far as our favorite finds, we've got everything from simple studs and pretty pearls to dainty drops and stylish statements.
How to Choose the Best Bridesmaid Earrings
When selecting the ideal pair of earrings for your bridesmaids, there are a variety of factors you'll need to consider. For starters, what type of metal they will be made of and what, if any, color of gemstone they will feature. Secondly, what style of earring you are looking for (stud, hoop, drop, etc), and if your bridal party will be wearing the same pair or mixing and matching.
Before you make any final decisions, check out our top three tips for choosing the best bridesmaid earrings for your group:
Match your metals and gemstones
Matching the metal material of the earrings to the color of your bridesmaid dresses is a fundamental factor when making this style decision. A basic rule of thumb when matching metals to clothing colors is to pair gold with warmer tones and silver with cooler tones (this applies to skin tones as well!)
As for gemstones, most bridal party earrings feature a colorless diamond(s), typically cubic zirconia (CZ) for cost-effectiveness, as they match nearly all dress colors and styles. With that being said, some brides choose to feature a colored gemstone to tie in their additional wedding colors (e.g. matching the groomsmen's suits or tie colors).
Consider the bridesmaid's hairstyle
If you have a particular hairstyle in mind that you want your entire bridal party to wear, then choosing one style of earring to match should be relatively simple. Some common combinations include hair down with simple studs, half-up with hoops, and a full up-do with drop earrings.
If you're letting your girls choose their own hairstyles, then picking one pair of earrings to complement different styles may prove more difficult. We suggest sticking to simple styles like studs or small hoops, as they work well with any look and are most likely to be worn again.
Complement the bride's accessories
Our final tip when it comes to choosing the best bridesmaid earrings is to do your best to complement the bride's own accessories. For example, if the bride will be wearing a teardrop necklace, then choose earrings with a teardrop stone, or opt for pearl studs to match the bride's pearl hair clip.
Not only will these complementing accessories create one cohesive look, they represent an extra special bond between you and your girls on your big day.
Gold Bridesmaid Earrings
When it comes to any piece of bridal party jewelry, you can never go wrong with a classic gold finish. This metal is both timeless and elegant, making it a great choice for those wanting a simple and chic look.
Silver Bridesmaid Earrings
Though not as common as its gold metal counterpart, silver is also a popular finish choice for bridal party jewelry. What we love most about silver bridesmaid earrings is that they typically feature diamonds, and you know what they say about diamonds!
Pearl Bridesmaid Earrings
If gold equals timeless and elegant, that makes pearls ever-lasting and exquisite. And though many dress colors do not go well with pearl bridesmaid earrings, the ones that do make for a pretty and polished picture.
Bridesmaid Stud Earrings
For those who want their bridal party to be accessorized, but don't want that jewelry to draw too much attention, opting for bridesmaid stud earrings is the perfect solution. This style also allows for you to combine different design elements and shapes to get your ideal look.
Bridesmaid Drop Earrings
Drop earrings are a popular pick when it comes to bridesmaid jewelry because they complement many hairstyles and dress necklines, making them a safe bet for bridal parties of all sizes. Even better, they go well with everyday fashion, so you know your girls will get repeated use out of them.
Bridesmaid Statement Earrings
Last, but certainly not least, are the biggest and boldest of them all: statement earrings. Designed to look exactly how they sound, this category of bridesmaid earrings is meant to be eye-catching and utterly unique.
Frequently Asked Questions
Do bridesmaids have to wear earrings?
No, bridesmaids are not required to wear earrings, or any jewelry at all. Whether they want to is a choice that needs to be made by both the bride and bridesmaid based on factors such as style preferences and overall budget.
Should bridesmaids wear the same earrings?
While bridesmaids don't have to wear the exact same pair of earrings, they should all feature the same metal and gemstones. For example, you want to make sure that there's no mixing of gold and silver, or one bridesmaid wearing a diamond while one wears a pearl.
Can I wear hoops as a bridesmaid?
There is no stylebook that says bridesmaids can't wear hoops, though there are some general guidelines on the size these hoops should be. The decision on what style of earrings her bridesmaid will wear is ultimately up to the bride.