How to Choose Bridesmaids: Top Tips for a Perfect Bridal Party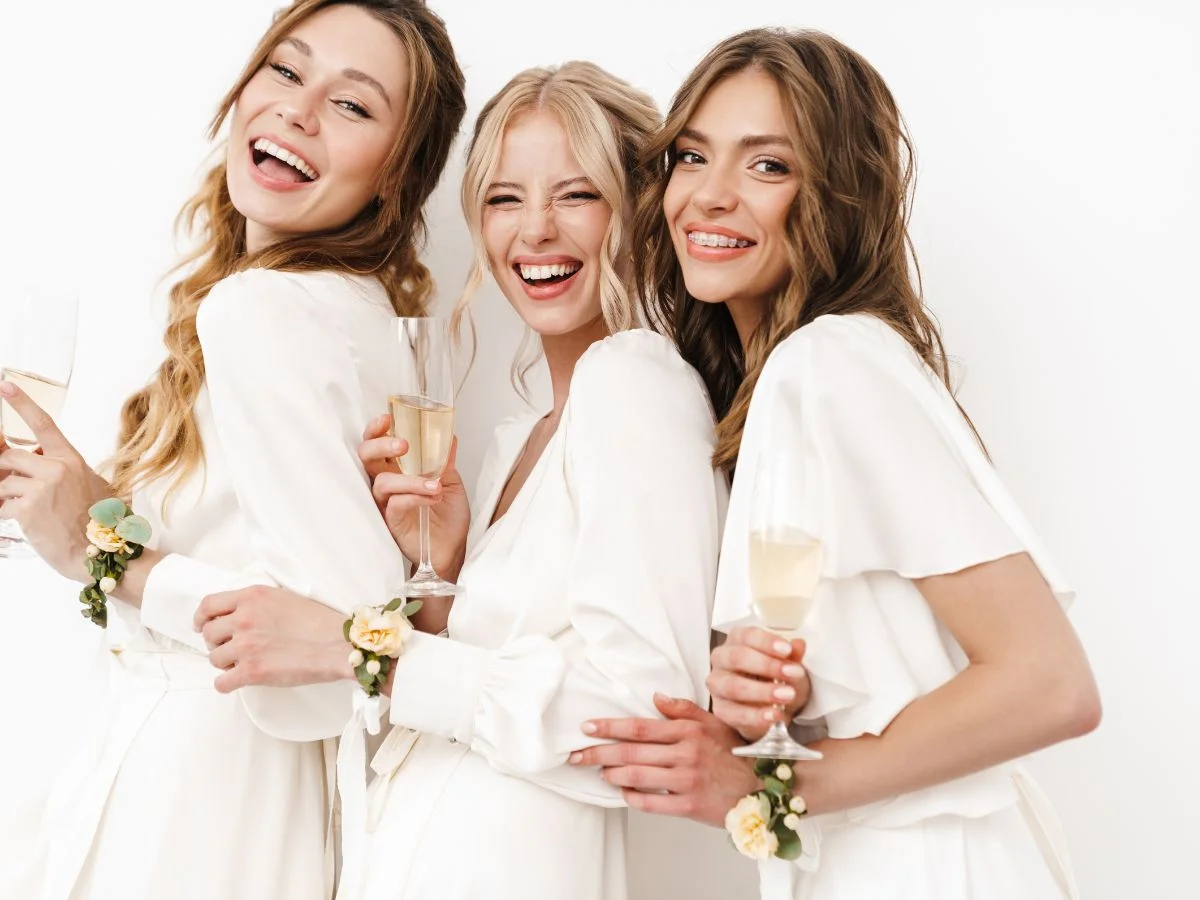 Before you say "I do," there are a few big decisions to make, such as where to tie the knot, what to wear, and who will be your bridesmaids. Choosing your bridal party can be overwhelming, so check out our handy guide on how to choose bridesmaids.
Optimum bride tribe numbers
A 2021 wedding survey indicates the average wedding party consists of around four bridesmaids and four groomsmen. If you're planning an intimate gathering you might prefer a smaller bridal party, if it's a bigger bash you might choose to have more attendants, but there are no hard and fast rules.
As the bride you get to decide how many bridesmaids you would like. I walked down the aisle with my sister as my Maid of Honor and two besties as bridesmaids. My cousin opted for a bride tribe of twelve, while my colleague eloped and had zero attendants. Just remember the more bridesmaids you have the more schedules you'll have to juggle for fittings etc. and if you're paying for thank-you gifts, transport, and the like you'll be footing a larger bill.
MODERN MOH TIP: Remember, there's no need to have an equal number of bridesmaids and groomsmen. You can organize the processional, table plan, etc. to suit your party as you like!
1. Take your time and choose wisely
It's easy to feel the pressure when you're mulling over how to choose bridesmaids, but don't make any rash decisions. A good friend of my husband's got engaged a few years back, she was understandably very excited and set about telling the world.
We got together shortly before the wedding and over a glass of wine she confessed that she was feeling the strain. In her exhilaration, she had asked several close relatives and girlfriends to be bridesmaids. It hadn't been an easy ride and there had been differences of opinion over everything from the bachelorette party to the dresses.
The Maid of Honor and bride had spent much of their time refereeing, rather than enjoying the wedding prep. Remember, once you've popped the question you can't revoke your invitation (not without tears and tantrums), so give yourself time to decide who should be your bridesmaid.
2. Consider bridesmaid traits and responsibilities
When you're working out how to choose a bridesmaid remember it's not all partying and drinking champagne. Bridesmaids have responsibilities too, from planning bridal showers and bachelorette parties to joining you on shopping trips and attending dress fittings. Bridesmaids can also help you to prep for the wedding by putting together and distributing invites, assembling favors, etc.
On the day itself, your bridesmaids will get ready with you, help you in and out of the car, and walk with you down the aisle. They will also pose for pics, dance with you, and lift your dress when you need to go and pee. It's a glamorous job but someone's got to do it!
Your squad will be your support network, problem-solvers, cheerleaders, and party pals. They need to be loyal, and patient, and it helps if they can keep their sense of humor. Your bridal party might be an eclectic mix, with one bridesmaid great at organizing, one party animal, and another able to stay cool in a crisis. Despite their differences, they should all be supportive, reliable, and trustworthy.
3. You're not obliged to return the favor
When you're weighing up how to choose bridesmaids don't feel compelled to ask someone just because they asked you. It's natural to want to return the favor, but just because you were their bridesmaid, they don't have to be yours.
Your relationship may have changed since their wedding, or maybe you want a small bridal party. Yes, you'll probably feel guilty, and they might question your decision, but remain calm and compassionate and hopefully they will understand.
4. Think outside conventional bridal parties
There's always a place for wedding day customs, but your special day should be tailored to your tastes rather than tradition. We've already mentioned there's no need to have an equal number of bridesmaids and groomsmen, but how about defying convention by choosing your bridal party based on your fave people rather than gender?
You don't have to opt for a Maid of Honor and bridesmaids, instead, show your admiration for the special gents in your life by choosing a Man of Honor and bridesmen. Who's to say brothers, male cousins, and guy BFFs can't all be in the bride's tribe? The groom can also invite members of the opposite sex to stand by his side by choosing a best woman and groomswomen.
5. Embrace family and close friends
If you have close family members and friends it can be a struggle to decide who should be your bridesmaid. Wedding etiquette dictates it's customary to begin with your closest relatives e.g., siblings, cousins, etc. with youngsters serving as flower girls or junior bridesmaids.
It's good practice to include the groom's family in some capacity too (especially the groom's sisters and nieces) – unless you fancy alienating your in-laws from the off!
But what if you don't have any kith and kin to ask, or you're not particularly close to your family? Nowadays, many of us are more attached to friends than relatives. If that's the case we're guessing you'd rather ask your besties to be bridesmaids over relations you only socialize with at weddings, funerals, and Thanksgiving.
MODERN MOH TIP: If you're still drawing a blank on how to pick a bridesmaid craft a list of your nearest and dearest. Who has supported you during your life and who will continue to do that in the future?
6. Factor in commitment and cost
Another factor at play when you're figuring out how to choose bridesmaids is the commitment required. Bridesmaids don't just turn up on the day and accompany you down the aisle, there are pre-wedding events to attend and tasks you'll need help with. Does your friend or relative have the time and availability required?
There's also the financial cost to consider. Traditionally, the bride covers some of the costs for their bridesmaids , e.g., flowers (or bouquet alternatives), wedding day accommodation and transportation, and hair & makeup.
But the bridesmaids tend to pay for their dresses and accessories, and might also contribute to the bridal shower and bachelorette party. On top of this, there will be a wedding gift to buy – being a bridesmaid can be a pricy gig!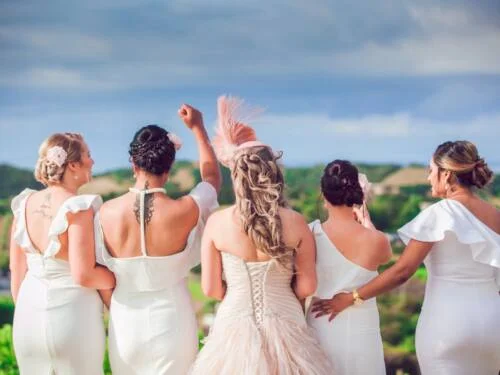 Frequently Asked Questions
Hopefully, we've covered the main points on how to pick a bridesmaid, but here are a few FAQs just in case.
When should I choose my bridesmaids?
Choose your bridal party between eight to twelve months before your wedding. This will give you time to plan, buy outfits, and enjoy the build-up to the big day.
Do I need to have bridesmaids?
You don't need to have bridesmaids, you can have bridesmen instead, just a maid of honor/man of honor or you can choose to fly solo and have no attendants at all.
Should I choose family over friends?
Traditional wedding etiquette suggests you pick a bridesmaid from your immediate family, but you don't have to. Go with who you're closest to.
Final Thoughts …
We're all in this together
Choosing your bridal party isn't easy, selecting the right Maid of Honor and bridesmaids can be nerve-wracking, as you'll all be working together to put together a memorable celebration. Will you all get along? Will there be any major personality clashes? It's your special day and there's no place for drama queens or trouble-makers, so make it clear your word is final, and that your Maid of Honor will be heading up the squad.
Now you know how to choose bridesmaids, it's time to pop the question
We've given you a heads-up on how to choose bridesmaids. In summary, it should be someone who you love, trust, and respect. Be they relatives or friends, ladies or gents, the right bridesmaids will endeavor to make the day special for you.
Asking someone to be your bridesmaid demonstrates your friendship and how much you think of them, memorably pop the question and watch their face light up.
After all, they aren't just going to be a guest, they're going to be a member of the bride's tribe!
Pin for Later!