11 Bachelorette Party Games to Kick Off Your Girls Night Out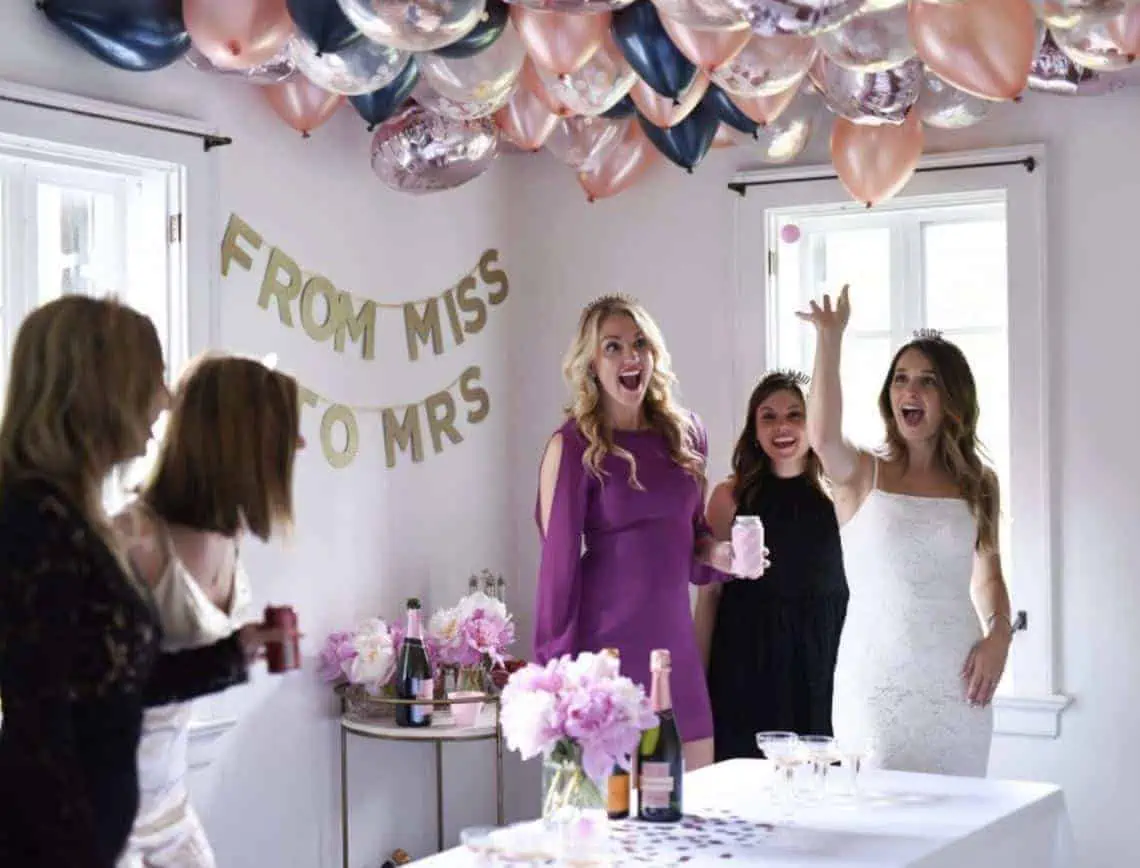 Disclosure: This post contains affiliate links, meaning we earn commissions if you shop through the links below. As an Amazon Associate, I earn from qualifying purchases. Please read my disclaimer for more info.
Before you and your bridesmaids take the bride-to-be out for a night on the town, you must first loosen up with some fun pregame festivities. Trust us when we say there's no better way to get the bachelorette party poppin' and the giggles goin' than playing a grown-up game or two.
Not only will you learn a lot about your fellow bridesmaids, but you'll also be making memories to look back on and laugh about for years to come. Below we've provided eleven ice-breaking bachelorette party games guaranteed to start your night off with a bang!
Printable Bachelorette Party Games
Would She Rather
First on the list of bachelorette party games is a fun spin on the traditional "How Well Do You Know The Bride" game. Instead of answering a specific question about the bride, you'll have to guess which of the two choices she would prefer.
If your group is on the conservative side, play it safe with our PG-13 template. If you're not afraid to get really weird with it, we highly recommend our X-rated edition. If you're not sold on either option, feel free to put together your own version by asking each bridesmaid to contribute a couple of choices.
Bachelorette Drink If
Similar to "Would She Rather", "Drink If" is an adaptation of the popular "Never Have I Ever" game. Instead of having to come up with scenarios of things you've never done to get others to drink, you simply have to drink if you have done what's been said.
Print off our X-rated version and take turns reading aloud until you've completed rounds 1-4 (or you've done so many things you can't possibly take another sip). For a more personal twist, ask your bride and fellow maids to contribute a few ideas and create a master list to play with.
Two Truths And A Lie
This is one of our favorite bachelorette games because it can be played two different ways, making it a great option for any group. If you want to use this game as an icebreaker to help the girls get to know each other a bit better, go with the traditional rules. Each girl says three facts about herself, two truths, and one lie, then the group tries to guess the fib.
For the bachelorette-themed version, have each girl write three memories they have involving the bride, two truths and one lie, and have the group guess the fable. We suggest playing both versions as a fun way to bond with your bride tribe before wedding day.
Bachelorette Scattergories
If you want to test your creative side while also having a great laugh, then bachelorette scattergories is the game for you! The rules are simple: players must think of a word for each category that starts with a specific letter.
Using our X-rated version, set a timer to five minutes and have everyone start filling in the blanks. When the timer goes off, take turns reading your answers aloud. Duplicate answers should be canceled out, so the player with the most unique words wins!
Bachelorette Games to Play While Out
Scavenger Hunt
We consider completing a scavenger hunt the staple of any good bachelorette party. Not only does it require all the girls to work together as a team, but it also results in a ton of hilarious pictures. If you're not the imaginative sort, simply download our premade template.
However, we do commend creativity and therefore highly suggest coming up with a list of your own. Check out our best bachelorette scavenger hunt ideas for more inspiration!
Bachelorette Party Dare Cards
If you're looking for a bachelorette party game that you can play while you're out and about, this is a perfect choice. These scratch-off Bachelorette Dare Cards are ridiculously hilarious, especially once all the girls get some liquid courage!
They even come with 5 blank dare cards, so you and your group can come up with your own unique set of dares. The only rule of this game is to have your cameras out and ready to snap some seriously funny photos.
Bachelorettes Against Decency
We absolutely love this bachelorette version of Cards Against Humanity. Not only are the rules super simple (and well-known), it's the ultimate way to break the ice and have everyone laughing their booties off.
Simply download and print off these premade question and answer cards and you're good to go! P.S. Beware that this is one of those bachelorette games that does contain sexual content and adult language, so make sure the bride and her girls aren't afraid of the X rating.
Party Games that Double as Gifts
Never Have I Ever
We love this girl's edition of the Never Have I Ever game that comes full of 224 cards, 8 custom paddles, and a spinner. Oh, and did we mention it's girls only?
The fun twist on this bachelorette party game is that the more you've done (or are willing to ADMIT that you've done), the better you do! This game also doubles as a gift for the bride-to-be for future girls' nights out.
For The Girls
From the creators of What Do You Meme?, For The Girls is a ladies-only adult party game that "every group of girlfriends needs". What we love most about this option, aside from the GIRLS ONLY part, is its versatility.
It combines 5 different styles of the game- Truth or Dare, I Have Never, Rapid Fire, Best of the Best, and Most Likely To- into one awesome package. P.S. This is another one of our bachelorette party games that makes for a great gift for the bride-to-be!
That's What She Said
If X-rated bachelorette party games are your thing, here's another hilarious option for you. Described as a better version of Cards Against Humanity, That's What She Said is "the party game of twisted innuendos".
With 58 questions and 400 answer cards included, you and your girls could be laughing for hours over this fun game. The best part is that once the bachelorette weekend is over, you can gift this game to your bride and her groom to keep at their home for future get-togethers.
Prosecco Pong
Last but not least on our list of bachelorette party games is a fun spin on the old college favorite- beer pong. Because we doubt your bride tribe wants to be rockin' beer bellies on your night out, we've switched the brews for bubbles.
While this option isn't as much of a "get to know you" game, you'll certainly learn a lot about each girl when things get competitive. The only thing not included with your prosecco pong purchase is the booze, so don't forget to stock up!
Frequently Asked Questions
Do you have to play games at a bachelorette party?
No, you don't have to play games at a bachelorette party, though they are typically a great way to break the ice and learn more about everyone in the group. Some of these games can also be reused at future girls' nights which makes them totally worth the expense.
What are some prizes for bachelorette party games?
While you don't have to give out prizes for bachelorette party games, it is a fun way to make things more competitive. We love the idea of buying the winner their favorite drink while out at the bar or giving them a special drinking cup to use all weekend.
What do you do at a bachelorette party instead of games?
If traditional bachelorette games aren't your style, you can always opt to do other fun group activities like creating an at-home spa, taking an exercise class, or mixing up some craft cocktails.
Pin for Later!