All You Need to Know about Having a Male Bridesmaid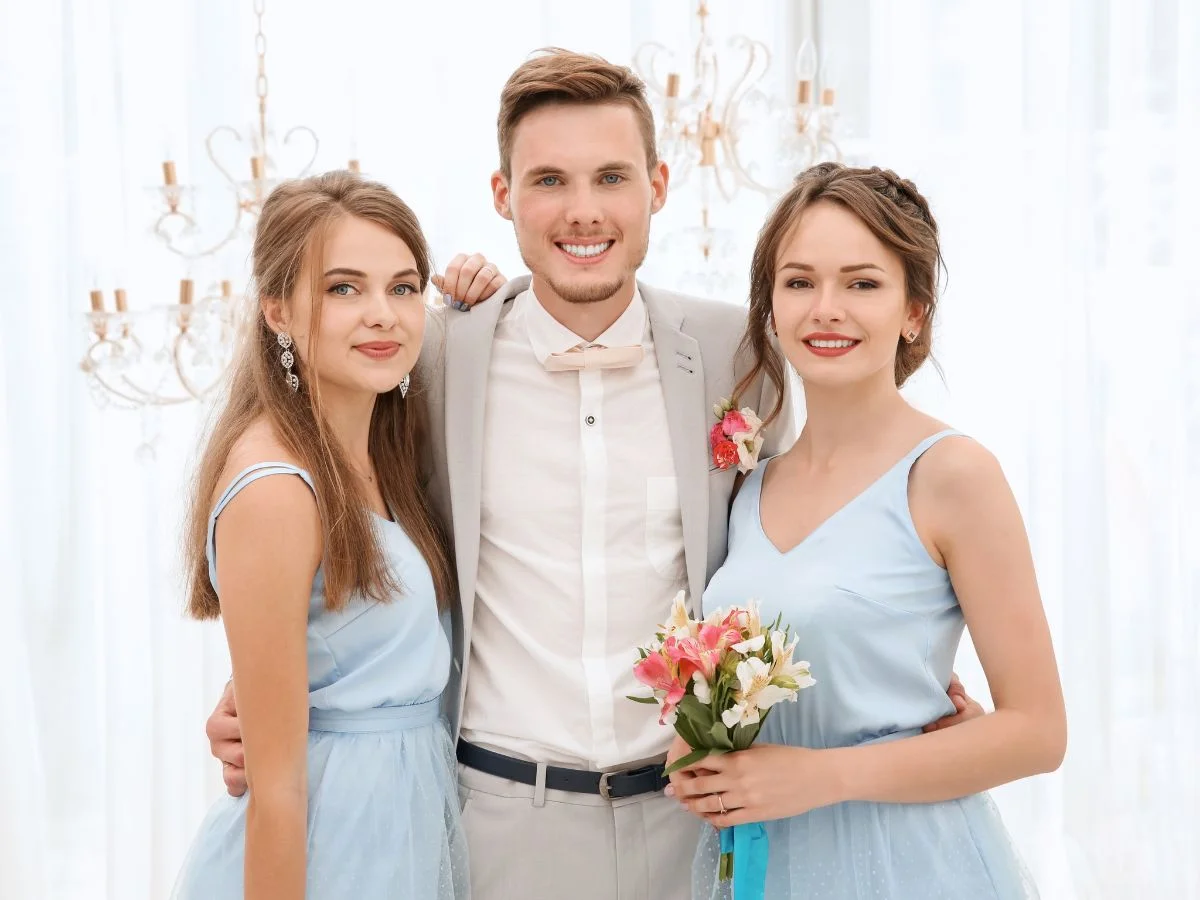 Disclosure: This post contains affiliate links, meaning we earn commissions if you shop through the links below. As an Amazon Associate, I earn from qualifying purchases. Please read my disclaimer for more info.
When it comes to wedding attendants, the blushing bride will welcome her nearest and dearest by her side, and who says gender needs to play a part? The groom can opt for a best woman and the bride might prefer a man of honor or a male bridesmaid. Like the idea of a bridesman but not too sure about the concept? Don't worry, we'll give you the lowdown on the things you need to know about having your best guy stand by your side at your wedding.
What exactly is a male bridesmaid?
Weddings no longer need to be steeped in tradition, and it's perfectly acceptable to add your own personal touches to your big day. If you're close to your brother, male cousin, or have a fab guy BFF why not give him the honor of being a bridesman?
Female bridesmaids have a variety of responsibilities, and men can carry out a similar role (we'll talk more about this later). In general, a bridesman supports the bride before, during, and after the wedding. He can take an active role in helping to plan the shower, bachelorette, and wedding itself, and can also help to ensure the big day is memorable for all the right reasons.
Bridesman clothing and accessories
When it comes to wedding attire, your male bridesmaid should complement the other members of the bridal party. He can dress in a suit that matches the groomsmen or best man, but he might blend in with the groom's attendants too much. If you prefer your male bridesmaid to stand out you can use an accessory e.g., a cravat, tie, or pocket square in the bridesmaid's color palette.
You can also distinguish the bride's attendants from the groom's by using different boutonnieres. The groom, best man, and groomsmen can wear one color, and the bride's male attendants can wear a boutonniere to match the bridal bouquets or bridesmaid/maid of honor's dress.
MODERN MOH TIP: A male bridesmaid may be reluctant to carry a posy down the aisle, but you can always ask – you never know he might like the idea! Maybe think about some bouquet alternatives, or perhaps you can ask him to act as the ring bearer too?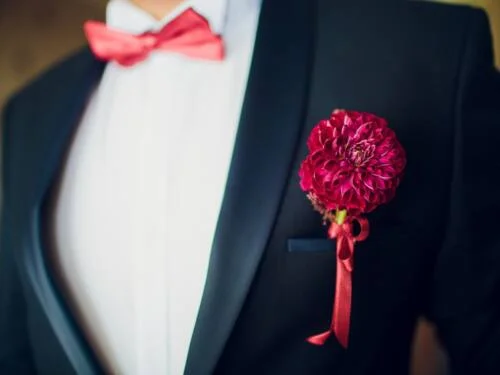 Male Bridesmaid Roles and Responsibilities
A male bridesmaid has plenty to offer, and like all wedding attendants, the key is to play to his strengths. His main job is to be a good friend, offer emotional support, listen, and look out for you. If he's organized, calm, and sociable that's a bonus!
A good friend of mine opted for a male bridesmaid and she raved about the benefit of a man's perspective. He provided insight into everything from gift ideas for the groomsmen to the male attendant's attire and the best bars to hit for the bachelorette party.
Let's take a look below at what a bridesman can help out with.
Before the big day
It's fine to ask your male bridesmaid to help out with the wedding prep such as distributing invitations and creating favors (if he's happy to do so). He can also help out your maid/man of honor with the bridal shower and bachelorette party.
However, if you're planning all-female celebrations, he might be reluctant to join in.
The key is to not strongarm him to get involved, or you'll make him feel uncomfortable. If he's up for it that's great, it will be nice to have a guy around to stave off unwanted attention and have some fun with.
If he's not comfortable with that either let him skip that part of your celebrations or consider throwing a co-ed bridal shower and joint bachelor/bachelorette party with the groom. This is a great way to ensure your bridesman feels included and it will also allow your bridal party to mix and mingle ahead of the wedding day.
As a key member of the wedding party, he should also join you for the wedding rehearsal, and rehearsal dinner, along with the processional.
You'll need to think about how your bridesman enters, as traditionally bridesmaids walk with groomsmen. You can have any bridesmen walk solo, walk with another bridesmaid, or make his way down the aisle with your maid of honor.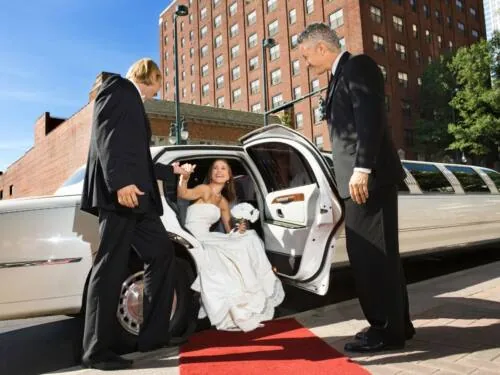 On the big day
There will be plenty of hustle and bustle on the morning of the wedding, and it's traditional for the bride to get ready with her maid of honor and bridesmaids. Understandably, a male might not be comfortable with this, and probably won't want to stick around for the hair and make-up extravaganza. Although he's more than welcome to if he wants!
Your male attendants can join the groom, best man, and groomsmen to get ready so he still feels included on the day of the wedding. He can also help you out with any last-minute tasks should anything arise e.g., a trip to the pharmacy for headache pills!
Once you're at the ceremony, he should be with you to help you in and out of the car, help with your dress (if need be), and just be there for you. A bridesman should mix with your guests, keep you topped up with champagne, and dance with you too! Of course, he shouldn't be expected to accompany you to the ladies to assist with bathroom duties, that's a step too far!
MODERN MOH TIP: Don't forget to run through the morning's itinerary with your guy bestie. Let him know what time you need to meet before the wedding so he can be part of the pre-wedding photo shoot with the rest of your bridesmaids and maid of honor.
After the big day
If you're having a post-wedding brunch all bridesmaids should be in attendance to chat about the highlights and say a fond farewell to your fellow guests. He can also provide a helping hand by collecting any cards and gifts and transporting them home for you.
Gifts for the Bridesman
There are lots of lovely gift ideas for bridesmaids, such as personalized makeup bags, bridesmaid jewelry, and engraved wine glasses. Don't forget to extend the same courtesy to your bridesman by buying him a memorable thank-you gift too. You could opt for personalized cufflinks, a wallet, or maybe a stylish hipflask with his initials.
Alternatively, how about something related to his hobby, such as a monogrammed set of golf balls or an invitation to a wine-tasting event? Showing your appreciation is a great way to thank your male bridesmaid for being there to support you.
Frequently Asked Questions
We've covered most of the things you need to know about having a male bridesmaid, but let's have a quick recap just in case. Here are a few FAQs on the topic.
Do I need to have a male bridesmaid at my wedding?
You can have whoever you want in your bridal party, whatever their gender. You can have a maid or man of honor, guy bridesmaids, female bridesmaids, or a mixture of both.
What's the difference between a bridesman and a groomsman?
A bridesman supports the bride, helping her to plan the celebrations and ensure they go with a swing. As the name suggests, the groomsman supports the groom in the same way.
What's the difference between a Man of Honor and a bridesman?
A man of honor takes the lead in supporting the bride, planning the shower and bachelorette party, providing advice, acting as a witness, holding the bride's bouquet, and making a speech. A bridesman supports the maid of honor and bride to make sure the wedding is memorable for all the right reasons.
Final Thoughts …
Keen on having a male bridesmaid? Forget gender, forget tradition, if it's your wedding day you get to choose who supports you and who's best suited to walk with you down the aisle. Being a bridesmaid or bridesman is an honor bestowed on your closest family/friends, and choosing a male is just as acceptable as choosing a female.
Pin for Later!