What is an Honorary Bridesmaid? All Your Questions Answered
So, you've heard the buzz about honorary bridesmaids, and you're curious, right? Well, you're in for a treat! Honorary bridesmaids (also sometimes called house parties) are like the party-starters of the bridal crew, bringing their unique flair and friendship to the wedding mix.
An honorary bridesmaid, or special member of the bridal party, is a special friend of the bride who joins in the celebration, with her role shaped by the bride's wishes. However, while these special additions to your big day may walk down the aisle, they usually won't take their place at the altar, making their involvement a new twist on tradition.
In this Q&A article, we're diving headfirst into the world of honorary bridesmaids. From their role in the bridal party to what they wear and everything in between, we've got the top 9 questions covered. So, let's get ready to explore this trend that's all about friends, laughter, and love!
And to make sure we get it right, we asked an expert, Raina van Setter from Weddings & Events by Raina, to offer her expertise along the way.
Let the fun begin!
So, exactly what is an honorary bridesmaid?
"An honorary bridesmaid is a special role assigned to someone who holds a significant place in the bride's life," says Raina. "They may not fulfill the traditional duties of a bridesmaid as this title is typically bestowed upon close friends or family members whom the bride wants to honor.
"It allows them to be involved despite not being able to participate in the same capacity as an official bridesmaid. It is a lovely way to recognize and include important individuals, showing appreciation for their support and love."
Interesting. So who should be an honorary bridesmaid?
"If you ever wondered how to choose an honorary bridesmaid or even how many of them you should have, remember it's important to consider the close friends or family members who have been supportive and played a significant role throughout your life.
"Think about those you hold close to your heart and who you want to honor by including them in your bridal party. While the specific number of honorary bridesmaids is up to your personal preference and the dynamics of your wedding party, remember, this is your day. Choose those who hold a special place for you to stand by your side and share in celebrating your love," Raina shared.
Let's look at some typical examples of when you may choose to have honorary bridesmaids:
You have some older relatives that you are close with, such as cousins or aunts, that you want to have a special role, but might not want a full bridesmaids role.
You have decided that your MOH and bridesmaids would be limited to siblings, but you want to make sure that your close group of besties have a role as well.
You have a group of friends that you've been close to since you were young and want them to be your bridesmaids. More recently, you've become friends with another group that you want to have as part of your wedding, but can't have everyone be bridesmaids.
As you can see, choosing your honorary bridesmaids is a deeply personal decision. At the end of the day, you want your honorary bridesmaids to be your ultimate cheerleaders, so focus on the relationships that mean the most to you. It's your day, your choice!
I want one! How many honorary bridesmaids should I have?
The magic number of honorary bridesmaids is like a secret code of friendship that only you (and maybe your groom) can decipher. There's no strict rule here—it's all about what feels right for your wedding vision. Really, the sky's the limit!
Keep in mind, though, when it comes to honorary bridesmaids, it's less common to have just one or two. If that was the case, you would be better off adding them as bridesmaids. In most cases, brides tend to select a group of friends to fulfill the role, as we've just looked at.
As we've looked at before, some brides go all out with a huge bridal squad, while others choose to forgo bridesmaids altogether. And remember that an honorary bridesmaid role is slightly different than a traditional bridesmaid role, and we'll explore that next.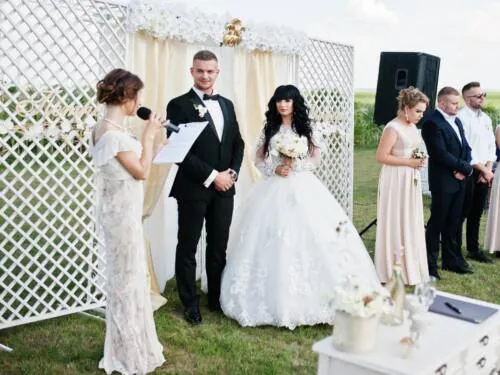 I need help! What does an honorary bridesmaid do?
Raina says that, "Honorary bridesmaids play important roles in the wedding celebration. Although they are not part of the official bridesmaid group, they are given special recognition for their significance in the bride's life."
So, what exactly do these special friends do in the lead-up to the "I dos"?
The roles of honorary bridesmaids are as unique as the friendships they represent. They would generally be invited to the pre-wedding events like bridal showers or bachelorette parties. However, they may not be expected to attend, especially if they're from out of town. They still get to be part of some key wedding activities.
Here's what many brides do when deciding the duties of an honorary bridesmaid:
Wedding Preparation: If the house party lives locally, the bride may ask them to help with some of the pre-wedding preparation. This could include putting together invitations, making favors or centerpieces, or helping decorate.
Engaging with Guests: Honorary bridesmaids can interact with guests during the reception, ensuring the celebration stays lively and fun, especially at larger weddings where their crowd-pleasing skills shine.
Bridal Preparation: They are crucial in helping the bride prepare for her walk down the aisle. This includes assisting her in getting dressed, ensuring every accessory is ideally in place, and providing comforting words to ease any pre-wedding jitters.
Special Roles: During the wedding ceremony and festivities, honorary bridesmaids can perform unique tasks. These may involve reading a meaningful passage, delivering a heartfelt toast, or assisting with the rehearsal dinner.
Basically, the extent of their involvement is entirely up to the bride's preferences and the dynamics of the bridal party. Honorary bridesmaids adapt to fit the specific needs and wishes of the couple, adding an extra touch of love, friendship, and enjoyment to the wedding day.
But how can I avoid hurt feelings and bruised egos?
Asking someone to be an honorary bridesmaid is like extending an invitation to dance on a delicate emotional tightrope. If you're not careful, you can inadvertently land the message, "You're super special to me, but not quite 'bridesmaid' special," which can ruffle some feathers.
So, how do you navigate this tricky terrain without hurting feelings?
Raina advises, "To avoid hurt feelings when asking someone to be an honorary bridesmaid, choose your words carefully." It's all about being thoughtful and considerate when expressing your request. Emphasize the uniqueness of their role and the importance of their presence, and reassure them that there are no expectations beyond their comfort zone.
"Honesty is key. Have an open conversation, share your reasons for choosing them, and make them feel truly valued. Be clear about any responsibilities or commitments involved so they can make an informed decision," she adds.
It also helps if you are asking a group of friends to all be honorary bridesmaids, get them together and ask them as a group. That way, they know you value their group dynamic and they can see that they're all in this together!
However, if hesitation or valid reasons for declining arise, offer alternatives. They may prefer to do a reading during the ceremony or simply attend as an honored guest.
"Lastly," Raina begins, "always respect their decision. Whether they accept or decline, remember that your wedding celebrates love and happiness. Positive relationships should remain intact throughout the planning process and beyond. After all, it's all about spreading the love!"
What do honorary bridesmaids wear?
Dressing your honorary bridesmaids can be as easy as pie, especially if you want to spare them from a specific gown expense. In such cases, you can ask them to don a dress of their choice as long as it matches a designated hue or style that complements your wedding's aesthetic or color palette.
Conversely, some brides opt for a coordinated look by choosing matching dresses for their honorary bridesmaids. These dresses might resemble what the official bridesmaids are wearing, with a slight twist to keep things interesting.
So, whether it's mix-and-match or uniform chic, your honorary bridesmaids are sure to stand out and shine!
Do my honorary bridesmaids walk down the aisle?
There's room for creativity when it comes to honorary bridesmaids and their role in the wedding processional and ceremony. For most weddings, honorary bridesmaids have a VIP seat with the family, but they don't typically stand up at the altar with the bridal party.
Raina points out, "There is no right or wrong answer to whether or not they should be included in the processional. This is entirely up to you." Depending on your ceremony style and traditions, you can honor your honorary bridesmaid differently.
Some couples choose to include them in the wedding party procession, allowing them to walk down the aisle with the rest of the crew. Others prefer to have them seated in the front row, ensuring they're still part of the action while maintaining a distinct role in your special day. The choice is all yours!
I love my house party. How can I be sure to honor them?
Ensuring your honorary bridesmaids feel like an important part of your big day is as essential as saying, "I do." These honorary bridal party members deserve the spotlight, too!
Raina suggests several ways to include them in your celebration:
Special Ceremonies: Invite them to participate in unique ceremonies, like a unity candle lighting or a sand ceremony, symbolizing their significance in your journey.
Key Roles: Entrust them with essential tasks on the wedding day, such as delivering readings during the ceremony or leading a toast at the reception.
Sentimental Keepsakes: Gift them special keepsakes like a bracelet or necklace, tangible reminders of your friendship.
Wedding Planning: Involve them in the wedding planning committee, tapping into their creativity and support as you prepare for the big day.
Aisle Companions: For those who desire a more prominent role, have them walk down the aisle and stand beside you, symbolizing their unique place in your life.
Name Them: Make sure that they are listed and named in the wedding program, and that they are announced at the wedding reception (if you are choosing to announce the bridal party)
With these gestures of appreciation, your honorary bridal party members will know just how special they are in your journey to happily ever after.
They sound great, but do I need to have honorary bridesmaids?
The decision to include honorary bridesmaids is completely up to you. As Raina wisely puts it, "It's important to remember that everyone's situation is different, and whatever you decide should be what works best for you and the people involved."
Whether you choose to have honorary bridesmaids or not, what truly matters is acknowledging the feelings and expressing gratitude for the friendship and support they offer. "Sensitivity, understanding, and patience are key when navigating this decision, ensuring that your wedding journey is a celebration of love and friendship without hurting feelings," she adds.
Final thoughts …
While the path to your big day may be filled with endless decisions, be sure to remember that honorary bridesmaids bring a unique twist to the celebration. Much like the bonds of friendship or familial significance they represent, their role is a testament to modern matrimony's ever-evolving, inclusive spirit.
So cheers to honorary bridesmaids: friends, laughter, and love!
Pin for Later!