Disclosure: This post contains affiliate links, meaning we earn commissions if you shop through the links below. Please read my disclaimer for more info.
The key to surviving a long bachelorette party weekend spent hardcore boozing and not enough snoozing is to come prepared. While your bride and fellow bridesmaids are busy packing their favorite outfits, eye shadow palettes and blow dryers, you'll need to be prepping for day drinking and the debauchery that follows.
Have no idea where to start? Don't worry girl, we got you covered. We've compiled a bachelorette survival kit (aka "Oh Shit Kit") list that includes everything you'll need to party hard, survive the struggle, and make it home in one painless piece!
---
Step One: Pack It With Party Starters
Shots/Splits
Depending on the type of drinkers you and your girls are, the first thing you'll need to add to your bachelorette survival kit is some booze. We recommend either mini shots or a champagne/prosecco split. Feeling feisty? Have one of each!
Step up your presentation by decorating your booze with either of these adorable additions: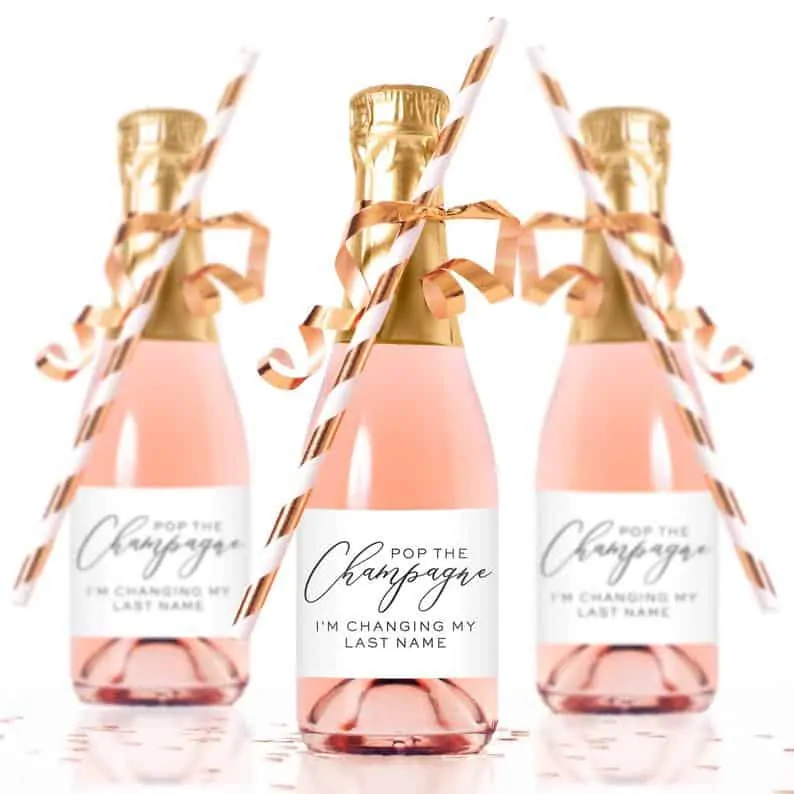 Drinkware
Now that you have the spirits, it's time to find them a home. If your group is full of shot takers, we love these personalized shot glasses:
For a crew that likes to sip on their sauce, these frosted cups are the perfect choice:
Want to take your "Oh Shit Kit" up a notch? Get your girls their own custom wine tumbler that they can use for years to come: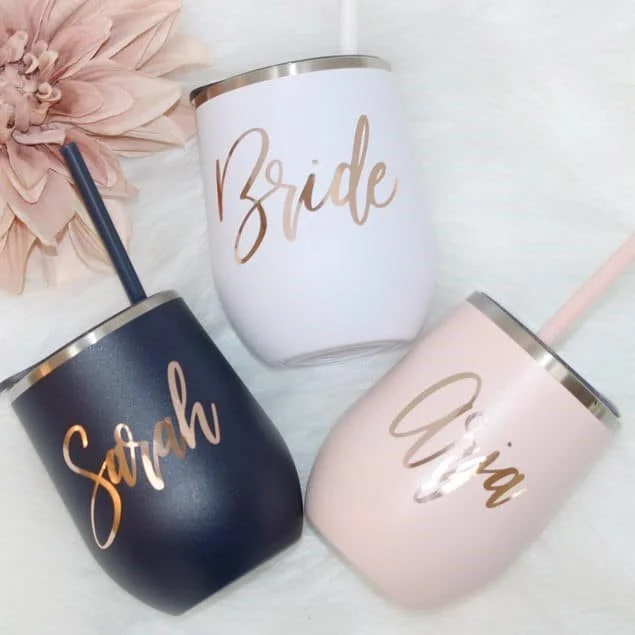 Koozies
Don't think we forgot about you beer and seltzer lovin' babes out there! Keep your cans cold with these clever "Bride Claw" slim koozies:
For a more personal touch, design your own custom can coolers: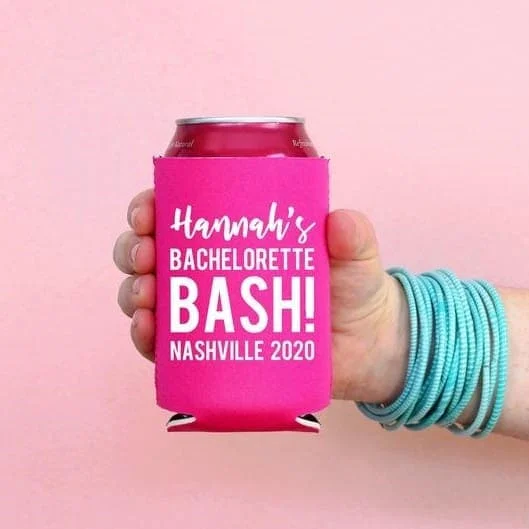 MODERN MOH TIP: These koozies don't just work for beers, they can fit around a standard size cup as well. We recommend them for when you're on-the-go (aka bar hopping), since they easily fit in your purse or pocket!
Penis Straws
No good bachelorette party is complete without its fair share of phallus-shaped straws. Whether you're 25 or 50, nothing makes a group of girls giggle harder than sipping out of a plastic penis.
Go all out with these pretty pink and purple straws that resemble the real deal: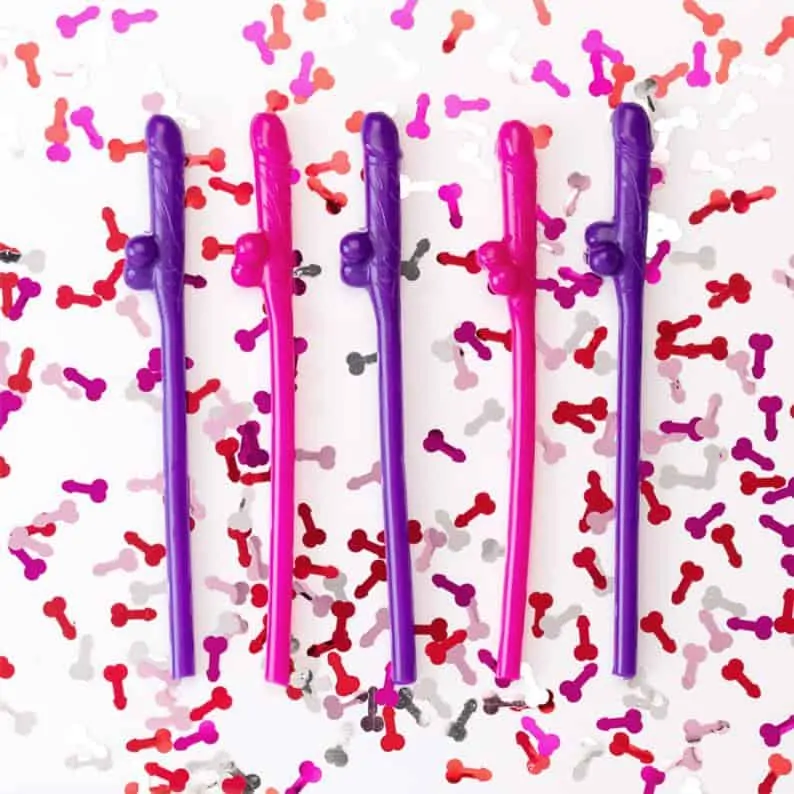 Or keep it a bit more PG-13 with these colorful cutouts:
MODERN MOH TIP: Be sure to take them everywhere you go- it's always hysterical to turn heads with these sticking out of your drink!
---
Step Two: Fill It With Fun Favors
Hair Ties
To have and to hold your hair back (whether you're dancing on the bar or praying to the porcelain goddess). These bride bands can also double as super cute bracelets!
Sunglasses
Because sometimes you need to hide your glassy eyes after a long day or block out that harsh sun after a long night. These retro heart-shaped shades should do the trick: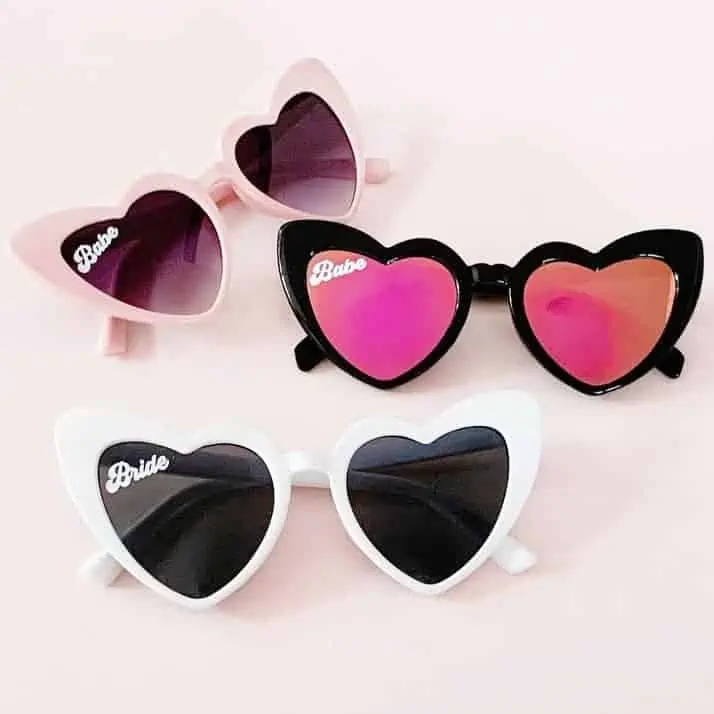 Lip Balm
Just 'cause your liver hates you doesn't mean your lips have to. Keep them hydrated and soft all weekend long with these shea butter balms:
Tattoos
Every bride and her crew need some matching ink. These mix and match tats are the perfect accessory:
RELATED: 10 Bachelorette Party Favors for Your Girls Weekend
---
Step Three: Heap On The Hangover Helpers
Advil/Tylenol
Partying all day and night with your girls is bound to result in some major headaches the next morning. Throw in some individually packaged pain relievers to help ease the hurt.
Pedialyte Powder Packs
If you've never used Pedialyte to cure a hangover, you've been seriously missing out. Simply add the powder pack to a bottle of water and let the electrolytes work their magic.
Band-Aids
Trust us when we say there will be some scrapes and bruises along the way. Toss is a few of these adhesives so you're better safe than sorry.
Hand Sanitizer
When you're out and about all day and a night, it's important to keep your hands so fresh and so clean. Give each girl their own personal sanitizer for when things get a bit sticky.
---
Step Four: Pick The Packaging
Favor Bag
If you want your kits to be small and compact, there are plenty of cute options to choose from. We love these 'oh shit kit' or 'bach shit crazy' drawstring bags, available in a variety of colors and sizes:
Gift Bag
If you want to give these kits in the form of a gift, we recommend either of these personalized bags:
Tote Bag
To fit in everything you need for the perfect bachelorette survival kit, we recommend using a tote style bag. They also double as a gift that your girls can use over and over again. Our favorites include these bridal party bags or these personalized name bags:
WHAT'S NEXT: 25 Bachelorette Party Decorations for a Photo-Worthy Weekend