15 Outdoor Bachelorette Party Ideas for Fun and Adventure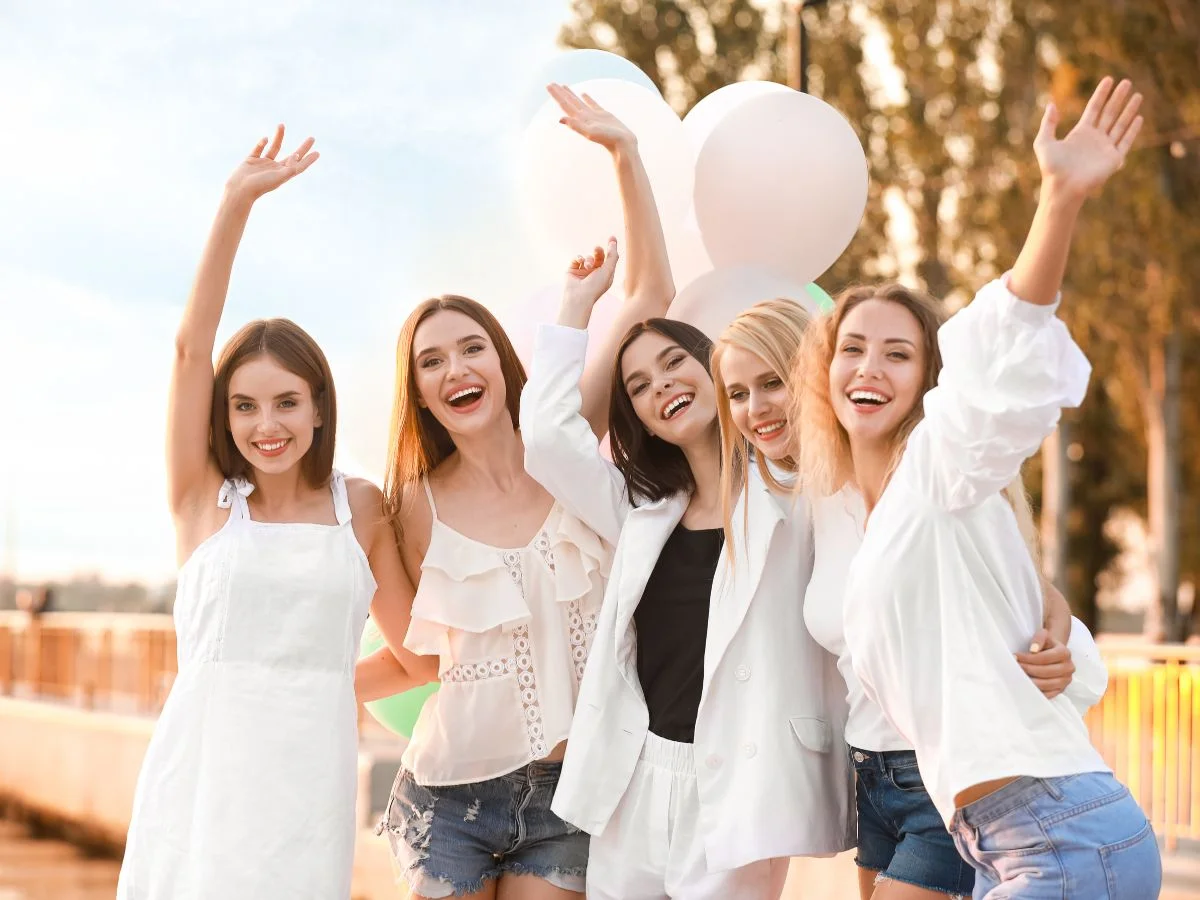 Soo…your BBF is getting hitched! It's time to celebrate and make every moment special for her. But apart from the other bridesmaid duties, the toughest one – throwing the bachelorette. After all, a bachelorette party is one of the most anticipated events for the bride before the wedding!
Plus, if your bride-to-be bestie is adventurous, simple and elegant tea parties won't do. We've got you covered with plenty of outdoor bachelorette party ideas that will have your adventurous spirits soaring. From thrilling escapades to sun-kissed relaxation, these ideas are perfect for lasting memories with your bride tribe. So, grab your planning notebook, put on your creative hats, and get ready to give your best friend the ultimate outdoor celebration she deserves.
Outdoor Bachelorette Party Ideas
A bride remembers her bachelorette party long after she's married. If the bride loves an elegant affair or a blow-out blast, then sure, tea parties or a night on the town are fine. But if she wants to dive into married life by soaking up a thrilling adventure, you must plan an outdoor party for her that everyone will remember and reminisce about for a lifetime!
Fun in the Sun
If your bride is having a summer wedding, there's nothing better than planning a beach day with you and the girl squad. But it shouldn't be your run-of-the-mill beach day.
You could book some rooms at a beach resort to enjoy indoors before heading out. Lay out a table for food and snacks on the beach, decorated to match your desired theme. Later, relax and enjoy yourselves while soaking up the sun.
MODERN MOH TIP: Make giveaways for the guests based on the theme. You could give them elegant beach towels or a sunhat they could use on the beach.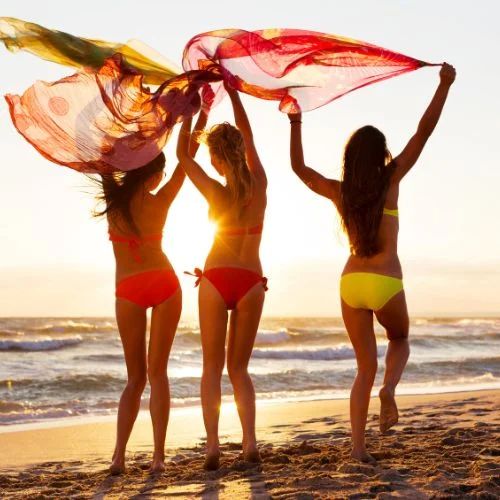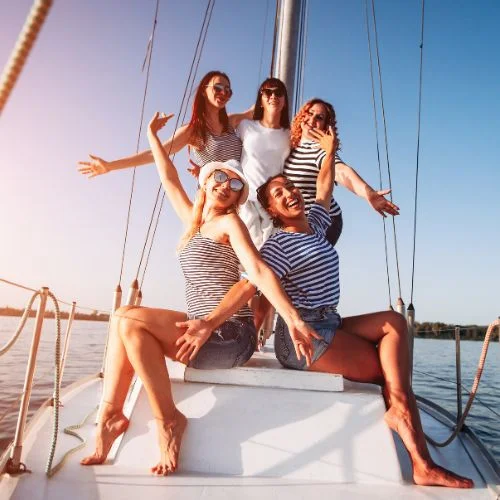 Ready, Set, Sail!
Hiring a yacht or sailboat for the day is also a great way to relax with the gals. If you're feeling adventurous, you could even wake surf. Or if you just want to enjoy a day outside, a cruise will do. You can add fun to the party by planning board games and even get the bride a captain's hat as a fun way to celebrate her day!
MODERN MOH TIP: Get matching swimming costumes for the day for a memorable picture!
Trash the Dress with Paintball!
Paintball is amazing fun when you have a big team! And no better occasion to enjoy paintball together than a bachelorette party when everyone's gathered? You could get matching outfits for the two teams, which will look very slick when you post photos of the bride squad to burn the world. A better idea is to buy white dresses at the thrift store for everyone! This will take trashing the dress to a whole new level!
MODERN MOH TIP: Finish the night with a pool party in an Airbnb to wash away the paint and enjoy dinner and drinks with the guests.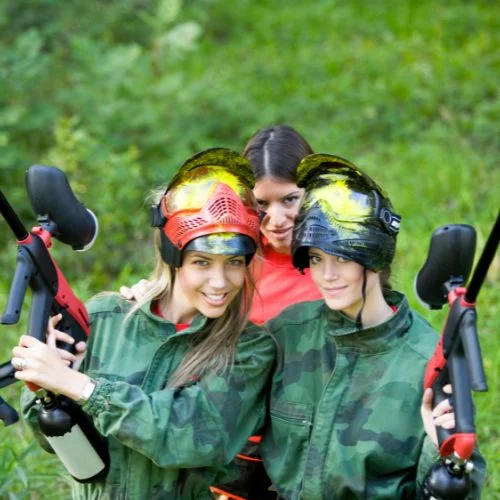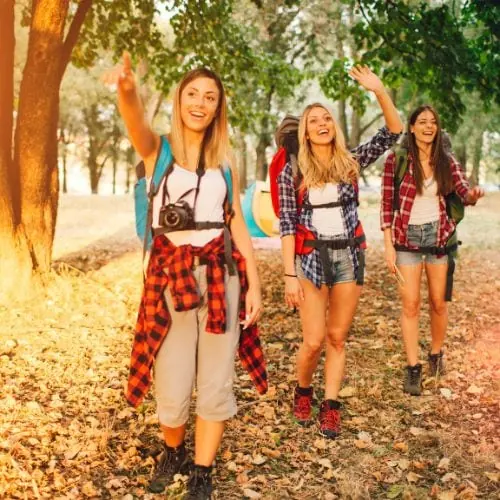 Lace Up Your Boots
If to bride-to-be is a sporty kind, she'll love the idea of a bachelorette party hike! Wear matching hiking outfits and keep ample water supplies for the journey. You can even enjoy a bachelorette spread when you reach a place where you can lay out your picnic baskets!
Only invite people to the bachelorette who are fit for the hike. Otherwise, half the guests will struggle to reach the endpoint, which will ruin the fun. If possible, maybe plan a hike that has a short-cut way to reach the end, where those less able could meet you for the final picnic!
Set Up a Backyard Picnic
If you want lowkey outdoor fun without compromising comfort, you can always choose a large backyard for a picnic. Light up the space by adding some string lights. You can take some great night shots while the bride squad is having fun.
You can also plan activities like setting up canvas tents, roast smores, and barbecue! If you don't want to waste time cooking, you could always pre-make dinner or order delivery for a fun, laid-back outdoor bachelorette party. Make it an overnight stay and have fun all night!
MODERN MOH TIP: If you don't have access to a backyard with a pool, consider renting an Airbnb where you can enjoy swimming under the starry sky.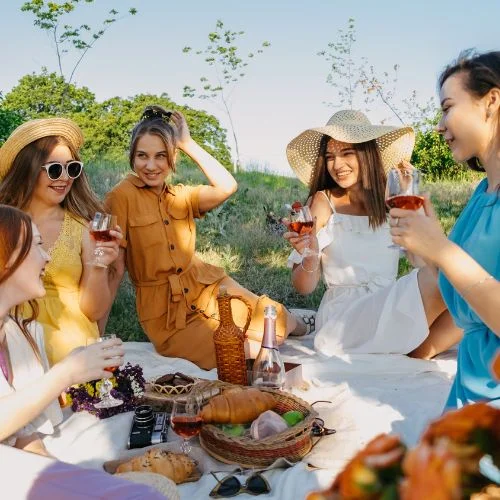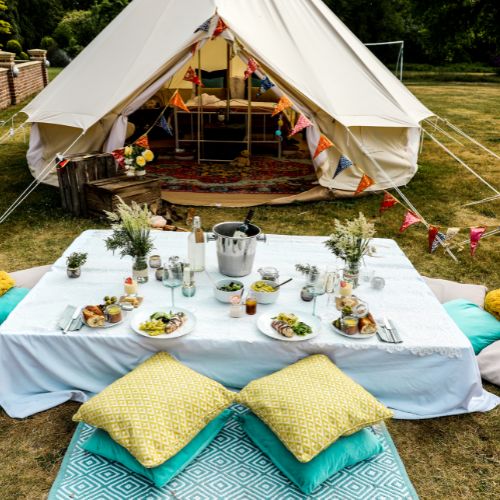 Glamp it up!
If you want to go a few steps ahead of the laid-back backyard picnic, try glamping for a one-of-a-kind, adventurous bachelorette party. There are a lot of options for glamping, including National Parks. The fun part is that you can even hike and enjoy a luxury camping experience without sleeping outdoors! You can all come back to the resort or home and put your feet up after a long day.
Plan for the food and water supplies and pack some fun decor for the activity so it still feels like a party and not a camping trip.
Go for a River Rush
For a hardcore sporty personality, a rafting adventure with her gal pals will be the best day of her life – apart from the wedding of course! Book a guided rafting tour in advance if your adventurous bachelorette party is scheduled for the summer. If you don't, you probably won't get a desired slot. After all, summer is all about the water, right?
MODERN MOH TIP: Go for a luxurious dinner and drinks after the rafting adventure to combine the sportiness with some elements of a traditional bachelorette party. You've earned it!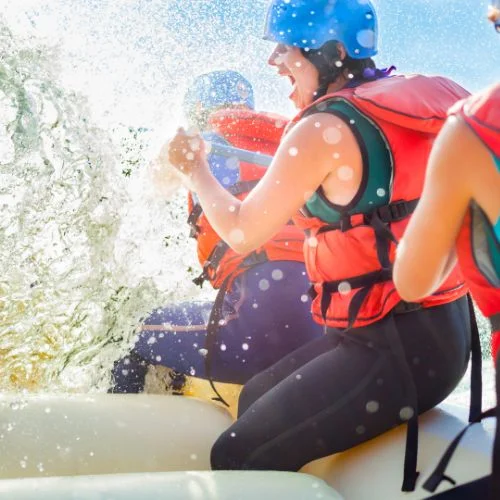 Hot Air Balloon Adventure
This is one of my favorite outdoor bachelorette party ideas. When you go up on a hot air balloon tour, the sense of thrill and the boost of adrenaline will be out of the world. Plus, the whimsical charm of the colorful balloon and the beaming faces of the bride tribe will make for some truly breathtaking photos.
MODERN MOH TIP: Give out the bachelorette party invites on a hot air balloon card and take these tips for wording the invite for building up the excitement.
Outdoor Wellness Retreat
An outdoor wellness retreat is an excellent idea for people in the city looking for an escape to serenity. Book into a retreat, or hire a yoga instructor for the day who can do a guided meditation with the group. If the bride loves yoga, she will love this idea! Later, you can lounge around in the Airbnb you've rented and enjoy snacks and party games while you chill out. Gift some yoga essentials to the guests so it adds to the experience.
If the bride-to-be is a workaholic, she will love this relaxing party. So, rather than planning a busy day that won't be very different from her regular schedule, plan a party where she can get away from all the chaos.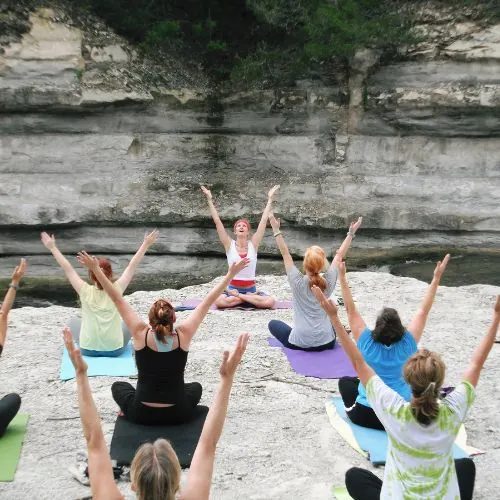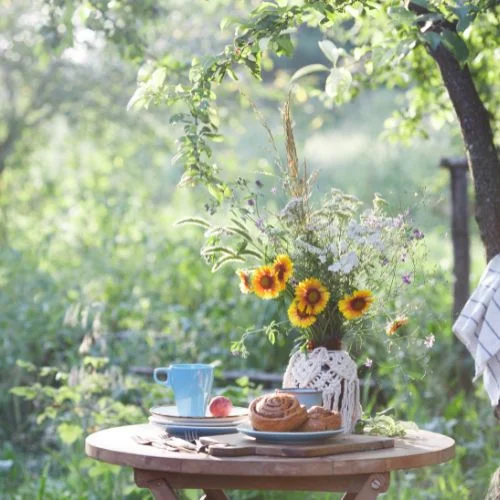 Period Garden Party!
If you want to go outdoors, but don't want to plan any tiring activities, you could take the party to the garden. So, instead of a cramped living room, a large garden party will be a delight for the bride and the guests. If the bride-to-be is a Bridgerton fan (who isn't?!), a themed garden party will be a dream come true for her.
Make sure to go through this party planning checklist to make sure everything is in line with the theme and goes according to the plan.
Hunt for Treasure
Put together a personalized scavenger hunt and let the fun commence. You can use wedding-themed items or personalize the hunt with items specific to the bride-to-be. Either way, the team will have to work out the clues and follow a trail leading to rewards (yay!). If you have a big group, split them into smaller teams to encourage a bit of friendly (and hopefully hilarious) competition!.
If you prefer to go more high-tech, or the bride-to-be is a Pokémon Go fan, then consider setting up your own geocaching trail. Let the hunt begin!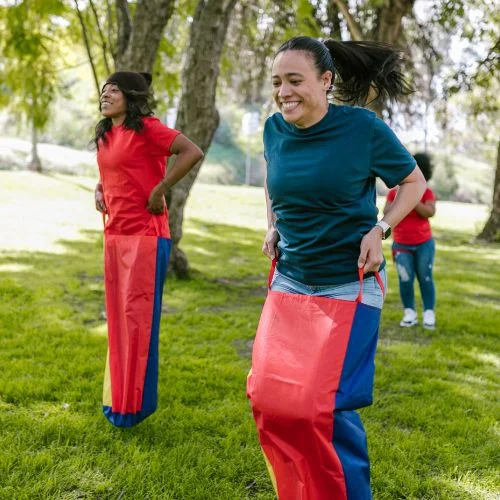 Get Sporty
If your gal loves sports, incorporating it into her bachelorette party will be a dream come true. Bring out the bride's competitive streak (good practice for marriage?!) by setting up an obstacle course with old-school games or even an Olympics-inspired event. And what's a sporting event without prizes?
Set up a podium for the winners wearing medals and click loads of pictures! With friends who are also sporty, the bride will have the fun she never imagined she would at her bachelorette party!
Speed Trap!
Your bride will love this adventurous bachelorette party if she has a need for speed. Make sure you select a venue with ample space so you can enjoy Go Karting the way it is meant to be enjoyed. Your best friend will have the time of her life with her friends by her side. Make clear what the plan is with your party invitation wording, as this activity might not be for everyone!
MODERN MOH TIP: Plan to get dinner or snacks soon after the activity because go-karting will leave your guests hungry!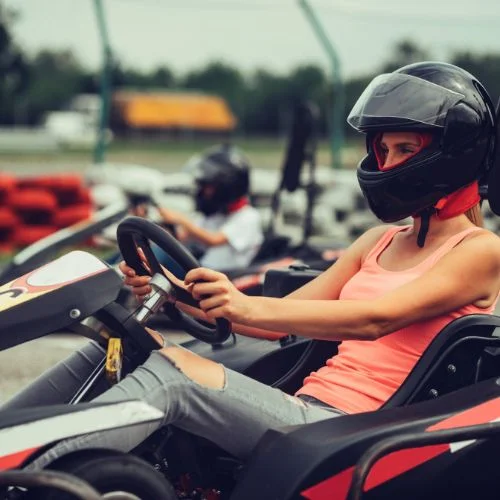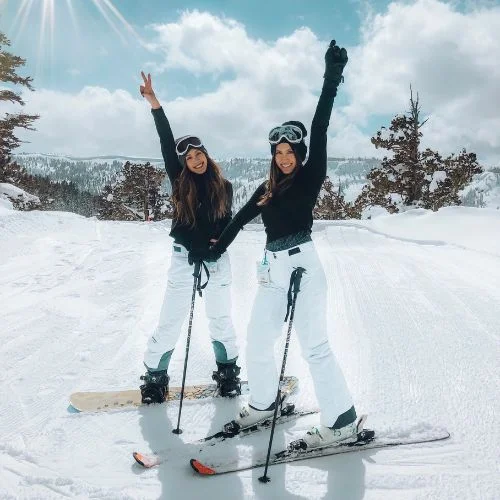 Hit the Slopes!
In the colder months, skiing is a great idea for an outdoor bachelorette party adventure. Or, you could even go jet skiing if you don't get snow where you live and can't go far off for snow skiing.
For a 1-2 day activity rent a decent place where the cabin is cozy, and the facility has skiing staff and equipment. And be sure to check out the apres-ski options, as we all know that's the best part of skiing!
Get Splashin'
If it's a summer wedding, get ready to get splashed with pool parties and water fights. You can play with water balloons and even get water guns to relive the fun of youth.
This activity can be added to other outdoor bachelorette party ideas too. Make sure you have stocked up on towel supplies, so you don't have soaking-wet guests at the dinner table!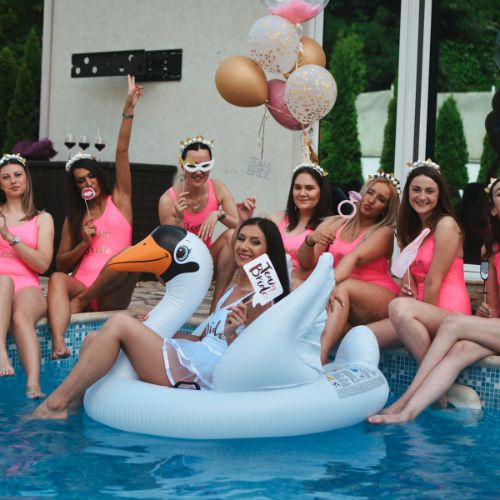 Frequently Asked Questions
What are some of the best destinations for an outdoor bachelorette party?
You could have an outdoor bachelorette party near a National Park, a snowy resort, or the beach. The ideas are limitless, you just need to figure out what your bride-to-be will love – after all, the party is about her!
What games can we play at an outdoor bachelorette party?
A great way to enjoy an outdoor bachelorette party is to take some card games, board games, and puzzles. You can also play physical games like tag, pillow fights, or scavenger hunts to keep the guests occupied. If you are going for paintball, getting wedding dresses or white lace dresses from the thrift store is a great way to add to the fun.
Wrapping Up
I'm sure that these awesome outdoor bachelorette party ideas have planted some seeds for you. You might even be thinking of mixing up a few ideas to spruce up the bachelorette party for your bestie. And that's what we want to hear!
But it bears repeating – make sure that the activities you plan for the party aren't a complete surprise! The guests, and the bride herself, might need to be prepared and wrap their heads around some of these adventurous bachelorette party ideas. So, better have them all onboard beforehand than have a half-baked party at the end!
Pin for Later!