Let's Raise a Toast to The Adventure Challenge!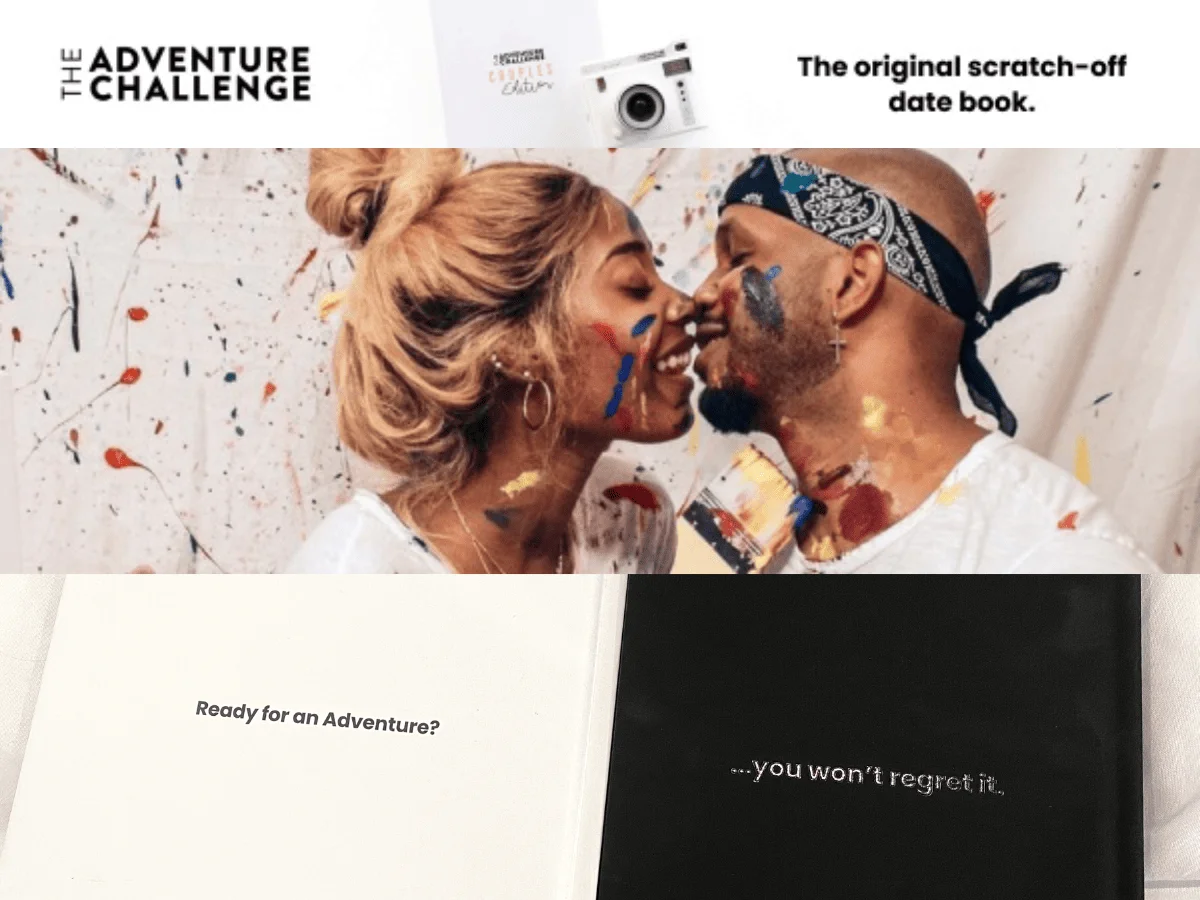 Disclosure: This post contains affiliate links, meaning we earn commissions if you shop through the links below. As an Amazon Associate, I earn from qualifying purchases. Please read my disclaimer for more info.
Here at Modern MOH, we love discovering companies that offer exciting products, and we're eager to tell you about The Adventure Challenge. This innovative company creates adventure books filled with challenges designed to bring people together and create happy memories.
Every book contains scratch-off blocks, each containing unique activities and challenges to be completed by couples, groups of friends, or families – there's even a solo edition if you need some "me time."
If you're looking for the perfect gift for the happy couple or special thank-you gifts for the bridal party, an Adventure Challenge could be just the thing. Let's find out more and check out some of the great products on offer. And don't forget to get 10% off your order by using the code MODERNMOH.
More about The Adventure Challenge
When Bryant Ellis came up with the initial concept of The Adventure Challenge, he couldn't have imagined how successful it would become. Keen to spend quality time with friends, Ellis began dreaming up fun games and activities before coming up with the idea of compiling an adventure book containing random challenges.
Ellis teamed up with co-worker Ben Day in 2018 and the pair were able to get The Adventure Challenge off the ground, quickly attracting interest and gaining popularity. With a range of exciting products, Ellis and Day have achieved their quest to help partners, friends, and family to step outside their comfort zones and build stronger relationships.
The Adventure Challenge – How it Works
The concept is simple but very effective. Choose your favorite Adventure Challenge book and get started. Use code MODERNMOH to get a 10% discount on your order!
The main feature of The Adventure Challenge books is undoubtedly the scratch-off activity and challenge blocks, providing a level of excitement and anticipation. Each challenge provides clues, in the form of symbols, to help provide an insight into the type of challenge or activity you're going to get in terms of where, when, and what.
This can help you choose the activity or prepare before you start. A few examples:
Where: The house indicates the challenge can be done at home, while a car tells you you're going to have to go somewhere.
When: The sunshine specifies daytime activity, and the moon suggests nighttime fun.
What: Cutlery means there will be grub and a wavy lines water icon implies you might get wet!
1. Pick an Activity
You can approach your challenge in a couple of ways. If you're feeling spontaneous opt for the no take-backs option – you have to do the activity, no matter what it is!
If you prefer a more measured approach, use the clues to select the perfect activity.
2. Scratch off a challenge block
Now the fun part! Scratch off the panel and see what challenge awaits!
3. Do the activity
With a wide range of activities and experiences available, you'll never be stuck for something to do. Step out of your comfort zone, try exciting new activities, strengthen your relationships with your nearest and dearest, and make wonderful memories.
4. Record your experience
The Adventure Challenge book doubles as a journal. There are feature photo strips so you can affix Polaroid pictures depicting your adventures. You will also find dedicated spaces to add notes – perfect for chronicling your exploits!
What types of Adventure Challenge Books are there?
There's a wide range of Adventure Challenge Books including editions for friends, families, solos, and couples. You can even buy bundles for double the fun e.g., a friends and family bundle, and books that come with Polaroid cameras too.
Today we're going to focus on the offerings for couples, after all, we are a loved-up wedding website, so it would be rude not to! Let's check out the key features of a handful of the top products.
SAVE 10% OFF YOUR ORDER by using code MODERNMOH at THE ADVENTURE CHALLENGE
Other Adventure Challenge Products
The Adventure Challenge Books will keep you occupied, but the company has other products you might be interested in, including some smaller items that might be suitable as bridal shower gifts or bachelorette party favors!
SAVE 10% OFF YOUR ORDER by using code MODERNMOH at THE ADVENTURE CHALLENGE
Connection Cards Couples ($19.99)
Connection Cards … In Bed ($19.99)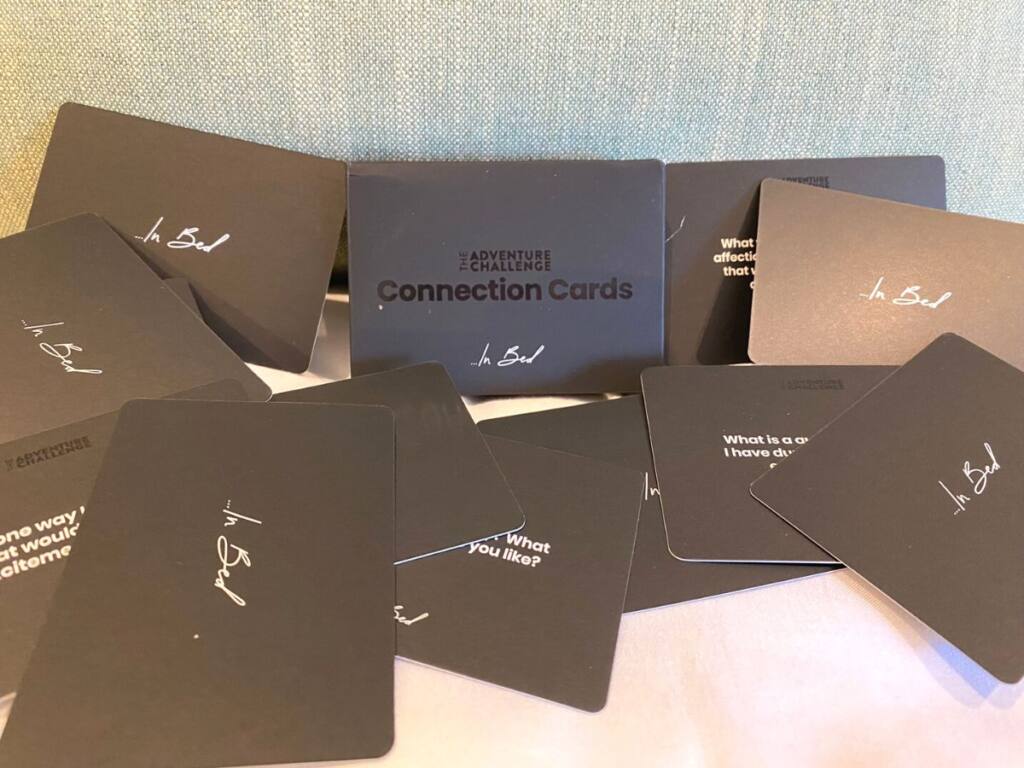 Quickies and Mini Dates ($34.99 each)
The Adventure Box Subscription ($49.99/month)
You know we love a good subscription box, so were thrilled when The Adventure Challenge introduced this product!
SAVE 10% OFF YOUR ORDER by using code MODERNMOH at THE ADVENTURE CHALLENGE
What else do we love about The Adventure Challenge?
For a start it's easy to pay, you can use all major credit and debit cards along with Shop Pay and Google Pay. You can also track your delivery, as you receive a confirmation email following your order and there's live chat too. You can even add a special note to go along with your purchase, which is great for gift-giving.
It's great The Adventure Challenge has all the practicalities covered, but most of all we love the products and we think you will too, especially if you save 10% using our discount code MODERNMOH!
Pin for Later!