15 Bachelorette Party Hats for Every Season and Style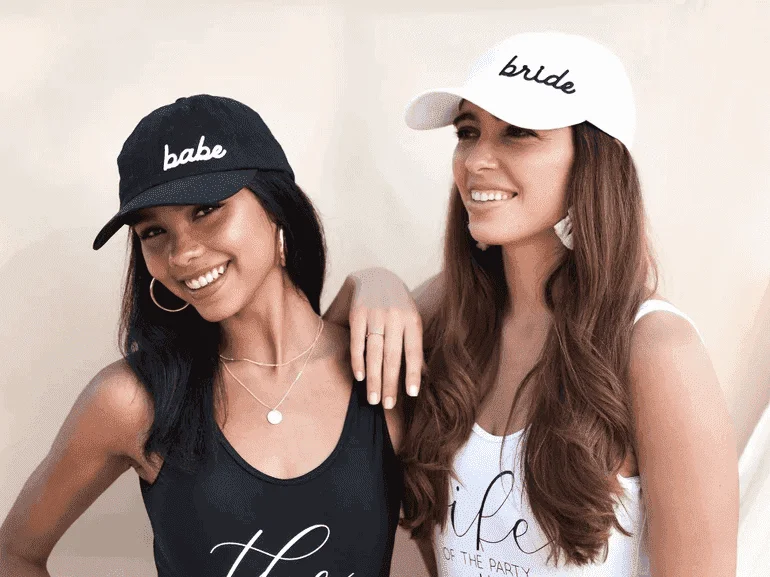 Whether you're celebrating on sunny beaches, snowy mountains, or somewhere in between, bachelorette party hats make for the perfect accessory for any time and place.
Not only do these bachelorette party accessories help you stand out as the ultimate I do crew, they're versatile enough to go with all kinds of hair types, lengths, and styles. A total win-win!
To help you find the best option for you and your bridal party, we've hand-selected 15 bachelorette hats for every season and style. From baseball caps to pom pom beanies, we guarantee there's a perfect pick for you!
Bachelorette Baseball Hats
If you're looking for an easy option to throw on top of a messy bun or braids, then a bachelorette baseball hat is the pick for you. Mix and match with your bridal party with any of these three coordinated caps:
Bachelorette Cowboy Hats
If you and your fellow cowgirls are looking to take your look to the next level, bachelorette cowboys hats are just the thing to do it. Coordinate with your country crew by rocking any of these cute choices:
Bachelorette Bucket Hats
Whether you're throwing it back to the 90s or simply love the retro look, these bachelorette bucket hats make for the perfect accessory. From embroidered to custom, we've got three adorable options for you and your girls:
Bachelorette Sun Hats
If you and your squad are celebrating in the sun and sand, then matching bachelorette beach hats are a total must-have. We guarantee you'll be resting and relaxing in style with any of these three floppy hat finds:
Bachelorette Beanies
For all the brides celebrating their bachelorette party in the cooler months of late fall or winter, beanies are definitely the hat style for you! Keep it equal parts cute and cozy with any of these three comfy caps: