Fall Bridal Shower Ideas & Inspiration for a Cozy Good Time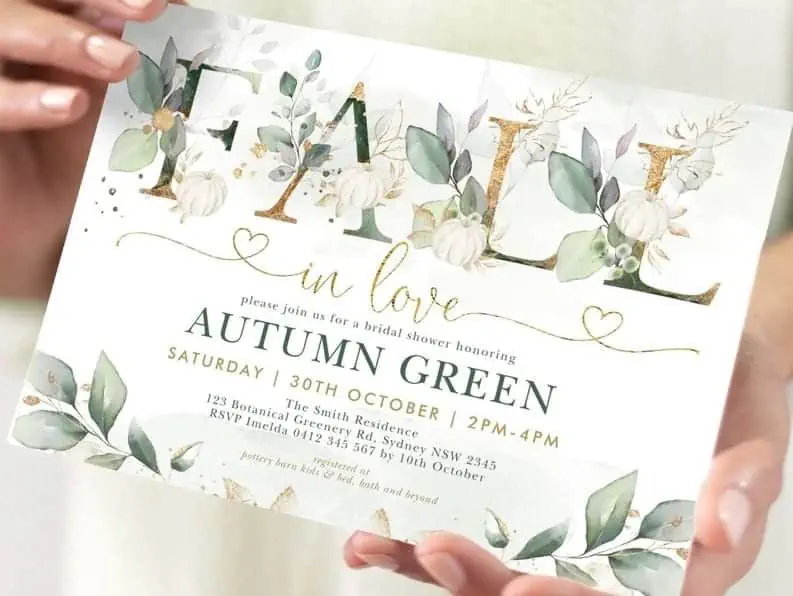 Disclosure: This post contains affiliate links, meaning we earn commissions if you shop through the links below. Please read my disclaimer for more info.
While we certainly love all four seasons, we definitely have a soft spot for everything fall. That's why we just had to write up a comprehensive, step-by-step guide to throwing your bestie the most fabulous fall-themed bridal shower.
This bridal shower theme is perfect for those getting married during those popular wedding months, September and October, or for those who simply love the autumn aesthetic (think warm colors and rustic accents!)
When it comes to planning a fall bridal shower, the best part is that there is no shortage of really great inspiration to pull from. And while we had a hard time narrowing down the options, we think we picked from a pretty good patch (pumpkin pun fully intended)
From invitations and decorations to food, favors, games, and gifts, we're dishing out our top fall bridal shower ideas and planning tips to make this pre-wedding party one to remember.
Fall in Love Bridal Shower Invitations
Start by selecting a super-cute fall-inspired bridal shower invitation. We did our research and came across a ton of "Fall in Love" options (how clever!) Our faves include these pumpkin watercolor and fall florals styles:
Fall Bridal Shower Decorations
Keep the "Fall in Love" bridal shower theme going with this gold banner or step it up a notch with this absolutely adorable backdrop: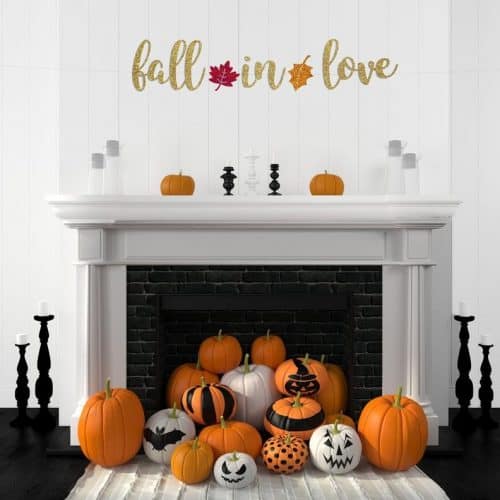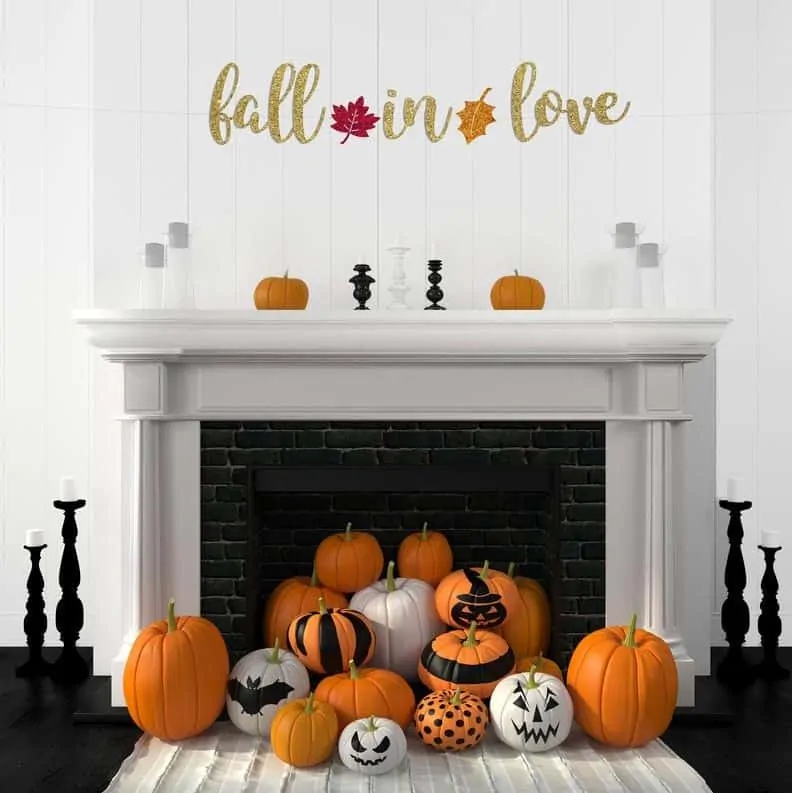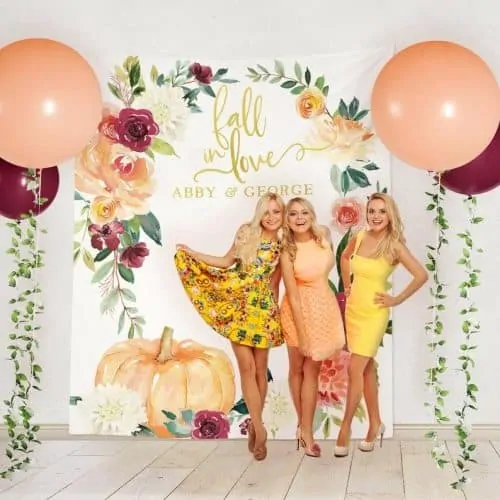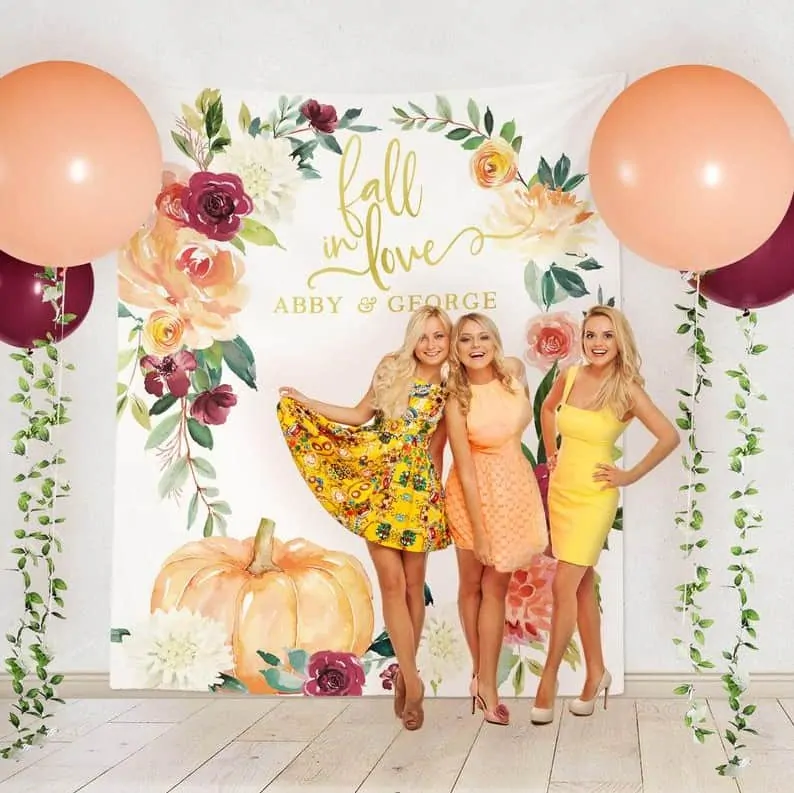 Bring in the beautiful colors of autumn with these blush and burgundy balloons or take it to the next level by featuring this fall bridal shower balloon garland kit.
Finish it off with a floral welcome sign and you've got everything you need!
Fall-Themed Bridal Shower Games
For a fun autumn twist on traditional bridal shower games, check out our mix & match fall-themed printables (bundle any 5 for $15!):
If you're looking for more interactive games to play with your guests, try this pumpkin ring toss game or any of these fall party games.
Fall-Related Game Prizes
We here at Modern MOH love a good coffee care package. Choose from any number of these obscenely adorable fall-themed mugs and pair them up with this Starbucks fall bundle:
You may also know that we are huge fans of candles as game prizes, so keep it festive with these fall scented options:
Fall Party Favors for Guests
When it comes to fall-inspired bridal shower favors, we're all about taking the DIY path. Get crafty with it by making either of these fun fall favorites:
Save yourself some time (and money) by making this easy harvest caramel corn and packing it in these adorable autumn-themed cellophane treat bags:
Fall Bridal Shower Food Ideas
Where do we even begin!? From appetizers to desserts, and everything in between, there is no shortage of yummy fall bridal shower food! It was impossible to narrow it down, but here are some of our favorites:
Pumpkin-Shaped Cheeseball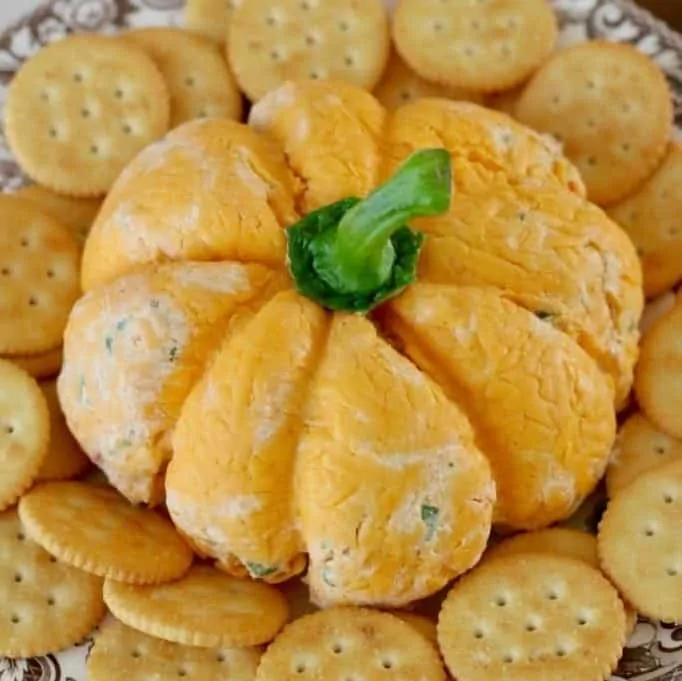 Apple Cider Maple Meatballs
Pumpkin Cheesecake Bites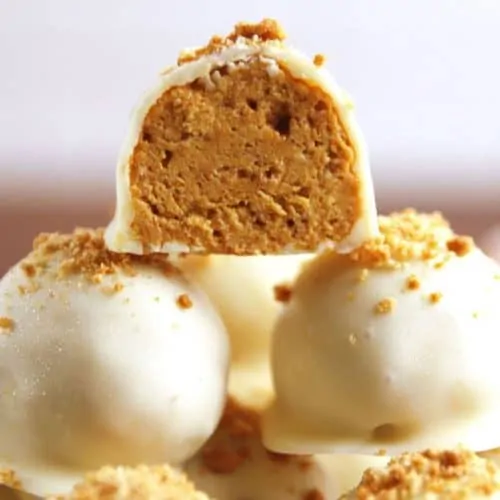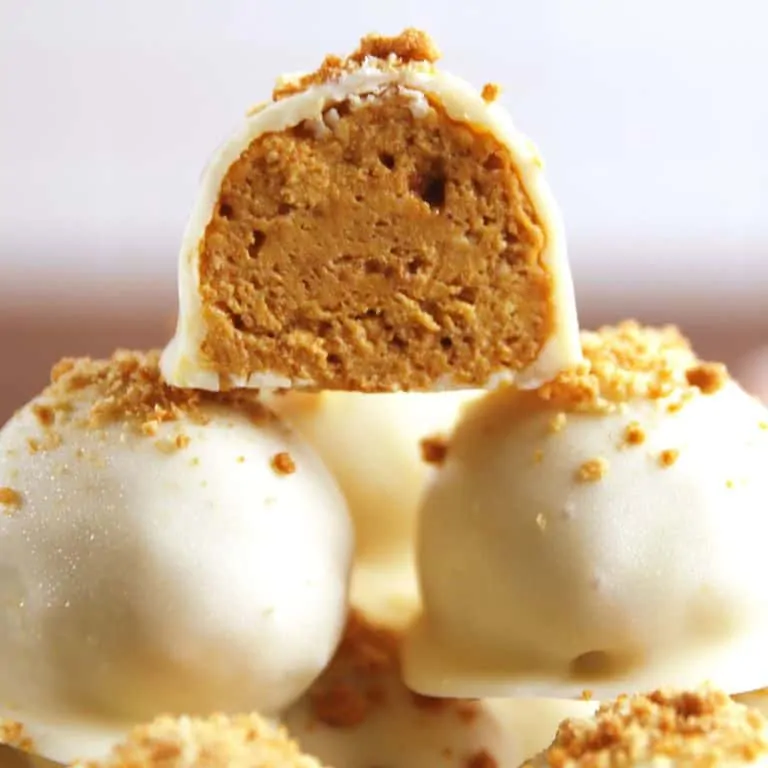 Fall-Flavored Drinks
One of the best parts of fall is all of the festive drinks that come with it. Treat your guests by putting together a DIY mimosa bar with a spin!
Instead of the typical fruit juices and garnishes, switch it up to include apple cider, fresh apple slices, and cinnamon sticks.
Display our fall-themed mimosa bar sign as an added touch and you're good to go!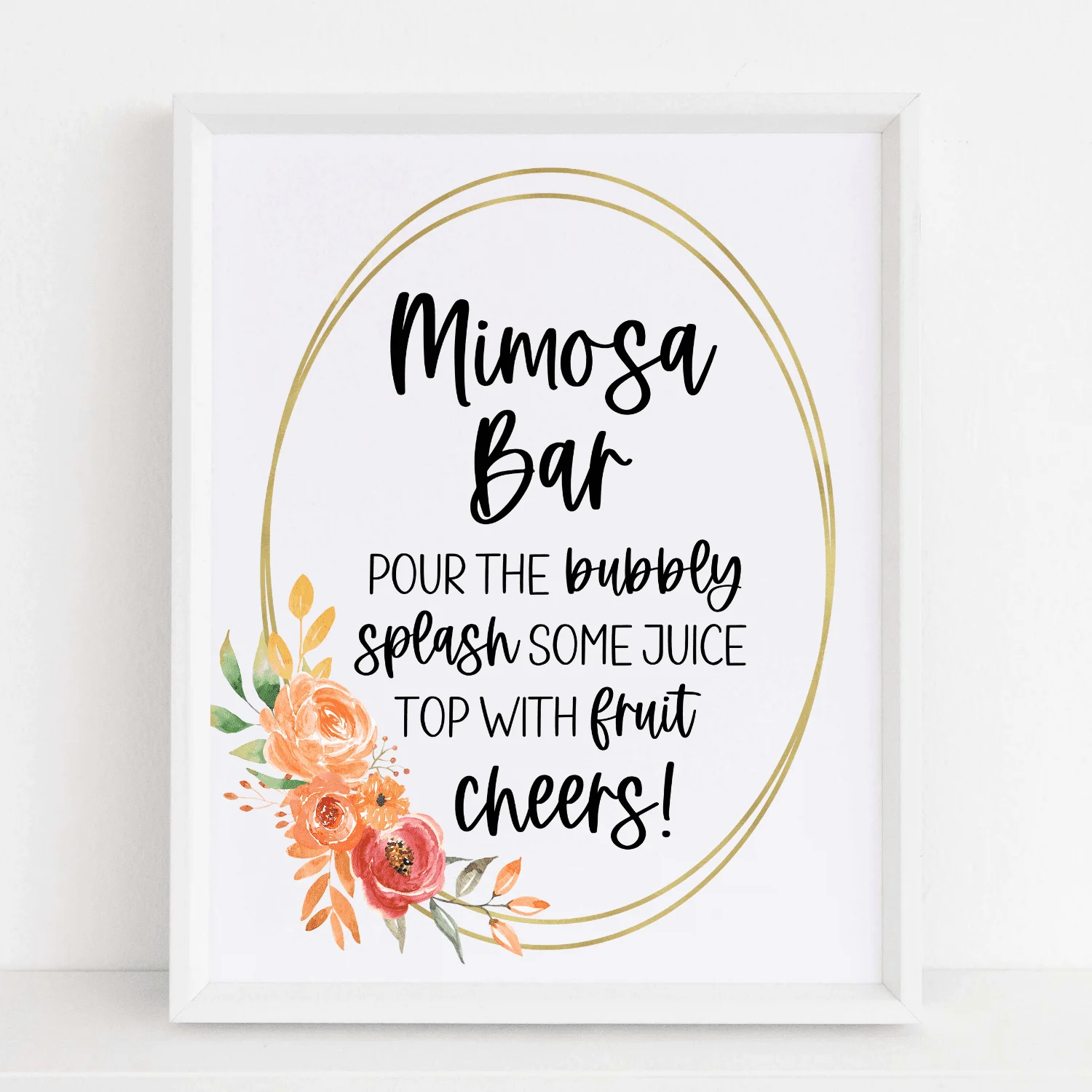 Or make it easier on yourself by whipping up some big batch apple-flavored cocktails like these:
Fall-Themed Bridal Shower Gifts
We love the idea of teaming up with your fellow bridesmaids and shower guests to assemble a group gift for the future Mr. and Mrs. Our first idea is a spin on the traditional date night jar idea- we call it the "fall bucket list".
Simply have everyone suggest their favorite fall date idea (i.e. going to a pumpkin patch or taking a haunted hayride) using our Made by Modern MOH cards and assemble it into a gift you can present to the couple.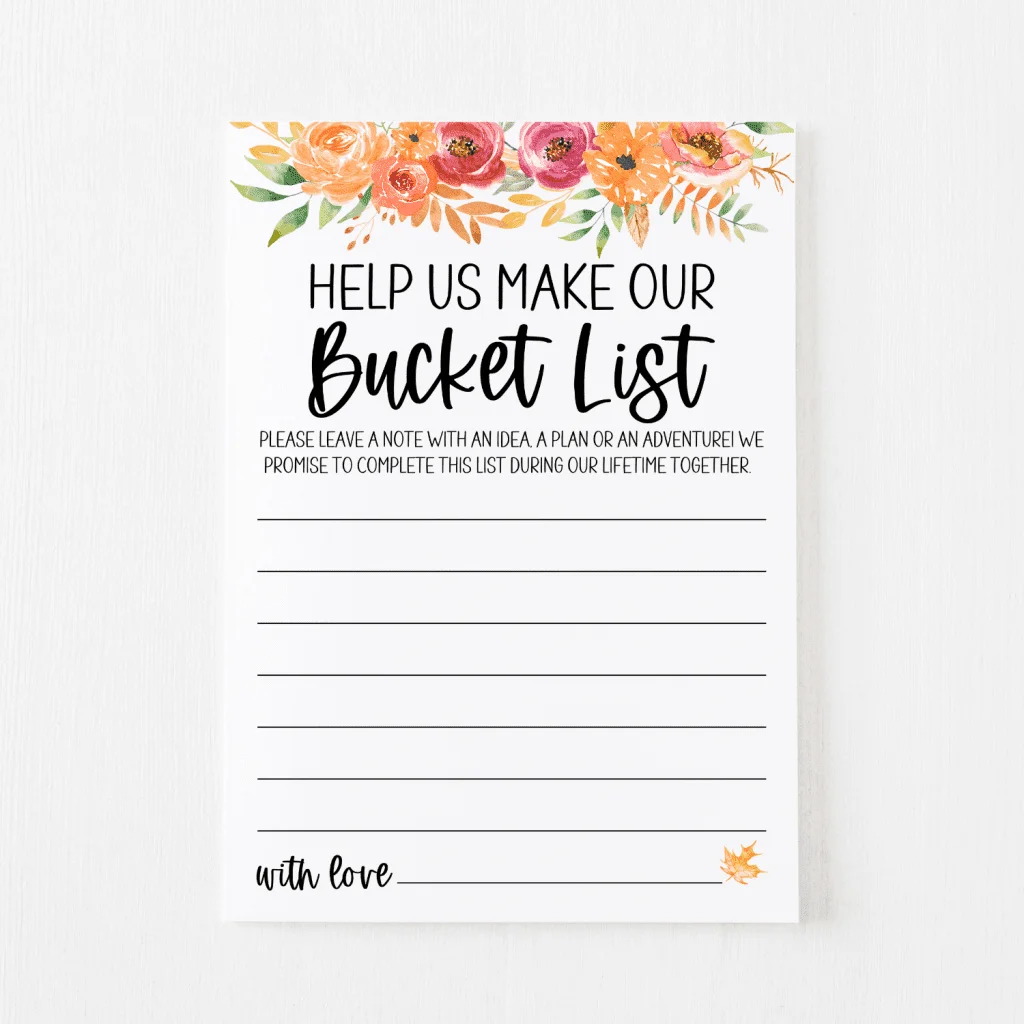 Our second idea is to have everyone contribute to a personalized recipe book or box filled with their favorite fall recipes (Thanksgiving family recipes are the best for this!)
Frequently Asked Questions
Who is a fall-themed bridal shower for?
This seasonal theme is for any bride who is getting married mid to late autumn or early winter, as their bridal shower should take place 1-2 months before the big day.
A fall-themed bridal shower is especially perfect for that bride who cannot wait for the leaves to change colors and the return of pumpkin spice everything.
When should you have a fall bridal shower?
While this may seem like a redundant question, there is a bit of explaining to do with this answer. Technically a fall-themed bridal shower can take place any time of year as the theme is not reliant on the weather.
That being said, the theme is pulled off much better when it takes place during the actual fall season. And although many fall lovers try to jump-start the season early, we recommend this theme for any showers held from late September to mid-November.
Where can you have a fall bridal shower?
When it comes to a fall bridal shower, you want to choose an uncluttered venue that allows you to make it your own. This theme is especially reliant on the overall aesthetic, so avoid any places that are already heavily decorated or preset.
Pin for Later!