Winter Bridal Shower Ideas for a Cozy Winter Wonderland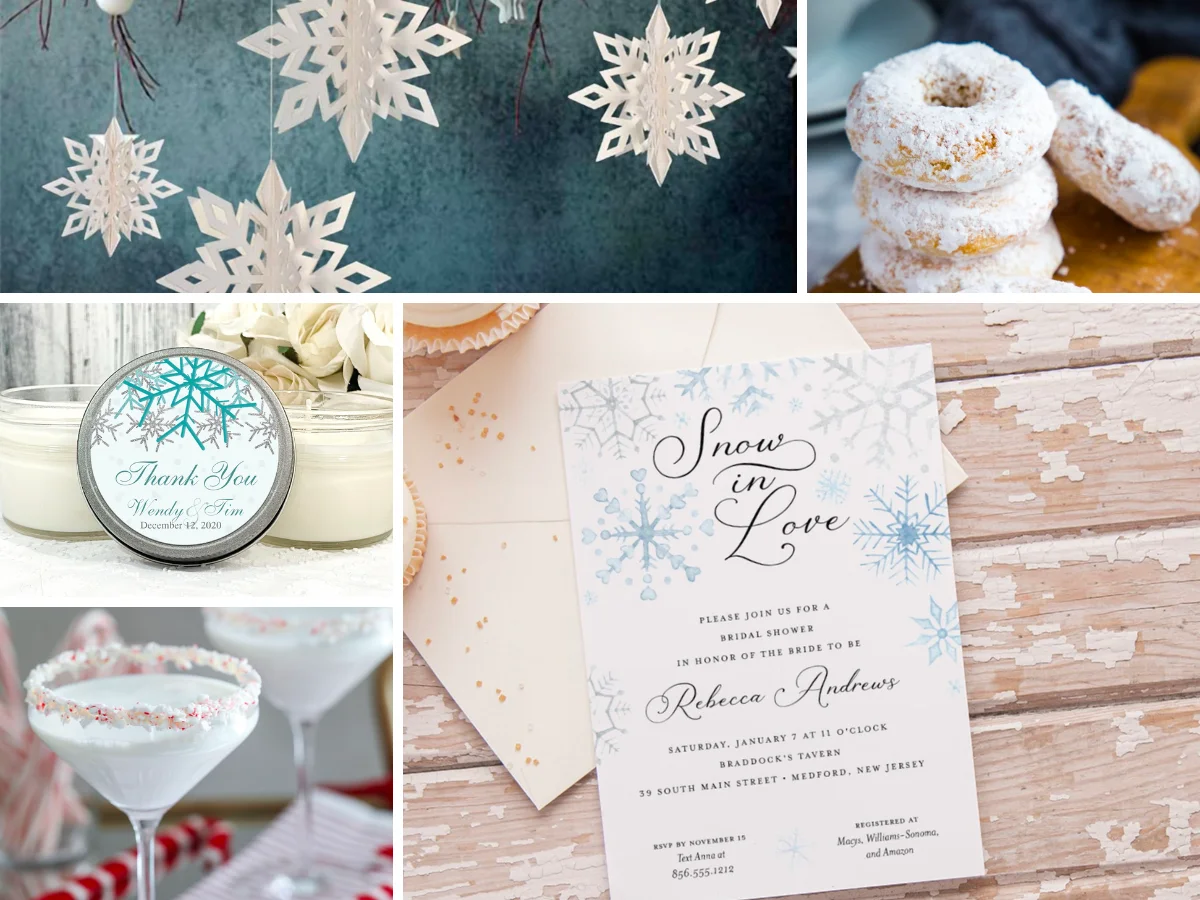 There's something utterly enchanting about the anticipation of a wedding day, isn't there? The promise of love, the thrill of new beginnings, and the joy of celebrating with friends and family. It's a time when dreams take flight and hearts truly flutter.
Now, picture this: if the big day is scheduled for winter or early spring, chances are the bridal shower will find itself nestled in the heart of winter. And we're here to tell you that a winter bridal shower can be nothing short of magical. In fact, we believe it has the potential to transform into a bona fide winter wonderland.
Think about it—sparkly snowflakes drifting gently from the heavens, pristine white landscapes as far as the eye can see, and the cozy warmth of loved ones gathered together. From crafting the perfect invitations and decking out the venue with enchanting decorations to serving up winter-inspired culinary delights, planning fun games, and choosing the most heartwarming gifts, we've got all the ideas to make your winter wonderland bridal shower a reality.
Winter Bridal Shower Ideas & Inspiration for a Cozy Good Time
Winter bridal showers bring a unique charm. They offer a cozy, intimate ambiance unlike their spring, summer, or fall counterparts. While spring showers focus on floral freshness, summer radiates with outdoor vibrance with lemons in the air, fall bridal showers embrace earthy tones, and winter showers gleam with snowflakes, warm drinks, and the allure of indoor gatherings. It's a season that invites you to celebrate love's warmth amidst the cold.
A Wonderland of Winter-Themed Invitations
Think of frosty elegance for an invitation suite that sets the stage for a winter wonderland bridal shower. Incorporate elements like pinecones (highly recommended for a Christmas bridal shower), lush greenery, ornaments, and delicate snowflakes into your chosen design.
These details promise to capture the season's enchanting spirit and excite guests for the frosty festivities ahead.
Winter-Themed Bridal Shower Decorations
Let your winter wonderland come to life with festive decor. Welcome signage adorned with frosty charm, snowflake garlands that make a statement, and twirling snowflake swirls that enchant.
Adding a touch of blue, symbolizing the chill outside and the warmth within, elevates the winter magic. And add a touch of whimsy with a playful banner.
"Snow in Love" Bridal Shower Games
Get your guests in the snowy spirit with "Snow in Love" game ideas. These whimsical winter-themed games are perfect icebreakers (pun intended), ensuring guests mingle and create memorable moments.
Bridal shower games add a sprinkle of fun to your winter wonderland celebration, making it even more unforgettable for the bride-to-be (or couple). Add some sparkly snowflake stickers for some extra fun!
Winter-Themed Bridal Shower Game Prizes
The thrill of victory is even toastier when winter-themed prizes are up for grabs. Witness the competitive spirit come alive as guests vie for these charming rewards. It's all in good fun, with a touch of ladylike flair.
Game on, ladies (and gents)!
And since we love candles here at Modern MOH, we'd be remiss if we didn't recommend a couple of our favorites!
Winter Inspired Bridal Shower Party Favors
Just like Santa making a list and checking it twice, don't forget to consult the bridal shower planning checklist to ensure you don't forget anything. One of those often-forgotten items is the party favors.
These charming winter-inspired gifts are a thank-you to the guests for braving the cold to celebrate the bride's upcoming nuptials. It's the small gestures that warm hearts and make your winter wonderland bridal shower truly magical.
Winter Bridal Shower Food Inspiration
From simple to elegant, winter bridal showers offer a world of culinary delights. These indoor gatherings allow you to serve a mix of hot and cold dishes to pamper your guests. Consider winter bridal shower themes like high tea, winter charcuterie, and indulgent treats like powdered donuts and cranberry meatballs.
Winterize the occasion with some warm classics like spinach dip and baked brie with fig. These ideas promise a memorable culinary experience for your winter bridal shower celebration.
Winter Wonderland Inspired Bridal Shower Drinks
Take your winter bridal shower ideas to the next level with enchanting beverages that bring the winter wonderland indoors. Delight your guests with indulgent cocktails like the Winter Wonderland Mimosa and White Chocolate Peppermint Martinis, or warm up with a Cranberry Orange Mulled Wine.
As alcohol consumption declines, the nonalcoholic beverage sector is surging, fueled by Gen Z and millennials. While mocktails aren't new, their popularity has skyrocketed in the past five years.
Consider including a mocktail or two for your bridal shower to cater to all tastes. And don't forget to keep plenty of water on hand for those guests who prefer to hydrate during the festivities. Cheers to a refreshing and inclusive winter celebration!
And finally, what better way to warm up in winter, than with a nice mug of hot cocoa? Encourage your guests to get cozy and enjoy themselves by setting up a hot chocolate bar, complete with a boozy seasonal hot chocolate and printed signs.
Winter-Themed Bridal Shower Gifts
Delight the bride or happy couple with winter-inspired gifts. Think matching sleeping bags (or a sleeping bag for two) for stargazing on warmer winter nights or versatile serving ware to elevate their hosting game during family events or holidays.
And for an extra dose of romance, anything that encourages time between the sheets is always a winner-winner-winter-winner! Choose a gift that warms their hearts during the chilly months and beyond.
Frequently Asked Questions
Selecting a bridal shower theme can be a challenge, but our winter-inspired ideas aim to inspire your perfect celebration. Find answers to your burning questions, ensuring your event is truly unforgettable.
Who is a winter-themed bridal shower for?
A winter themed bridal shower is ideal for couples planning their weddings during the winter season or early spring, or for brides who simply adore the enchantment of a snowy backdrop and the cozy ambiance it offers for celebrating their upcoming nuptials.
When should you have a winter bridal shower?
A winter bridal shower is typically held in the months of December, January, or February, aligning with the winter season. These months provide a perfect backdrop for the cozy and festive atmosphere associated with a winter-themed celebration.
Where can you have a winter wonderland bridal shower?
A winter bridal shower can be hosted in various indoor venues, such as banquet halls, cozy restaurants, or even at home. If you desire a snowy wonderland backdrop, consider venues with large windows overlooking winter landscapes or indoor spaces adorned with winter-themed decor.
Final Thoughts
Planning a winter bridal shower opens the door to creativity, from delectable food to enchanting decor and cozy beverages. Remember to consider the couple's preferences and the season's charm.
As you embark on this exciting journey, stay tuned to Modern MOH for more brilliant ideas that make your role as the maid of honor a breeze. Your next celebration awaits, and we're here to help you shine.