How to Host a Bridal Shower Brunch in 8 Simple Steps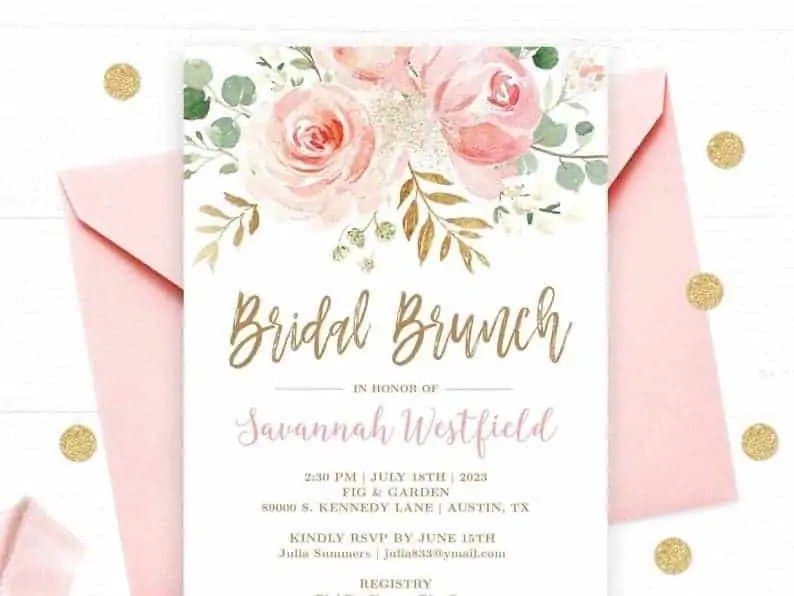 Disclosure: This post contains affiliate links, meaning we earn commissions if you shop through the links below. Please read my disclaimer for more info.
When it comes to hosting a modern-day bridal shower, you can never go wrong with a classic brunch theme. Don't believe us? Well too bad, 'cause we did the research and the results are in… breakfast + bubbles + bloodys= bomb.com!
Seriously, facts are facts my friend. So, if you wanna be the GMOHOAT (greatest maid of honor of all time), throw your bestie a boozy bridal brunch.
Now that we've convinced you, let us show you how. From invitations and decorations to food, favors, games, and gifts, we've covered everything you need to know to pull off this bridal shower theme in eight easy steps.
Invitations
The first step in nailing this theme is to send out invitations letting guests know to expect a brunch-style shower. As I'm sure you're familiar with Etsy (and the internet in general), you know there are literally hundreds of different styles to choose from.
After doing some searching, we've narrowed down the two most popular phrases to be "Bridal Brunch" and "Brunch & Bubbly". While we can't do the picking for you, we've featured some of our favorite designs below:
Decorations
One of the most important parts of any bridal shower is the decor, but it's especially important for this particular theme. Lucky for you, there is no shortage of brunch-related decorations.
Keep the fun 'bridal brunch' or 'brunch & bubbly' phrases going with a welcome sign, sparkly banner, or jumbo balloons:
Don't forget to add some fun table signs (like our FREE 'First Comes Brunch' option) and you've got everything you need!
Games
When it comes to hosting a bridal shower brunch, feel free to skip the generic games and opt-in for something that packs a little more punch. And by 'packs a little more punch' we're talking about prosecco pong.
Never heard of it? Yeah us either, but we want to seriously thank whoever came up with the idea. Let's be real, everyone loves a competitive round of beer pong or two, but it's not quite bridal shower appropriate. Prosecco pong, however, totally is.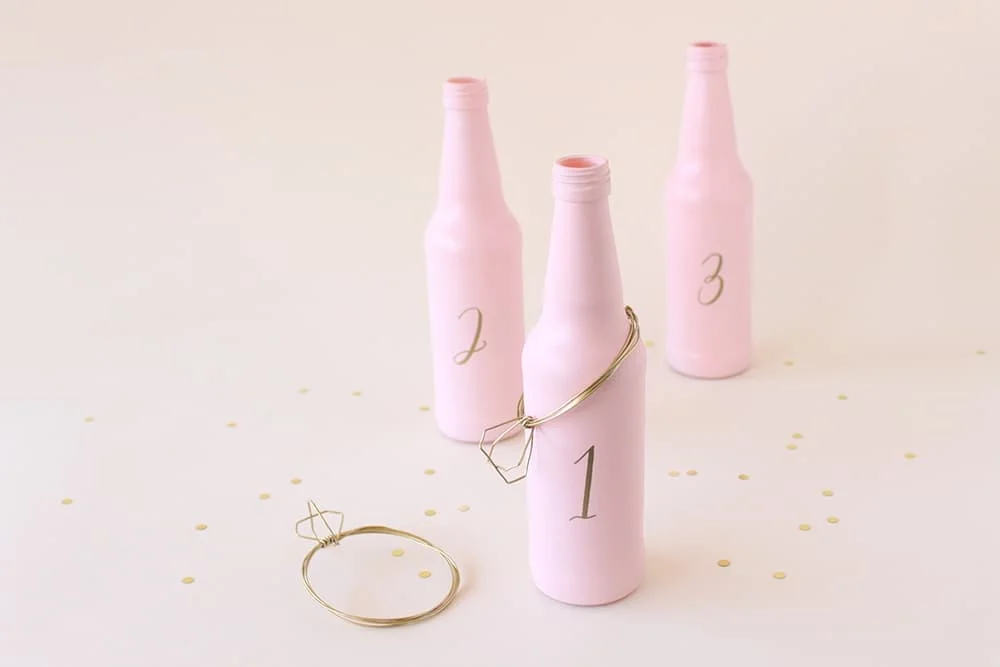 And if your guests aren't really the drinking game type, how about playing good ol' fashioned ring toss with a fun bridal spin?
The best part about this brunch-themed game is that it doubles as a DIY project!
Game Prizes
If you're going to have brunch-themed games, then you're gonna have to have brunch-themed game prizes to match. Keep it simple by putting together a coffee care package that includes a cute mug and a bag of Starbucks breakfast blend.
Want to get a little boozy with it!?
These Bloody Mary Mason Jar kits are the perfect brunch favor and are also another fun DIY project for all you craft queens!
MODERN MOH TIP: You can do the same thing with mimosas- champagne split, OJ, and a mini Grand Marnier are all you need!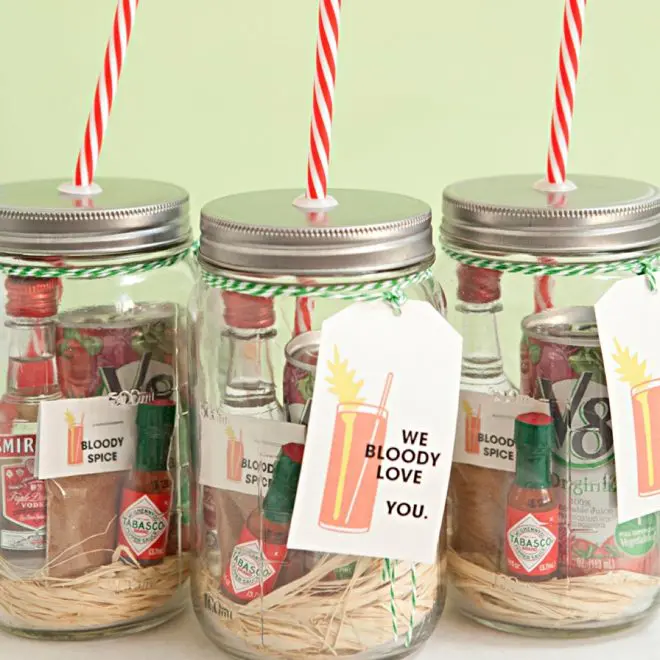 Food
The key to any successful bridal shower brunch is to have bangin' food…and holy moly are there plenty of options to choose from!
We love these baked French toast sticks as a quick and cute (and cheap!) finger-food choice: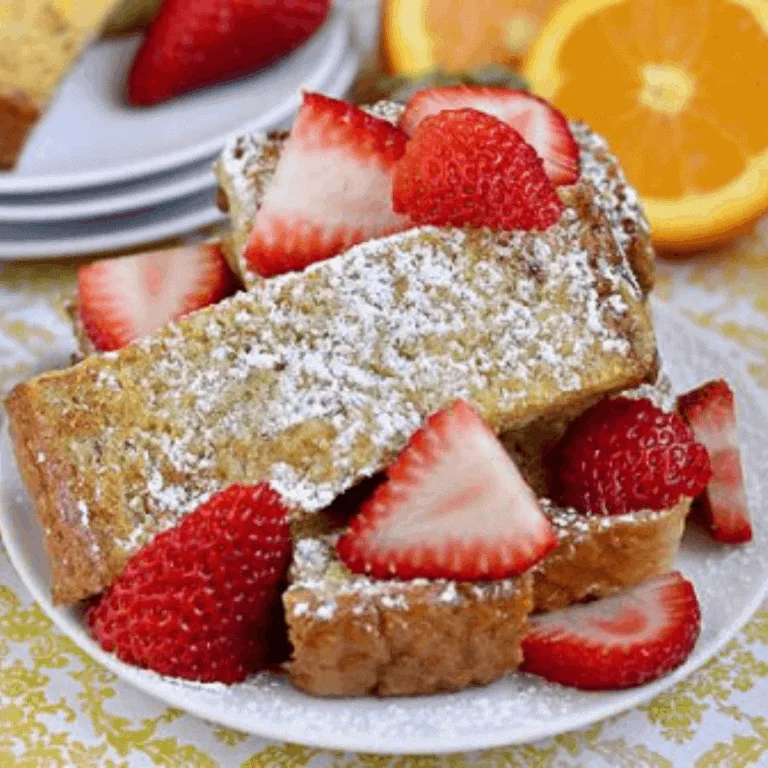 Or these mini chicken and waffle sliders for a southern-style selection: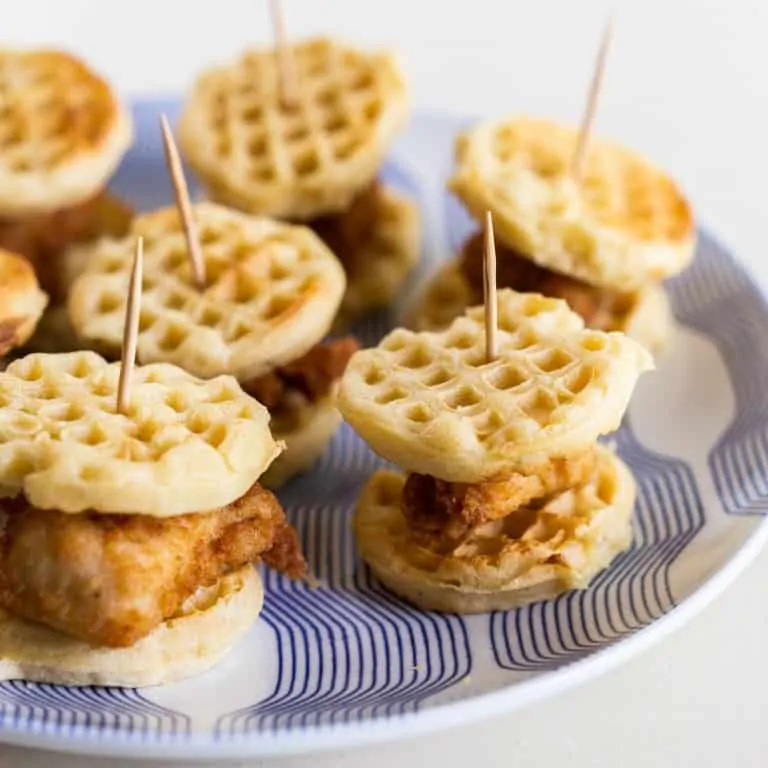 Get a little fancy with it by serving mini breakfast quiche in 4 yummy ways: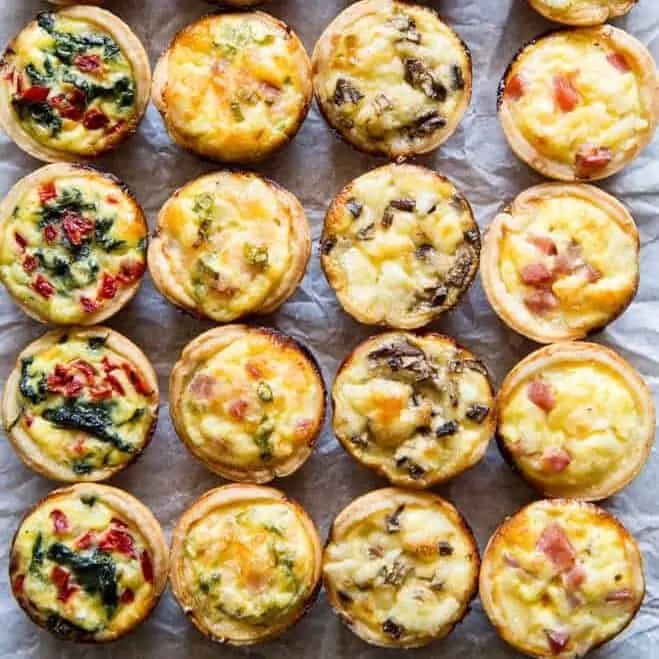 And if you're serving dessert, these champagne cupcakes are an absolute must: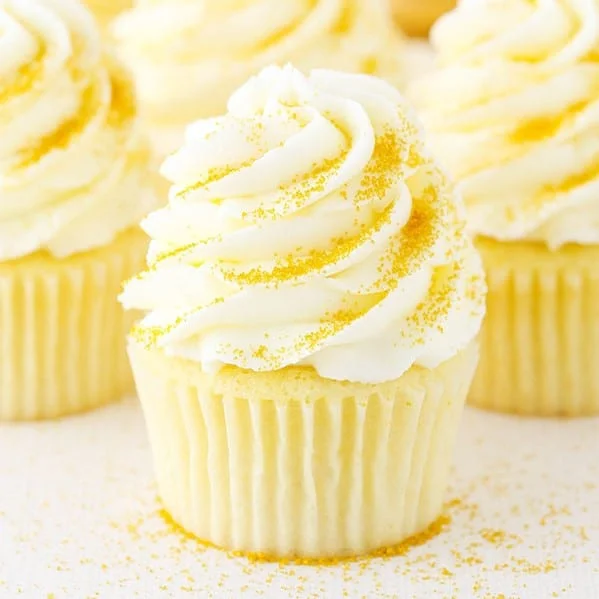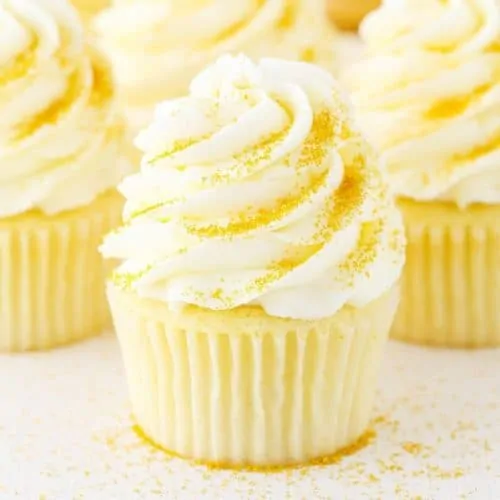 Drinks
Ok, food is important and all that, but the drinks are really where the fun begins!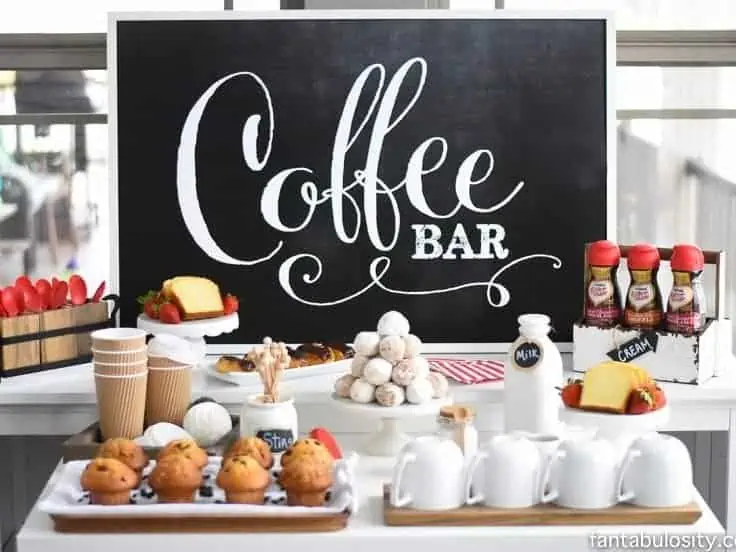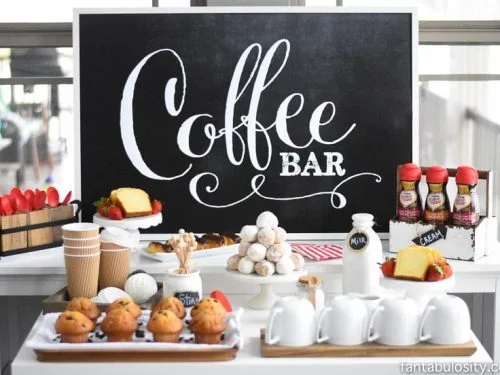 Get your guests buzzing with energy by setting up a DIY coffee bar!
While there are many ways to set it up, we especially love this "You've Warmed My Heart" theme:
And because there is no such thing as brunch without bubbly, a DIY mimosa bar is a total requirement!
Check out our step-by-step guide on how to create the best bridal shower bubbly bar: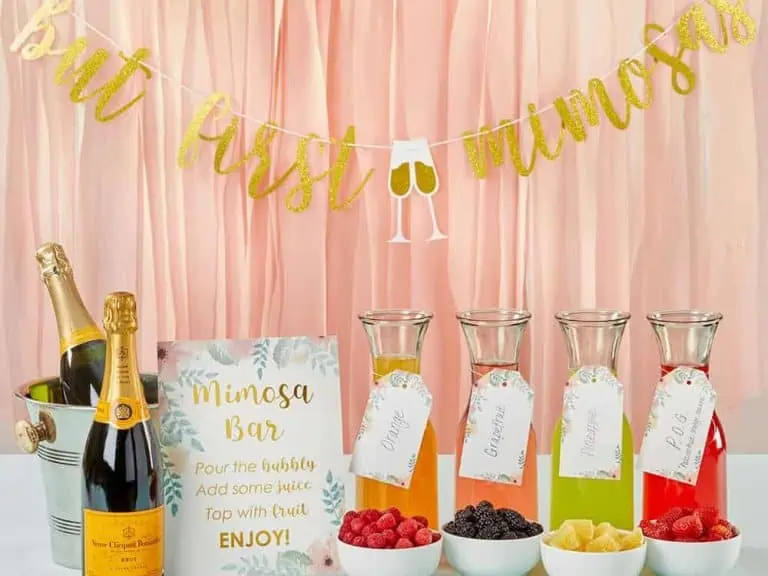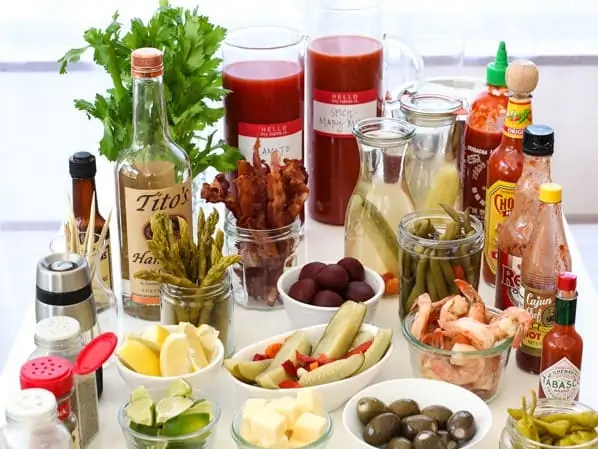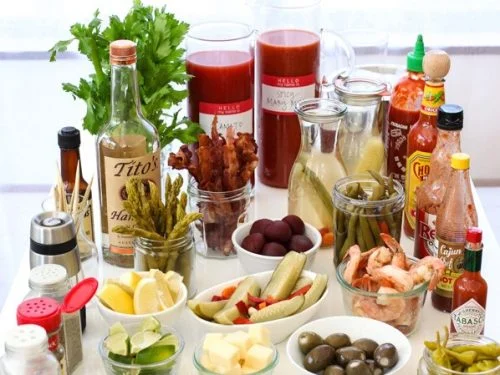 Take your booze bar game to the next level by featuring a build your own Bloody Mary station as well!
For more details, check out this comprehensive guide that features a homemade Bloody Mary mix recipe:
Favors
No good bridal shower brunch is complete without some festive favors!
Keep it yummy with edible options like these personalized champagne gummy bears or honey jars:
Stick to the bubbly theme by decorating champagne splits with these fun printed labels or bottle openers:
Really want to show off how clever you are? OPI makes a nail polish called "Be There in a Prosecco" (see what we did there?) and one called "Mimosas For Mr. & Mrs." (so adorable!)
Gifts
Last but certainly not least, you must get a brunch-themed gift for the bride.
If she and her future hubby like to spend their weekends out and about, keep it simple by grabbing a few gift cards to their most-frequented local brunch spots.
If the couple is more the homebody type, get creative with it by having guests contribute to a personalized recipe book filled with their favorite breakfast and brunch meals.
MODERN MOH TIP: Do both! That way the couple can celebrate however they choose.
Pin for Later!