What is a Bachelorette Party? All Your Etiquette Questions Answered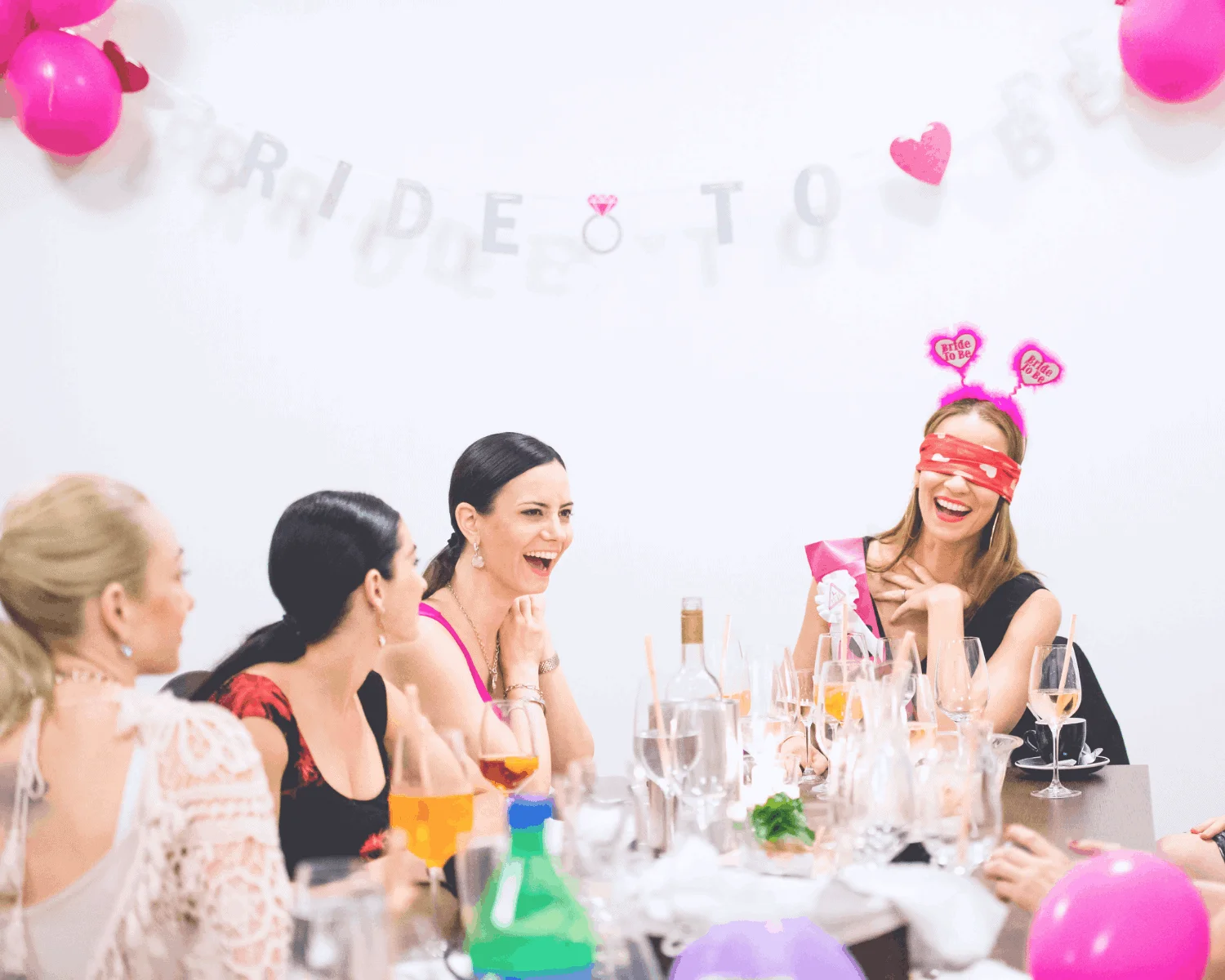 When it comes to planning a bachelorette party, chances are you have more questions than answers. We know we did! For starters- what is a bachelorette party?
We also remember being too embarrassed to ask these questions, 'cause let's be real- it can be totally awkward!
So to save you from having some uncomfortable convos with your fellow bridesmaids, we've broken down everything you need to know about proper bachelorette party etiquette.
What is a bachelorette party?
If you want to get technical about it, a bachelorette party is defined by Merriam-Webster as "a party for a woman who is about to be married usually attended by women only".
This tradition began during the women's liberation movement in the 1960s as a counterpart to the age-old "bachelor's party", and is often joked as being the bachelorette's last night of freedom.
Nowadays, bachelorette parties come in all forms: girls-only, coed, or joint bachelor/bachelorette.
And though it is still often referred to as "the last fling before the ring", modern-day bachelorette parties have evolved into much more meaningful celebrations of a bride-to-be than just male strippers and sexual innuendos.
What do you do at a bachelorette party?
While the itinerary of a bachelorette party varies depending on the bride's personality, a typical list of activities includes:
Depending on where you are staying and what time of year, some specific bachelorette party ideas include:
MODERN MOH TIP: Before making any permanent plans, sit down with your bride-to-be to get a basic idea of what she is expecting/wanting for her bachelorette party.
Who plans the bachelorette party?
The bachelorette party should be planned by the maid/matron of honor with the help of her fellow bridesmaids.
While it is important that everyone's ideas and inputs are taken into consideration, it is even more important that the MOH remains in charge of all final decisions to limit any unnecessary confusion or drama.
As far as the bride's involvement goes, it is up to her to decide on big decisions such as destination, theme ideas, and overall expectations (i.e. activities she absolutely wants to do, places she definitely wants to visit, or whether or not she wants alcohol). Besides that, she should be kept away from any specific details unless she absolutely demands to be in the know.
MODERN MOH TIP: Send out a group text to all the other attendees (excluding the bride) to open the lines of communication. This is where all details concerning the bachelorette party should be discussed.
Who pays for the bachelorette party?
The simple answer to this question is that each person attending will pay for their own travel expenses (flights, gas, Ubers, etc.), while the accommodations (hotel, Airbnb, VRBO, etc.) will be split equally between all attendees.
Other expenses such as decorations, attire, and food/drinks for the house should also be split amongst those attending. When out to restaurants or bars, it's up to each individual to cover their own costs.
Where this question gets complicated is when it comes to the bride's portion. Bachelorette party etiquette says that those attending should chip in to cover most if not all the bride's costs, but this may not always be feasible.
Depending on the cost of travel and accommodations plus the size of your group, it may be no big deal to split the bride's portion. If this cost ends up being too much to cover, consider splitting the cheaper of the two totals (typically this is the cost of accommodations).
MODERN MOH TIP: Before potential bachelorette party destinations, it's extremely important to have an honest talk about budget expectations. The last thing you want to do is have anyone attending feeling uncomfortable or upset with how much money they are being asked to spend.
When should the bachelorette party be?
As far as the timing for the bachelorette party goes, we recommend no earlier than two months from the wedding date but no later than two weeks before.
This time frame allows the bride to have gotten all the big wedding details planned so she can relax but also guarantees that the fun doesn't come and go too soon before the big day.
When it comes to the actual length of the event, most bachelorette parties last for a long weekend (i.e. Thursday-Sunday or Friday-Monday).
MODERN MOH TIP: Use a scheduling app like Doodle to save the time and hassle of trying to find a date that works for everyone.
Who do you invite to a bachelorette party?
The guest list for the bachelorette party is 100% the bride's decision. Depending on the size, many brides tend to only invite members of their bridal party along for the trip.
However, it is still very common for other close friends and family members to be invited to join in on the festivities.
MODERN MOH TIP: This should go without saying, but be absolutely sure that everyone invited to the bachelorette party is also invited to the wedding.
What should you not do at a bachelorette party?
While we feel that these should also go without saying, here is a list of no-nos when it comes to planning and attending a bachelorette party:
MODERN MOH TIP: Ask the bride to be very clear about her expectations as well as her boundaries. We can't tell you how many times a bridesmaid has insisted on hiring strippers when that was the last thing the bride wanted to do!
Pin for Later!