Who to Invite to the Bachelorette Party? The Complete Guide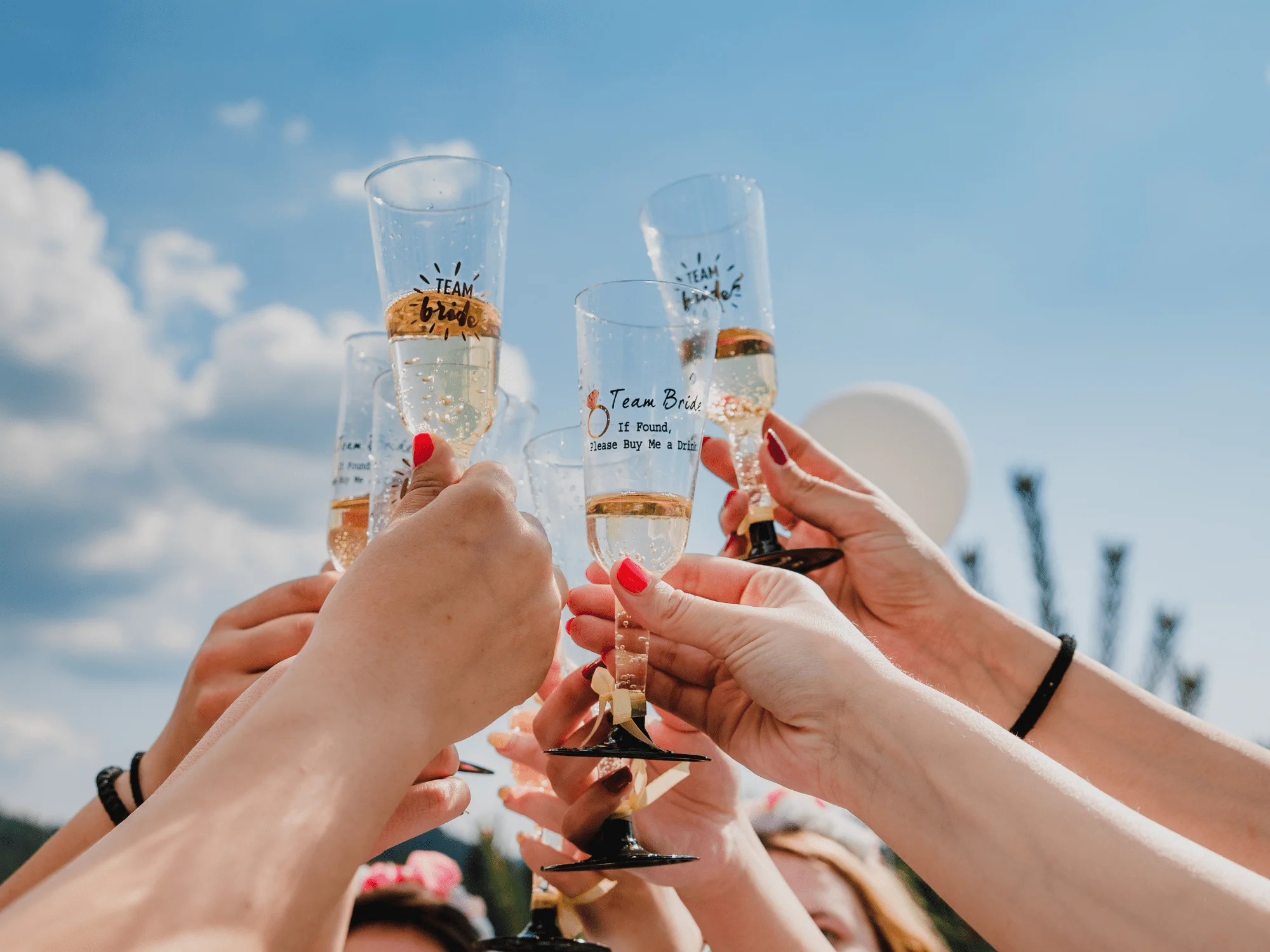 One of the most difficult parts of planning a wedding is the guest list. Do you have to invite your great aunt's husband's sister-in-law? But if you don't, are you going to risk a family fallout? No matter which decisions you make, you're going to risk upsetting someone.
It's not just the guests for the Big Day that can create a headache. The bachelorette party invite list can also cause some tension amongst the bridal party if it's not handled well.
Keep reading to find the answers to some of the most common questions and concerns about who to invite to the bachelorette party and hopefully alleviate some of the stress of organizing.
Who Makes the Bachelorette Party Guest List?
Deciding on who makes the cut when it comes to the guest list is ultimately down to the bride-to-be. However, you, as maid of honor, should also have a fair amount of input and help provide the voice of reason.
As this is a party to celebrate the bride's last days of being single, it's important that the people she wants to let loose with are there. It's probably a good idea to arrange a few meetings with the bride to finalize that guest list and make sure no one is left out, keeping in mind a few key factors we'll go into below.
What do You Need to Think About?
It might sound easy, to create a guest list and fire off invitations to everyone who the bride wants to be there but there are some things you need to consider.
Location
If the bachelorette party is being held in a nearby town or city, this opens up the guest list to more people. But if it's being held in another state or even a different country, this could limit the number of guests who can attend, especially if they need a valid passport to travel.
Theme and Activities
You know the bride's personality best, and it's this which should determine the theme of the party. Would she want a typical celebration, with drinking and partying? Or would she prefer something more unconventional, such as a spa weekend or wine tasting at a vineyard? Determining this will help to narrow down the guest list because her mother-in-law might not enjoy bar hopping!
Group Relationships
Just because everyone on the guest list knows and likes the bride, doesn't mean that they will get along with each other. Her friends from high school might have grown apart since their teenage years or her mom and MIL might not see eye to eye.
It's important that any potential issues the guests have are addressed before the party invitations are sent out, no one wants to be the reason the bachelorette party atmosphere is awkward.
Just a Bachelorette Party?
Are the bride and groom having joint bachelor/bachelorette parties? This is another important factor to consider as the guest list might have to be cut to accommodate both of their wishes.
Who Could Be Invited?
This is where it could become difficult. Let's go into detail about the groups of people who could be invited to the bachelorette party.
Bridal Party
Anyone who is in the bridal party should be invited to the bachelorette party. It doesn't mean they'll accept the invitation but if the bride has considered them important enough to be involved in her big day, she'll want to celebrate her last days of singledom with them too.
Roommates
Chances are that the happy couple will be moving in with each other after the wedding is over, if they're not already living together. Inviting roommates is a good chance to say goodbye to the old life they shared together before the bride embarks on her new chapter.
Also, it's a nice way to make sure roommates feel like they're a bigger part of the celebration if the bride wasn't able to include them as a bridesmaid.
Siblings (on both sides)
Depending on the theme and activity, siblings from both sides of the family should be invited. There could be some age restrictions in place, in which case make it clear that this is the reason they've not been invited, but otherwise, there's no reason why they shouldn't be there.
Mother and Mother-in-Law
Parental relationships can be tricky to navigate, especially between a bride and her mother-in-law-to-be. But the bachelorette party could be a chance for them to put any differences behind them and celebrate the new family that is about to be created…unless you know that the mothers won't approve of the activity!
Close Friends and Family
Anyone who the bride is close to should receive an invitation. It's good to remember that guests can be male as well, there are no set rules around gender and bachelorette parties! This is especially important if the bridal party is small and some of the bride's closest friends and family haven't been included. An invite to the bachelorette party will show those who have been "left out" that they're still important to the bride.
Who Should Never Be Invited?
While there are no set rules on who to invite to the wedding, there are some clear rules on who shouldn't receive an invitation.
Co-workers
Unless the bride considers them a close friend and spends a lot of time with them outside of the workplace environment, don't invite them. A bachelorette party is a chance for everyone to let their hair down and celebrate and the bride wouldn't want the office gossip to share the antics of the night with the entire workforce…or her boss!
Anyone Not Invited to the Wedding
If the bride and groom have decided against inviting someone to the Big Day, don't include them on the guest list for the bachelorette party. This could cause a lot of unnecessary stress and drama for the bride and potentially ruin her party and her wedding.
Bachelorette Party Guest List FAQ's
How many people attend a bachelorette party?
There's no set rule. It depends on many factors, such as the budget, activity, and how large the bride's social circle is.
Do printed bachelorette party invitations need to be sent?
This is down to the bride. It's a nice memento, to have a printout of the date, time, and venue of the bachelorette party. But these days, many people opt for a virtual invitation, especially if you are planning a last-minute bachelorette.
Do the same people need to be invited to the bachelorette party and the bridal shower?
Typically, a bridal shower is a respectable affair with people coming together for a light lunch and to shower the bride with gifts before her Big Day. A bachelorette party is different, this is a chance for the bride to have one last celebration before becoming a wife. If the bride knows that someone won't enjoy the bachelorette party, skip their invitation but invite them to the bridal shower.
Wrapping Up
When all is said and done, there are no set rules on who to invite to the bachelorette party. The party is a "last hurrah" before the bride becomes a married woman and the most important thing is that the bride is happy, she's surrounded by people she loves and everyone has a good time.
Pin for Later!