Bridal Party vs Wedding Party: A Guide to Key Wedding Roles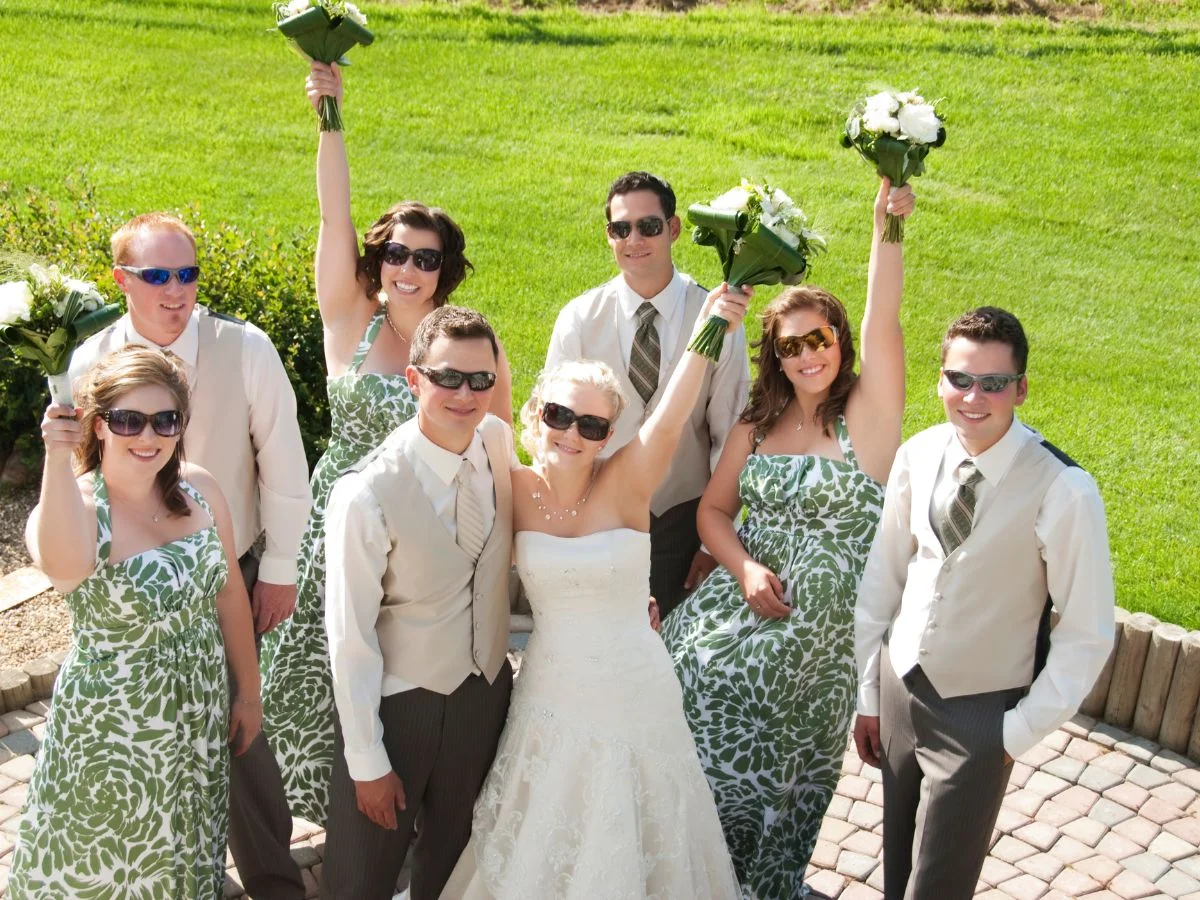 Every year in the U.S., more than two million lovebirds dive into the exciting adventure of saying "I do." With over 5,000 weddings happening every day, love is seriously everywhere. But before the happy couple get to that point, they'll have some help along the way. So once the big question has been popped, and "yes" said, the bride and groom-to-be will start thinking about who will be part of their special day.
In this article, we'll break down who's who in the bridal and wedding parties, spill the beans on what they do, and show you how they add that extra magic to your big day. So, whether you're knee-deep in wedding plans or just curious about wedding traditions, you're in the right spot!
Let's dive in and explore the exciting world of bridal party vs wedding party.
Bridal Party vs Wedding Party: What's the Difference?
To help us get to the nitty gritty and unravel the difference between bridal and wedding party, we've sought insights from two wedding planning experts: Jacqueline Elizabeth, owner and lead planner and designer of Ascendance Productions Wedding & Events in the Twin Cities, MN, and John Anderson, Co-Founder of LifeLineWedding.com.
Jacqueline Elizabeth clarifies, "While very similar, the wedding party encompasses the whole of everyone invited to celebrate the couple and participate in their journey. The bridal party, however, includes only the people chosen by the bride for her side of the wedding party."
John further elaborates, "The most important person in a bridal party is the maid of honor or matron of honor, who the bride selects to serve as her right hand throughout the wedding planning process. The maid or matron of honor will help plan pre-wedding festivities like bachelorette parties, coordinate with vendors on behalf of the couple, help pick out attire for other members of the bridal party (including herself), and more.
"Other roles in a typical bridal party may include bridesmaids (usually female family members or close friends), junior/flower girls (often young relatives), and ring bearer(s) (usually children).
"On the other hand, a wedding party extends its embrace to encompass everyone involved in supporting the bride and groom leading up to their big day, without drawing distinctions based on the bride's or groom's side. This inclusive assembly can consist of groomsmen, ushers responsible for seating guests at the ceremony, parents, and other close family members from each side.
"Additionally, some couples choose to add honorary positions—such as "Man/Woman Of Honor" for their best friends on either side—to their wedding parties as well."
Wedding Party Roles Explained
One of the wonderful things about planning your big day is that there really are no strict rules when it comes to assembling your wedding party. You can have as many or as few members as your heart desires.
As for the bridal party, the number of attendants often depends on the size and style of the wedding. Typically, most couples find themselves in the comfortable range of three to five, but there's no need to feel confined by that range. It's your special day, and you should make it as unique as your love story.
While the bridesmaids and groomsmen (along with the matron or man of honor) often take center stage in the bridal party, let's give a round of applause to all the other crucial roles within the wedding party. These unsung heroes work tirelessly behind the scenes to make your wedding day an unforgettable event.
Maid/Matron/Man of Honor: This key player is the bride's right-hand person. The maid or matron of honor assists with everything from pre-wedding festivities to coordinating with vendors and helping select attire for the bridal party.
Best Man/Woman: The groom's counterpart to the maid/matron/man of honor, the best person, is crucial in supporting the groom and ensuring everything runs smoothly.
Bridesmaids/Bridesmen: Close friends or family members who stand by the bride's side. While the bridesmaid's role can vary, their primary job is to offer emotional support and help with wedding planning.
Groomsmen/Women: The bride's counterpart to the bridesmaids, groomsmen support the groom throughout the wedding journey.
Junior Bridesmaids: Often, younger family members are asked to take on the role of junior bridesmaids, adding a touch of youthful charm to the wedding party.
Honorary Bridesmaids or House Parties: Friends or family members who hold a special place in the bride's heart but may not fit the traditional bridesmaid role. By taking on an honorary bridesmaid role, they can play a vital part in the festivities.
Flower Girls: Adorable little ones who sprinkle flower petals down the aisle, adding a sweet and youthful touch to the ceremony.
Pages: "Yes, you can still spot the delightful presence of page boys (or girls) in weddings today, but their roles have evolved over time," shared John. "These charming attendants have been part of wedding traditions for centuries, although they are becoming less common due to changing preferences and rising costs. Page boys, traditionally young male attendants, make their grand entrance just before or after the wedding party. Trained to walk confidently, they often carry a basket of flowers or ribbons, adding a touch of charm and energy to the ceremony procession."
Ring Bearers: These cuties carry the symbolic rings to the altar, often in creative and charming ways.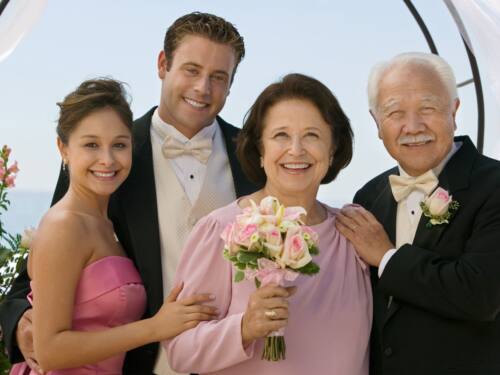 Mother/Father of the Bride: As very special members of the wedding party, the father and mother of the bride offer their support, love, and guidance throughout the wedding journey.
Mother/Father of the Groom: They stand by the groom's side, sharing their wisdom and support.
Ushers: Jacqueline says, "The primary role of the usher (or ushers) is to be present during the seating portion of the ceremony. They typically are responsible for handling any items to be passed out to guests, such as programs or any favors to be distributed at the time of the reception. They are also tasked with assisting guests who may need an extra hand finding or maneuvering to their seats."
Readers: Those who share meaningful passages, poems, or readings during the ceremony, adding a personal touch, often and friend or family member that is important to the bride or groom.
Officiants: The individuals who lead the wedding ceremony, guiding the couple through their vows and exchanging rings.
Personal Attendant: While your maid of honor or bridesmaids are there to help, they have to spend time getting ready on your big day, too. And for that reason, they aren't always able to help with the small details before the ceremony. A personal attendant is often a special friend of the bride and is there to help her get ready and take care of any other needs she has before saying, "I do."
Not all of these unsung heroes get to take the spotlight, but they play vital roles in making your wedding day unforgettable and run as stress-free for the wedding couple as possible.
Frequently Asked Questions
Do you need to have a wedding party?
"A wedding party is absolutely NOT a necessity," says Jacqueline. More often, we are seeing couples forego having a wedding party for a variety of reasons, from cutting down on additional costs, wishing to eliminate the stress associated with some of the traditional roles within wedding parties, or even just not wishing to single out any family and friends.
"While either choice presents its own benefits and challenges, today's couples have much more freedom to choose what is going to truly be the best fit for them on their wedding day."
Are all of these roles required?
Absolutely not! The beauty of your wedding day lies in your freedom to choose. There are no strict requirements for these roles, and it's entirely up to the happy couple to decide who, if anyone, will fill them.
Many couples even choose to elope so they don't have to worry about wedding party roles or bridal party roles. Eloping allows them to avoid these traditional roles altogether to ensure that no one feels left out or that one person's role outweighs another's. It's your day, your rules!
The Bottom Line – Wedding party vs bridal party
Understanding the difference between the bridal and wedding parties is like deciphering the secret language of love. Remember, over 5,000 weddings happen daily in the U.S., and your special day is entirely your own.
You can have as many or as few members in your bridal party or wedding party as you desire—there are no strict rules! These roles are flexible, and it's your chance to the day exactly what you want.
Whether you opt for the charm of page boys and flower girls or decide to elope to avoid any traditional roles, the key is to celebrate your love in the way that feels right for you. Your bridal party vs wedding party decision is ultimately a celebration of your unique journey as a couple, which makes it truly special.
Pin for Later!