Want a Man of Honor in your Wedding? Top 10 Things to Know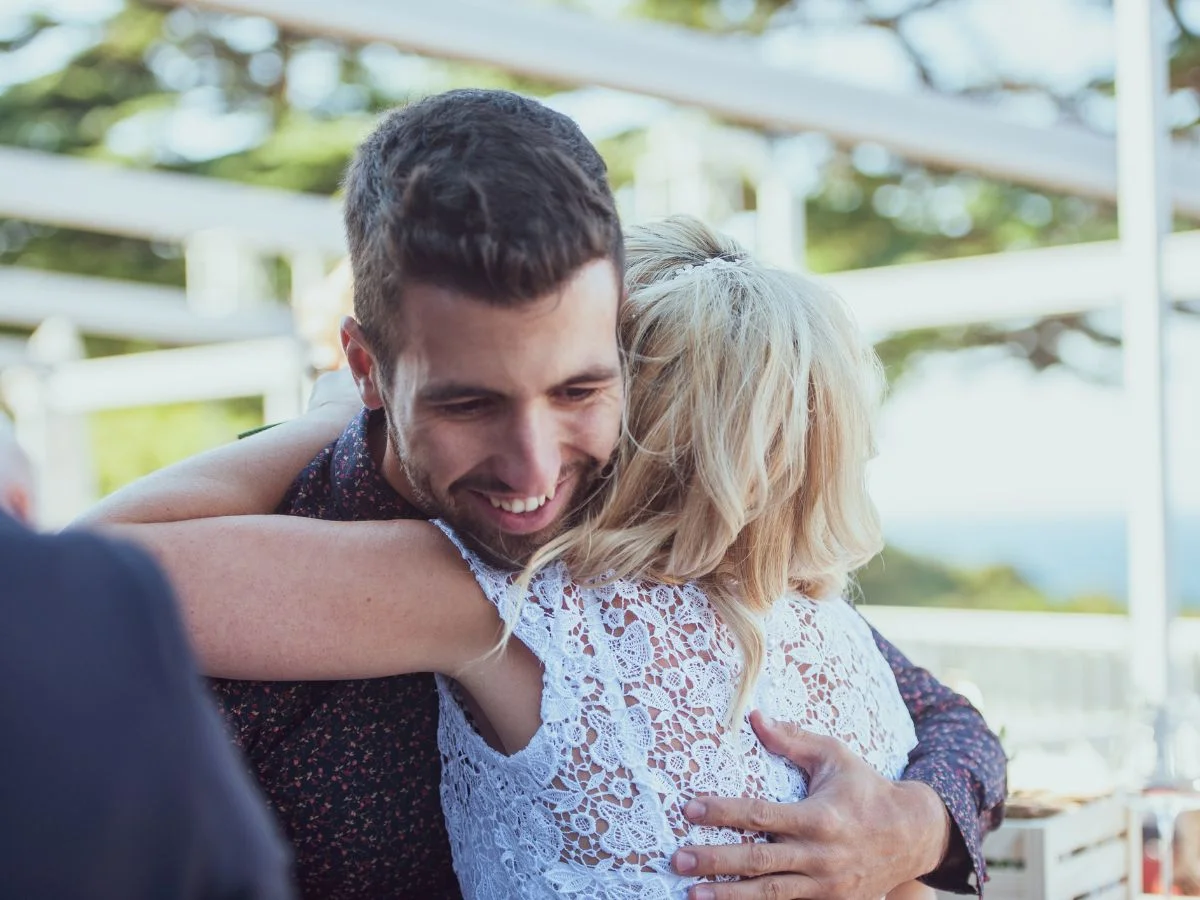 There will always be a place for wedding traditions, but you can now tie the knot in a variety of wonderful ways. The bride is no longer expected to wear a billowing white dress or prance down the aisle to the wedding march, and it's fine to have a man of honor at your wedding instead of a maid of honor.
It might seem unconventional, but if you're close to your brother, or male cousin, or your BFF is a guy, it makes perfect sense to choose a male maid of honor. There are plenty of benefits too, chances are your man of honor will throw you an awesome bachelorette party, won't bring shedloads of drama, and there won't be any arguments about what type of dress he's going to wear.
Keep an open mind when popping the question
It can be difficult to choose a maid or man of honor. The person should hold a special place in your life, be ready to help organize your celebrations and support you with gusto on your big day. If you ask a female friend to be your maid of honor she might react with tears and squeals before jumping up and down with excitement.
Be prepared – a male friend might react differently, so when you pop the question keep an open mind. Don't be disappointed if your chosen guy is initially surprised rather than ecstatic, after all a male maid of honor isn't a traditional wedding party role. He might have a few reservations, so address any queries and reassure your fave fella he will make a wonderful bride's best man!
You can tweak responsibilities
Being a maid of honor comes with a list of responsibilities, and the same applies to your man of honor, but the roles aren't set in stone and they don't have to be identical. In the main, wedding attendants are there to support the bride and groom, but how they do that is down to you and your hubby-to-be.
Your man of honor might be happy to carry out some of the traditional tasks, such as planning the bachelorette party, talking to wedding planners and suppliers, etc. but some elements might be deemed a no-no.
For instance, he might not be keen on joining in with endless shoe shopping or dress fittings. There's also a chance the bride's best man might step away from the bridal shower if it's going to be an all-girl event.
MODERN MOH TIP: Your male MOH will have his own thoughts on what he can bring to the party, so make sure you listen! Don't pressure your man of honor into doing tasks that he doesn't want to do, instead play to his strengths. Sit down over a beer and work out a plan of action!
Be prepared for guest's reactions
Your wedding party and guests might be surprised by your unconventional choice of a man maid of honor rather than a female maid of honor. Some won't bat an eyelid; others may view it as quirky, and you might get the odd one or two traditionalists who take it upon themselves to share their distaste.
You don't have to explain your choice to anyone – it's your wedding! That said, if Great Aunt Gertrude is likely to cause a fuss on the big day it's worth trying to nip the problem in the bud.
MODERN MOH TIP: If you think older or more reserved relatives are going to have a tough time with your non-traditional choices enlist the help of the parents. Get your folks and the groom's folks to have a friendly chat with potentially "challenging" relatives before your big day to head off any awkwardness.
It's not greedy to have a man of honor and a maid of honor
Who says you can't be greedy and have a man of honor and a maid of honor/matron of honor? Weddings are fabulous, but they can also be stressful to plan and execute, so surely another helping hand would be more than welcome.
A word of caution though, make sure the pairing works well together. A friend of mine opted to have a maid of honor and man of honor and ended up acting as referee rather than bride-to-be during wedding planning sessions.
It's fun to throw a co-ed bachelor/bachelorette party
You're already going slightly off-piste by having a man of honor, so why not go the extra mile and have a joint bachelor and bachelorette party too? Imagine the bride's best man joining forces with the groom's best man, we're pretty sure that could lead to one hell of a pre-wedding celebration.
Combining the bachelor and bachelorette party should simplify the planning process and save a few pennies too. I'm friends with a lovely couple who were keen to do this, but before going ahead they sat down with the wedding party to see how they felt about it. Thankfully, everyone was on board and the party was a huge success.
There are plenty of options for a co-ed bash, such as a music festival, camping trip, day out at an amusement park, or a competitive scavenger hunt (boys vs girls will work well, though you'll have to see which side your man of honor wants to be on)! Otherwise, opt for a good old-fashioned bar crawl. We're thinking matching t-shirts, shots, karaoke, and dancing, cheers!
Not everyone will want to shop til' they drop
Your man of honor might be perfectly happy joining in with all-girl shopping trips and fittings, or he might pale at the thought of it! Check-in with him and don't be surprised if he wants to leave the browsing and fittings to you and your bridesmaids.
When it comes to wedding attire discuss the theme and color scheme and work out what will suit and what he's comfy with. If your wedding party is wearing ties the groom's best man usually wears the same color tie as the groomsmen. The bride's best man can do the same or he can wear a tie to match the bridesmaid dresses.
It's up to you whether you partake in a joint shopping trip or if he goes solo and models the result for you after. Don't forget to discuss who's paying for the outfit (typically bridesmaids and maids of honor pay for their own dresses and accessories).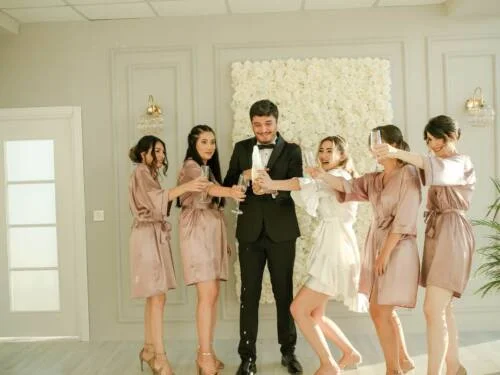 Where will he get spruced up for the big day?
On the day itself, you'll need to work out where you're all going to get ready. Traditionally the maid of honor will stay with the bride and they will get dressed together, but this might not be appropriate for you and your man of honor. Your guy might prefer to stick with the groom and groomsmen for this portion of the day or find a space of their own for a spot of pre-wedding grooming.
You'll need to map out the processional and recessional
You might have to rethink the traditional ceremony processional too, traditionally groomsmen are paired with bridesmaids, but adding a man of honor might call for a re-mix. Simplify the processional by asking the party to walk down the aisle in single-file, or pair bridesmaids and have them walk down the aisle to meet the groomsmen at the altar. Alternatively, the bride's best man and groom's best man could walk together.
The recessional is more informal, but you will still need to give it some thought. The man of honor could walk with the ring bearer or one of the bridesmaids, or he could escort the bride's mother or walk with the groom's best man. There are plenty of options and no hard and fast rules, so choose the scenario that works best for your celebration.
Make sure everyone is ready to party
You've tied the knot and now it's time to party. Traditionally, the maid of honor enters the reception with the best man and may sit with him at the head table. However, times have moved on and today many newlywed couples choose to make a grand entrance alone, with the rest of the wedding party filing in alongside the other guests.
Table seating has changed too and it's not uncommon for the wedding party e.g., the bridesmaids and groomsmen, etc to sit with their plus ones rather than share a table with their fellow attendants. As the bride's best man, your male bestie might prefer to sit with you at the top table or take a seat with their partner (if they have one). Again, have a chat about the logistics and set things up so they work for you.
Who will raise a toast to your wonderful wedding day?
Typically, the best man/ woman and the maid/man of honor will give a speech and raise a toast to the happy couple. However, public speaking isn't for everyone so don't be affronted if your male MOMH would rather not step up.
It's perfectly fine to ask another member of the wedding party to speak, and perhaps the man of honor can simply stand and raise a toast after. Another option is to have the groom's best man and man of honor deliver a speech together, this could be fun and who knows what they'll come up with!
MODERN MOH TIP: Get the best men on board with the joint speech idea by reminding them that they can use one another for support on the big day. It's also a great excuse for them to get together before the wedding and bond as they rehearse over a drink or two!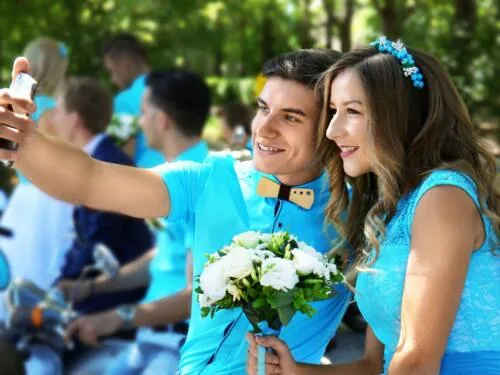 Frequently Asked Questions
What's the difference between a Man of Honor and a Best Man?
The bride's best man and the groom's best man share similar duties, but in general, the man of honor supports the bride with planning, getting ready, etc. and the best man supports the groom.
A maid of honor usually indicates the chief bridesmaid is still single, whereas the title matron of honor implies the chief bridesmaid is married.
Can I have both a Man of Honor and a Maid/Matron of Honor at my wedding?
That's the beauty of being a bride, you can have anything you like (as long as the groom agrees). It's OK to have a maid/matron of honor and a man of honor too, just make sure roles are defined and remind your attendants that teamwork makes the dream work!
Final Thoughts …
A man of honor can make your wedding day even more special!
"The highest happiness on earth is the happiness of marriage." William Lyon Phelps.
Make sure you kick start your marriage in the best possible way with a wedding day to remember. Your wedding party should be made up of those who are most important to you, be that family or friends. Your attendants will offer support, help you plan, laugh with you, and cry with you.
When it comes to the crunch who do you want to be standing next to when you're saying "I do," to your new husband? That person should be someone who means the world to you and it doesn't matter if that's a guy or girl, mother or daughter. If you have a worthy guy in mind why not give him the highest honor of all, by asking him to serve as your man of honor in the wedding?
Pin for Later!