24 Bridal Shower Signs That Double as Decor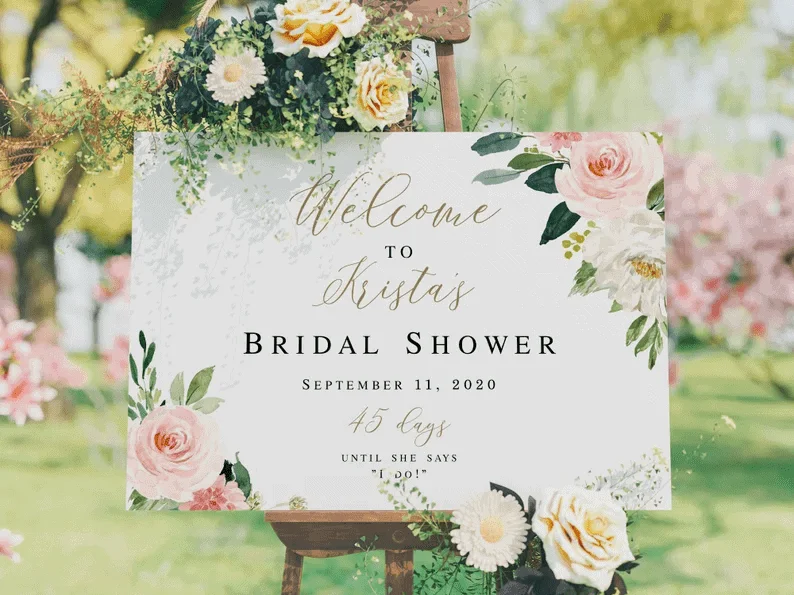 Disclosure: This post contains affiliate links, meaning we earn commissions if you shop through the links below. As an Amazon Associate, I earn from qualifying purchases. Please read my disclaimer for more info.
Having hosted our fair share of showers over the years, we know that deciding on decorations is one of the toughest parts of the task. And when it comes to selecting the perfect bridal shower signs? Fuhgeddaboudit!
Seriously- there are so many bridal shower signs out there it's nearly impossible to narrow down the choices. From welcome signs and game signs to food signs and favors signs, you could spend months sifting through them all!
So to help you decide which bridal shower signs are right for you (and save you some serious search time), we've broken down the options into six standard categories and featured our four favorite finds for each!
Welcome & Countdown Signs
To us, featuring a bridal shower welcome/countdown sign is a no-brainer. For starters, displaying a welcome sign by the entrance makes a great first impression for the bride and her guests. It also doubles as a sweet keepsake she can later display in her home or office.
Cards & Gifts Signs
If you plan on having a table dedicated to holding cards and gifts, we suggest displaying a sign to let guests know. Not only does this save you from having to tell each and every individual person, but it's also a super simple way to add an extra touch of decor!
Guestbook & Photo Booth Signs
Not all bridal showers require a photo booth or even a guestbook for that matter, but we have to admit that we're partial to both. The only thing better? A combination of the two- hello Polaroid guestbook! Just don't forget to display one of these adorable instructional signs!
Favors & Treats Signs
Planning to give out favors as a thank you to guests for attending? If so, adding a cute sign will take your bridal shower decorations to the next level. Simply set out the favors on a small table and display any of these sign options so guests know it's there's to take!
Food & Drink Signs
This category of bridal shower signs is a little broader, so we had a tough time narrowing down the choices. While some hosts may use individual signs to describe each dish being served, we're fans of a more all-inclusive design. P.S. If you didn't already know, we are always team mimosa bar.
Games & Activities Signs
This final category of bridal shower signs doubles as a decoration and an activity. While you don't have to play any of these games, these signs are required if you so choose. Plus, these are all Made by Modern MOH signs so you know we approve!
Mix & Match Bundle Sale
Buy any 5 of our printable bridal shower signs or games for just $15!