5 Hilarious Bachelorette Party Bar Games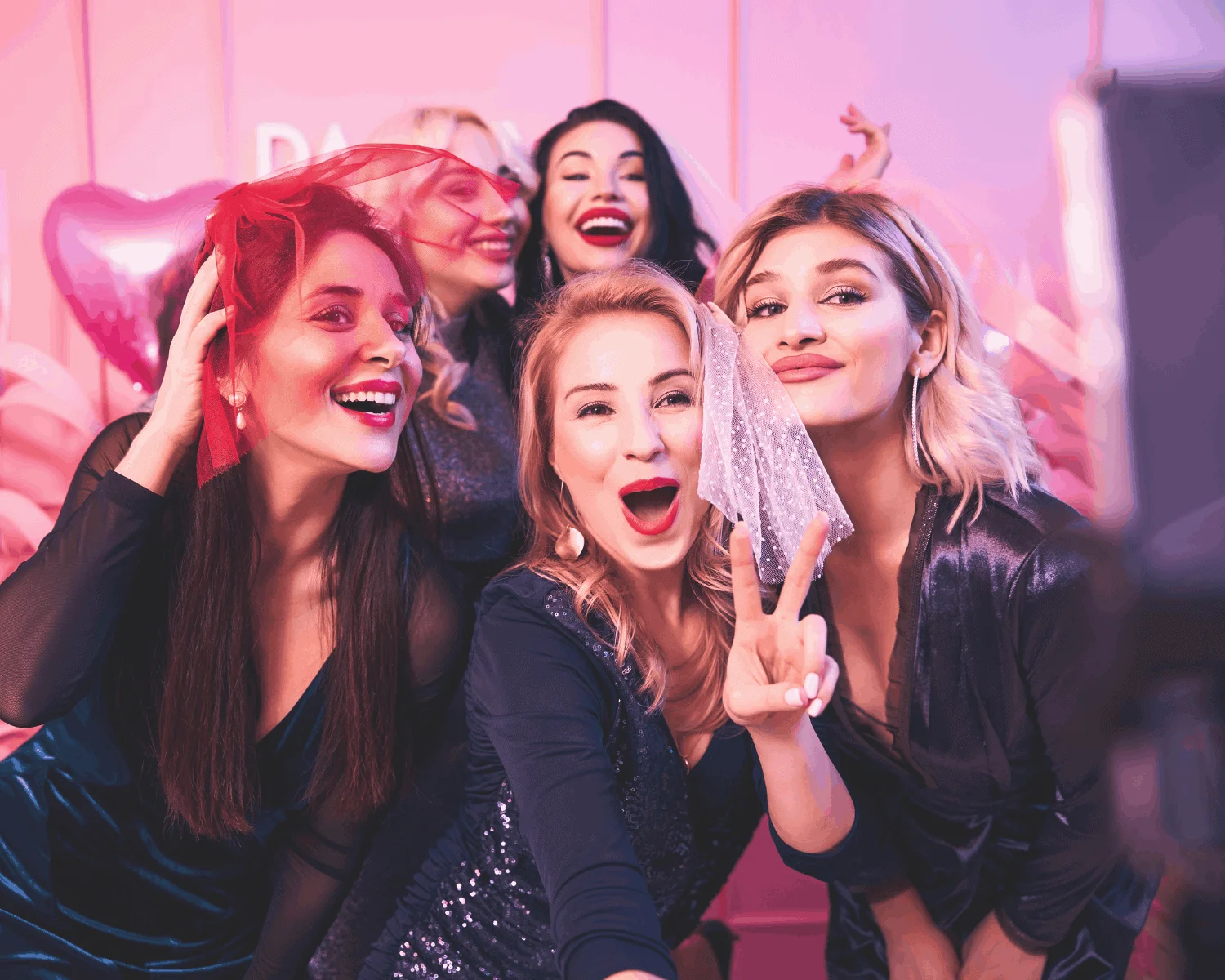 Disclosure: This post contains affiliate links, meaning we earn commissions if you shop through the links below. As an Amazon Associate, I earn from qualifying purchases. Please read my disclaimer for more info.
If you're anything like us, you and your fellow bride squad members will be too busy getting ready to play any fun games before heading out. That's why it's important to have some bachelorette party bar games lined up once you make it to your first stop!
The great thing about these bachelorette party games is that they can be played throughout your night of bar hopping and are a great way to break the ice among your group. Many of them may even result in hilarious photos and videos for you to look back on and laugh over.
Below we've broken down each game into what to prep and how to play. The only thing you need to do is to decide on which of these bachelorette bar games you want to play!
Bachelorette Bar Scavenger Hunt
If you've ever been to a bachelorette party before, chances are you've participated in a bachelorette scavenger hunt. This hilarious game is so popular because it's the perfect way to get all the girls working together while having a total blast!
What to Prep:
For this game, all you need to do is purchase and print off our premade template or come up with a scavenger hunt list of your own!
You'll also want to sure someone brings a pen to mark off completed tasks and that everyone has their phones to snap pics and videos.
How to Play:
It's up to you if you want to break your group up into teams or play this game as one big team. Once you've decided, go down the list and complete each task starting with the easiest and finishing with the most difficult.
Unless the task specifies that the bride must be involved, anyone in your group may complete the challenge to earn points. Be sure to snap a photo or record a video as proof that you've done what was listed.
MODERN MOH TIP: We highly recommend starting a shared photo album for this scavenger hunt so everyone can access these hilarious photos and videos all in one place!
Bachelorette Drink If
If you and your girls are looking for a bachelorette party bar game that can be played while relaxing at a table or while waiting for some food, Drink If is the choice for you! Not only is this game super simple, but it's also guaranteed to get some serious giggles going.
What to Prep:
To play Drink If, you can either purchase our pre-made template to guide you along or come up with your own scenarios on the spot!
How to Play:
Starting with the bride, take turns reading off the list or coming up with your own 'Drink If' situations. If the person has done the deed, they must take a drink.
Bonus rules: If at any point there is only one person who has to take a drink, they must share with the group the dirty details of the said deed!
Bachelorette Party Dare Cards
Take the boring old Truth or Dare game to the next level by playing Bachelorette Night Dare Cards instead. These scratch-off cards are full of funny challenges for you and your girls to complete throughout the night!
What to Prep:
Purchase a set of Bachelorette Dare Cards: 35 done-for-you cards and 5 blank 'write your own rules' cards. Be sure to bring a quarter or some other coin to scratch off your stickers!
How to Play:
Starting with the bride, take turns scratching off the sticker on your dare card to reveal the challenge you must complete. If you don't want to complete the challenge, you must buy the bride a drink instead.
Bonus points if you can get a random person at the bar to complete the dare with you!
Bachelorettes Against Decency
If you can't tell by the title, this game is a bachelorette-themed version of the popular party game Cards Against Humanity. With over 80 questions and 300 answers, this hilarious game is perfect for a large group of girls!
What to Prep:
Purchase and print out the Bachelorettes Against Decency cards. To help identify the type of cards on sight, we recommend printing the questions out on colored paper and the answer cards on white paper (or vice versa).
How to Play:
Start by having each player pick 10 answer cards. Once everyone has their cards, the bride starts by pulling the first question card.
Players must then submit the answer card they feel best fits with the question card that the bride pulled.
The player who picked the question card becomes the judge and must take turns reading everyone's answers out loud. Whoever's card is picked as the winner of that round keeps the question card to be tallied up at the end. The player at the end with the most question cards wins!
Bachelorette Charades
The last on our list of bachelorette bar games is a twist on the classic party game Charades. Complete with 27 cards and a cut-out box to carry them in, this game is guaranteed to be a great time!
What to Prep:
Purchase and print out these Bachelorette Charade cards and the matching cut-out box. To assemble the box, simply follow the fold lines provided for you.
How to Play:
Starting with the bride, take turns pulling charade cards from the deck. The player whose turn it is must act out the phrase on their card without speaking.
The first player to correctly guess the phrase being acted out gets a point. Whoever has the most points once you reach the end of the deck is the winner!
MODERN MOH TIP: Step up the competition by dividing your group into teams that face off against one another by pantomiming the same phrase at the same time. Whoever guesses right first wins the point!
Pin for Later!