12 Bachelorette Party Veils for the Bride-to-Be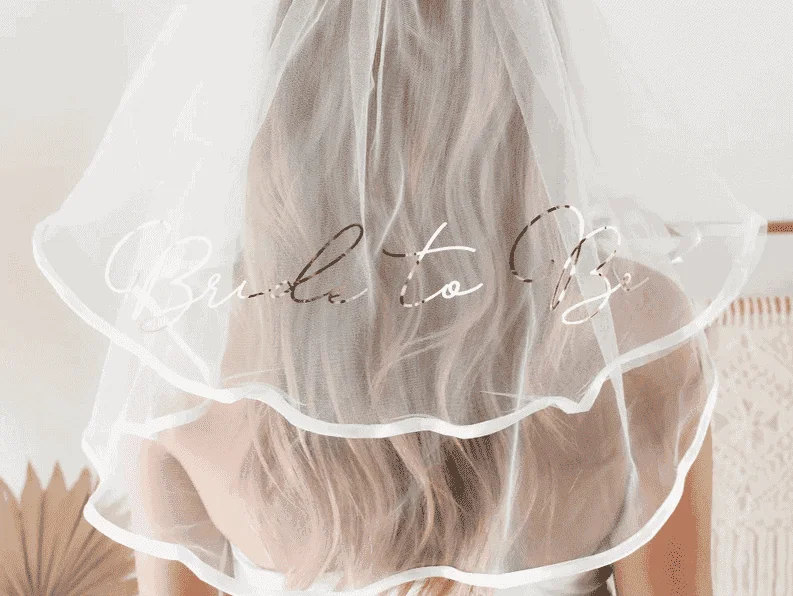 Disclosure: This post contains affiliate links, meaning we earn commissions if you shop through the links below. As an Amazon Associate, I earn from qualifying purchases. Please read my disclaimer for more info.
No matter where you'll be celebrating your last fling before the ring, a bachelorette party veil is a total must for any bride to be!
Not only will they help you stand out as the lucky future Mrs, bachelorette party veils are also great practice for the real thing. Even better, they're totally affordable and come in all kinds of cute styles to match your overall vibe.
From classic two tier veils to headbands with veils attached, we've got twelve fun finds for every kind of bride to be! Combine this with some other bachelorette party accessories, and you'll be sure to have a night to remember.
Bride to Be Veils
Keep your look classic and chic with any of these stylish bride to be veils.
Foil Script Veil
Show off your bride to be status with this beautiful two tier bachelorette party veil. Choose from three foil lettering colors to complement the rest of your outfit.
White Bride to Be Veil
Hand finished with beautiful edging, this double-layered all-white bride to be veil is guaranteed to have you looking and feeling like the queen you are!
Future Mrs Veil
Wear your soon-to-be last name loud and proud with this future Mrs veil. Available in either black or gold foil lettering, this veil is the perfect accessory day or night.
Unique Bachelorette Party Veils
Be the one-of-a-kind bride you are with any of these unique bachelorette party veils.
Custom Face Veil
Bring the groom to be along for the ride with this custom face bachelorette veil. Choose up to three different photos (yes, you can add pets!) and between 13 different text colors.
Naughty Bachelorette Party Veil
Not afraid to get a little naughty with it? Then look no further 'cause we guarantee this x-rated veil will have you standing out as the wife of the party!
Custom Booty Veil
Spending your bachelorette at a tropical destination? Rock this custom booty veil, available in one of 10 pretty colors, with your bathing suit!
Pearl Bachelorette Party Veils
Add some shine to your accessories with these pearl bachelorette party veils.
Pearl Bachelorette Veil
Made of pearl dotted tulle and finished with delicately sewn edges, this vintage-inspired bachelorette veil is perfect for our old-school brides.
Pearl Headband with Veil
If outfit changes are your thing, this pearl headband's your new bling! Complete with a detachable veil, this statement headpiece is for anyone looking for a versatile accessory.
Oversized Pearl Bow Veil
Skip the traditional bachelorette party veils and opt for this oversized pearl bow instead! Made of pearl dotted tulle, this chic bow is guaranteed to elevate any look.
Bachelorette Party Headbands with Veils
Switch it up with these cute combinations of headbands and veils.
Bride to Be Headband Veil
Keep it cute and classic with this bride to be headband with an attached veil. Made of pretty rose gold metal and white tulle, this accessory is as adorable as it is affordable.
Rhinestone Headband Veil
Made of silky satin with a sparkly rhinestone 'bride' logo, this bachelorette headband with detachable veil is versatile enough to last you all day and night!
Fiesta Flower Crown Veil
Celebrate your final fiesta in serious style with this bachelorette headband and veil. Made with colorful flowers and a pom pom trim, this headpiece is nacho average accessory!
Pin for Later!