Bridal Shower Gift Etiquette For Guests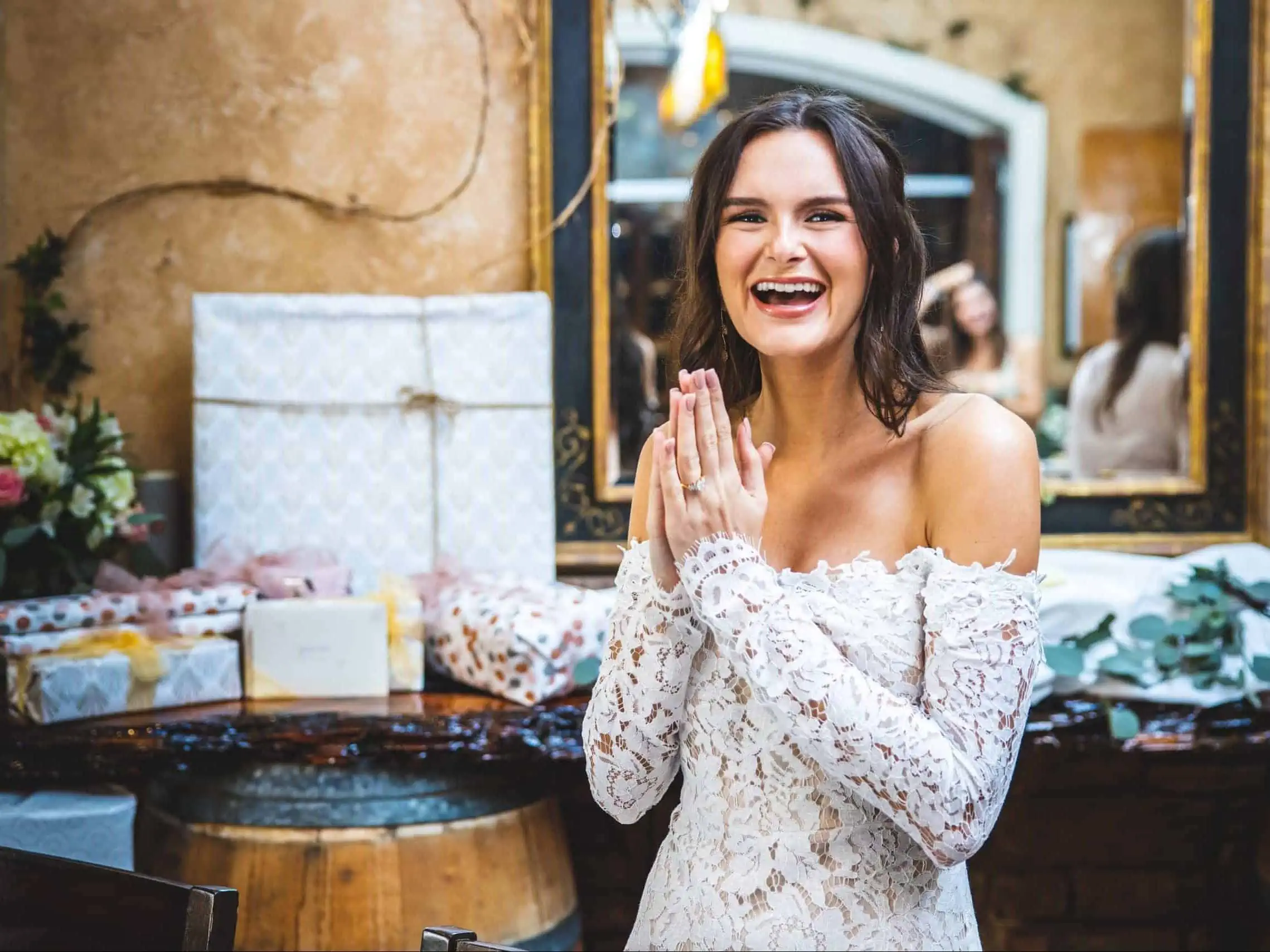 We don't know about you, but for us giving gifts is a nerve-wracking experience. Especially when these gifts are for something as important as a once-in-a-lifetime bridal shower!
Not only do you have to fret over the amount of money you're required to spend, but you also have to decide which gift is the best gift in your price range. Add to that the pressure of knowing your bridal shower gift will be opened in front of the entire guest list- one can only take so much!
So to help calm your nerves and ease your mind, we're answering all the bridal shower gift etiquette questions we've been asked (and were too scared to ask for ourselves)
It's important for us to note that these responses are not facts, merely our personal opinions based on our past experiences. That being said, we've done this a time or ten and haven't died of shame yet, so we think you're safe to follow this same path!
What gifts do you give at a bridal shower?
Tradition says that the gifts given at a bridal shower should go towards the couple's new home. For example, kitchen appliances, dinnerware, serveware, bedding, towels, etc. On the other hand, many modern couples may already own or rent a home together, meaning they may have no use for such household items.
So how do you know which applies to your bride and groom? Ask yourself these two main questions:
Does the bride have a registry?

Is there a specific theme to the shower?
If the answer to either or both of these is yes, then you've got a head start! For those who are given a bridal registry to shop from, all you need to decide on is your budget and if you want that budget toward one big gift or a few small gifts.
For those bridal showers that follow a specific theme (i.e. stock-the-bar or cooking-themed), you just need to purchase a gift that fits said theme. It's also entirely possible that the bride still has a registry based on her bridal shower theme, in which case the same as above applies.
If the answer to both of these questions is no, then you've got a bit more work to do. To start, be sure to read the invitation carefully. By that, we mean look for the terms "bridal luncheon" or "bridal tea", as these often indicate a gathering where gifts are not required.
Also, look to the bottom of the invitation where registry information is typically included and see if there are any instructions such as "in lieu of gifts" or "your presence is our present". If there is no clear indication at all, follow up on your RSVP by asking the host for guidance.
How much should I spend on a bridal shower gift?
Let us start off by saying that there is no required amount that you must spend on a bridal shower gift. It is entirely a personal choice and one that you must be comfortable with. That being said, there are a few rules of thumb when it comes to bridal shower gift etiquette.
First off, it's imperative to know that the amount you spend on a wedding shower gift should always be less than the amount spent on the actual wedding gift itself.
To help you budget for both a bridal shower and wedding gift, we suggest following the 40/60 rule: 40% of your total budget on the bridal shower gift and 60% on the wedding gift (i.e. $200 total budget= $80 for the bridal shower gift + $120 for the wedding gift)
If you are the maid of honor or another member of the bridal party, you may also be giving the bride an engagement gift, in which case we recommend that you break it down to 20/20/60.
Secondly, when it comes to spending on a bridal shower gift, money is not the only thing that can be spent. If you are skilled in a certain area (i.e. crafting, woodworking, etc.) and feel that your time is better spent making something entirely unique for the couple, by all means do so.
Our only advice for taking the DIY route is to make sure that your gift is something that fits the couple's personality and serves a practical purpose!
Do I have to buy a gift from the bridal shower registry?
In our personal opinion, the answer to this question is no, you don't have to buy a gift that's listed on the registry. The real question you need to ask yourself is should you buy a gift from the registry? And the answer to that depends on a few factors.
For one thing, how close are you to the bride? If you're a distant relative or significant other of a close friend, we suggest sticking to the registry. This is in no way an insult to your relationship with the bride, it's simply that it's not expected of you to go above and beyond with your gift.
If you're the maid of honor, bridesmaid, or close family member, you may want to give the bride something a bit more personal. In no way is this required or even expected, we just know from experience how special it is to give a sentimental gift over a more traditional one.
With that being said, the bride and groom likely spent a lot of time and thought selecting the items placed on their registry, so purchasing from that list is a guaranteed win no matter what your relationship is.
Do I have to get a gift if I can't attend the bridal shower?
If you cannot attend the bridal shower for whatever reason, you are not obligated to send a gift in your absence. However, seeing as you made the guestlist for such an exclusive event, you may want to consider at least sending a card to let the bride know you wish you could be there.
If you are unable to make it to the bridal shower, but still wish to give the bride a little something, be sure to send it to the host before the day of. This way, the bride is able to open it at her bridal shower along with her other gifts!
What's the difference between a bridal shower gift and a wedding gift?
Like we mentioned before, the major difference between a bridal shower gift and a wedding gift is the cost. To reiterate, you want to spend more on a wedding gift than a shower gift (i.e. the 60/40 rule).
Another major difference between these types of gifts is the form in which they're given.
Traditionally bridal shower gifts and wedding gifts were both purchased from the couple's registry. Nowadays, it's much more common to give the newlyweds cash or a check as their wedding gift.
Can I give one big gift for the bridal shower and the wedding?
If you have your heart set on one big, all-encompassing gift, we aren't going to try and persuade you otherwise. What we will say is that it's not proper etiquette to show up to either the bridal shower or the wedding empty-handed.
So, if you do want to give one big gift, make sure you fill the couple in on this fact. For example, if you're giving this gift at the wedding, be sure to bring a card to the shower explaining so. If you're planning to give this gift at the bridal shower, still bring a card to the wedding expressing your well wishes.
Pin for Later!