11 Delicious DIY Food Bars Perfect for Any Bridal Shower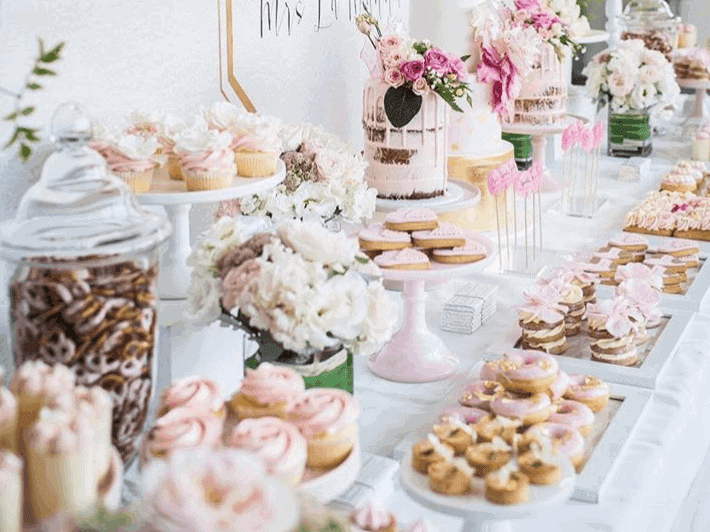 Disclosure: This post contains affiliate links, meaning we earn commissions if you shop through the links below. As an Amazon Associate, I earn from qualifying purchases. Please read my disclaimer for more info.
Self-serving food bars are quickly gaining popularity in the party planning space, with bridal showers being no exception. Not only do they allow for guests to customize meals to their specific tastes, but the presentation alone is bound to impress your audience.
Add to that as maid of honor (aka the hostess with the mostess) you get to offer a wide variety of yummy food options without spending hours slaving in the kitchen. All in all, it's a no-brainer.
Below we've listed in delicious detail our eleven favorite DIY food bars for your bestie's bridal shower in order of breakfast, lunch, and dessert. As an added bonus we've even thrown in a few decorative pieces to take your display to the next level!
Breakfast Food Bar Ideas
Waffle Bar
This is one of our favorite breakfast bars because it's super simple and totally tasty. For this setup, you merely need your favorite Belgian waffle recipe and a flavorful assortment of toppings.
We recommend a lineup of fresh fruit: strawberries, blueberries, raspberries, and bananas to name a few, complemented by a combination of salty and sweet: chocolate chips, peanut butter, honey, and whipped cream are always great choices. And most importantly, don't forget to have plenty of butter and maple syrup.
As far as the waffles themselves, we recommend preparing a batch ahead of time and leaving them to warm in the oven. If you want to make it a true DIY bar, you can leave the batter out alongside the waffle iron and have guests prepare their waffles on the spot!
What you'll need:
Bagel Bar
Keeping to the carb theme is another one of our favorite breakfast bars: build your own bagel.
For this you'll need a variety of fresh bagel options: plain, everything, cinnamon raisin, and blueberry are popular picks, as well as a selection of cream cheese flavors: plain, garden vegetable, chive & onion, and brown sugar & cinnamon for example.
Take it to the next level by adding an array of yummy toppings like freshly sliced tomatoes, capers, red onions, and smoked salmon. Like with the waffles, we recommend toasting a dozen or so beforehand and keeping them warm in the oven, but feel free to have guests toast their bagels as they go.
What you'll need:
Donut Bar
You guessed it, carbs on carbs on carbs. While this is not a true DIY bar, more so a super cute display, it still finds itself on our list of favorites.
To pull this off, you'll need a few accessory pieces and a couple dozen of your favorite donut flavors. For a quick and easy setup, we recommend a wooden stacker for holding the donuts.
If you're thinking of having donuts as a dessert instead, display them on a traditional stand where you can arrange them as a mini cake. Take it one step further by providing matching to-go bags so guests can take any leftovers home with them!
What you'll need:
Yogurt Parfait Bar
If carb overload is not what you're looking for, try this DIY yogurt parfait as a lighter, healthier option!
Start with however many yogurt flavors you prefer: plain, vanilla, and mixed berry make a good variety, and finish with a delicious display of toppings: fresh fruit (same as waffles), granola, honey, and nuts all blend well together. For the extra health-conscious, include some nutritional boosters like chia and flax seeds.
What you'll need:
Mains & Sides Food Bar Ideas
Salad Bar
We're starting this category by sticking to a super simple and healthy option: a build-your-own salad bar. We love this option because it saves you the trouble of having to decide which variety of salads you'll need to prepare to please each and every guest's differing tastes.
To set up the ultimate salad bar, begin by choosing which types of lettuce you'll want: romaine, iceberg, and mixed greens are standard, then move on to dressings: ranch, blue cheese, honey mustard, and balsamic vinaigrette are popular choices. Once you've decided on the basics, it's time to determine the mix of toppings you'll include. Start with the essentials- cucumbers, carrots, onions, tomatoes, a variety of cheeses, and croutons.
From there, it's your choice whether or not to incorporate an extra assortment of add-ons like nuts, hard-boiled eggs, olives, or peppers. Finish it off by featuring a yummy pasta, macaroni, or potato salad (or all three!) to make it a true salad bar.
What you'll need:
Charcuterie Bar
If you're interested in having a food bar at the bridal shower but don't want it to be the focal point of the food menu, this is a great option for you. Putting together a tasty meat and cheese board is not only easy for you but for guests as well.
Start with deciding on the types of meats you'll be serving: salami, prosciutto, pepperoni, and ham are most common. Next, you'll want to have a mixture of soft and hard cheeses such as provolone, Havarti, Gouda, and brie.
Step it up a notch by adding a variety of salty snacks like almonds, pistachios, and pecans, as well as cured olives and antipasti for an extra touch. Really take it to the next level by serving it all up on a personalized cheese board that can double as a gift to the bride and groom!
What you'll need:
Sandwich Bar
Skip the boring premade options and set up a DIY sandwich station instead. This way guests can customize sandwiches to their liking and you won't have to worry about how many different varieties to get.
Begin by picking out which types of meats you'll need: ham, turkey, and roast beef are classic go-to's, then decide on which cheeses you'll include: American, cheddar, and pepper jack for example. Next come the condiments: mayonnaise, yellow and honey mustard, hot sauce, and Italian vinaigrette make great options.
Finally, include a few toppings such as lettuce, tomato, pickles, and onions, finished by your bread options: white, wheat, and rye to name a few. Go a bit more gourmet by serving fresh brioche or ciabatta bread.
What you'll need:
Taco Bar
Nothing screams fiesta like a DIY taco bar! We absolutely love this idea because it is a deliciously unique spin on a traditional bridal shower menu. While tacos can get a little messy, it's totally worth the extra clean-up for the wow factor alone.
To get started, we recommend providing both hard and soft tortilla shells as well as large bowls for any guests who might want to make a taco salad. Next, you'll choose up to three different types of meat to serve: shredded chicken, ground beef, and pork carnitas are typical favorites. We recommend both cooking and serving these meats in a crockpot to keep them warm and fresh throughout the shower.
Finally come the toppings: chopped lettuce, diced tomatoes, shredded cheese, sliced onions, jalapenos, sour cream, and guacamole. Step it up by serving a side of tortilla chips with freshly made pico de gallo or corn and black bean salsa!
What you'll need:
Dessert Food Bar Ideas
No-Bake Cheesecake Bar
Yes, you read that right- no-bake cheesecake. Super simple, totally tasty, and an absolute fan favorite. To make the cheesecake filling you only need three ingredients: cream cheese, cool whip, and vanilla extract (equal parts cream cheese and cool whip, 1 tsp vanilla per 8 oz of the first two).
Once you've gotten those blended together, it's time to add in some yummy toppings. We recommend a variety of fruits, cookies, candies, and sauces. Examples include strawberries, blueberries, chocolate chips, M&Ms, graham crackers, sprinkles, chocolate, and caramel sauce.
Want to really impress your guests? Set them up with premade cheesecake cups by filling the bottom of mini mason jars with crushed graham crackers (aka mini pie crust) and adding the filling, leaving them to finish it off with their favorite toppings. Bonus points because these mason jars can also double as guest favors!
What you'll need:
Ice Cream Sundae Bar
Is your BFF's bridal shower during one of those hot and humid summer months? If you answered yes, then we have the perfect DIY dessert set up for you. There's no better way to cool guests off and put a twist on traditional dessert options than with a build-your-own ice cream sundae bar.
Begin by choosing which ice cream flavors you'll be serving; sticking to classics like vanilla and chocolate is always a safe bet but feel free to spice it up a bit. Next, determine which assortment of toppings you'll serve (this is the hardest of all because there are so many!)
Our favorites include a variety of candies: crushed Oreos, peanut butter cups, M&Ms, and sprinkles, nuts: peanuts, almonds, walnuts, and pecans, and sauces: hot fudge, caramel, strawberry, and whipped cream.
What you'll need:
Cupcake and Cookie Bar
Last but not least is a fun spin on a classic bridal shower dessert. Instead of serving a variety of premade cookies and cupcakes, allow guests to create their own with this DIY dessert bar.
For this you'll need to start with the basics; we suggest baking a variety of plain cookies: sugar and chocolate as well as cupcakes: vanilla and chocolate. Second, you'll need a few different icing options; we recommend the basics like vanilla and chocolate as well as a third option such as cream cheese or buttercream.
Choose from any of the toppings already listed like sprinkles, chopped candies, and nuts. If toppings aren't really your thing, consider expanding the icing options or providing colorful frosting for guests to decorate their desserts with. Take your presentation to the next level by serving guests a cold glass of milk to quench their thirst!
What you'll need:
Pin for Later!