Disclosure: This post contains affiliate links, meaning we earn commissions if you shop through the links below. Please read my disclaimer for more info.
As your BFF's right-hand woman, you're in charge of getting her some seriously cute engagement gifts. That includes making sure she has some adorable attire to match her new bling!
And though there are a ton of engagement shirts to choose from, we've curated a list of twelve totally cute and clever designs.
We've even broken them down into four fun categories:
---
Future Mrs. Shirts For Her
Looking for the perfect future Mrs. shirt for your bestie? Check out these three cute choices:
Girlfriend to Fiancée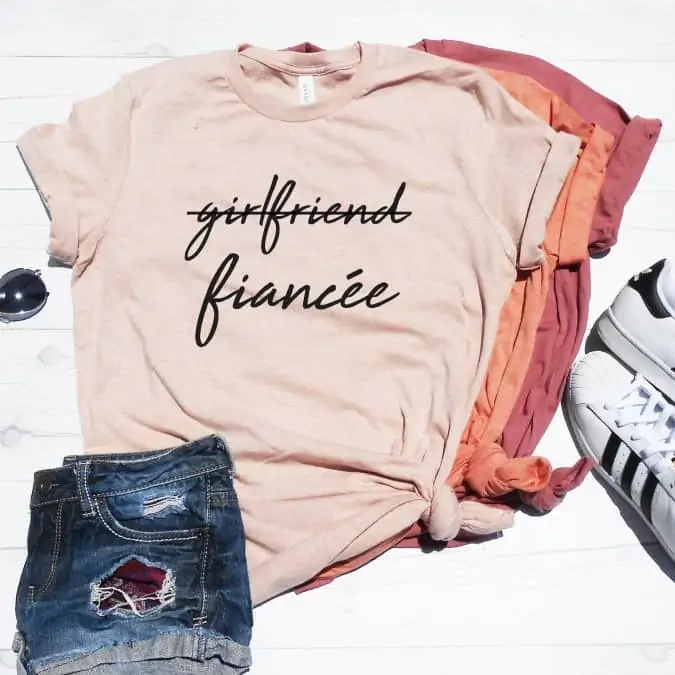 This girlfriend-to-fiancée shirt is an adorable way for your bestie to show off her newly engaged status. Available in sizes XS-4XL with 20 different color choices.
Custom Future Mrs.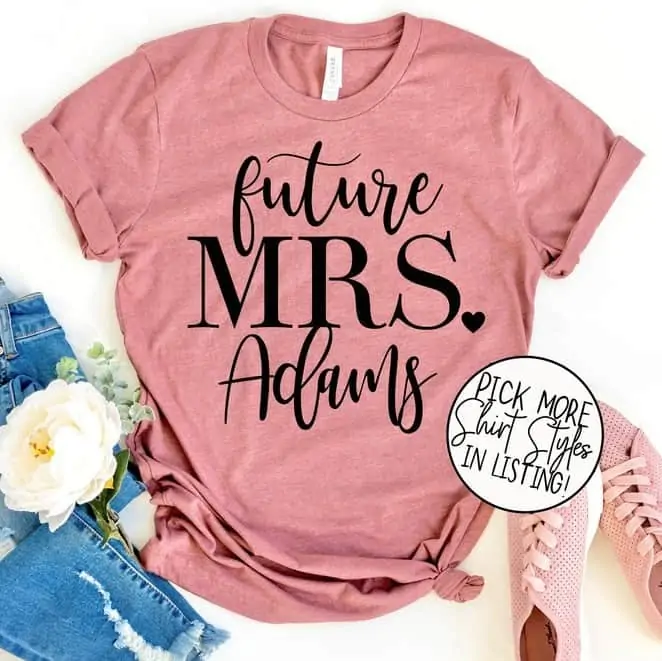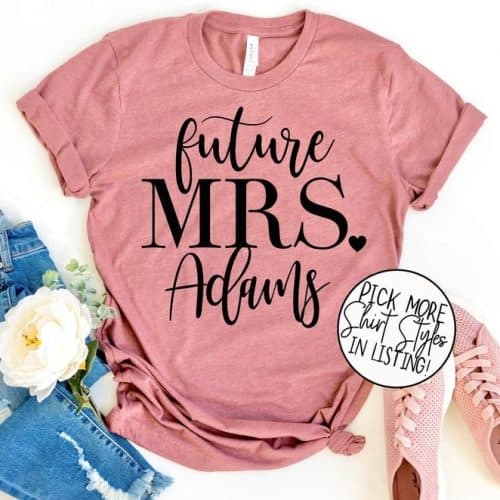 If your bride-to-be is taking her future hubby's last name, this custom engagement shirt is the perfect accessory for her! Available in sizes XS-4XL with a variety of styles and color combos.
Off the Market
Help your BFF keep the boys away by letting them know she's officially off the market. Available in sizes XS-4XL with 28 color options.
RELATED: Miss to Mrs Box: The Ultimate Bridal Subscription Service
---
Fiancé Shirts for Him
Don't want the groom-to-be to feel left out? Get him one of these funny fiancé shirts:
Beer Me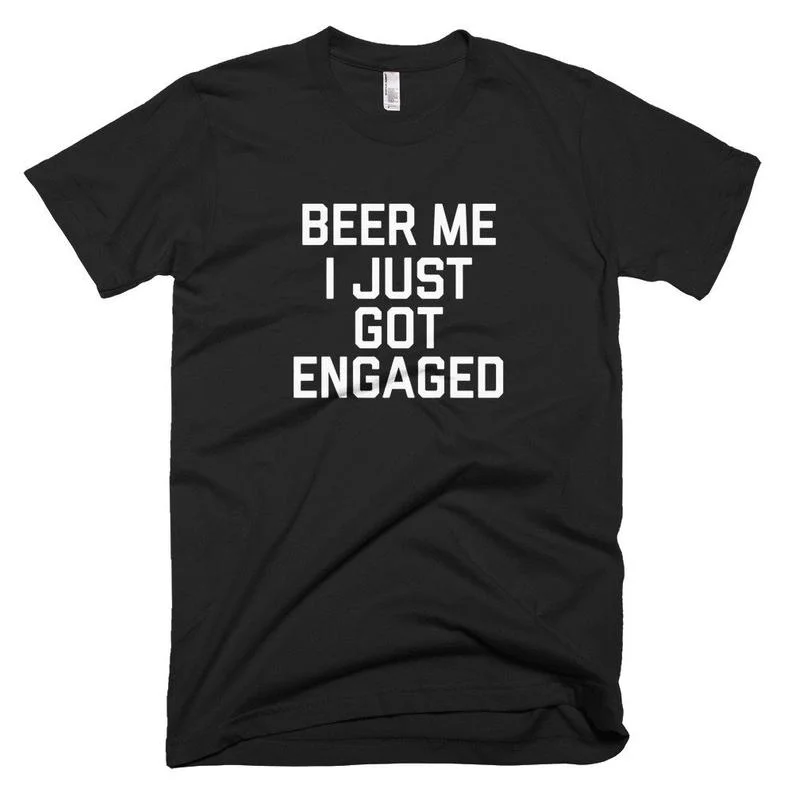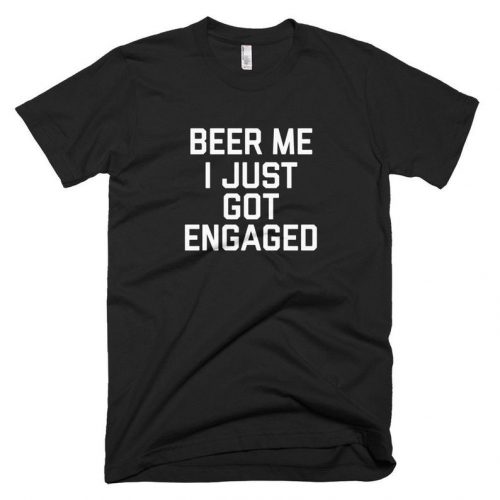 Getting down on one knee is hard work, so your groom definitely deserves a cold one to celebrate with. Available in sizes XS-3X with five color choices.
I'm Taken
Help your bestie keep the ladies away from her future hubby by grabbing him this hilarious shirt. Available in sizes XS-3X with four color options.
Best Fiancé Ever
Keep it short, sweet, and to the point with this best fiancé ever shirt. Available in sizes S-5XL with five colors to choose from.
---
Engagement Shirts for Couples
Searching for a matching set of engagement shirts for couples? Look no further than these fun finds:
Yup Finally
If your bride and groom have a sense of humor about how long it took them to get here, then these shirts are for you. Available in unisex sizes XS-3XL in over 40 different colors.
I Asked
These matching 'I Asked' and 'I Said Yaaasss!' shirts make for the perfect engagement announcement! Available in unisex sizes S-2XL with 10 color combinations.
Custom Mr and Future Mrs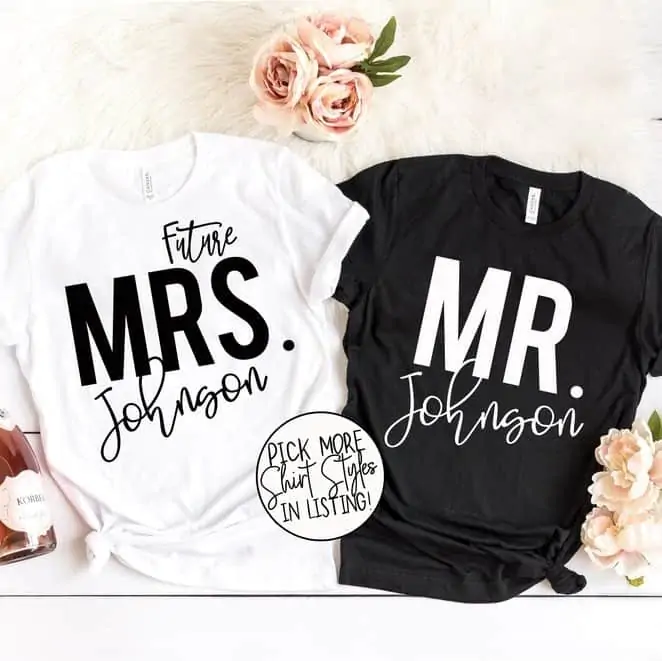 Let your bestie test out her soon-to-be new last name alongside her soon-to-be hubby with these adorable Mr and Future Mrs shirts. Available in either a crewneck or v-neck style, sizes XS-4X, with 40+ color choices.
---
Funny Engagement Shirts
Does your bestie have a great sense of humor? Then these popular picks are for you:
Ring Finger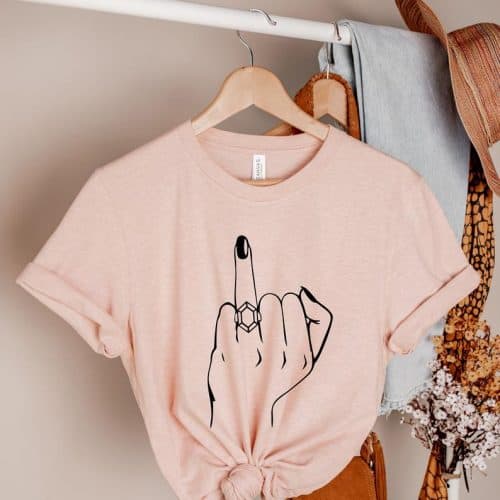 They say a picture is worth a thousand words, and this design does not disappoint on that. Available as a crewneck, v-neck, or tank top, sizes XS-3XL, with 12 color options.
Look At Me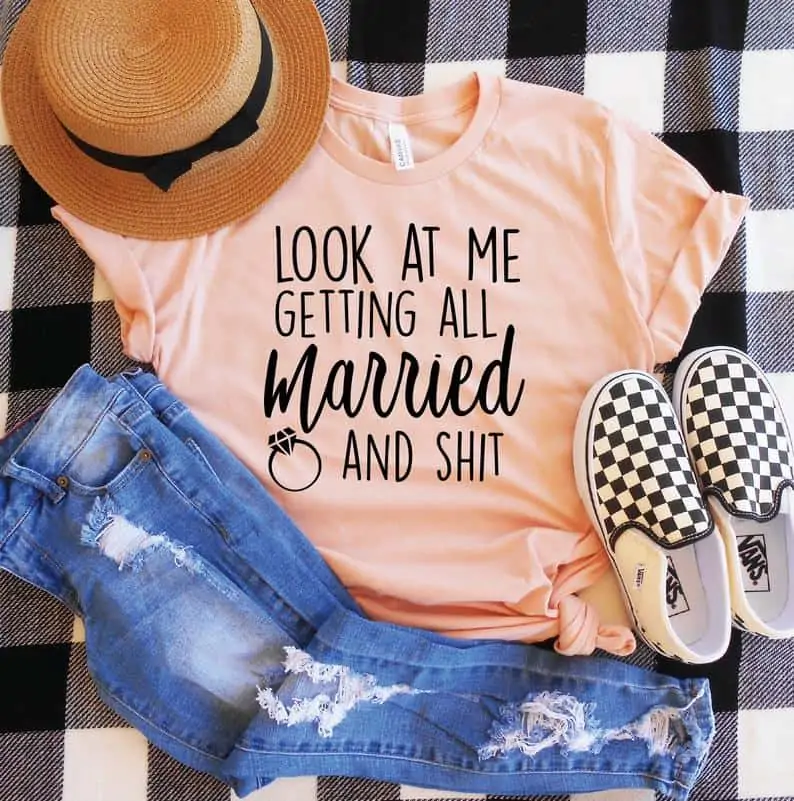 Turn some heads and get the giggles going with this hilarious engagement shirt design. Available in sizes XS-4XL with 20 color choices.
Engaged AF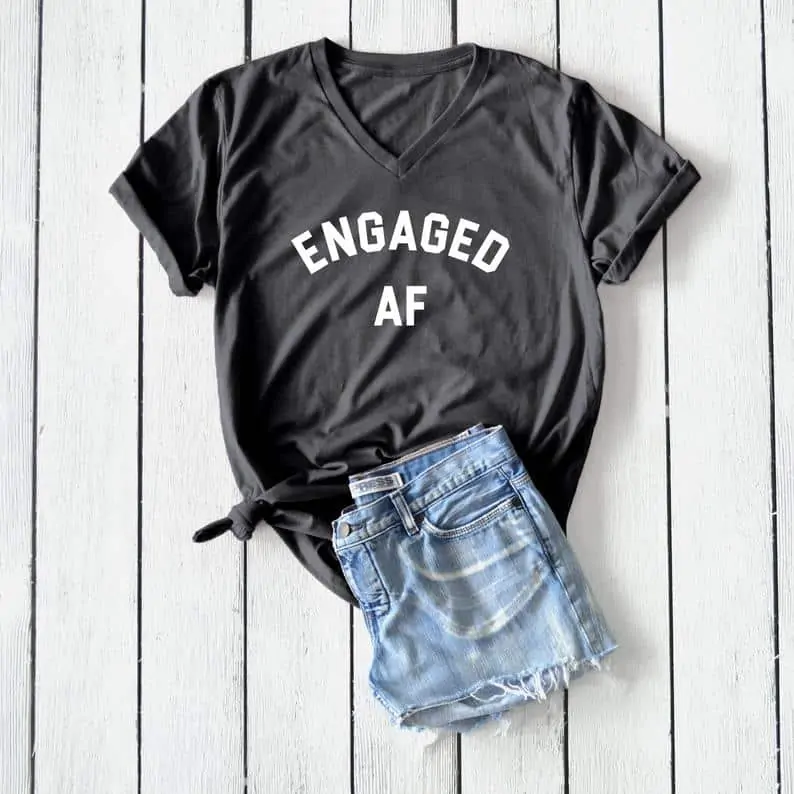 Why should your bestie be just plain old engaged when she could be engaged AF? Available in sizes XS-2XL with four colors to choose from.